When Can I Book My Next Genie+ Lightning Lane?
If you forked over your hard-earned cash for Genie+, you want to make the most of it, right? That usually means making another Lightning Lane reservation as soon as you can. So just how long will you need to wait between making reservations? We've got the answers right here.
If you've been reading guides on how to use Genie+ at Disney World (including, perchance, our own walkthrough), you might know that the Tip Board will tell you when you can book another Lightning Lane. You might wonder why you should keep reading. Two reasons:
Knowing how long you'll be blocked from making a new Lightning Lane reservation helps you choose the right one when it's time to pick.
 If people in your group have different Lightning Lane reservations, and the "you can book again" times are different, Genie will only show you a single person's time on the Tip Board.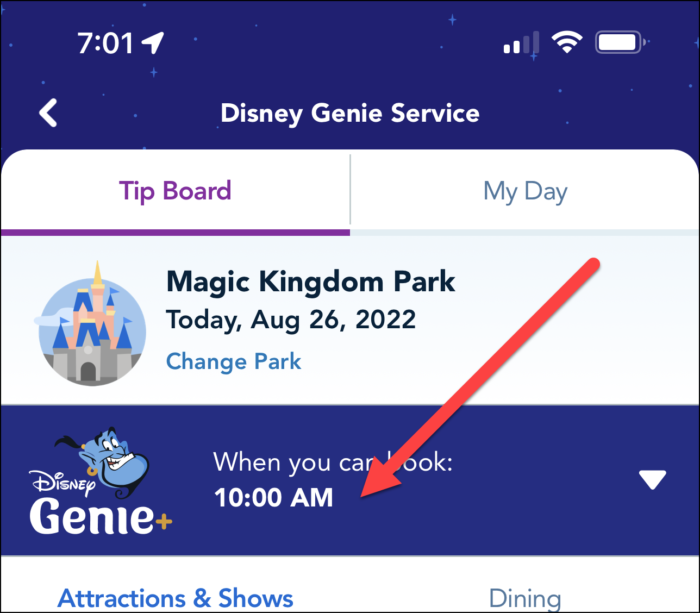 When Can You Make a New Lightning Lane Reservation?
Let's start with when you can make your first Lightning Lane reservation. All guests, no matter where they are staying, can make their first Genie+ Lightning Lane reservation at 7 a.m. (Rules for Individual Lightning reservations are different.)
After that, you can make a new Genie+ Lightning Lane reservation when either of the following two things is true:
• The last Genie+ Lightning Lane reservation that you made is "gone" – either because you tapped in for it, canceled it, or because it expired.
OR
• It's been 2 hours since you made your last Genie+ Lightning Lane reservation.
Take note! For that last one — the famous "Genie 120-minute rule" — it's important to start timing from the right minute. If you make a Lightning Lane reservation before the park opens, it behaves as if you booked it right at the instant the park opened. So if the park opens at 9 a.m. and you made the reservation at 7:15 a.m., your two-hour blackout doesn't start at 7:15 — instead your timer starts at 9 and you'll be eligible two hours after park opening. Which park opening is the one that matters if they have different opening times? It's always the one with the attraction you booked.
What about if you modify a Lightning Lane reservation? The key word here is modify – it's still the same reservation, even if you've changed it so that the time or attraction is different. It doesn't reset the "when can I book" time if you were waiting for 2 hours to pass. And if it wasn't the last reservation that you made or it wasn't blocking you from a new one before you modified it, then it still isn't afterward. The only case where modifying a Lightning Lane reservation could change when you can book a new one is if the pre- or post-modification return window begins less than two hours after you made the original reservation.
Example to Show How Lightning Lane Reservation Rules Work
I always grok better with an example, so I've set one up here. I'd like you to keep a couple of things in mind as you read it. First, I've tried to pick Lightning Lane times that are sort of realistic, but the patterns change over time. Don't assume that just because you see it in this example you'll be able to get these times. (For the latest data, see How has Genie+ Availability Changed?)
Second, I've purposely constructed this example to cover as many confusing Lightning Lane blackout window questions as I could think of, so it might feel like a terribly confusing system! The reality is that you're unlikely to run into all these situations on the same day when you visit the parks. This is a worst-case scenario and it should not feel this crazy when you are actually using it.
Ready? Let's go!
The setup: You've got a park reservation for Animal Kingdom and a park hopper ticket, and you've purchased the "All Parks" option for Genie+. Animal Kingdom opens at 8 a.m., and all the other parks open at 9 a.m. Anyone can start booking Genie+ Lightning Lanes at 7 a.m., whether they're staying onsite or not.
• 7:00 a.m.: Book a 6:45 p.m. Lightning Lane for Slinky Dog Dash at Hollywood Studios
• 8 a.m.: Arrive at Animal Kingdom and start touring.
• 10 a.m.: Two hours since Animal Kingdom opened. But you still can't book!
When can you make your second Lightning Lane reservation? Remember, for reservations that you make before the parks are open, the 120-minute rule counts as though you made the reservation right when the park opened. But not when Animal Kingdom opened – the ride you booked is in Hollywood Studios, which didn't open until 9 a.m. That's when you need to count from.
• 11 a.m.: Finally! You can book! You make an 11:20 a.m. reservation for DINOSAUR.
• 11:15 a.m.: You tap in for DINOSAUR. You can book again. You make an 11:45 a.m. reservation for Kali River Rapids.
OK, you can book again because you used your most recently booked reservation, but wasn't it for 11:20? It turns out there's a 5-minute "arrival slosh" and you can tap in for your Lightning Lanes up to 5 minutes early. Disney doesn't advertise this, and to be honest I don't race across the parks trying to get in there at the earliest possible moment because I don't find that pleasant or necessary. But it does work and is occasionally very useful.
•11:20 a.m.: While you're waiting in line for lunch, you see a 5:45 p.m. return time for Slinky Dog Dash. That's earlier than your current 6:45 p.m. return, so you modify the reservation.
How does this modification affect when you can book your next Lightning Lane? Answer: it doesn't affect it at all — since this wasn't the last reservation that you made, it wasn't controlling your eligibility before you modified and it still isn't.
• 12:45 p.m.: After DINOSAUR you decided to get lunch before riding Kali River Rapids because you didn't want to eat soaking wet. Unfortunately the line at Restaurantosaurus was simply beyond belief, and you're just now clearing your table as your Kali River Rapids Lightning Lane expires. Well, at least you're eligible to book again; you pick Tower of Terror at Hollywood Studios at 6:15 p.m.
• 12:55 p.m.: You tap into the Lightning Lane at Kali River Rapids
Wait, what? It turns out that the five-minute "arrival slosh" for Lightning Lanes has a matching 15-minute grace period at the end of your window. Even though you're a teensy bit late, you can still use your reservation. Good thing too, because once you miss your Lightning Lane window you can't make a new reservation for that same attraction. BUT, tapping in here doesn't make you eligible for a new booking because this is not the last Lightning Lane reservation you made.
Note that Disney doesn't advertise this grace period either, and has a history of removing niceties that give grace for "things that happen" when people start to view them as loopholes to exploit.
• 2:45 p.m.: Two hours have passed since you booked Tower of Terror, and you're eligible again. You choose Na'vi River Journey at 5:15 p.m. Since that's more than two hours away, the next time you can make a reservation will be 4:45 p.m.
• 2:50 p.m.: You see an option to grab an earlier return time of 5 p.m. for Na'vi River Journey and you modify your reservation. Your new Lightning Lane window is still more than two hours away, so the next time you can reserve is still 4:45 p.m. It didn't change to 4:50 p.m. to line up with the time you modified; your original booking timeline is preserved.
•3:10 p.m.: A downpour has come and gone and apparently lots of people have canceled their reservations for Na'vi River Journey because now you see one at 4 p.m. You modify your reservation to grab that puppy and head on over to Pandora.
How soon will you be able to book a new Lightning Lane? Well, in this case, it could move up your book again time because both rules are in play here. Your return window runs from 4 to 5 p.m. and the 120-minute rule will still kick in at 4:45 p.m. So if you tap in before 4:45, you'll be eligible as soon as you do — but you'll be eligible at 4:45 p.m. no matter what.
A few notes:
One question that a lot of people have is whether you can have more than one Lightning Lane reservation at a time. The answer is yes. Notice that at 2:45 p.m. you're holding 3 reservations at the same time – two in Hollywood Studios, plus the one for Na'vi River Journey.
The strategy of booking Lightning Lanes for a much later time in a different park (or in the same park) is called stacking. You can read about it here: Genie+: All About Stacking. Although it's not always the right approach, it's very useful to know about – in this case you'll arrive in Hollywood Studios and be able to ride both Tower of Terror and Slinky Dog Dash in under an hour. Not bad!
Keeping Track of Your Lightning Lane Eligibility
If everyone in your party is making the same Lightning Lane reservations, you'll be able to rely on Genie to tell you when you can book. You still might want to set a reminder or timer on your phone, just so you don't keep forgetting the time and checking it again.
If people in your group are using their Lightning Lane picks for different experiences, then you won't be able to rely on the time Genie shows at the top of the Tip Board. If you're logged into My Disney Experience under your own profile, then the time when Genie says you can book will always be the time that you can book. If you want to see the time that somebody else in your party can book, you'll need to try to reserve a Lightning Lane for them – then you'll see if they can book or when they will become eligible. In this situation, many people find it helpful to set reminders or alarms on their phone so that they know when each person can make a new Genie+ reservation.
Do you still have questions? Let us know in the comments!