10 Places for a Toddler to Burn Off Energy at Disneyland
So you're taking your toddler to Disneyland! Are you crazy? Maybe! But that may not have anything to do with taking a toddler to Disneyland. I'm just sayin'. The first question is probably whether or not you SHOULD take a toddler to Disneyland. I'm going to say definitely yes. Bring those cuties. In fact, there are times when my teenagers are turning their nose up at standing in a line to see Mickey, and I look back on those toddler days with great nostalgia. If you don't wear toddlers out too much, they can have a blast. Will they remember it? Nope. Will you? Absolutely, and you'll have the pictures to prove you were a great parent even when they don't remember it!
The number one thing to remember with toddlers is that they can't tour at a grownup's pace. Adults get exhausted from all the walking while the toddlers get sick of being strapped into their stroller all day! They've got energy to burn off and in a park that could be wall to wall people, it's sometimes difficult to find somewhere to do that! But you must! For the good of all in your party, you must. Here are some ideas for you.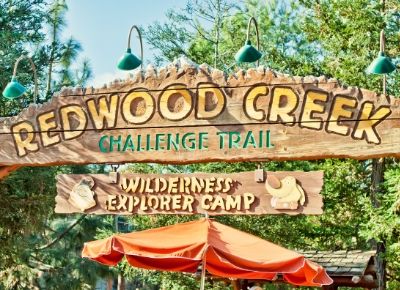 1. Redwood Creek Challenge Trail – When our kids were little, this was our number one place to go to let them run around in Disney California Adventure. There are tubes to climb through, little people slides, and lots of nooks and crannies where a toddler can – well, toddle. This isn't a section of the park that screams for adults, teenagers and older kids to stop in, so it can be pretty quiet at times. If you haven't ever stopped in before, try it. It's a neat atmosphere with great theming. There's lots of shade, too! So on a hot day, that's a bonus!
2. Disney Animation – Disney Animation in California Adventure is a pretty big building with lots of space and things to do inside. Not all of it is good for toddlers, however, despite the coloring/drawing aspect (You wouldn't catch me dead, for example, with a toddler in the Animation Academy trying to get them to sit still and quiet for 30 minutes while everyone else draws. Um. No.). But other parts are great! The main room inside is huge, and there are some benches you can relax on while your toddlers enjoy the open space. They may enjoy wandering through the Sorcerer's Workshop, too. There are some interesting sights to see, and you can go at their pace since there's no queue with people waiting for you to keep moving. The Zoetrope – one of my favorite things at Disneyland – will probably fascinate them for a few minutes as well. The lights will go dark while a strobe light flashes, though, so be careful if they're wandering around in there.
3. Donald's Boat – Mickey's Toontown in Disneyland is a treasure trove of space for toddlers, and Donald's Boat is the first one I'll mention. Beware! This is a boat, and there is often water. Not soaking water, but you or your toddler may get wet. The good news is there's space for your toddler to wander. The ground is nice and soft. The boat and everything inside is nice and a rubbery-bouncy-cushiony-plastic. There's probably a name for that, but I have no idea what it is. What it means for you is that if your toddler loses his balance, as toddlers tend to do, and falls into something, odds are it won't hurt.
4. Goofy's Playhouse – Goofy's Playhouse is also back in Toontown. Goofy's house is full of soft furniture that a toddler can crawl all over and not be scolded by adults. There's even a piano to play with! And Goofy has a garden outside to play in, too! The garden is whimsical and fun. You'll enjoy taking in all the details while the kiddo climbs and explores.
5. Mickey's House and Meet Mickey – Mickey greets guests in Toowntown in his very own house! Mickey's House, as you might expect, is bright and cheerful. There are lots of things for a toddler to touch while they explore. Everything is anchored down, so parents don't have to worry about three of the things parents worry about most when their toddler is in someone else's house. What are those you ask? That they'll break something, wander off with something, or put something in their mouth! Trust me, I know from experience. Mickey is usually in his Movie Barn behind his house, so if your toddler is frightened of giant mice, you can bypass the meet and greet. Sometimes Mickey stands on the front porch to greet guest, but I'm sure he'll understand if you need to walk by him without stopping to say hi.
6. Minnie's House – Minnie also has an adorable house in Toontown. I'm telling you, this is the neighborhood you want to be in! Minnie wants toddlers to touch things in her house! There's an adorable table and chair set in the kitchen where a toddler can plop right down. There's a refrigerator to open and knobs to turn. There's even a bed to crawl on in the bedroom. Let your toddler go wild! They'll love it.
7. Pirate's Lair on Tom Sawyer Island– Tom Sawyer Island in Disneyland is the place to run for toddlers. It's not completely wide open spaces, but there is space. Exploring and burning off extra energy is the order of the day on Tom's Island. There's even shade and benches for adults to sneak a quick break. There are some skeleton bones and other things that could frighten a child if they knew what those things even were, however. My guess is those things would go right over most toddlers' heads.
8. Grizzly Trail – Grizzly Trail is a place I've mentioned before as a good place to relax in California Adventure. Relaxing and toddlers don't usually go together in the same sentence, but here they might. It's a pathway behind Grizzly River Run that winds around by the waterfalls and is usually pretty quiet. Quiet means space. Space to burn off energy! Just watch your toddler near the railings.
9. Princess Dot Puddle Park – Princess Dot Puddle Park is in a bug's land at California Adventure. All of Bug's Land is geared toward younger guests, so it's bright and fun. The Puddle Park has every toddler's favorite thing – jumping water. Okay, it may not be every toddler's favorite thing, but I've never met a toddler who didn't like it! On a hot day, it's a glorious escape. The water jumps, sprays, and mists. You will get soaked. Bring a change of clothes and let them have at it. The downside? They may never want to leave.
10. The Disneyland Hotel Gazebo – Do you need somewhere to hang out for a while before you go sit down for a long dinner reservation at Goofy's Kitchen? There is a gazebo back over by the Disneyland Hotel that is usually completely empty. It's adjacent to a wide open space where chairs and tables are sometimes set up for private parties. When there's not party being set up, though, it's the place for toddlers to run, walk, crawl – whatever their little heart desires. The Gazebo is located at the corner of the Adventure and Frontier towers. Walk away from the pool area if you don't see it.
So are there any other spaces at Disneyland that you've discovered to let your toddler burn some energy? Share them with us!