10 Reasons a Cabana on Castaway Cay is Worth Trying to Get
If you've been lucky enough to score a cabana on Castaway Cay when your Disney Cruise Line vacation stops at their little slice of paradise in the Bahamas, you can skip this blog post and go on to the next one. I'm betting you know how amazing they are and already know everything I'm about to say. If, however, you are on the fence about getting one, this post is for you!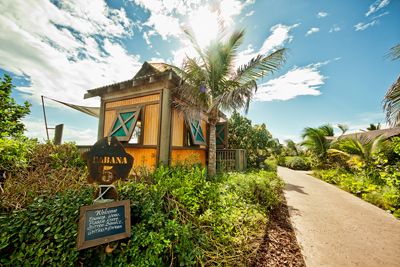 First I'll give you the bad news. The cabanas are expensive! $549 for 6 guests at the family beach and $399 for four guests at the adult beach, Serenity Bay. You can add 4 more guests at the family beach, or two at the adult beach. Each additional guest will cost $50. If that didn't scare you off, here's more bad news. They're almost impossible to get! Concierge guests usually snatch these up before most guests ever get a shot at them. That should tell you something about how awesome they are though! They do show up for everyone else from time to time though! People cancel their cruise, change their minds on cabanas, etc. So if you want one, keep trying! And here are some reasons why you should.
1. Privacy on a Busy Island – A cabana is a private little oasis on a beautiful island. The cabanas are fairly close to each other, but angled in ways that make you feel like you are alone. It's amazing how secluded you feel when you're inside. One side of the cabana is open to the beach. There are shutter type doors you can close if you want even more privacy, and a changing curtain you can close to change in and out of your swimsuit if you like.
2. Private Beach for the Cabanas on the Family Beach – The guests in cabanas on the family beach share a private beach. It's a big enough beach that you'll pretty much feel like you've got the beach to yourself. With a fairly packed beach just a few feet away, it's heaven to float and swim alone. And no need to stake out the best beach chairs early – you've already got the best chairs! We love to pull our chairs down to the water and relax with our toes in the ocean and sit in quiet and peace. I'm telling you, that right there is worth some dough to me.
3. Equipment is Included – If you normally rent any equipment on Castaway Cay, the price of a cabana becomes even more reasonable. The price includes snorkeling equipment, floats and bike rental. Those three things total $49 a person these days. If you have 6 people in your cabana that's a $294 value. Not bad, right? FYI, currently snorkeling equipment is not included with the Serenity Bay cabanas.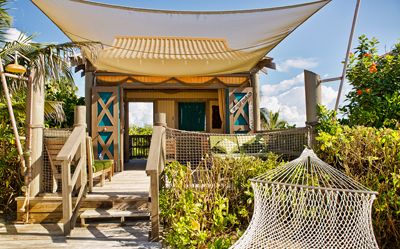 4. Drinks and Snacks – Every cabana also has a refrigerator stocked with cans of Coke products and Evian water. If you're a soda lover like me who gets tired of slightly watered down tap soda on the ship, a day with cold cans of Coke is heavenly. For those of you that like portable, cold water, well they have that too. And not that there is any shortage of food on a Disney cruise, but each cabana also has fresh fruit and snack bars or bags of chips of some kind.
5. Shelter from Rain – I hate to say it, but Castaway Cay does occasionally experience some bad weather in the form of rain or wind. When those times do happen, having somewhere to "hide out" while it passes is a great thing. I've been one of the couple of hundred people huddled under the game pavilion, and trust me, this is better.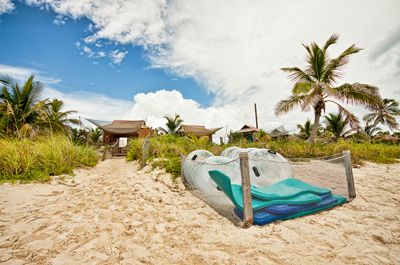 6. Shelter from the Sun – My people are a fair-skinned, freckly-skin, skin-cancer prone people. Hanging out in the sun all day is not good for us. The ability to camp out in the shade for part of the day is a huge plus for us, and lets us enjoy the island a lot longer. There's also a ceiling fan if it gets too hot! Nobody else sitting out on the island has that!
7. Sunscreen – Speaking of skin cancer – each cabana also comes with bottles of sunscreen. #winning
8. Chairs and Hammocks – The chairs in the cabana are cushioned! There's a sofa, chairs, and chaise lounges in your cabana and on the deck outside. On the family beach there are also plenty of regular beach chairs and loungers down on the beach as I referenced above. All cabanas have a hammock outside to relax and/or take naps in, whatever helps you relax.
9. And More – There are several more extras in your cabana. There's a safe to store your valuables if you're concerned about them. There are upgraded towels to use as you please. There are magazines to read if you are lacking in reading material. There's a fresh water shower outside the cabana to wash off all of that irritating sand. There are even sand toys for the little ones on the family beach!
10. Cabana Boy on Call – There are cabana boys! Okay cabana men. And cabana women. There's a handy little button inside your cabana to push whenever you need assistance. They can restock anything you run out of in the cabana, bring you drinks from the bar (regular bar prices apply), or give you a ride on a golf cart somewhere if you should need it. Our cabana hosts checked on us a few times during the day to see if there was anything they could do. You really will feel pampered! By the way, if you have food allergies, you'll get an extra level of service. Your server will usually take your lunch order the night before and a cabana host will deliver it right to your cabana at lunch time!
Although I don't think I've ever had a bad day at Castaway Cay, I can tell you that after having experienced a day with a cabana a couple of times, I truly do miss it when I don't get one. If you can snag one, do it. If you want one and don't see it, keep looking!