How to Have a Great First Time at Disney's Castaway Cay
Castaway Cay is Disney's private island available to guests on the Bahama or Caribbean Disney Cruise Line voyages. The 1,000-acre island has won awards for being the Cruise Critic Best Cruise Line Private Island. With plenty to see and do and only a few hours in the day, tackling this paradise can pose a challenge. Will you get your perfect umbrella spot? What food options are available? Do you need to bring a pail and shovel to make the ultimate sand castle? No worries, because TouringPlans has your back. We've compiled a list of tips and tricks so you can have the best first trip to Disney Castaway Cay.
Before You Board
Download the App
First things first, did you download the app? The Disney Cruise Line Navigator app functions as your guide to Castaway Cay as well as to your entire Disney Cruise Line experience. If you haven't already, download the app (available from the Apple App Store and the Google Play Store) onto your smart device. The app provides a list of activities at Castaway Cay as well as a list of times for food service and a reminder of the all-aboard time. Click the heart and "favorite" anything you do not want to miss; you'll get a reminder from the app 15 minutes before any of your favorited activities.
Arriving at Disney's Castaway Cay
Arrive Early
Disney's Castaway Cay is typically available to guests from 8:00 a.m. to 4:45 p.m. Pay attention to announcements the night before and morning of your day at Castaway Cay so you can be among the first guests there. You'll disembark onto the island at Deck 1. If snagging that ideal chair and umbrella is in your itinerary, we find that the early bird gets the worm. Much of the island is first-come, first-served. Our researcher debarked at 8:30 a.m. and was in one of the first groups off the ship. If you are at the island before 10 a.m., you should expect more choice seating options, but there are enough lounge chairs for virtually everyone on the ship, you might just have to walk a bit further to find one.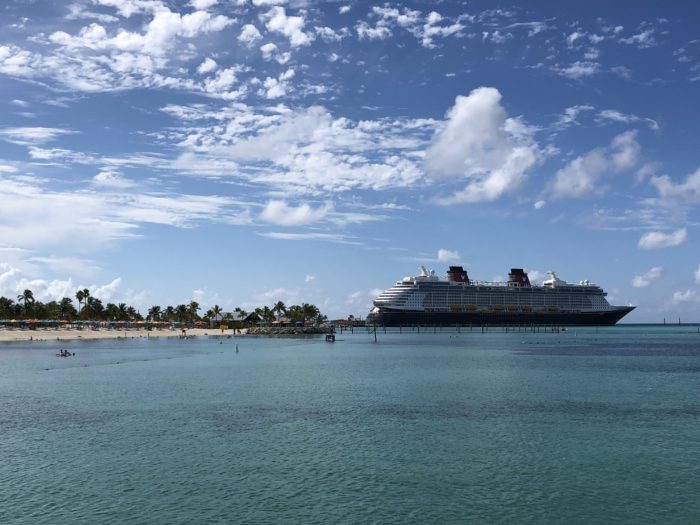 Don't Forget
Do not forget your Key to the World card (needed for every guest, including children) and photo ID (for guests 18 and up). They are necessary for getting on and off your ship, and you'll use them as a payment option at Disney-run stores on the island.
Transportation & Beach Options
You can walk everywhere on the island, but the trek to the outermost beach areas can be tiring, particularly if you are traveling with small children or older adults, or if you're carrying lots of beach gear. Thankfully, Disney provides tram transportation while you are on the island. There are four stops: Kargo Handling, Pelican Point, Scuttle's Cove, and Serenity Bay. For families, we find that taking the tram to the first stop (Scuttle's Cove) is best to be in the middle of all of the activities, including the Castaway Family Beach, food options, bars, snorkeling, the stingray activity, restrooms, and more. Adults wanting to spend time at Serenity Bay, the 18-and-up-only beach, should take the tram to Pelican Point and transfer there.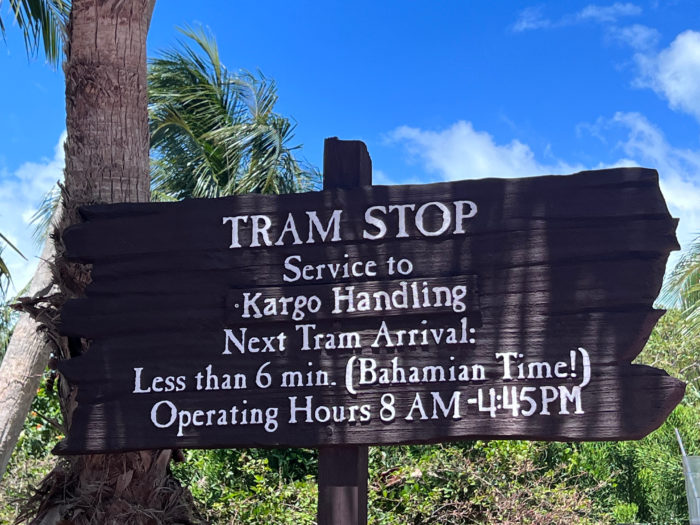 Inclusions & Add-Ons
Towels & Water
Free towels are provided as you exit the ship, be sure to grab a few on your way out to the beach. Towel return drops are located throughout the island.
Water bottles are available for purchase at the ship debarkation point – a cooler that has six water bottles with ice for $28.16 (prices are subject to change). You also get to keep the cooler as a souvenir. There are free water stations available at a few points on the island. Free soft drink and juice stations are located at the restaurants if you want to save your pennies.
Lunch
A complimentary Barbeque-style lunch is available at three locations on the island: Cookie's, Cookie's Too, and Serenity Bay BBQ (adults-only). Food options include hamburgers, veggie burgers, hot dogs, BBQ ribs, beef brisket sandwiches, grilled chicken, grilled salmon, vegetarian chili, corn on the cob, a variety of salads, chips, fresh fruit, soft serve ice cream, and other treats.
Lunch starts at 11:30 a.m. and runs for a few hours. Our researcher noted that the food at Cookie's BBQ is absolutely delicious. She loved the enormous burger they received and how the patty went straight from the grill onto her plate.
Rentals & Excursions
If you plan on renting both a bike and snorkel kit, we suggest buying the Castaway Getaway Package. This 3-in-1 package includes snorkel equipment (mask, fins, inflatable vest), a float or an inner tube, and a 1-hour bike rental per person. The cost is $46 (ages 10 & Up) or $26 (ages 5 to 9). If you have not pre-booked this package, you can purchase it, or any other rentals, at the shacks close to the Family Beach or Pelican Point Tram Stop. You can pay for your rental by providing your room key (Key to the World card). Other activities available for rent are aqua trikes, banana boats, fishing excursions, jet boat tours, parasailing, and more.
While bikes and floats are usually available at any time. Many excursions fill up well before your day at Castaway Cay. Book things like tours in advance via the Disney Cruise Line website. Know your port adventure booking dates and plan accordingly.
Toys & Gifts
Did you forget to pack your kiddo's favorite pail and shovel (or just decide not to bring them in the first place)? You can purchase a set at one of the two Disney-run gift shops, Buy the Seashore and She Sells Seashells.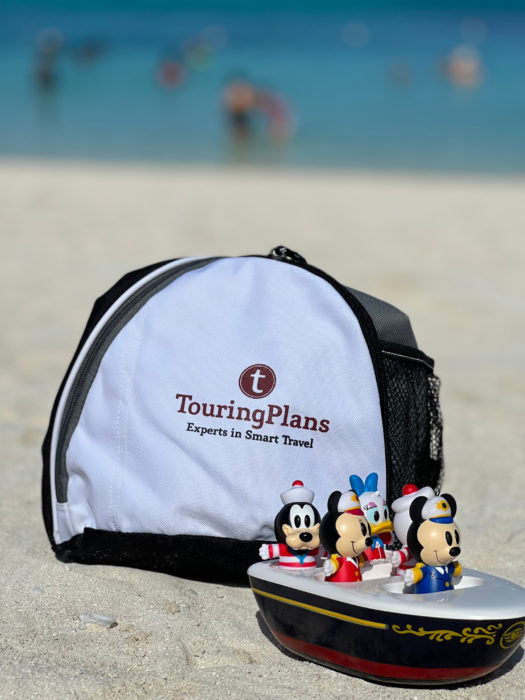 Drinks
Bars & Drinks
Are you craving a refreshing tiki-inspired beverage or a soda? There are so many bar and drink options available on the island. Beverage service starts at 9 a.m.. Alcoholic and non-alcoholic drinks from the bars are an extra charge. Fountain soft drinks are complimentary from the food service locations, but if you want canned sodas on the beach or a bar, there is a fee.
One of the closest bars on Castaway Cay to the Family Beach is the Heads Up Bar. You'll find it close to the Pelican Plunge (the floating play area with water slides). We find Heads Up is a great bar if you want to get away from the crowds without heading to Serenity Bay. You will get some of the best views of the crystal clear blue water – almost as if it were a postcard. When our researcher went to this libation lounge, they found there was only one other person at the bar with them – talk about elbow room!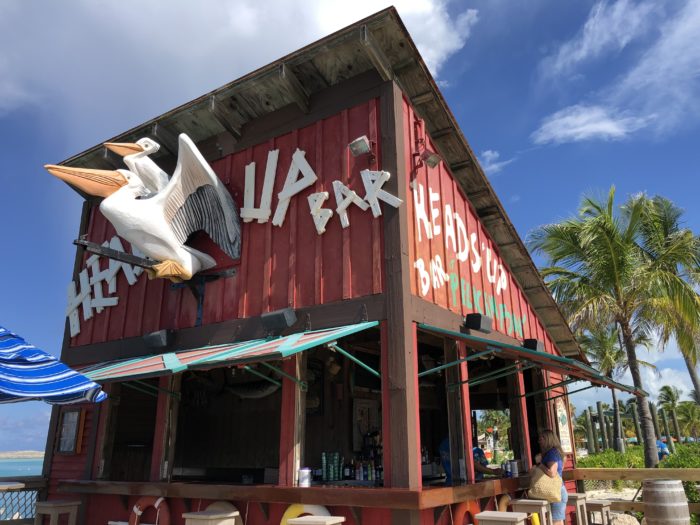 You can also visit other bars on the island, including Castaway Air Bar, Conched Out Bar, and Sand Bar. Castaway Air Bar and Conched Out Bar are near Serenity Bay, while Sand Bar is another close option to Pelican Plunge.
Bon Voyage!
In sum, our three main tips are: plan ahead, know what you want to prioritize (fishing excursion or sunbathing?), and bring your Key to the World card. With some thoughtful planning, you are well on your way to enjoying your first Castaway Cay trip.
Thinking of planning your first visit to Castaway Cay but aren't sure where to start or even how to book a Disney Cruise? Chat with our Destination Specialists – they will be able to help you from the initial quote to the day of your trip.