16 Things to Bring on a Rainy Park Day
Florida rainstorms are infamous. And whether they just pop up and blow through on a hot afternoon, or continue to drizzle all day, they can certainly put a damper on your perfectly planned park day at Walt Disney World.
The good news is, there is still plenty to do at the theme parks even if it is raining. So, if you come prepared to brave the wettest weather, you can still have an amazing day. . . and likely enjoy lower crowds!
Here are some things you may want to consider bringing with you to the parks if rain is in the forecast.
1) Poncho/Raincoat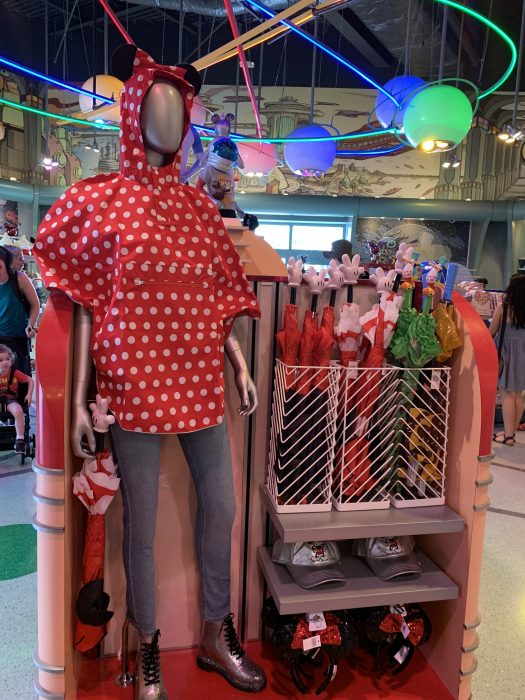 While they may not be the most stylish, ponchos will be your most cherished article of clothing on a rainy park day, keeping you dry as you dash between attractions and providing a nice buffer between you and wet seats. Bring one from home to avoid high prices at the park.
2) Umbrella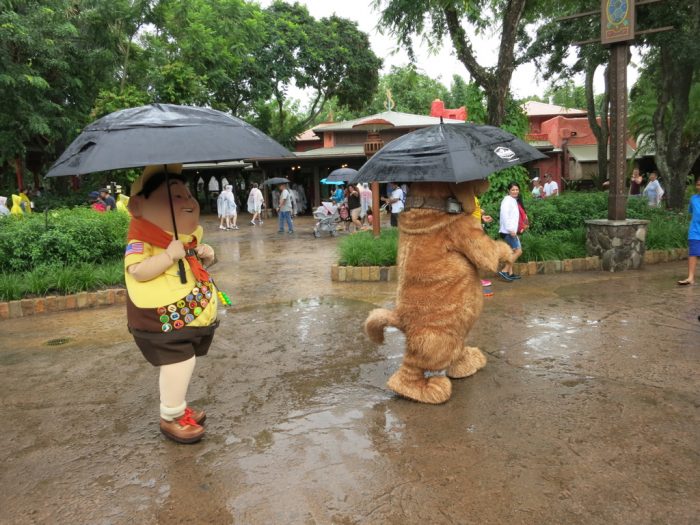 I never bring an umbrella because I don't want to lug it around all day (wet or dry), and I personally don't find them all that effective at keeping the rain off anyway. But if you prefer umbrellas, find a nice compact one you can throw in your bag.
3) Waterproof Shoes
I have a pair of Keens walking sandals that I love. They are designed to get wet, so they don't get slippery or irritate my skin, and they dry quickly once it stops raining. Find a comfortable and durable pair of shoes that are waterproof or water-resistant to bring on your trip, whether they are sandals, sneakers, or even boots!
4) Extra Socks
Even if you are wearing waterproof/resistant shoes, your socks may still get wet. Wet socks are uncomfortable and can lead to blisters. Bring a second pair of socks (preferably moisture-wicking) on particularly rainy days to change into once the rain has stopped.
5) Ziploc Bags
These will be your best friend in a rainstorm (or on a water ride!). Bring enough to put your phone, camera, other electronics and valuables in to keep them from getting wet. Carrying around a special souvenir? Ziploc bag!
6) Washcloth
Having a small washcloth in your bag is helpful especially when it comes to sitting down. If it rained earlier, you may want to wipe down a bench, or the seats and table at an outdoor dining location. Even certain attractions might have wet seats you want to quickly dry before buckling in.
7) Athletic Tape
Wet shoes, socks, and feet can cause blisters. And Band-Aids don't stay on wet skin very well, so consider bringing a small roll of athletic tape to either cover any irritated areas, or to put over your Band-Aids to keep them in place.
8) Hat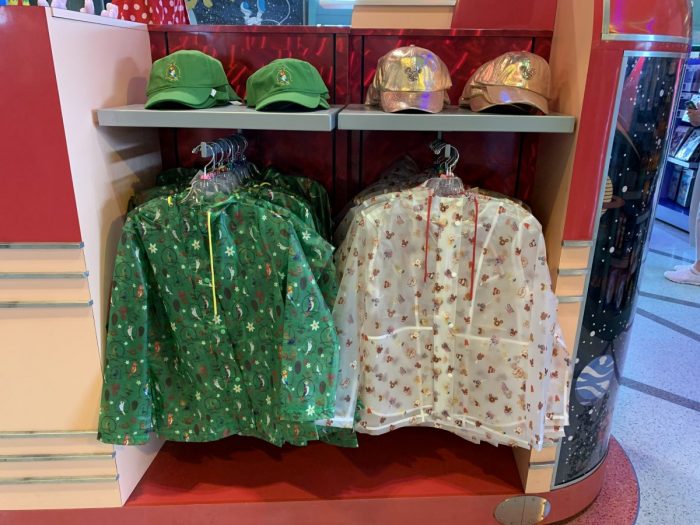 A baseball hat, floppy hat, or sun hat can be very useful in keeping your face dry and your vision clear. On a rainy day out, I like to wear a baseball hat under my raincoat/poncho to help keep my hood up, for extra protection!
9) Glasses Cleaning Cloth
If you wear glasses, you know there's nothing worse than raindrops clouding your vision all day. Bring a nice microfiber cleaning cloth for your glasses to keep them both raindrop and smudge free, so you can enjoy the sights!
10) Payment Method
When it's really rainy, you don't want to be dealing with wet bills all day, so make sure you have an alternative payment method that works for you. Mobile payment is accepted at the parks, but you may not want your phone to get wet by constantly pulling it out in the rain. Credit cards can get wet, but maybe you don't want to be opening your bag to the elements all the time. MagicBands are always a good, waterproof option for easy access.
11) Water-Resistant Bag
Some bags are made out of materials to better withstand water than others. My Vera Bradley bags don't really hold up well in the rain, so on a wet day, you may want to consider a more water-resistant material for your purse, backpack, or fanny pack.
12) Extra Masks
Wet masks are no fun to walk around in, plus I would imagine they are also less effective. When the weather is bad, throw an extra face mask in your bag so you can swap it out during the day if needed.
13) Phone Charger
A portable phone charger is always useful to bring with you on a long park day, but even more so on a rainy park day. You'll be using your phone a lot to check the weather and radar, which drains your battery. You may also have to update your Touring Plan more often to accommodate attraction closures. And, if you are waiting out the rain inside somewhere, you may just be using your phone more for entertainment.
14) Dri-fit Clothing
Plan ahead to wear this type of clothing on rainy days. It will dry out faster after the rain stops, so you won't be stuck in soggy, clingy clothes all day.
15) Sunscreen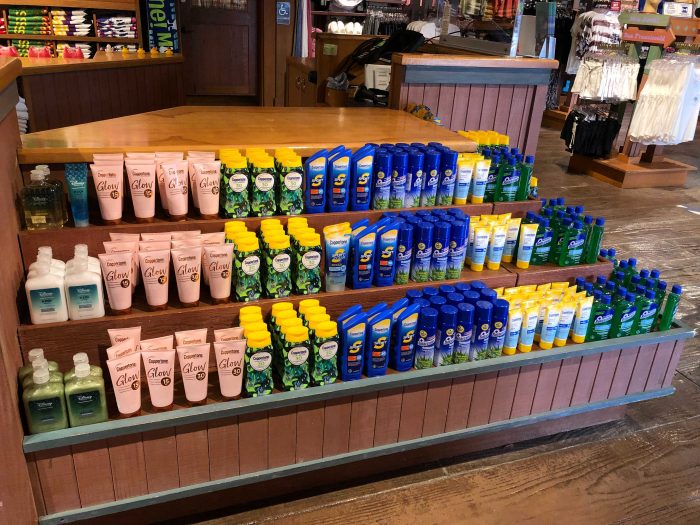 Wait, what? You may think if the forecast looks wet, you won't need sunscreen. But Florida weather can be fickle, and rainstorms can stop as soon as they start, bringing bright, sunny skies behind them. So always, always, be prepared with sunscreen on a park day!
16) Sunny Disposition
If Mother Nature is not cooperating, you may just need to bring your own sunshine with a positive attitude! Remember, you are at Disney, and even a little rain can't ruin your day!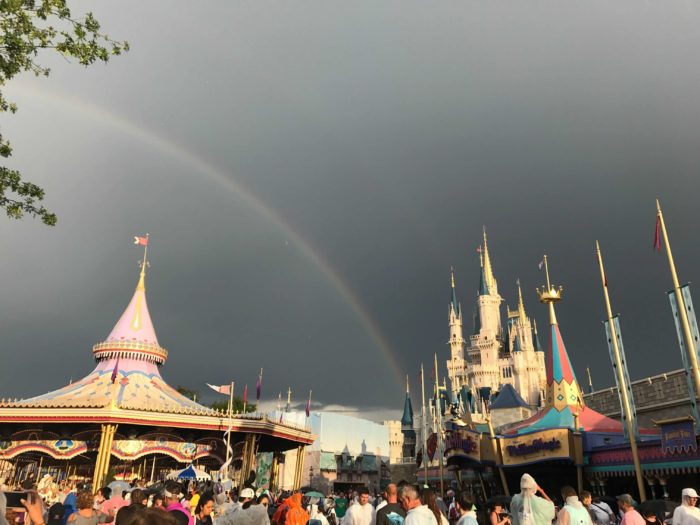 A rainy day might not be exactly what you imagined at Walt Disney World, but armed with these items you can limit the damage and still have a great time. Some of my rainiest theme park experiences have also been some of my most memorable! So don't be afraid to get a little wet!
What do you bring with you to the parks on a rainy day? Let us know in the comments!