Best Parade Locations at Walt Disney World
If you've ever watched Mickey's Once Upon A Christmastime Parade in Frontierland, you likely know that location is paramount to enjoyment of a parade (same goes for fireworks–more on that in a future post). Although Christmas in the woods is beautiful at Wilderness Lodge, the same probably cannot be said for Mickey's Once Upon a Christmastime Parade in Frontierland.
Those of us who watch parades often spend a lot of time waiting for the parade. We camp out early to get good spots, foregoing precious time we'd otherwise spend boosting our self esteem by trouncing our significant others in Buzz Lightyear's Spaceranger Spin. We are concerned with having an unobstructed view. Yet, it seems so often we're unconcerned with having a thematically appropriate view.
To be fair, I'm sure some people are concerned with this. After all, Main Street does fill up first. (Although that could be because it's closest to the exit.)
Below you'll find my take on the best viewing locations for each parade.
Celebrate a Dream Come True Parade – Inside of Space Mountain. Seriously. This parade is an abomination. If you've seen the daytime parade in the Magic Kingdom in the last decade, you've seen this parade. If you absolutely must watch it, do so from the hub or near the Casey's or the Ice Cream Parlor so you can get photos with the Castle in the background.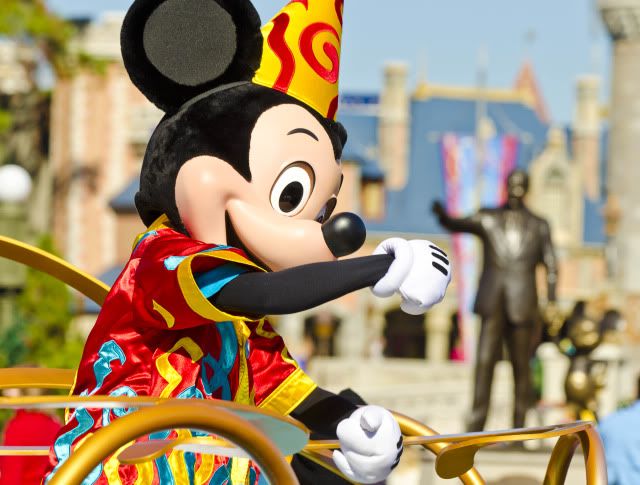 Move It! Shake It! Celebrate It! – Even this curmudgeon finds this parade reasonably enjoyable. It's high energy, fun, and interactive. I'm not here to give reviews, but I find myself wondering why its "big brother" afternoon parade at the Magic Kingdom isn't as good? View this parade from the same locations as Celebrate a Dream Come True.
Main Street Electrical Parade – I like to view this from the inner ring of the hub (near Partners), which allows me to get photos with the Castle in the background. This location also allows me, if I'm using a telephoto lens, to photograph the parade as it comes and goes without ever moving (if I stand right by Partners rather than going for a "front row" spot).
Mickey's Boo To You Parade – This parade can have a nice eerie atmosphere in Frontierland (I'm scared just thinking about the potential for Blood on the Saddle!), but it's best viewed from the sides of Main Street, near the Hall of Champions, or the Art of Disney, as the lighting on the Main Street buildings really adds to the atmosphere. Plus, you'll get plenty of light from Main Street for photos of the Headless Horseman as he passes.
Mickey's Once Upon A Christmastime Parade – Without a doubt, the best location for this is the end of Main Street, or with your back against the Christmas tree. I like the end of the street better, so you can get some photos with the Icicle Castle in them, turn, and get some photos with the tree in them. If you watch this parade anywhere in the park where it's not snowing, you're missing 75% of the experience. The atmosphere is that crucial to this parade.
Pixar Pals Countdown to Fun! – I will wait to pass judgment on this one until I see it (hopefully I don't miss it when I blink!), but when I do watch this, it will be across from the American Idol Experience. This allows me to get photos with the Big … Hat and the tip of Grauman's theatre in the background.
Mickey's Jammin' Jungle Parade – This is a tough one, but I would opt against the popular Discovery Island locations and instead go for the edge of Africa, facing the Tree of Life. You can get a really cool juxtaposition of shots if you position yourself properly. You can get some shots with the lush vegetation of the Tree of Life in the background, and others with the barren and worn facades of the African buildings.
Jambo! (Sorry, that's the only Swahili I know–unless Nah-ta-zu counts.)
What tips do you have? Any favorite locations you think I've overlooked? Share them in the comments!