Chase Disney Visa: Useless Mickey Mouse Card Or Valuable Touring Accessory?
I'm almost surprised that when guests arrive at their Disney Resort for check-in, a giant meet & greet Mickey Mouse doesn't appear, pick them up by the ankles and shake them upside down like a child vigorously shaking his piggy bank to get every last coin to fall out. Of course, Disney basically does this anyway over the course of a visit, except guests don't get the opportunity to meet Mickey Mouse in the process (without grabbing a FastPass or waiting in line, at least!). So maybe the joke is on us guests!
The Mouse has long seen the benefit of being in the credit card game, dating back to the 1990s when it established a partnership with American Express creating the White Glove Treatment.  Following that, Disney partnered with Bank One to create the Disney Visa, which was the short-lived predecessor to the Disney Rewards Visa Credit Card from Chase that presently exists today (there's also a new card called Disney's Premier Chase Visa).  While the Chase Disney Visa has some cool rewards, which will be discussed in turn below, it doesn't compare to the AMEX, which offered some deliciously enticing perks, namely, free dessert (what more needs to be said?!) at select restaurants.
However, since the AMEX is no longer available, there's no sense in lingering on the past. Instead, let's survey the perks the Chase Disney Visa offers, to see if it would enhance your touring experience at Walt Disney World Resort and Disneyland Resort.
Let's start with the application process. Luring new prey–I mean customers–is big business for credit card companies. As such, they will offer bonuses if you're accepted. These bonuses can range from things as small as a sandwich or a baseball (I've seen both: outside of a college campus Subway and in a minor league baseball stadium, respectively) to two free domestic round-trip flights.  The Chase Disney Visa actually offers variable incentives based on where you see their advertisement. You may see an offer for $15 if you've just completed an order on DisneyStore.com, but if you fill out a few of the various "requests for information" on a Disney website, you may get a $100, $150, or $200 offer by mail. Despite already having a Chase Disney Visa, I have actually received both a $100 and $200 sign-up offer by mail in the last two months. The point here is that you should have patience, rather than accepting the first offer Disney slings your way.
As with most credit cards, the primary benefit of the card is its reward dollars. The Chase Disney Visa calls these "Disney Dream Reward Dollars," which are equal to 1% on purchases charged to your card. You can redeem these Reward Dollars for most purchases you make at the theme parks and on the Disney Cruise Line, including on park tickets, merchandise, hotel. You can also use the Reward Dollars at the Disney Store or DisneyStore.com.
Cardholders also receive benefits once they arrive at the parks. These benefits include: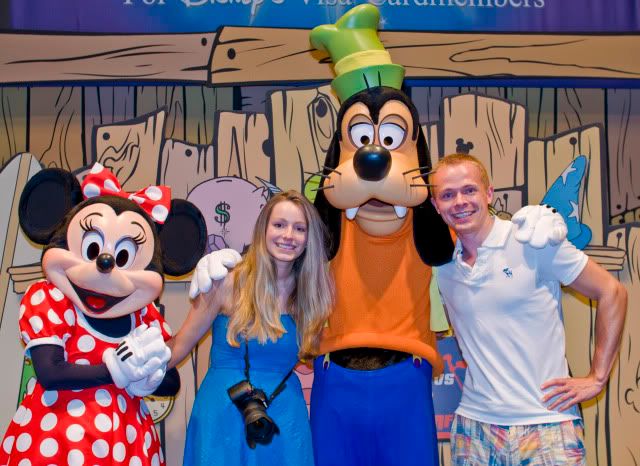 A character meet & greet location inside Innoventions at Epcot and a similar meet & greet at Disneyland, both only available to Chase Disney Visa holders. Although I find the Epcot location poorly lit (a complaint of most character meet & greet locations), it is nice to have a photo with a few characters in it. The characters inside are fairly random, and you don't know who you'll meet until inside. This spot can attract moderate lines, but they're never as long as lines at the nearby Character Spot.
Cardholders receive a 10% discount on merchandise purchases of $50 or more at select locations in Disneyland and Walt Disney World, and 50% discount on stroller rentals at Disneyland Resort. Plus, a 20% discount on almost every tour offered at Walt Disney World and Disneyland.
Chase Disney Visa holders typically receive a 2-3 day advance window to purchase certain Walt Disney World discount offers. This head-start can be great for the Free Disney Dining Plan and other money-saving Disney packages. Guests who book through the Disney Travel Company directly (or have their travel agent do it for them) pay no interest for 6 months on theme park or cruise packages when charging the package to their Chase DisneyVisa prior to arrival. The Chase Disney Visa site often touts special discount codes for DisneyStore.com or Disney shows, but typically the general public can access similar deals, so I don't view this as a real benefit.
Finally, the Chase Disney Visa has no annual fee. This is a fairly significant, as it makes it worthwhile to hold the card even if you rarely make any purchases on it.
Obviously, the decision to open a new line of credit should not be taken lightly. Opening a new credit card will have a negative short-term impact on your credit score (as it will reduce the median age of your cards), which is something to be considered. More importantly, using credit cards to earn rewards is only a pragmatic strategy if you can and will pay the balance of the card off in full each month. Otherwise, interest rates fully negate any benefit you may accrue from the card. Since this is a Disney blog, and not one on financial responsibility, I'll leave my warnings at that, and recommend reading a resource on financial management and/or credit cards if you have any questions.
Simply put, the Chase Disney Visa is not a good card for its Reward Dollars. Most people are eligible for cards that offer better returns (2-3%), and are less restrictive on where you can spend the funds. I know there may be some allure in having part of your Disney vacation "free," but if that's really your goal, get a card that offers actual cash-back rewards  that can be spent anywhere and has a better return-rate, and just save those rewards for Disney. Don't let the psychology of the Disney Reward Dollars make the card overly appealing.
That said, the multitude of other benefits can definitely make having the Chase Disney Visa worthwhile.  For those who find themselves frequently calling to book the Free Dining promotion the second Disney Reservations opens on the first day the promotion is offered, the 2-3 day head-start that Chase Disney Visa card holders frequently receive may be appealing.  However, I wouldn't get it as a primary-use card.
All things considered, I think the Chase Disney Visa presents benefits that most Disney fans will find appealing, which might make it worth getting just to have. Plus, who doesn't want Mickey Mouse's smiling face giving them a smile of approval each time they make a purchase?
What do you think of the Chase Disney Visa? Any rewards you find appealing?