Tours at Disneyland!  I promised to come back to this topic and so here it is!  So let's talk tours at Disneyland.  Disneyland has some great tours!  If you're looking for something a little different, maybe a way to get more acquainted with the resort, or maybe you're hoping to see something that your everyday visitor won't, a tour is a great option for you!  Tours vary pretty widely in prices and some are even free!  Here are ten of them to consider.
Here's my disclaimer for the below information.  This is accurate as of right now, today!  The minds of Disney could change prices, tour times, or anything else anytime they want to!  But this should be pretty stinking close to what you can expect.
 1. Walk in Walt's Disneyland Footsteps Guided Tour – I started the list with one of the best.  Walk in Walt's Footsteps Tour has been around a while, but it recently went through some changes.  What was a great tour, became even better!  Now the tour not only includes a walk around the park with some interesting insights and great history stories, it also includes a look inside Walt's apartment!  What? Yes!  That's what I said!  A look inside Walt's apartment!  I don't know if you've tried to get into Walt's apartment before, but you can't.  This is a truly unique offering for Disney fans.  You'll also experience two rides on this tour and a look inside the lobby of Club 33.  This three hour tour is currently $109 and runs at 9:30 every morning.  You also get a collectible pin and lunch!  There are discounts available for Disney Visa cardholders, Disney Vacation Club members, Annual Passholders and AAA members.
2. Welcome to the Disneyland Resort Tour – I've mentioned this tour before because I think it's a great value.  I also think the name may throw some frequent visitors off, when in reality, it's a good tour for even those who feel like they know Disneyland like the back of their hand.  This tour includes multiple rides, FATSPASSes for later, priority viewing for a show like Disney's Aladdin – A Musical Spectacular, a souvenir pin, a lanyard, help with dinner reservations, and tours of both parks!  And did I mention it's only $25?  And on top of that, there are Disney Visa cardholder discounts, AAA discounts, DVC member discounts, and Annual Passholder discounts!  This 2 ½ hour tour runs on Friday, Saturday, and Sundays at 10:30.
3. Discover the Magic Tour – Two words – Scavenger hunt.  Oh wait, two more – in Disneyland.  Yes, please.  Does the idea of a scavenger hunt in Disneyland not bring out the kid in all of us?  You'll be hunting for treasures left by pirates and solving clues along the way in this tour.  You'll ride rides and possibly encounter some characters along the way.  The Discover the Magic Tour is geared more for children, but it can certainly be enjoyed by all.  This 2 ½ hour tour runs on Fridays, Saturdays and Sundays at 10 a.m.  It costs $59 for the first two guests and $49 for each guest after that, and includes a lanyard and medallion. Disney Visa cardholders, AAA members, DVC members and Annual Passholders do get a discount.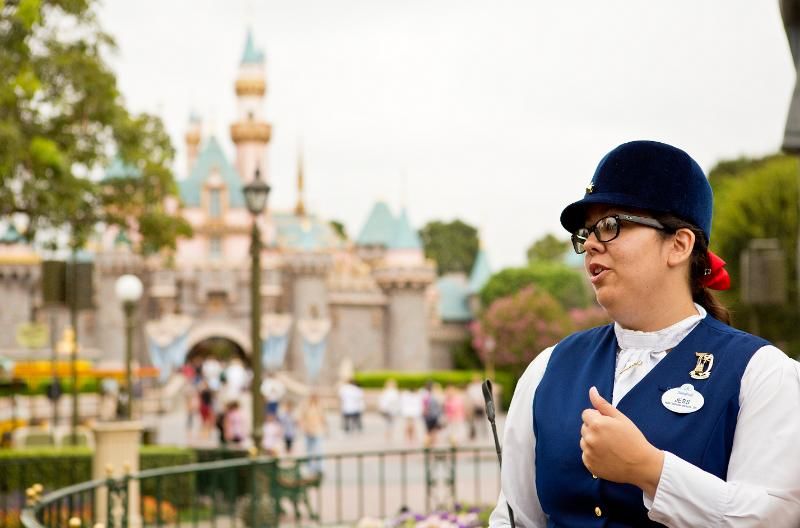 4. "Cultivating the Magic" Tour – This is for all the horticulturalists out there!  Or just people who love to look at the beautiful flowers at Disney.  And I don't mean that in a patronizing way, the flowers and landscaping at Disney are amazing!  Gorgeous!  I'd pay a lot of money if I thought my yard could look like that, but I'm pretty sure even with a LOT of money my yard would never look like that.  These plants aren't just gorgeous, they have a purpose and a reason for being where they are and "when" they are.  They tell a story, and this tour can fill you in.  This 2-hour tour runs once a day on Saturdays, Sundays, and Mondays and is currently $49 per guest 3 and older.  It includes a seed packet and souvenir pin and there is a discount for Disney Visa cardholders, AAA members, DVC members and Annual Passholders.
5. "Holiday Time at Disneyland" Tour – This is a super popular tour and with good reason.  You've seen many blog posts here about how amazing Disneyland is during the holidays.  Well, this is your chance to stop and soak it all in.  On this tour you'll hear stories about holidays around the world and stories more personal to Disneyland.  You'll ride two rides, get a warm drink and snack, reserved seating for the Christmas parade, and, what else, a collectible pin!  This 3-hour tour is offered only during the holiday season and there are discounts for Disney Visa cardholders, AAA members, DVC members and Annual Passholders.  It was $68 per person this past season.
6. Disney's Happiest Haunts Tour – Now this is a fun one!  It's only offered at nighttime during the Halloween season at Disneyland, around mid-September until October 31st.  I don't want to give too much away about this spooky adventure, but if you're a fan of Disney Villains and Halloween, this is for you.  I need to give a shout out to the guides who run this tour.  They really get into it, and do an excellent job.  This 3-hour tour includes rides, a souvenir pin and a special Halloween treat.  It's also combinable with Mickey's Halloween Party on nights that it's offered.  The tour alone was $68 per person this past season, and $108 if you combined it with the party.  There are discounts for Disney Visa cardholders, AAA members, DVC members and Annual Passholders.
7. Art of the Craft Tour – Free Tour alert!  This tour is available for anyone staying at a Disney resort and is completely free!  It's a guided walking tour of the gorgeous Disney's Grand Californian Hotel and Spa.  On this tour you'll learn all about the "Arts and Craft" style that's used in the design of the Grand Californian as well as the Wilderness Lodge at Walt Disney World.  Architecture buffs will be in heaven.  If it's open you may even get a peek into the Presidential Suite!  The tour usually runs on Sundays, Mondays, Thursdays, and Fridays at 1:00 pm.  And it's free.
8. Walking Tour of the Grand Californian and Disneyland Hotel – Guests of the Disney Hotels will usually get a list of hotel activities when they check in Sometimes there are walking tours of the Disneyland Hotel or Grand Californian listed.  I hear they are coming back on a more regular basis, so if they do and you can fit it into your schedule, do it!   The guides for these tours can answer any myriad of questions about the resorts, and odds are good that they can point out things you've never noticed and give you information you've never heard before.  What have you got to lose? It's another free tour!
9. Grand Quest at the Grand Californian – Admittedly this is more of a self-guided tour/activity, but it's fun!  Guest Services in the Grand Californian has the Grand Quest sheets.  It's a list of questions with places to fill in the answers as you go.  The staff will help you along the way.  It's a pretty short activity, but fun for kids!  And there's often a treat waiting for you at the end when you turn in your answers!  It's free!
10. VIP Tour Services – I saved the most expensive for last.  VIP tours aren't just for celebrities and VIP's, but they are for guests with very deep pockets.  Prices start at $175 an hour with a 6-hour minimum and only go up from there!  But you do get the VIP treatment for that price!  Your host contacts you before you arrive to make sure they've got everything set up for you.  Reserved viewing for the shows you want to see, dinner reservations, etc.  When you arrive, they stick with you and you can take advantage of their expert knowledge of the workings of the park.  Different levels of the tour offer different abilities to bypass lines.  Every single guest I know who has experienced VIP Tour Services says it was absolutely worth it (but, the cost is extremely high!).  Not surprisingly, there are no discounts for this tour!  The tour will accommodate up to 10 guests at a time.
Have you done any of these tours?  Did you enjoy them?