10 Ways the TouringPlans Blog Can Help You Plan Your Disney Cruise
Are you thinking of trying your first Disney Cruise?  Are you a skilled Disney Cruise Line Veteran who doesn't need no stinkin' help from anyone?  Well we can help!  Even if you don't think you need it!  TouringPlans blog posts have a little something for everyone.  I'll prove it!  Keep reading!
1. Should You Go On a Disney Cruise? – That's the first question to ask right?  Should you go?  Will you like it?  Are the kids too young? etc. etc.  Well if you're a Disney fan, I gave you 10 Reasons right here!  Savannah loves Disney and she agreed in this article.  Chances are that if you're reading this blog post, you are a Disney fan, but if you're not, look at this blog post for 10 reasons to try one.  Derek joined in with 6 reasons of his own to try a Disney Cruise.  Kristi wrote a blog post specifically geared towards people that hate cruises!  Laurel and I both added thoughts on why Disney cruises are fun for adults and couples with no kids.  Erin wrote two blog posts for parents thinking about a Disney cruise, one about whether your children are old enough and one that compares a Disney cruise to summer camp!  If you haven't figured it out by now, the answer to #1 is an unqualified "yes."
2. Choosing a Ship – Now that you're convinced, you need to choose a ship!  I compared the four ships in this blog post.  Dani gave us a photo tour of the re-imagined Disney Magic, and I wrote about the changes shortly after they were complete.  Laurel recently broke down the awesome changes coming in the fall to the Disney Dream.  There's no bad choice here, but maybe one that's more right for you.
3. Choose an Itinerary – Maybe you don't care that much about the ship (because all four are fabulous); maybe you just care where you're going!  Every time new itineraries are out, there is a post breaking them down, and some recent ones can be found here and here.  Earlier this week the Fall of 2016 itineraries were released and Laurel posted here!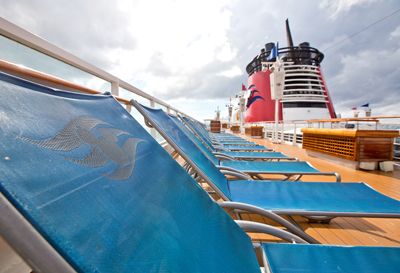 4. Choosing a room – Now that you know where you are going and on which ship, you need to pick a room!  Laurel wrote a post on rooms and prices, and I explained why concierge may be worth the money for many people.  Ultimately, what matters is that you're on the ship, but some advice on room selection will probably help.
5. Booking – When to book, when to book!  I had some tips on finding a deal in a recent post.  The biggest tip would be using the awesome Fare Tracker tool, and David shows it in action here.  Laurel recently posted about finding the least expensive dates, and I always recommend booking early .  If you're wondering if a holiday cruise or Star Wars cruise are for you, these posts may help, and for those last minute planners, I broke down the last minute restricted fares called VGT, IGT, OGT in a blog post.  Hopefully these will help you out.
6. Packing – At some point you're going to need to start packing.  Maybe you're the kind of traveler who starts packing weeks in advance to build up the excitement or maybe you are running around the house about 6 hours before your flight hoping you don't forget anything!  Either way, it's going to happen at some point.  Scott shared his list of what to pack and I followed that up with what not to pack.  Laurel also touches on packing in her planning blog post, and Erin just wrote a great post on what to wear on your cruise.  I personally can't read enough posts on packing!
7. Getting to Your Ship – You also need to decide on your pre-cruise plans.  Go at least one day early!  I cannot say that often enough, or loud enough.  It's essential.  I tried to help you out in a blog post on where to stay before your cruise from Port Canaveral and Thomas helps with activities near Port Canaveral.  Kristi is looking out for Alaska cruisers in her blog post on what to do before your cruise from Vancouver.  You can find more information on home ports on TouringPlans.com.
8. What's Up Onboard – Yay!  Finally on the ship!  Erin wrote a blog post recently on getting to know the Navigator App.  I have a collection of my best cruise tips and a post on how to save money onboard which may help.  Gratuities are confusing for a lot of people, so I wrote a post on Tipping.  I also have a post on terms used onboard that you may not be familiar with.  Erin breaks down onboard photos for you and Julia helps out with internet onboard.  Laurel also selflessly sailed on back-to-back cruises so she could break down back to back procedures for our readers.  Selfless, right?
9. Choosing Excursions – Excursions are a big part of a Disney cruise!  Even if you decide to stay onboard during the ports of call and enjoy a quiet ship, you probably still want to know your options.  Laurel has a great blog post on excursion tips, and I gave you 10 things to consider when booking through the cruise line.  Derek gave us insight on the very popular Castaway Cay 5K and I wrote a post singing the praises of the absolutely amazing cabanas on Castaway Cay.  Seriously.  I can't say enough about them.
10. Latest Disney Cruise Line News – When something big is happening at Disney Cruise Line, you'll read about it here.  As I mentioned above, when new itineraries are released, they'll be here.  Laurel kept us up to date on the new rebooking onboard procedures that were announced a few weeks ago. She also helped decipher the somewhat confusing new Cancellation and Final Payment Policy announced earlier this year.  Watch this space!
Have we helped you? What other topics would you like to see?