2023 Oogie Boogie Bash Halloween Party Guide (at Disney California Adventure)
Oogie Boogie Bash is a special extra-ticket event held select nights at at Disney California Adventure during the Halloween season. The party includes an exclusive Halloween parade with an appearance by a horseback-riding headless horseman, trick-or-treating, and more. In this Oogie Boogie Bash Halloween party planning guide we'll talk about what to expect and how to make the most of your time.
The party dates run from September 5 through October 31, 2023.
This post was last updated on September 6, 2023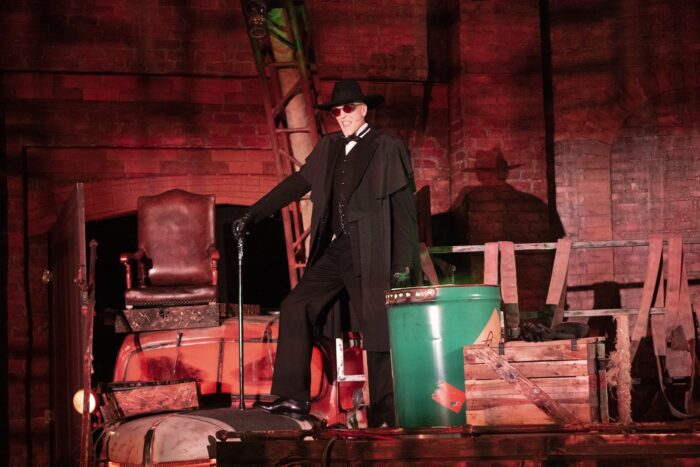 What time is the Party?
Officially the Party starts at 6 p.m. and runs until 11 p.m. Guests with valid Halloween party tickets may enter Disney California Adventure starting at 3 p.m.
Will I need a special ticket to get into the Party?
Yes. Admission requires buying a separate ticket just for this event. It's not included in any regular theme park tickets or Magic Keys.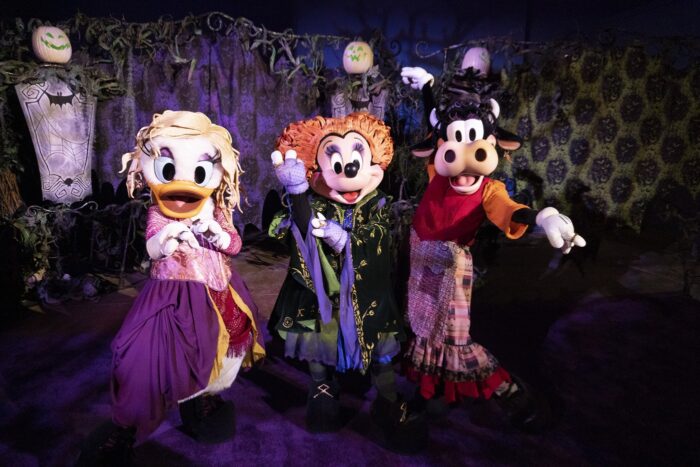 Do I need a park reservation for the Oogie Boogie Bash?
No. Park reservations are not needed (or offered) for Oogie Boogie Bash.
How much do the Party tickets cost?
There's a range of pricing depending on the date you're buying a ticket for. Tickets start at $134 (including tax) for all guests ages 3 and up. Tickets get more expensive as the dates get closer to Halloween.
All Oogie Boogie Bash 2023 dates are SOLD OUT.
2023 Oogie Boogie Bash dates and prices:
Tuesday, September 5: $134
Thursday, September 7: $144
Sunday, September 10: $159
Tuesday, September 12: $134
Thursday, September 14: $144
Sunday, September 17: $159
Tuesday, September 19: $134
Thursday, September 21: $144
Sunday, September 24: $159
Tuesday, September 26: $144
Thursday, September 28: $144
Sunday, October 1: $169
Tuesday, October 3: $159
Thursday, October 5: $159
Sunday, October 8: $169
Tuesday, October 10: $159
Thursday, October 12: $159
Sunday, October 15: $169
Tuesday, October 17: $159
Thursday, October 19: $159
Sunday, October 22: $169
Tuesday, October 24: $169
Thursday, October 26: $169
Sunday, October 29: $189
Tuesday, October 31: $189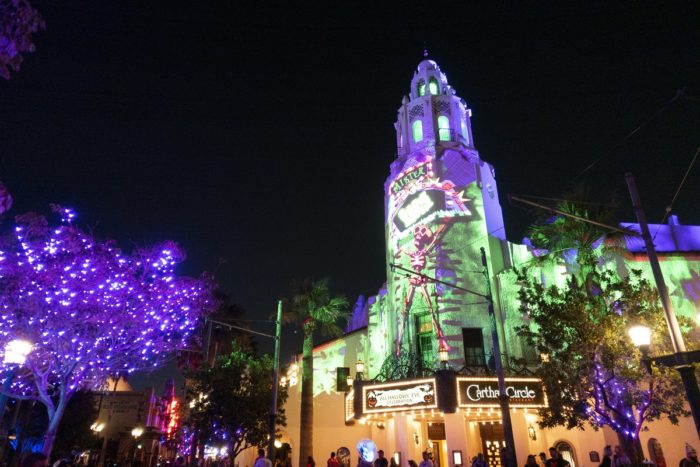 I don't have a Park Hopper. Can I still buy Oogie Boogie Bash Halloween party ticket?
Yes. Oogie Boogie Bash Halloween party tickets are totally separate from regular park admission media. If you have a one day/one park ticket, you're welcome to visit Disneyland in the morning and then Oogie Boogie Bash Halloween party in the evening using a Party ticket. This would not count as a "Park Hop."
I hear parking isn't included with the party tickets. Seriously? 
Yes, seriously. Disney does not include free parking with Oogie Boogie Bash Halloween party tickets. Parking will cost you $30 (unless you have free parking on your Magic Key).
How will I know where to go after I arrive at DCA?
Depending on what time you arrive at DCA, some or all of the entrance turnstiles will be dedicated to Party admission. Look for the signs indicating where to go. When you enter the park with a Halloween Party ticket, a cast member will place a plastic wristband on your arm and hand you a plastic candy collection bag and a park map.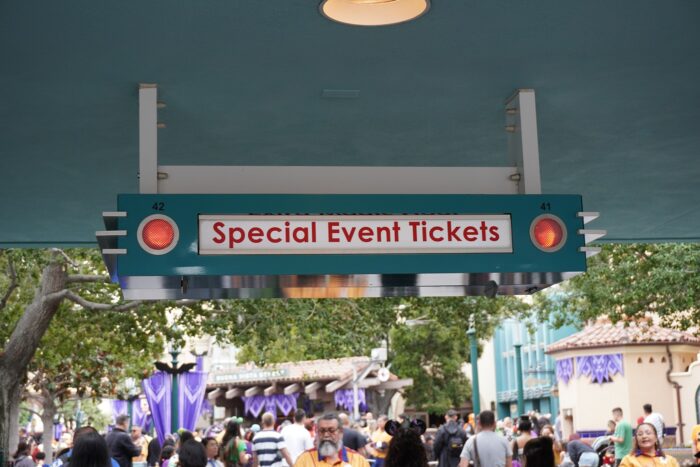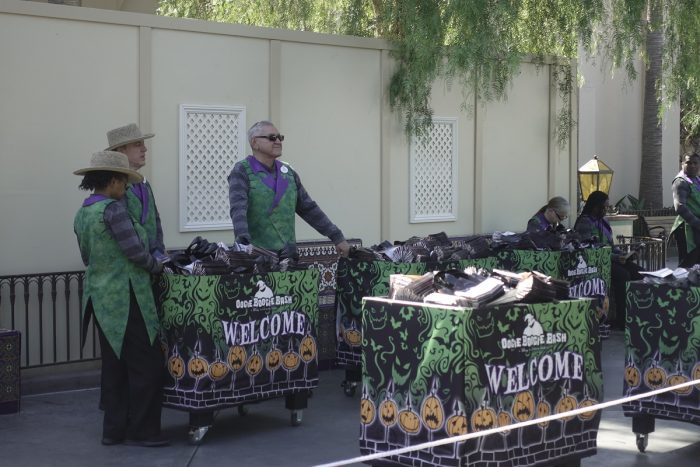 I'm not going to Oogie Boogie Bash Halloween party, but I will be in Disney California Adventure during a day when the Party is held. Will they kick me out of the park when the Party starts?
No one will forcibly remove you from the park, but beginning at around 6:00 p.m. cast members will set up checkpoints for wristbands. If you're not wearing a wristband, then you'll be directed toward the park exit. Wristband checks occur periodically at the attractions and at the entrances of each land.
I'll be visiting DCA in the afternoon and also attending Oogie Boogie Bash. Do I have to leave the park at some point?
No. Beginning in late afternoon, stations inside the park will be set up to distribute wristbands to Party guests who are already inside. Stop by, they'll scan your Halloween party ticket, give you a wristband, and you'll be good to go when the party starts.
It's a Halloween Party – does that mean costumes?
Costumes are not required to attend the Party, but many guests do add to the fun by getting dressed up. There are a few restrictions on costumes (more on that below), but there is no requirement that costumes be Disney-related. Many guests choose to give a nod to Disney in their dress-up (such as about 5,000 people dressed as Snow White), but you'll also see plenty of non-Disney costumes on hand.
Costumes range from just a Halloween-themed tee or pirate eye patch to full-on Haunted Mansion ghosts. The choice is really up to you. Personally, I love seeing other guests dressed creatively, and guests seem to up the ante each year.
What types of costume restrictions are there?
The goal for costumes is being fun and creative, not frightening. You'll be asked to change or leave if your costume is too scary or grotesque.
Disney's official rules state:
All Guests may dress as their favorite character during the event, but may not pose for pictures or sign autographs for other Guests
Costumes must be family-friendly and may not be obstructive, offensive, objectionable or violent
Costumes may not contain any items that resemble (or could easily be mistaken for) an actual weapon
Costumes may not contain sharp/pointed objects or materials that may accidentally strike another Guest
Layered costumes or costume props that surround the entire body are strongly discouraged and may be subject to additional security screening
Costumes may not reach or drag on the ground (e.g., full-length Princess dresses)
For Guests Ages 13 and Under
Costumes and some costume masks may be worn as long as the entire face isn't covered and eyes are visible
For Guests Ages 14 and Older
Capes may be worn if the length does not go below the waist
Themed T-shirts, blouses, sweatshirts and hats are permitted
Acceptable accessories include transparent wings, plastic light sabers, toy swords and tutus
Headwear may be worn as long as it does not cover the face
Costume masks of any kind may not be worn
Any other costume tips?
Autumn temperatures at Disneyland Resort are still quite warm. Particularly for the earlier parties, you might encounter temperatures well into the 80s. This is not the time for fuzzy bear suits or full body armor. Think more along the lines of hula skirts and baseball jerseys for maximum comfort.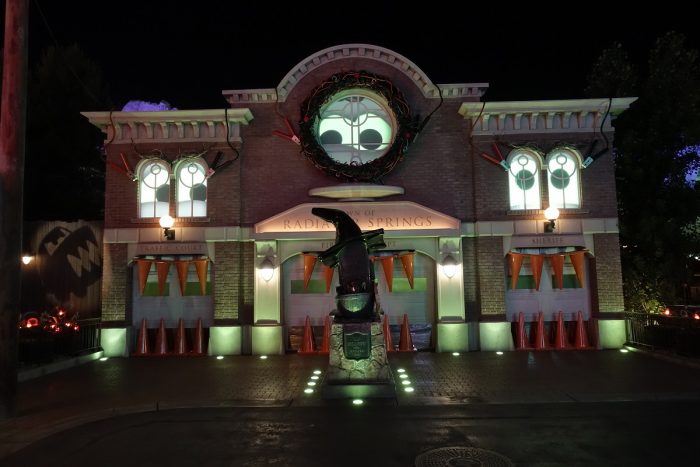 What is the crowd situation like during the party?
I've personally found the attraction lines for the rides to be quite short during the Party; however other aspects of the event can feel quite intense crowd-wise. Think of party nights as a regular busy day at the park, or a 6 or 7 on the crowd calendar. I found it impossible to do everything. With so many meet and greets, candy stations, and the parade, I typically do not ride any attractions when I attended the Party. There just wasn't enough time.
Now that you've got the business out of the way, can you tell me what there is to do at the Party?
On to the fun stuff! The Halloween Party has several components:
Rides
Trick or treating
Special character meet and greet opportunities
Villains meet and greet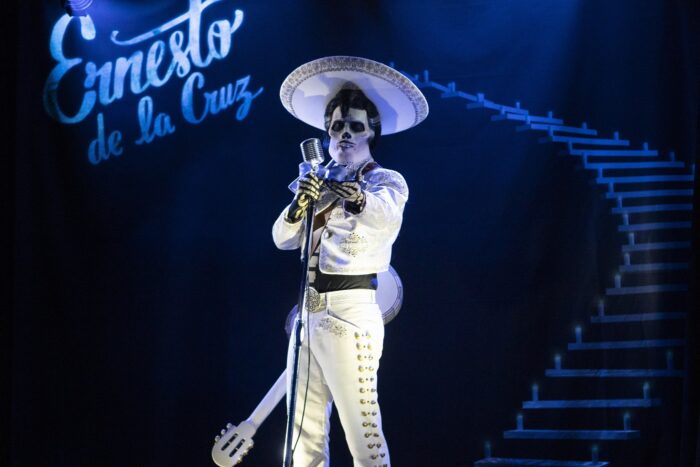 How Many Treat Trails Will Be Available? 
Oogie Boogie Bash 2023 treat trails:
Madam Mim (The Sword in the Stone) – Bountiful Valley Hideaway
Oogie Boogie (Tim Burton's The Nightmare Before Christmas) – Animation Building lobby
Mother Gothel (Tangled) – Grizzly Peak Trail behind Grizzly River Run
Ernesto de la Cruz (Coco) – Queue area next to Hyperion Theater
Cruella (Cruella) – Hollywood Backlot Stage in Hollywood Land
Sid (Toy Story) – Bandstand in Pixar Pier
Agatha Harkness (WandaVision) – Ancient Sanctum in Avengers Campus
Judge Doom (Who Framed Roger Rabbit?) – Behind Soarin' Around the World
Yokai (Big Hero 6) – San Fransokyo Square
Non immersive treat trail in Paradise Gardens near Boardwalk Pizza & Pasta
The new Judge Doom treat trail is a highlight of the 2023 party. Be sure to stick around long enough to see him put a toon in dip like from the movie.
Are all the rides open during the Party?
Yes.
Should I go on rides during the Party?
This depends on your priorities. The ride wait times during the Party are usually minimal. If your main goal for the Party is to get some quality Radiator Springs Racers time in, then by all means ride on. DCA does offer three special Halloween attractions (Guardians of the Galaxy – Monsters After Dark, Mater's Graveyard JamBOOree,  and Luigi's Honkin' Haul-O-Ween), but these are NOT exclusive to Oogie Boogie Bash.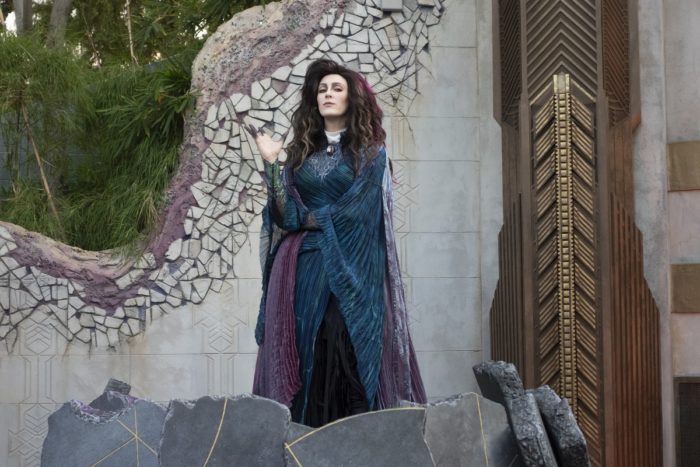 What's the Trick or Treating like?
Every guest of the Party, children and adults, will be given a trick or treat bag upon entering the park. You're also welcome to bring your own bag if that's more your speed. There will be eight treat stations scattered throughout the park. These are noted on the Oogie Boogie Bash Halloween party map and can be found in the park by looking for the special large Halloween-themed "lamp posts."
As you walk through the park, stop by the treat stations, and cast members will add candy to your bag. There are dozens of types of candy available, including everything from off-brand candy corn to name brand mini candy bars. Typically guests report receiving an even mix of sugar-based (Dots, Smarties, lollipops, Twizzlers, etc.) and chocolate-based (mini Hershey bars, M&Ms, Tootsie Rolls, etc.) candy. Many of the stations will have an alternative treat, such as boxed raisins, to give to guests with food allergies. Be sure to ask the cast members at the trick or treat stations if you have alternative treat needs.
There is no limit to the candy collection. You're welcome to hit the treat lines as often as you wish. If you've got a candy-mad child in your group, this may be his or her idea of heaven. Here are some things to think about before you invest too much of your time on candy collection:
If you're trying to maintain healthfulness, do you really want to come home with pounds of candy?
If simply having candy is your goal, it's more cost effective to go to the supermarket and just buy the kinds you like.
What's the opportunity cost of spending time trick or treating? Will you miss out on other party activities?
Do you come from a culture that does not trick or treat? If so, the novelty of this experience may outweigh other considerations.
Other than candy, what are my food options during the Party?
There are a number of counter service venues open during the Party. These include: Award Wieners, Fiddler, Fifer & Practical Cafe, Flo's V8 Cafe, Corn Dog Castle and many other locations. These spots give you a range of options from sweets to salads.
It seems silly to me to use a substantial percentage of your valuable party time for a full meal. To take best advantage of the Halloween offerings, consume your sit-down protein before the party starts. A 5:30 p.m. dinner at Smoke Jumpers Grill or Lamplight Lounge is a great way to fortify yourself for the long night ahead.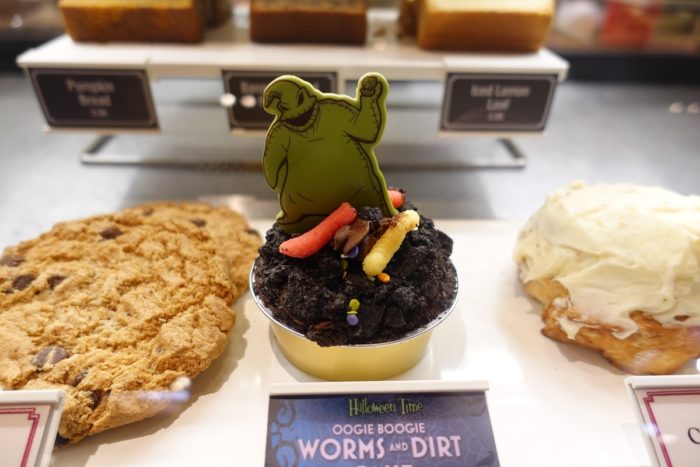 Tell me about the parade.
The Frightfully Fun Parade features Jack Skellington, ballroom dancers and gravediggers from Haunted Mansion, Dr. Facilier from The Princess and the Frog, and many other Disney villains. The Headless Horseman of Sleepy Hollow kicks off the parade. The parade is great and takes the sting out of the high price tag of the party.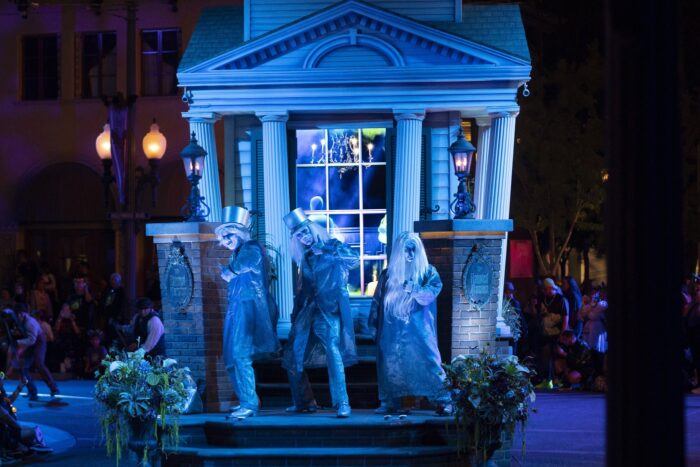 The parade starts in the Paradise Gardens area of the park (near Silly Symphony Swings) and makes its way past the Little Mermaid ride, the main entrance to Cars Land, through Carthay Circle, in to Hollywood Land, and ends next to Guardians of the Galaxy: Mission Breakout. As with all parades, depending on where you're situated on the parade route, it could take 15 minutes or more for the parade to pass your location. The exact parade route is noted on the Oogie Boogie Bash Halloween party park map. About 10 minutes before each parade the Headless Horseman will ride down the parade route.
For the best view obtain a spot for the parade at least 30 minutes ahead of time.
We have full video of the Frightfully Fun Parade on our YouTube page: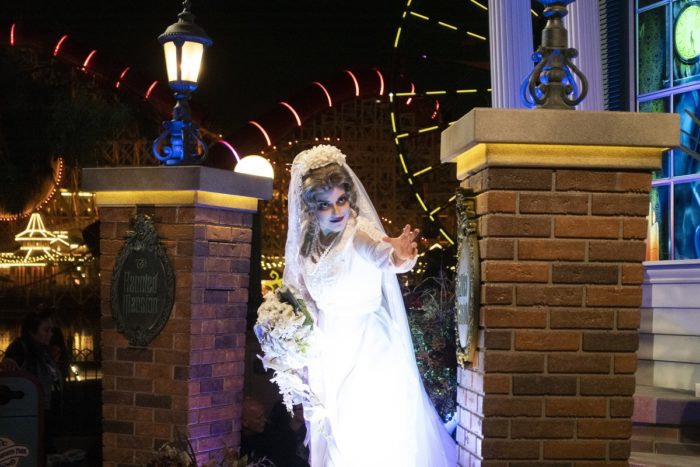 What about the World of Color: Villainous?
There are no performances of World of Color: Villainous scheduled for the 2023 Halloween party.
What is Mickey's Trick & Treat?
Mickey's Trick & Treat is a show at the Disney Theater in Hollywood Land. It's a family-friendly Halloween show. Kids can enjoy dancing with characters not-so-scary-tales. Candy is passed out at the end of the show. There are multiple show times available and were able to walk up at the start of the performance and get a seat without waiting.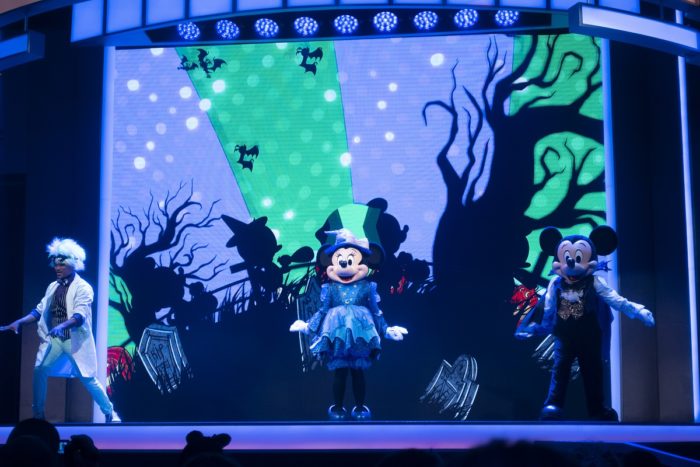 Can I meet characters during the party?
Absolutely! Not only can you meet characters, but many of them will be wearing Halloween costumes themselves. Here were some of the characters available in 2023:
Minnie, Daisy, and Clarabelle as the Sanderson Sisters from Hocus Pocus – Hollywood Land (near food truck)
Bruno from Encanto – Grizzly Peak (on the trail leading from Little Mermaid ride to Grizzly River Run)
Marvel Super Heroes – Avengers Campus
King Mickey, Donald, and Goofy from Kingdom Hearts – Paradise Gardens Park (along the water)
Residents of Cars Land – Cozy Cone Motel
Various characters (princesses, Merlin, Blue Fairy, and more) – Carthay Circle Fountain
Pixar Pals (near Poultry Palace in Pixar Pier)
The lines for the character greetings can become very long, very fast. If character photo opportunities are important to you, be sure to factor wait times into your planning.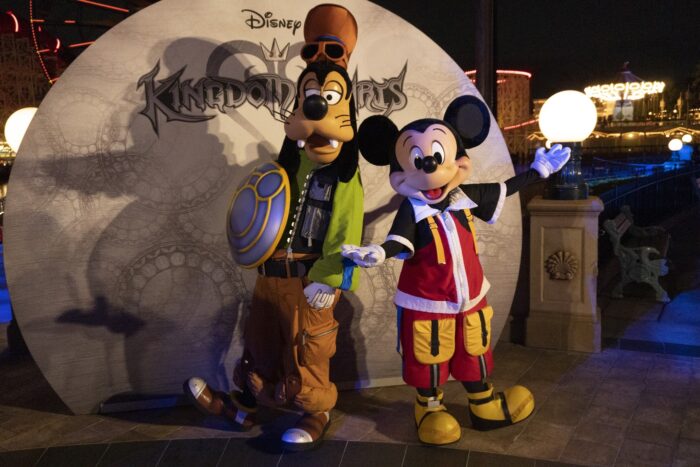 What is Villain's Grove? 
Villains Grove is an immersive walkthrough experience located in Redwood Creek Challenge Trail. It's more on the spooky side than downright scary. No chainsaw wielding masked murderers will jump out of bushes to scare you like they do at other park's Halloween festivities.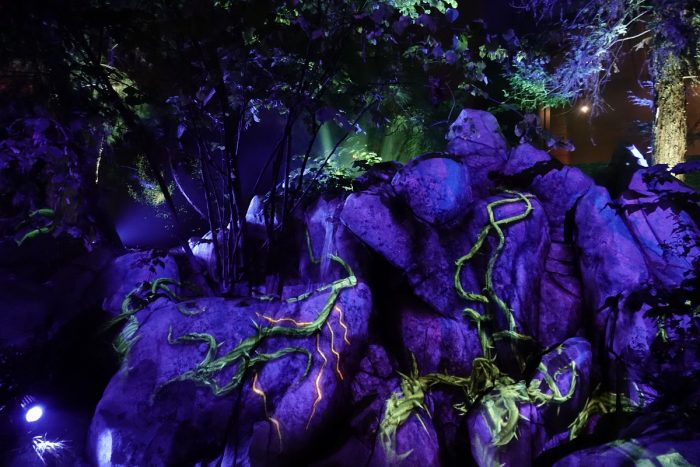 How might weather impact the Halloween party?
Tickets are non-refundable and the Party goes on rain or shine, even if there's rain. Some of the Party activities may be postponed, curtailed, or cancelled, but the Party itself will continue. But let's be honest: it never rains in Southern California.
Is there any special Party merchandise?
Of course there is. Disney will sell Halloween-themed merchandise throughout the parks and hotels from late August until early November. There will also be some items sold exclusively at the Parties. Typically this will include a shirt. Try the shops on Buena Vista Street for best selection.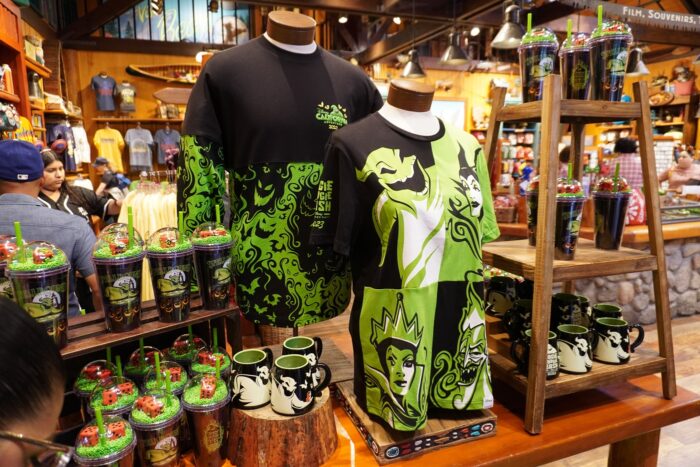 What should I do first during the party?
The first step is deciding what your priorities are. Are you there to meet characters? Do you want to focus on the unique entertainment? Is collecting a year's worth of candy your main objective? Do you want ride time with low lines? Each of these scenarios needs a different touring strategy. Once you have have your priorities set, it's easy to choose a plan.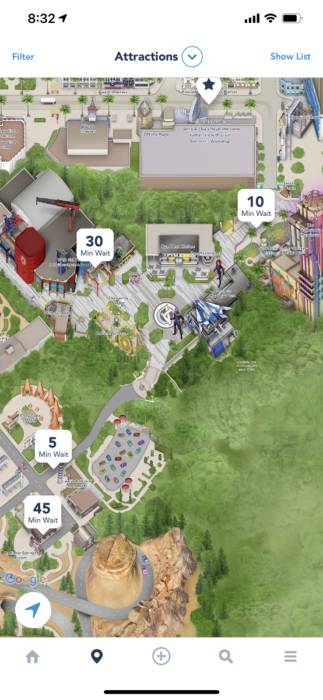 Wait times are low during the party, and you could easily ride the best of what DCA has to offer before the event is over. As you can see in this screenshot from around 8:30 PM (over 2 hours after the party started), the park's headliners have short wait times, including a 10 minute posted wait for Guardians of the Galaxy Mission: BREAKOUT! At the time this photo was captured the highest wait in the park was Radiator Springs Racers, but even that was a walk on later in the night.
What tips do you have if meeting characters is my main goal?
If meeting characters is your main goal you might want to hunt them down before the Party officially starts. Remember, Disney will allow you to enter the Party up to three hours prior to the start of the event.
Is Oogie Boogie Bash Halloween Party worth it?
We get a lot of feedback from attendees that ranges from people saying it was a waste of money, all the way to people saying it was a highlight of their trip. Almost everything offered for the Party is also part of a regular park admission, minus the parade, and candy. Is this worth $114+ to you? To maximize the return on your dollar, think about:
Being present for the entire event. Think of it this way: if you pay $159 for your ticket and you stay for a full five hours, you're spending $32 per hour for your entertainment. If you only stay for three hours, then you're spending $53 per hour for your entertainment.
You'll have the most "Halloweenish" experience if you focus on events/activities that are unique to the Party. Soarin' Around the World is the same Soarin' Around the World with or without a Oogie Boogie Bash Halloween Party ticket. The Frightfully Fun Parade can only be seen at the Party.
The lines for the trick or treating are rarely long, particularly later in the evening. Try working in your candy collection when you see a short line on the way to another activity.
Multitask when possible. If you've got to wait around for a parade to start, use this time for your food consumption.
Parking is not included in your Oogie Boogie Bash Halloween Party ticket.
Photopass downloads are included for free with Oogie Boogie Bash Halloween Party tickets.
More information, including ticket options, can be found on the official Disneyland website.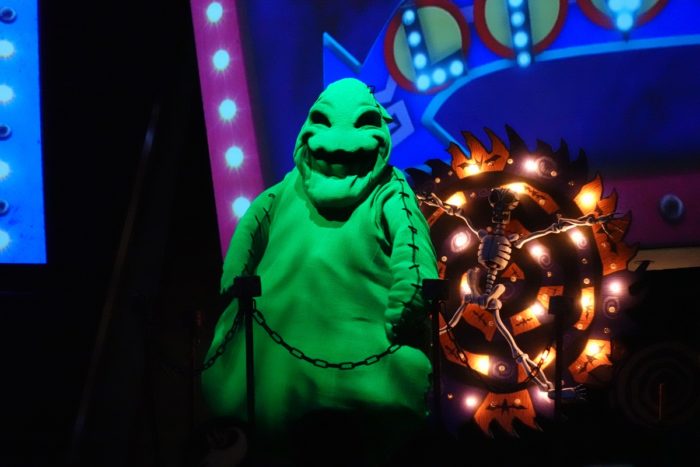 Oogie Boogie Bash Halloween Party 2023 Map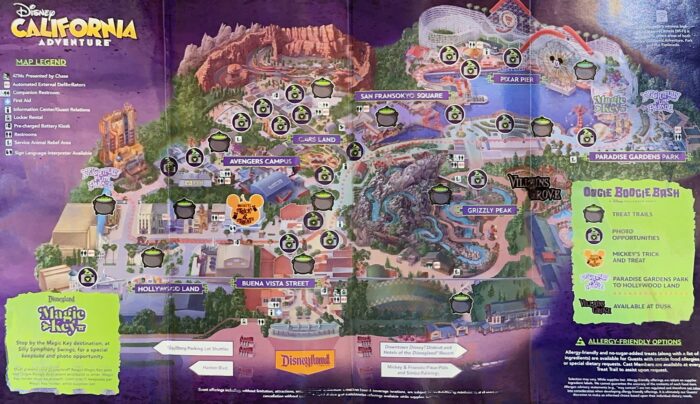 So happy haunters, are you planning to attend Oogie Boogie Bash Halloween party this year? What are you looking forward to most? What are your strategies, must sees, and must skips? Let us know in the comments below.