A Retro Touring Plan for Walt Disney World's 50th Anniversary
With Walt Disney World's 50th Anniversary coming up on October 1, 2021, I wondered…what was it like to visit Walt Disney World in the first weeks or months?
While it's not possible to replicate EVERY single bit of that experience, I did manage to put together a sample Touring Plan for October 1st that smacks of Disney nostalgia…from fur-covered bears to fireworks. If you'd like to customize the plan for yourself you can find it here, or allow me to walk you through it below.
Walk in Walt's Footsteps
Beginning of course by passing under those storied arches onto Main Street, U.S.A., you'll walk into Walt's recreation of his childhood hometown, Marceline, Missouri. Be sure to take in some of the hidden surprises along this quaint street, peek into storefront windows, and say hello to cast members ready to welcome or serenade you. Maybe even pick out a Mickey balloon in your favorite color to set the stage for your retro Disney day.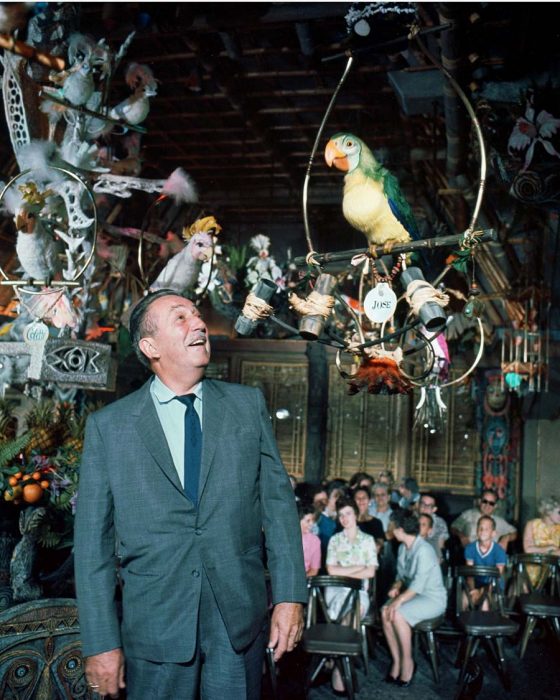 Then (as all good Disney-goers do!), head left. Hear the rhythms of the jungle and smell the aromas of far-off places as you enter Adventureland. Here, you'll get some of the best views of the Magic Kingdom from atop the Swiss Family Robinson Treehouse, some of the corniest jokes aboard your Jungle Cruise vessel and of course hear Walt's "boys" squawking it up in the Enchanted Tiki Room. If you have time, don't forget to stop at Sunshine Tree Terrace for something sweet, cold, and preferably orange. 
Next, it's on to Frontierland, where twang reigns supreme! While *some of us* have never taken the time to see Country Bear Jamboree, Walt Disney World guests have been enjoying these fur-covered, slow-talkers strumming and swinging from the ceiling since day one. And although Frontierland's mountains weren't around back then, you can imagine the swish of skirts over high kicks at the Diamond Horseshoe Revue.
Head over to Liberty Square for a history lesson at the Hall of Presidents, now featuring all 46 presidencies in 45 audio-animatronics (only one AA for Grover Cleveland, of course)! Lincoln never looked so…animatronic. Hop aboard the Liberty Square Riverboat, which opened just a day after the park's debut, then take your lunch at one of the Magic Kingdom's most beloved eateries – Liberty Tree Tavern. Fill up on hearty American classics before stepping into your doom buggy at the Haunted Mansion. Because eating a big meal before taking a bone-chilling ride always works out, right?
Okay, foolish mortals, time to stroll over to Fantasyland for something a bit more…cheerful. Peter Pan and it's a small world will transport you straight to your childhood with magical fairy dust, brightly colored sets and that song that's been getting stuck in heads since 1964. Don't forget to take a spin on Prince Charming's Regal Carrousel…and Dumbo…and the teacups. That's a lot of spinning, so take it easy for a bit and enjoy the scenery before proceeding to Tomorrowland for your driving test.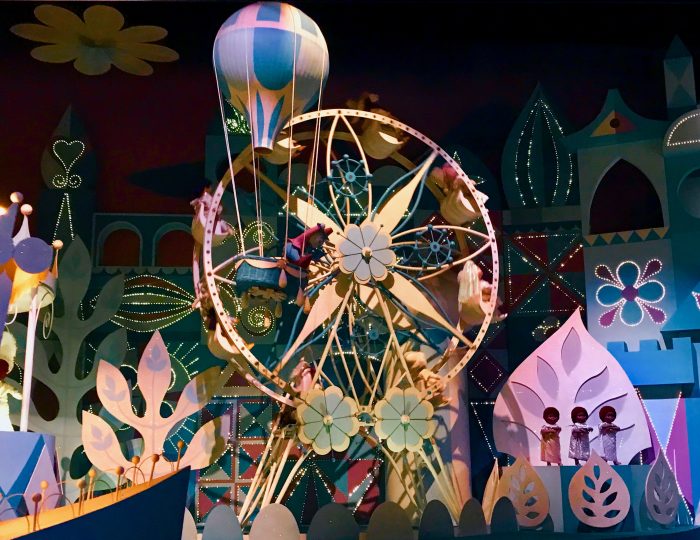 Believe it or not, a lone opening day Walt Disney World attraction remains at the Magic Kingdom today – the Tomorrowland Speedway. But I won't tell if you cheat a bit with a hop onto the Tomorrowland Transit Authority Peoplemover or the Carousel of Progress, which were both introduced to the park in 1975. I dare you not to get sentimental on Carousel of Progress!
Break Time
By this point in the day you'll probably be ready for a break, so I suggest heading back to your resort via the exalted Disney World Monorail System. You've made a great choice in Disney's Polynesian Village or Contemporary Resorts! Stop by the bar, take a dip in the pool or take in some of your resort's history before returning to the park for dinner and fireworks.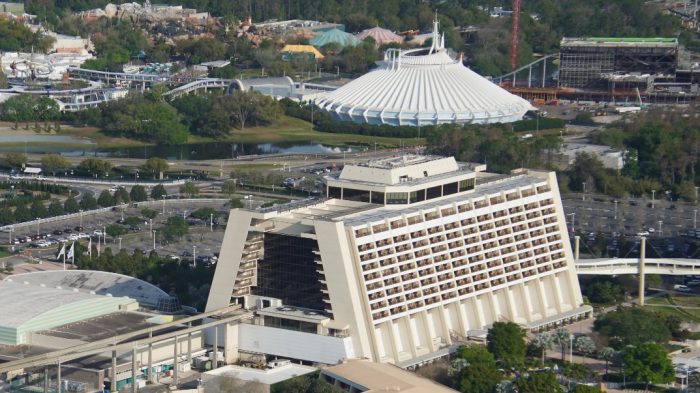 Dinner and a Show
Ready for a leisurely, southern-style dinner in a beautiful Victorian setting? Crystal Palace's exterior hasn't changed too much since its opening back in 1971, but fortunately you won't have to experience it cafeteria-style, as it originally opened. Enjoy views of Main Street, U.S.A. and the castle at this buffet, and wax poetic about what sorts of 1970s fare early park-goers would have been adding to their trays. 
You probably didn't see people camping out for fireworks spots on opening night, but you may want to find yours early since the modern-day version of Disney World fireworks, Enchantment, will be a coveted offering premiering on October 1st. Once you've found your spot, however, you can clearly imagine how spectacular those first fireworks shows must have been. Enchantment will return you to 2021 with its modern lighting and projection effects just in time to end your Walt Disney World blast from the past.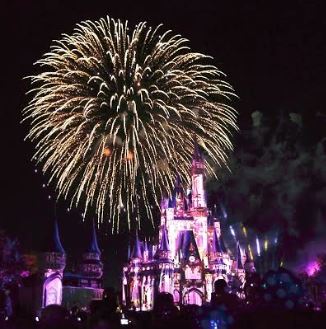 Are some of your favorite Walt Disney World attractions and experiences on this retro Touring Plan? How are you planning to celebrate Walt Disney World's 50th Anniversary?