Disneyland River Belle Terrace Review: A Hidden Gem at Disneyland
River Belle Terrace is a table service restaurant located in Disneyland's Frontierland that specializes in Southern cuisine. 20% of our reader surveys rate River Belle Terrace as a "thumbs down," which makes it the worst-rated table service restaurant in Disneyland (compared to 7% thumbs down for Carnation Cafe, 8% for Cafe Orleans, and 13% for Blue Bayou). It's been a few years since we reviewed River Belle, so we thought we should return and find out if it deserves its reputation, or if its an underrated gem.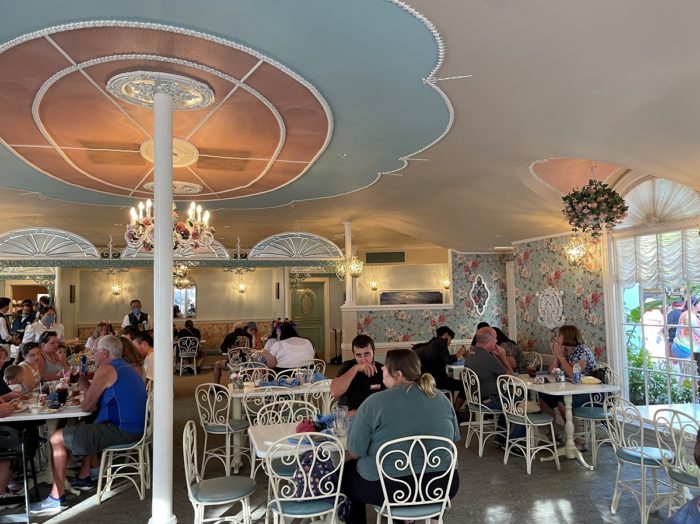 Pretty colors and nice lighting fixtures adorn the interior dining space of River Belle Terrace. The exterior patio has tables and chairs with umbrellas to block the sun. We enjoy the exterior tables for people watching and the ambiance of Rivers of America, but the inside is just fine.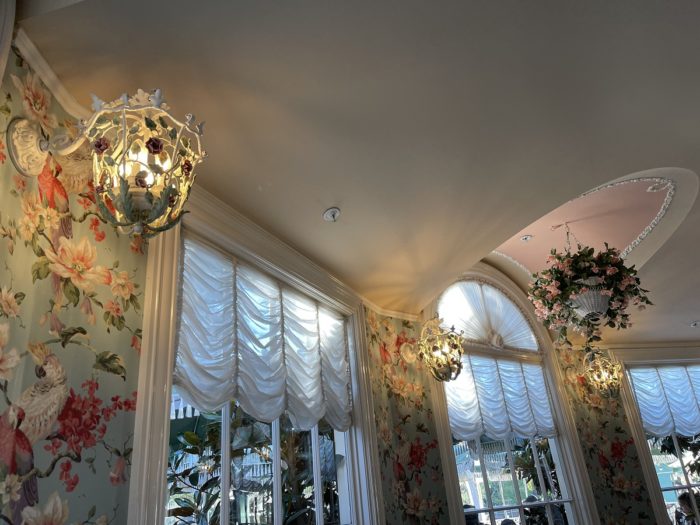 River Belle Terrace is located at a transition point between Frontierland and Adventureland. We appreciate how the inside finds a way to match the theme of both lands.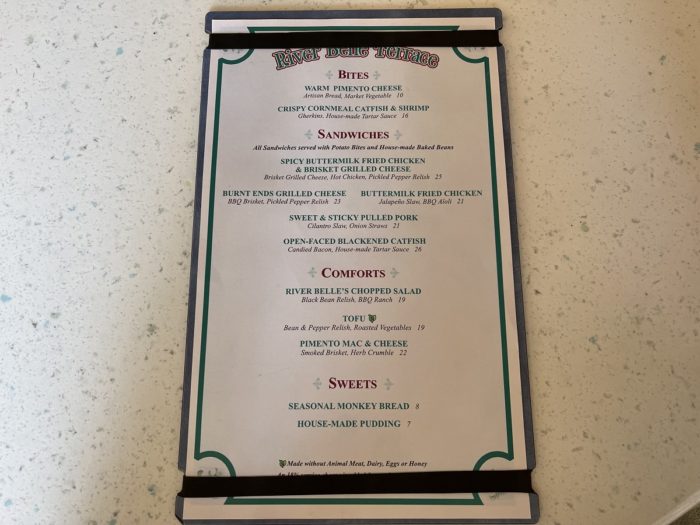 Here's a look at the menu. There's not a lot of options right now, which is true with many current Disneyland Resort dining menus, but there is a decent variety of items.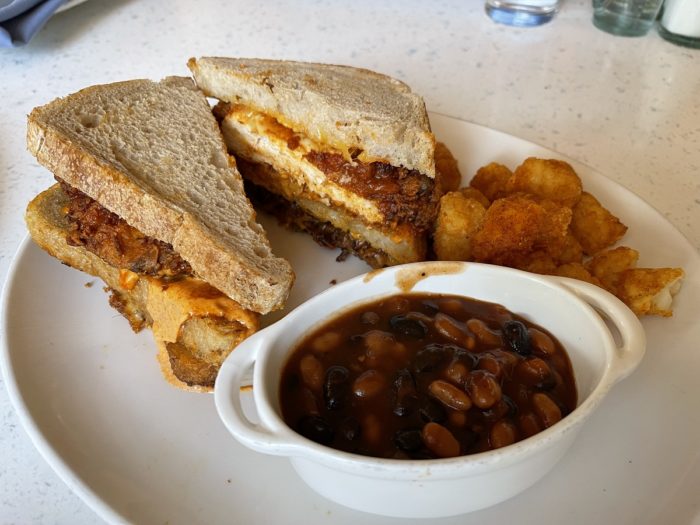 I'll start things off with my party's consensus favorite entree, the Spicy Buttermilk Fried Chicken & Brisket Grilled Cheese sandwich. I dined at River Belle with my girlfriend and the Brickers from Disney Tourist Blog. We booked a reservation without doing any research beforehand so we didn't know what to expect. When we sat down and read over the menu we feared that we had made a poor choice. "How good can a grilled cheese sandwich be?" Very good, it turns out. The Spicy Buttermilk Fried Chicken & Brisket Grilled Cheese sandwich is a pile of sinfully good comfort good. It's heavy and not healthy in any way, but it's fantastic.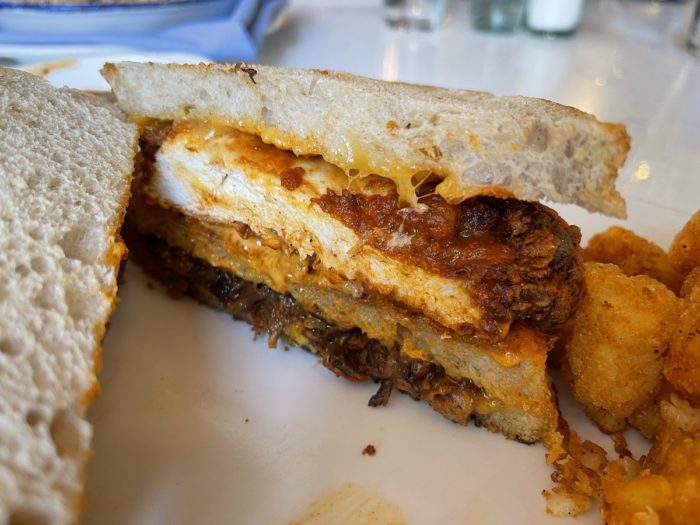 Here's the cross-section so you can see the layers of brisket, cheese, and fried chicken. This was worth every penny.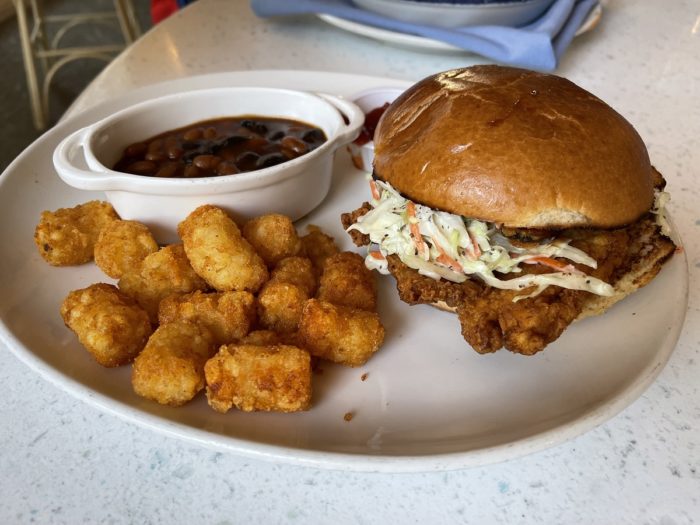 Next up we have the Buttermilk Fried Chicken sandwich which is served with jalapeño slaw and BBQ aioli. The fried chicken here is the same as in the previously mentioned sandwich. We enjoyed the nice little kick the jalapeño slaw provided. This was a good sandwich, but it's hard to recommend when for only $4 more you can get the Spicy Buttermilk Fried Chicken & Brisket Grilled Cheese sandwich.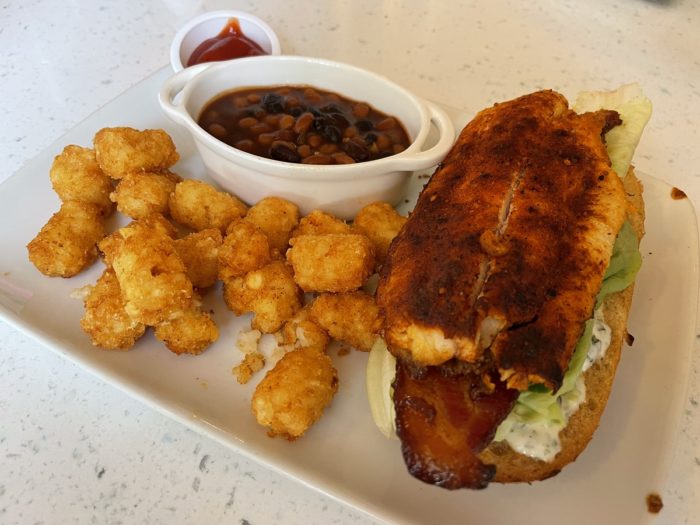 Theme park fish is always a risk, but the Open-faced Blackened Catfish did not disappoint. The candied bacon was delightful and the tartar sauce provided a nice zesty taste. It's worth mentioning that each entree comes with baked beans and "potato bites." The Brickers and I agreed that the beans were sickeningly sweet, but everyone loved the potato bites.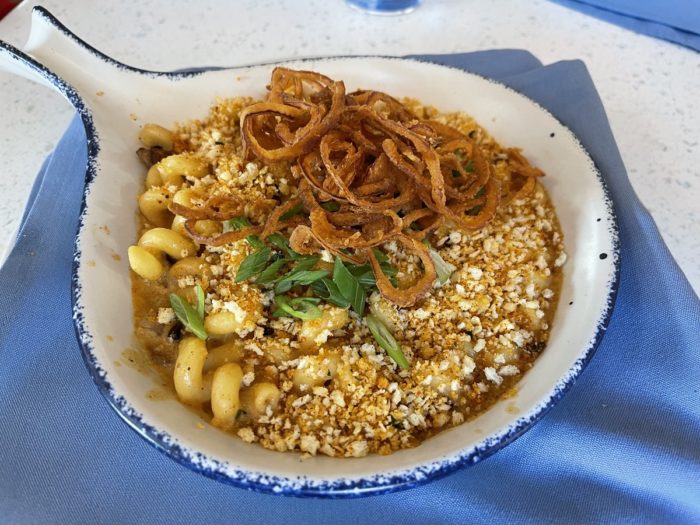 The Pimento Mac & Cheese includes smoked brisket, herb crumble, and crispy fried onions. The herb crumble and onions provided a satisfying crunch to each bite. Overall it's good, but at $22 I'd personally have a hard time justifying getting this as a meal when there's so many good sandwiches on the menu.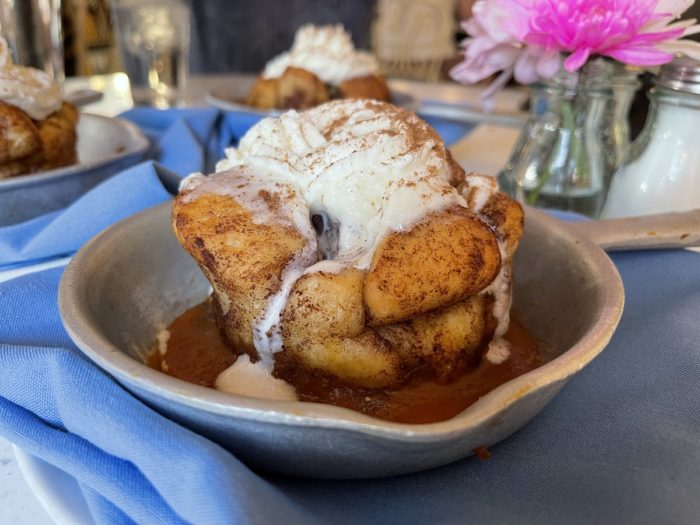 For dessert we ordered the Seasonal Monkey Bread, which was heavenly. It's warm, gooey, and packed with pumpkin flavor. I recently reviewed this in my Disneyland Halloween food post, and I'll repeat my warning here: Do not attempt to share this or it will lead to fights over who gets every bite. Save yourself the trouble and insist on ordering one for yourself.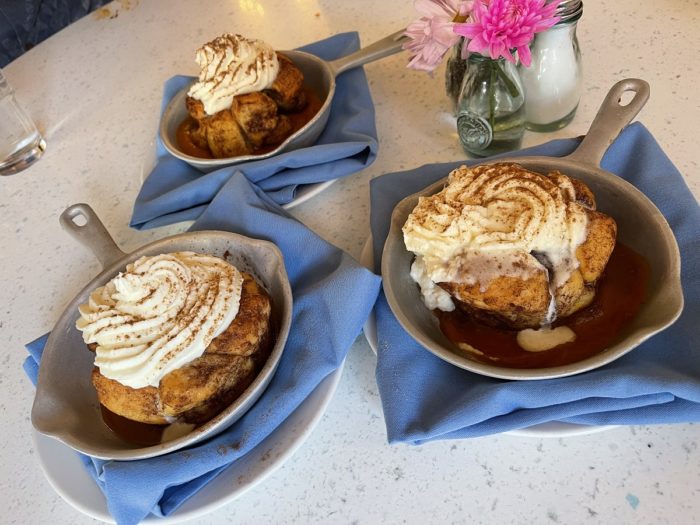 We ordered three for the table and it still wasn't enough. Note that while this is the special pumpkin flavored Halloween season version, River Belle usually has some form Monkey Bread on the menu.
Our final verdict is that River Belle Terrace doesn't deserve its low score, and it's definitely worth it if you're looking for a table service dining location in Disneyland. These entrees are going to weigh you down so either arrive hungry, or dine later in the day so your energy isn't sapped trying to digest these beasts.
What's your thoughts about River Belle Terrace? Have you eaten there recently? Let us know in the comments.