All-Star Music Resort Room Review: Does It Sing or Fall Flat?
With over 20 resorts to choose from at Walt Disney World, choosing your home away from home at the most magical place on earth can be a little overwhelming. To make the decision process a little easier, and to guarantee that you're fully informed, we're covering what you need to know about the accommodations at Disney's All-Star Music.
Disney's All-Star Music – The Basics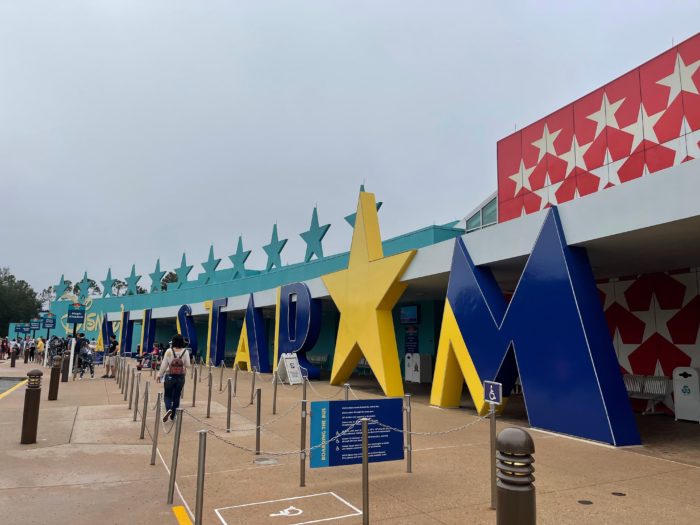 Located between All-Star Sports and All-Star Movies and near Disney's Blizzard Beach, each wing of Disney's All-Star Music Resort is themed after a different music genre. Guests can expect larger-than-life musical instruments, Disney characters, and colorful (if not cartoonish) motifs.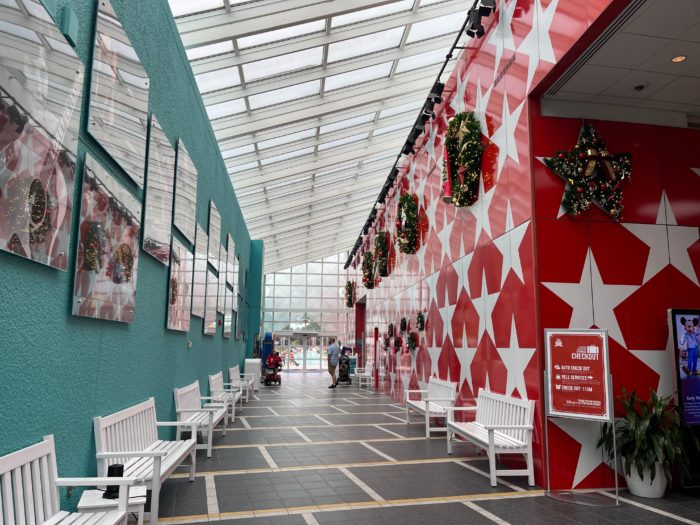 Like most Value resorts on property, All-Star's rooms are housed in three-story motel-style buildings and the resort itself features its own themed lobby, food court, and pools.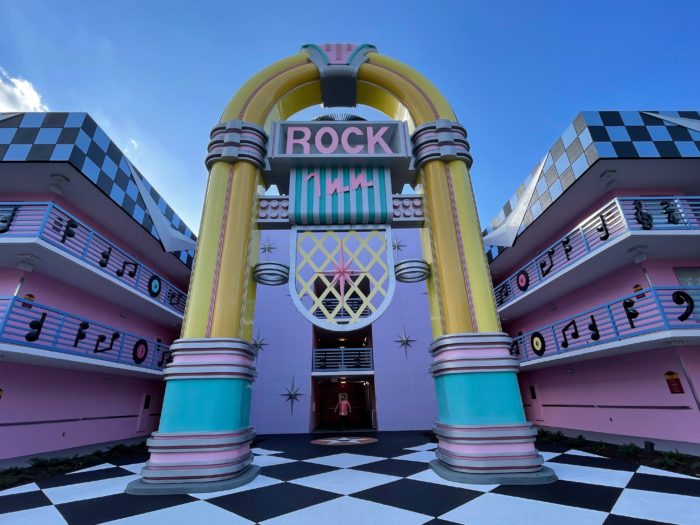 Although, unlike Disney's trio of All-Star hotels, All-Star Music offers family suites accommodating up to 6 guests in addition to its standard resort hotel rooms.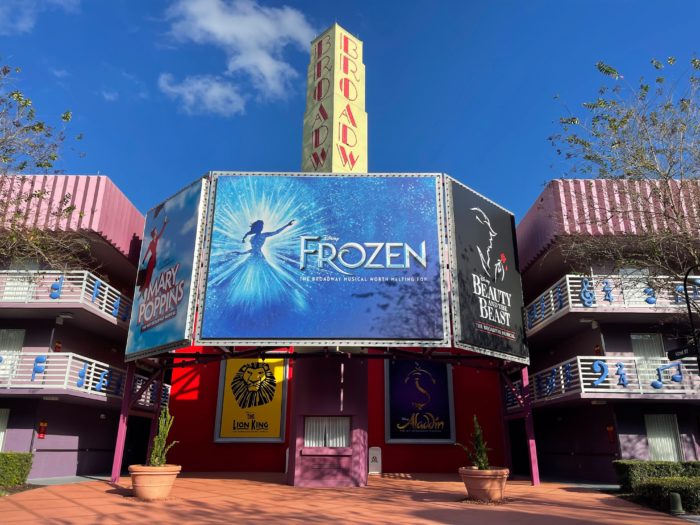 Just before the holidays, our park reporter Chrissy booked a stay in a standard resort room at All-Star Music. Here's her take on one of Disney's "cheaper" resort rooms during one of the busiest times of the year!
Our All-Star Music Resort Room
The week before Christmas, Chrissy checked in to Room 7412 in Building 7 which happens to belong to the Broadway Hotel area of the resort.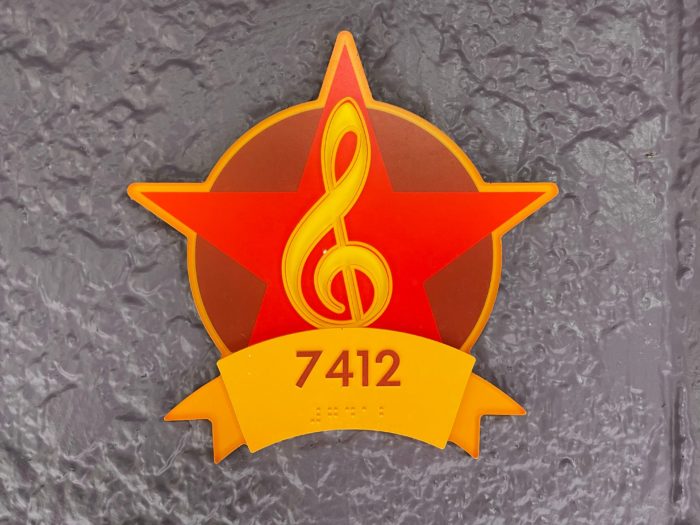 Disney lists the room as a standard room with 1 queen bed and 1 queen-size table bed (not our description; that's how Disney describes it) and it was priced at a rate of $250.84 after all taxes and fees.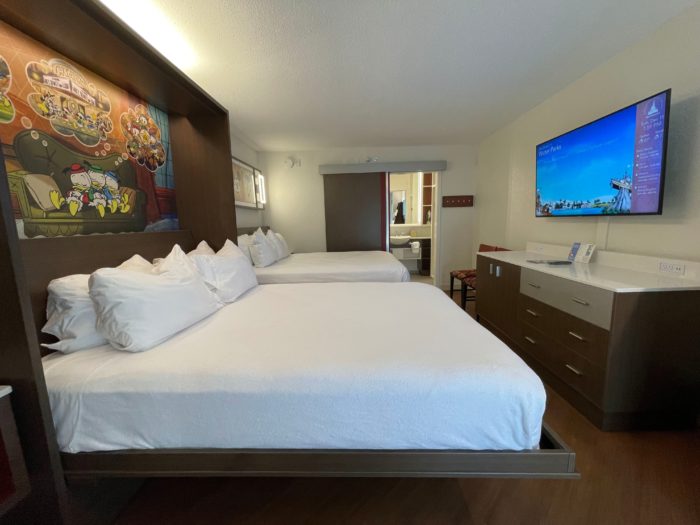 Although, that price point may have been due to the fact that it was the week before Christmas?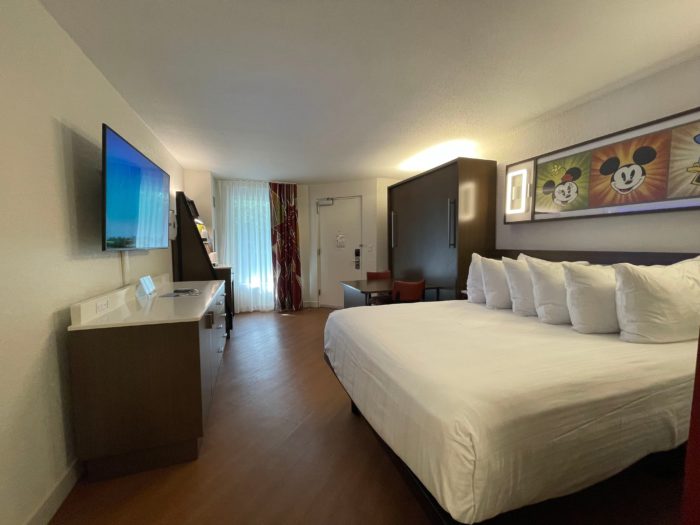 The room's furnishings consisted of the following:
1 table with 2 chairs (when the bed nearest the door is folded up)
1 shelf with pegs
3 nightstands
1 dresser
2 queen beds: 1 standard & 1 table/bed
The room itself measured 18ft 2in long x 10ft wide. However, when the table bed is down, there is only 26″ between the end of the bed and the dresser making it the most narrow part of the room.
Speaking of which, let's get to the whole table bed situation, shall we?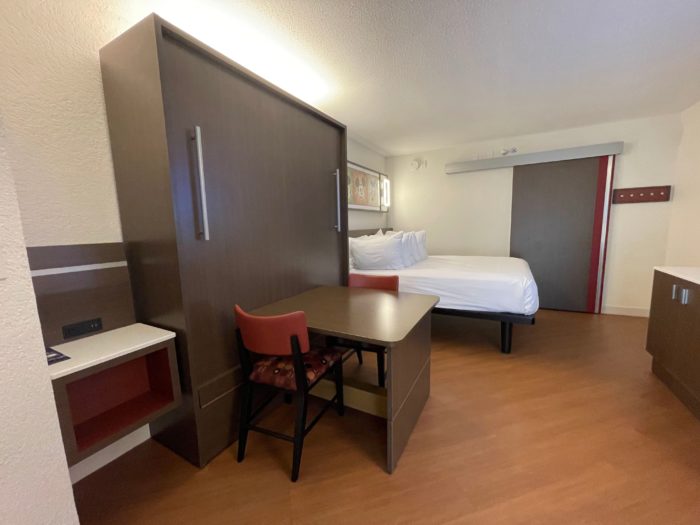 Once the chairs are pulled away, guests can use the handles to pull the bed down from the wall.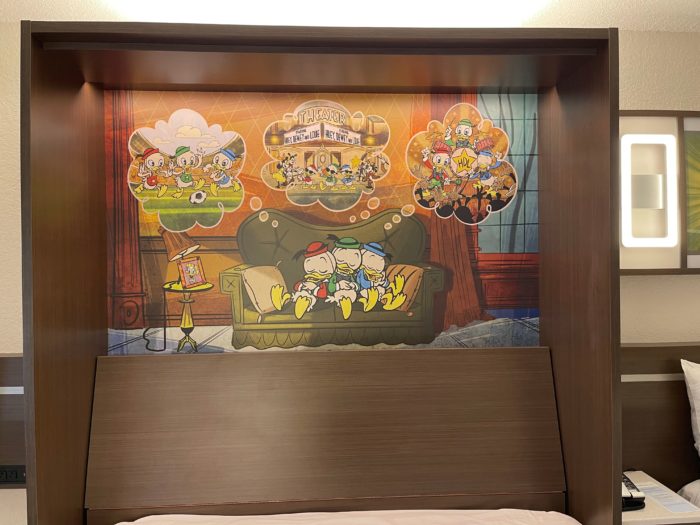 The pop-up table automatically folds in as the bed comes down revealing artwork of a sleeping Huey, Dewey, and Louie.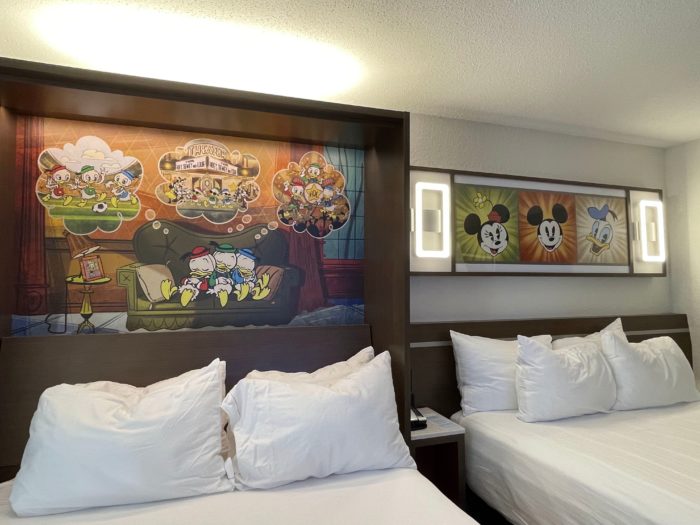 There are four pillows for each bed, and an additional sealed pillow and blanket can be found stored in the vanity/closet space. Here's a peek at those pillows with the cases removed: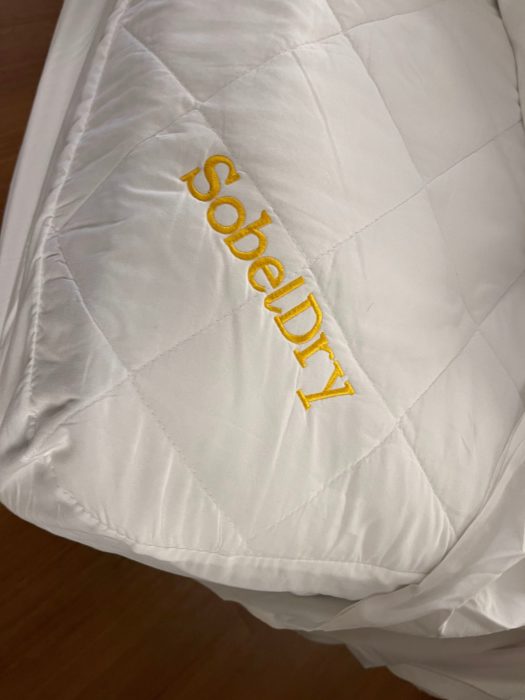 Also, per the TouringPlans room review standard, Chrissy checked the dates, brands, and condition of the room's mattresses and additional bedding.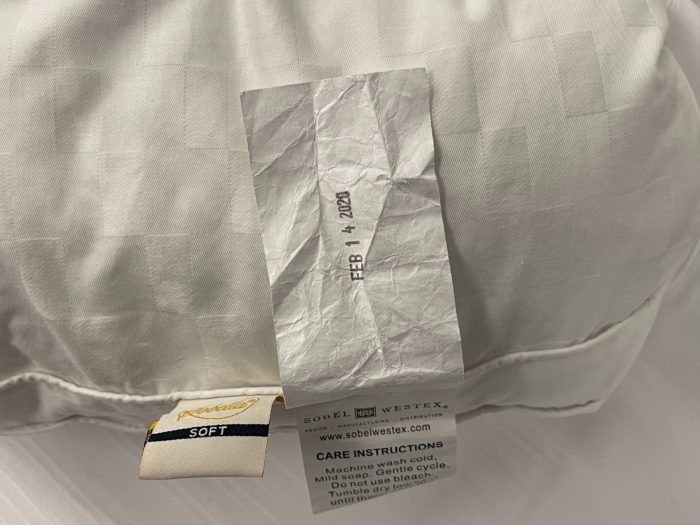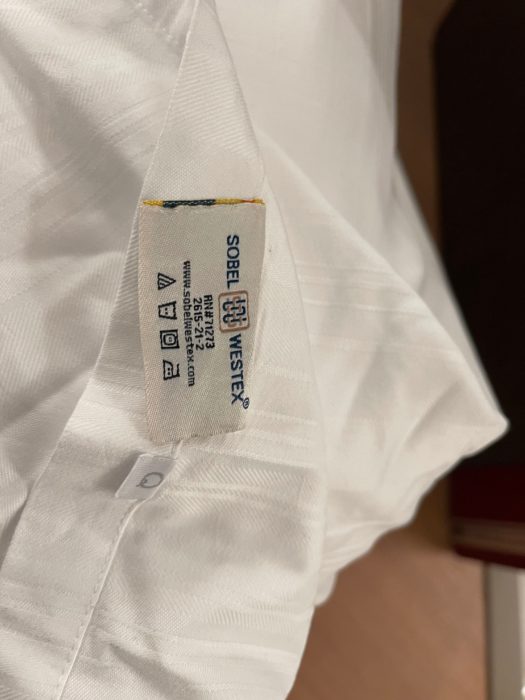 The mattress was a Seally Posturepedic pillow top. While there was no date, it was in good condition.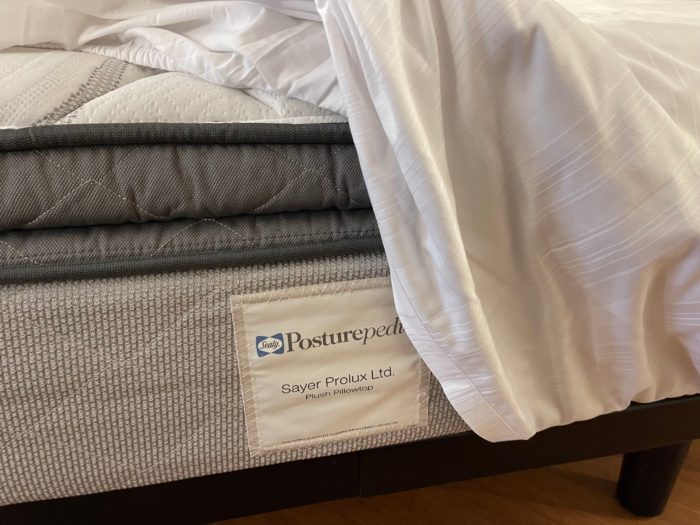 The room's nightstands were equipped with outlets, USB ports, and additional storage space.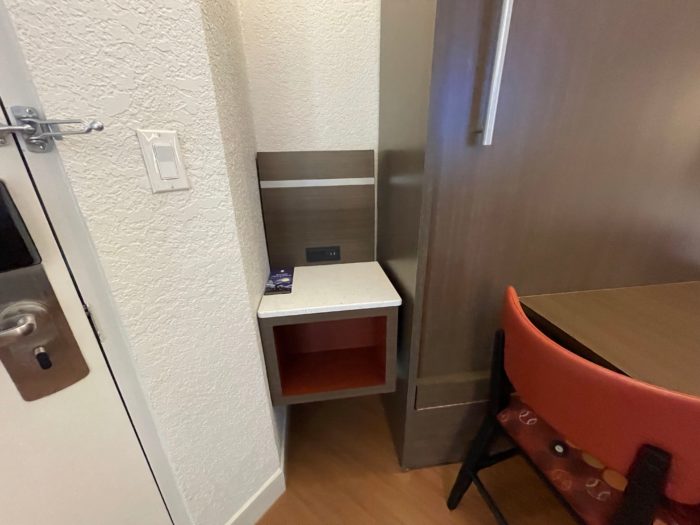 Chrissy found that the room contained 14 outlets and 10 USB ports total.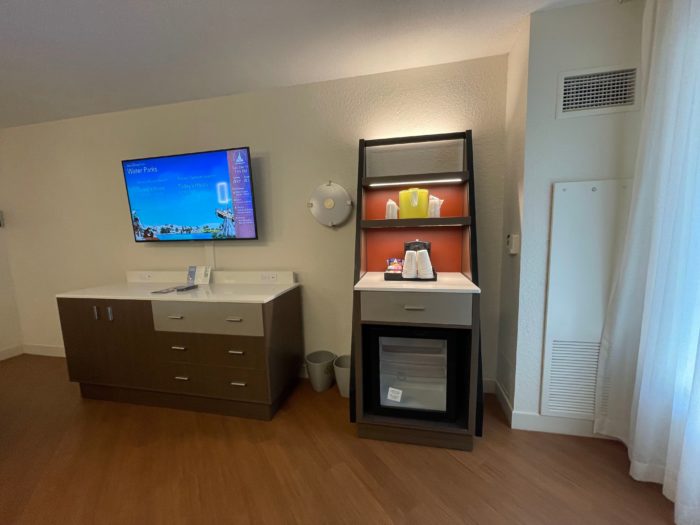 The kitchen prep space next to the dresser was where Chrissy found the mini-fridge, ice bucket, and a Cuisinart coffee maker which is a two-cup coffee maker with filter pads, not cups.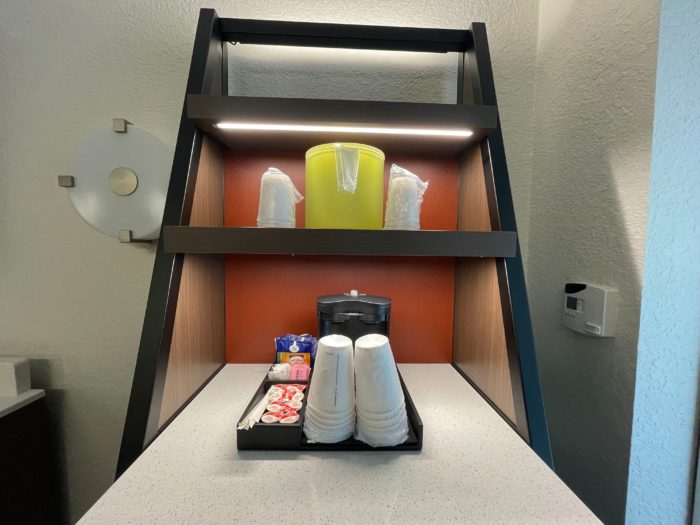 Coffee (regular and decaf), tea, plastic and styrofoam cups, sugar, and creamer were all provided.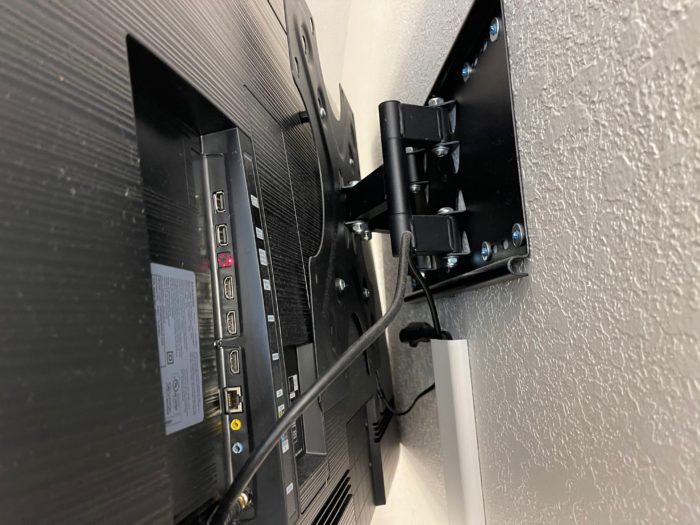 The room's TV was 52″ Samsung on arm with all cable hook up/access in back. This is great if you travel with a Roku, Amazon Fire TV stick, or anything else that hooks into the TV.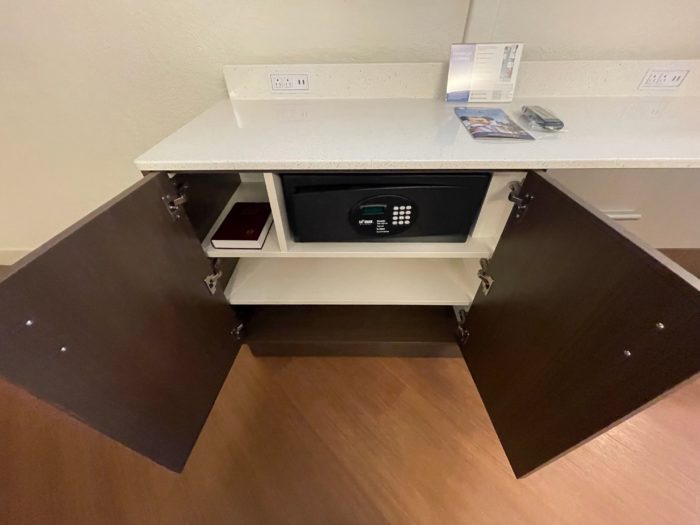 The dresser measured 5ft 6in x 2ft wide and housed the room's safe.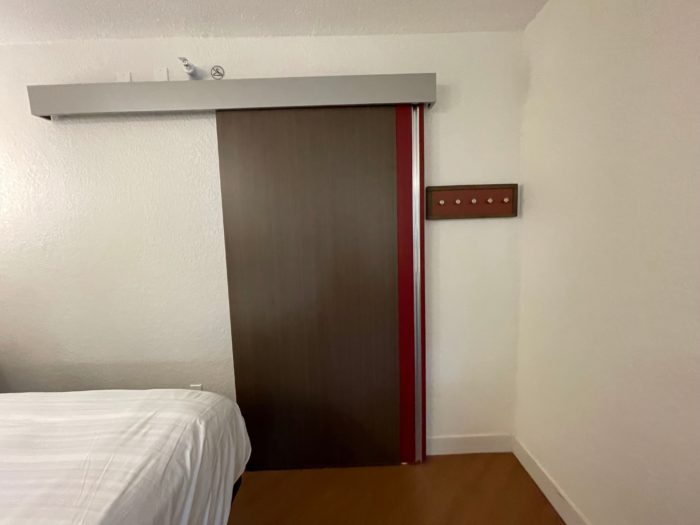 Instead of a curtain separating the bedroom from the sink/vanity space, All-Star Music has a sliding door.
Once the door was slid aside, here's what Chrissy found.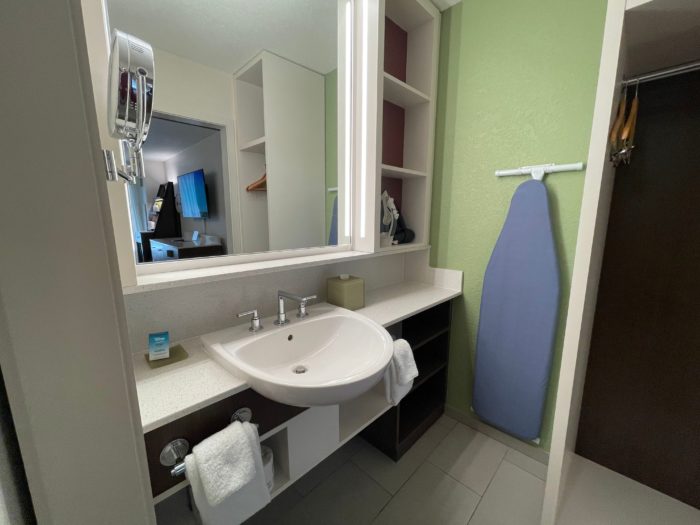 From the end of the sink to the door, this area measured 5ft 6in x 4ft 4in.
In addition to the open closet with hangars next to the ironing board, she also found storage space built-in next to the mirror and under the counter.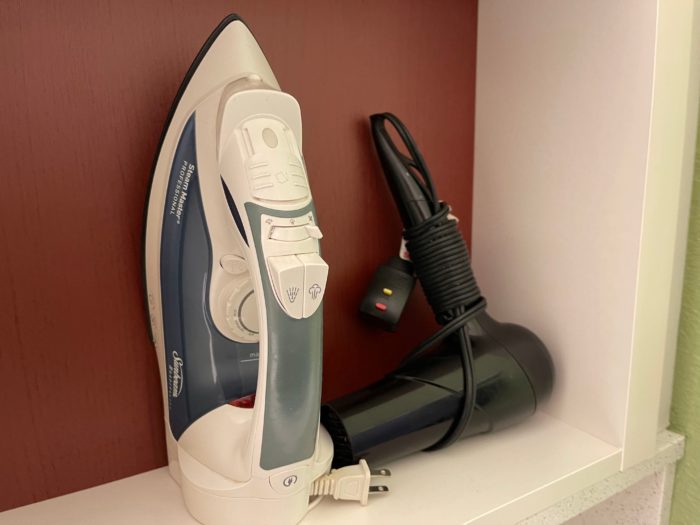 Here's a look at the room's iron and hairdryer.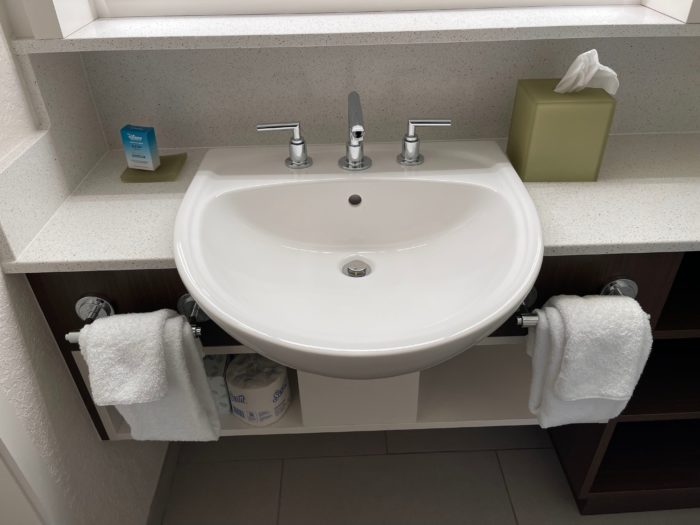 Not gonna lie, a single sink is a bit of a downer in comparison to the double-sinks at the Moderate and Deluxe Resorts.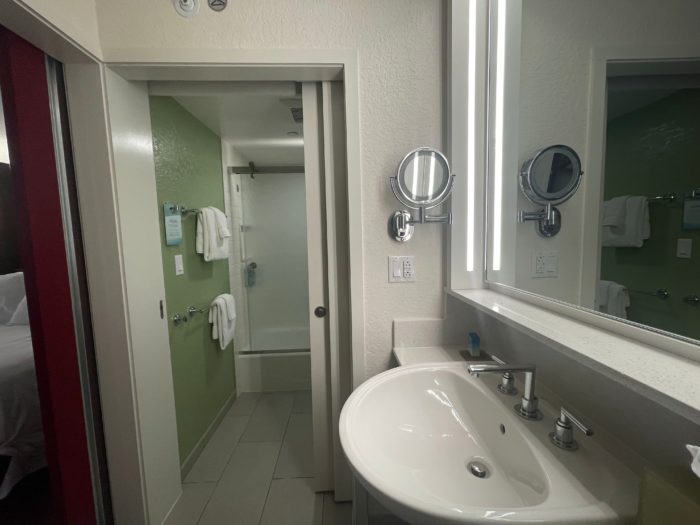 The bathroom was separated from the vanity space by a pocket door which thankfully has a full-length mirror on the back measuring 6ft 3in long x 12in wide.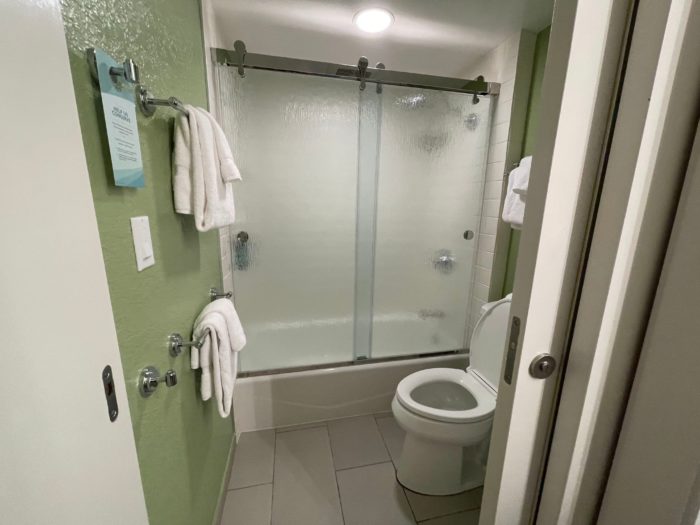 Although, as you can see, the bathroom itself is tiny.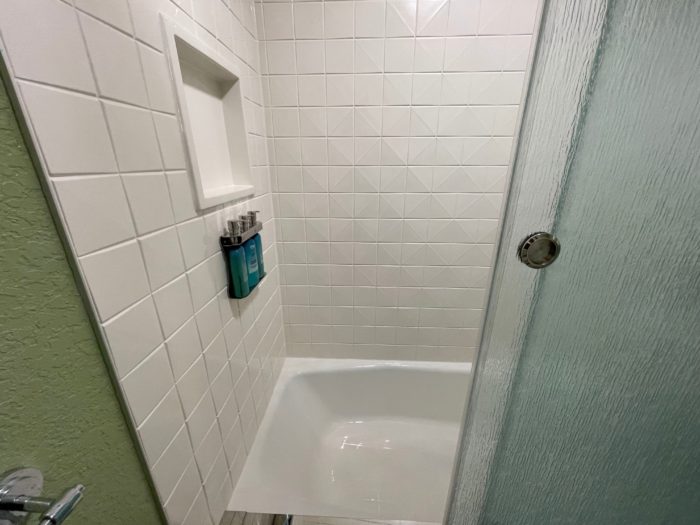 Here's a peek inside the tub/shower combo with a sliding glass door. The tub itself measured 4ft 6in long x 20″ wide.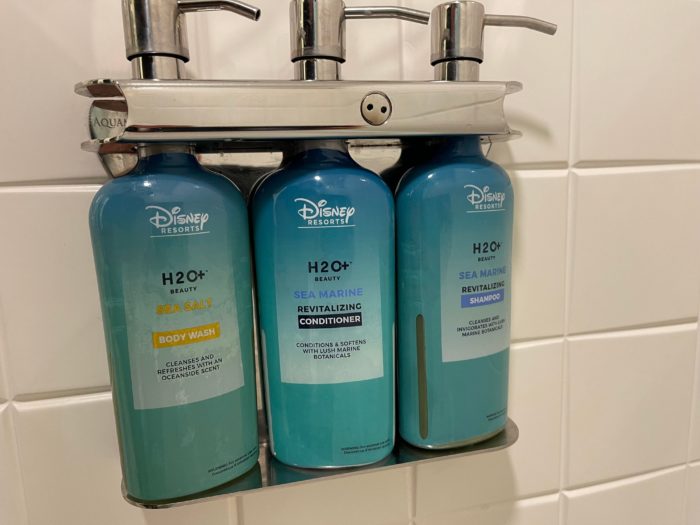 Not surprised to see Disney's H2O shampoo, conditioner, and body wash mounted on the shower wall; but it's still disappointing nonetheless.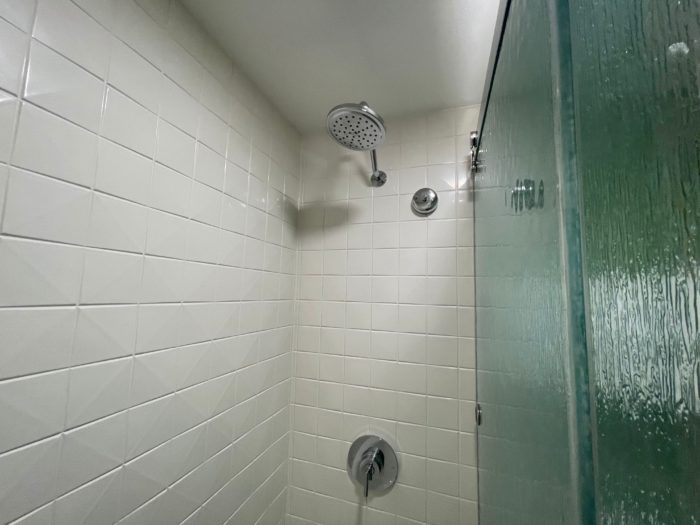 For those curious about the room's showerhead, here's a look at what you'll find.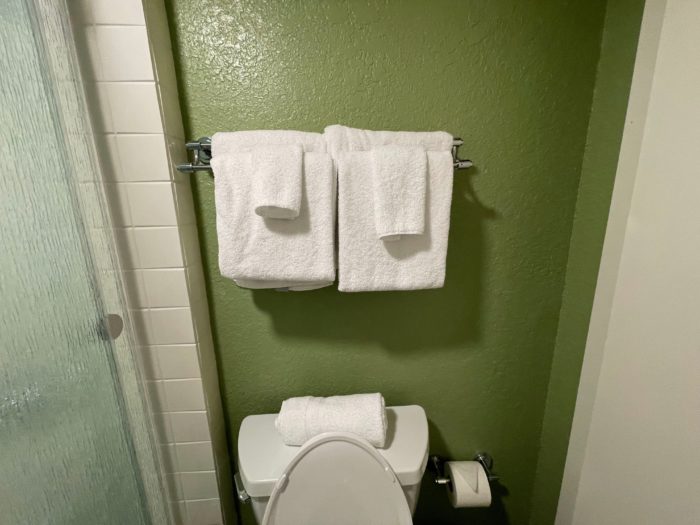 In addition, the bathroom came with 6 bath towels and 6 washcloths in total.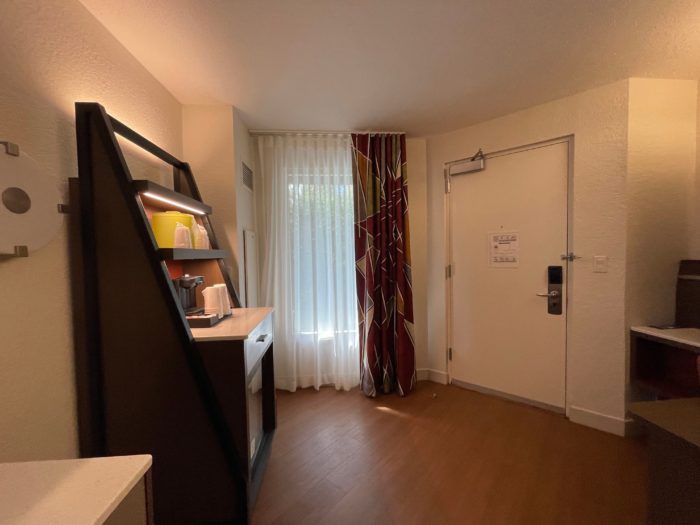 Chrissy also took light readings throughout the room – all LUX. Here's what she discovered:
Double curtains – one sheer and one blackout  – both closed and all lights off in the room = 8.2
Table and chairs with lights on & bed up = 111.4
Dresser under tv 87.5
Pillow with lights 112.6
Nightstand with lights 66.3
Bathroom vanity with lights 328.8
She also evaluated certain sound levels in the room:
Middle nightstand (there are 3)  with A/C running 43.1 dBA
Middle nightstand without A/C 36.2 dB
Now, like most of Disney World's Value Resort rooms, All-Star Music's rooms are outside entry with stair and elevator access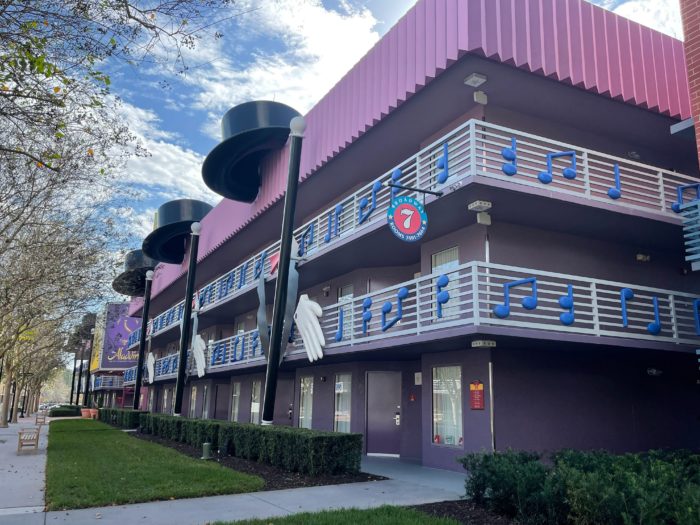 Chrissy timed how long it took her to get from Room 7412 in Building 7 to select locations throughout the resort.
Here's what she found:
55 seconds from room to Piano Pool / laundry
2 minutes 54 seconds from room to Calypso Pool
4 minutes 47 seconds from room to Melody Hall
5 minutes 39 seconds from room to bus stop
All-Star Music Resort Amenities
Laundry & Dry Cleaning Services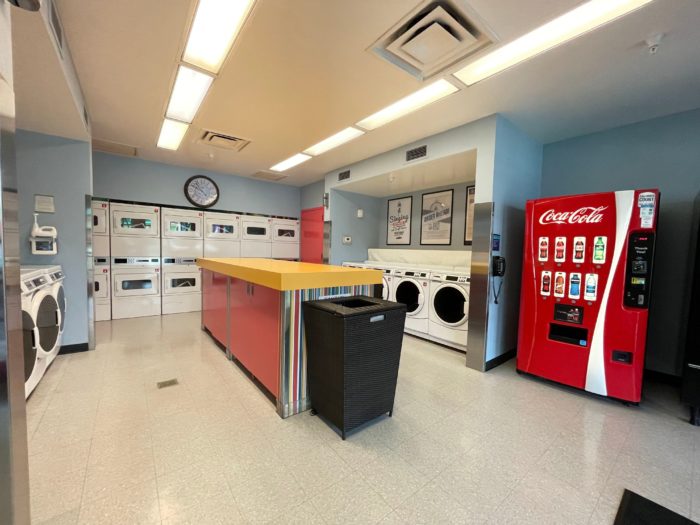 All-Star Music offers two 24-hour self-service laundry rooms with one near the Piano Pool and the other by the Calypso Pool. For dry cleaning and valet laundry service, guests should select "Housekeeping" on their Guest Room phone.
The rate is $3 each for the washer & dryer and $1 each for dryer sheets & detergent.
All-Star Music Pools and Recreation
All-Star Music is home to two pools: the Calypso Pool and the Piano Pool.
The Calypso Pool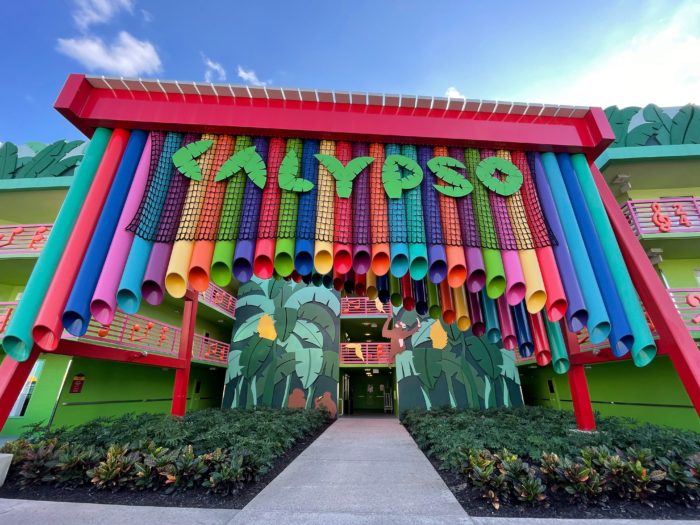 The Calypso Pool is shaped like a guitar and features a Three Caballeros theme with Donald, Jose, and Panchito fountain spraying water from the center.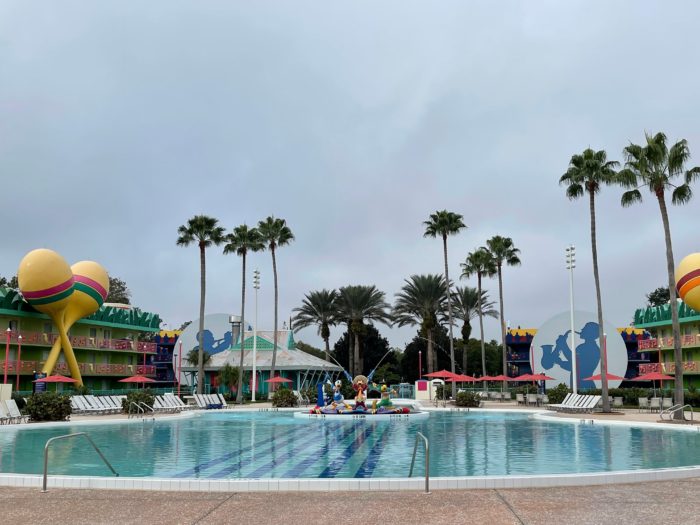 There's also a kiddie pool nearby just behind Melody Hall. It's not zero entry but has a max depth of 11 inches.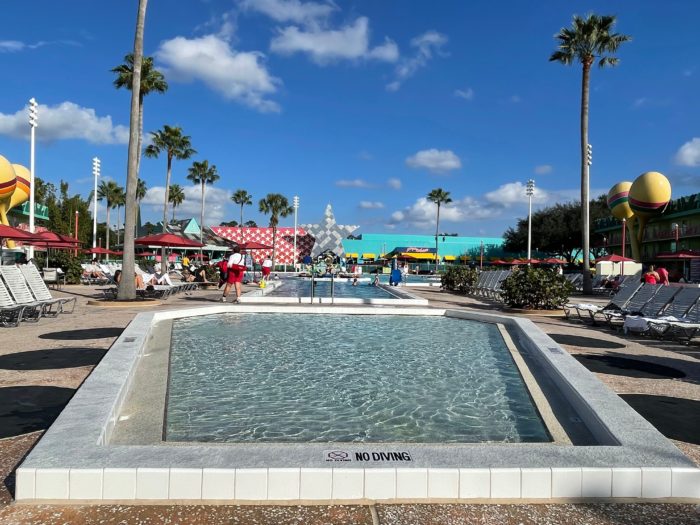 The Piano Pool
The Piano Pool is, of course, shaped like a grand piano complete with black and white keys! It's the calmer of the two.
No key/MagicBand was required to access the pools which are open from 10 a.m. to 10 p.m. Towels and life jackets are required and lifeguards are on duty.
Playground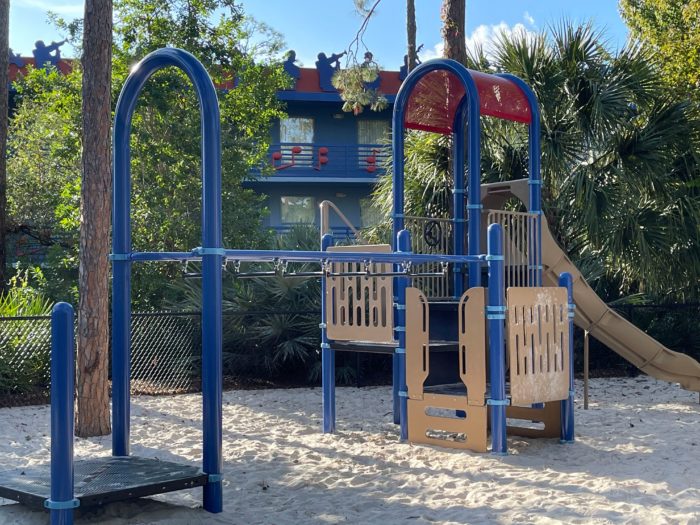 The resort also offers a playground near Building 9.
Movies Under the Stars
On select nights, guests can catch free screenings of Disney films by the Intermission Food Court.
Jogging Trail
For guests looking to walk or run (in addition to what they're already doing at the parks!), All-Star Music offers a one-mile jogging trail around the resort area.
Note'able Games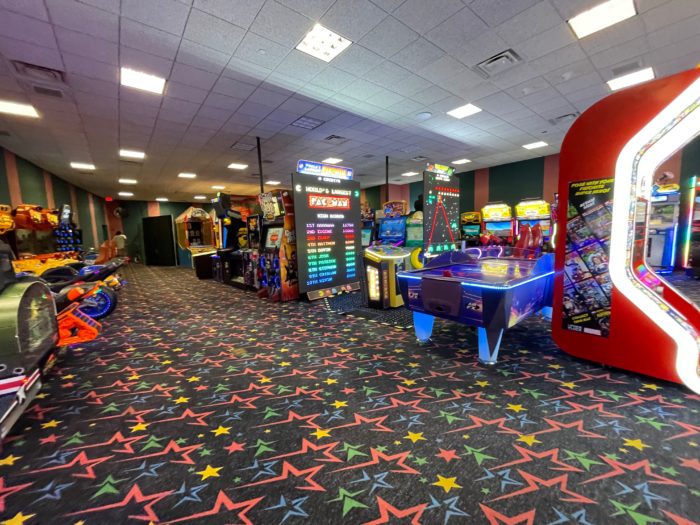 All-Star Music's arcade is located in the Melody Hall lobby by the food court. Chrissy found that Cast Members lead tournaments daily from 3:30 p.m. to 4:30 p.m.
Maestro Mickey's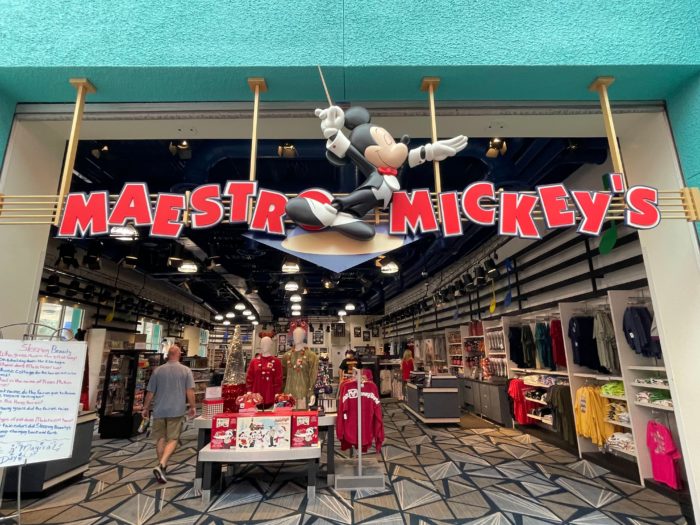 The resort's gift shop offers a variety of Disney standards, sundries, and a few resort-specific souvenirs.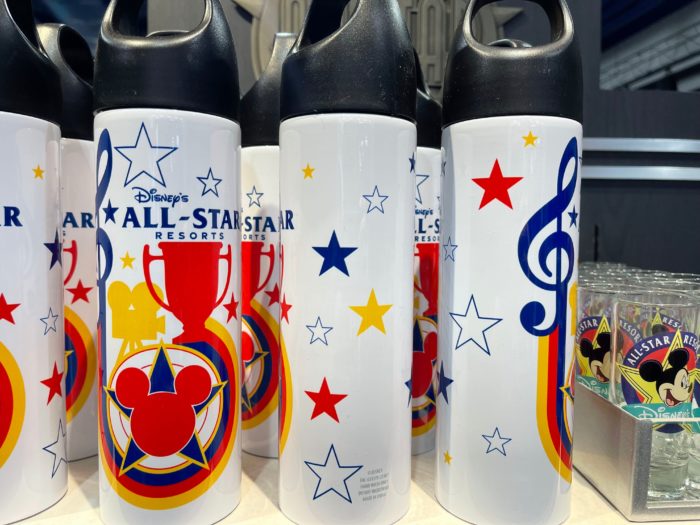 All-Star Music Transportation
Parking
Guests looking to drive themselves should know that standard overnight self-parking is available to registered guests, but it's no longer free. Instead, a fee will be applied to a guest's hotel folio upon check-out and includes tax.
Parking at Disney Value Resort is $15 per night
Complimentary standard self-parking is available while enjoying select dining, shopping, entertainment, and recreation.
Bus Transportation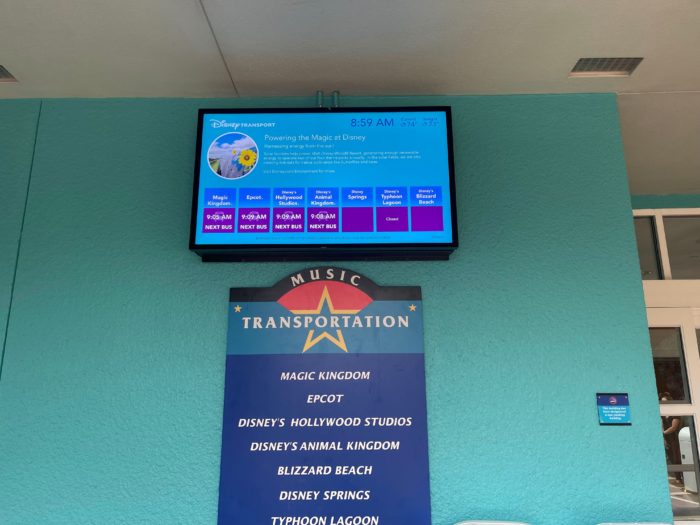 Even though other select Disney Resorts offer boats, monorails, and Skyliner transportation, for guests who aren't looking to drive themselves, All-Star Music only offers bus transportation to and from the parks, water parks, and Disney Springs.
All-Star Music Dining
Intermission Food Court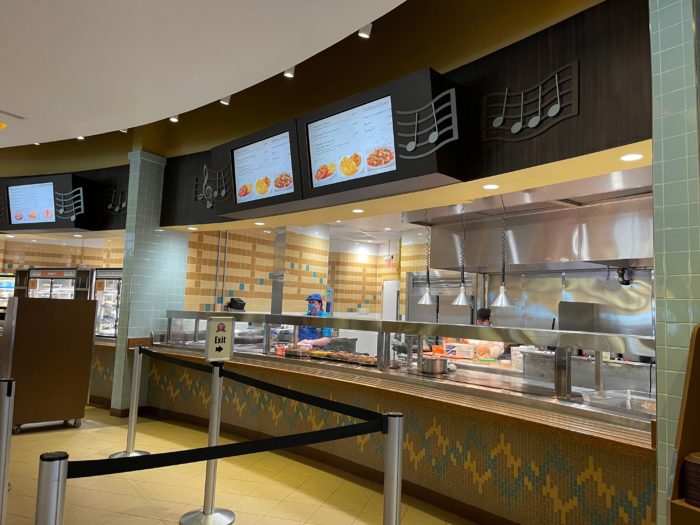 Open from 6:30 a.m. to 11:00 p.m., All-Star Music's food court offers a variety of American fare, including those coveted Mickey waffles. Guests can either mobile order or order in person.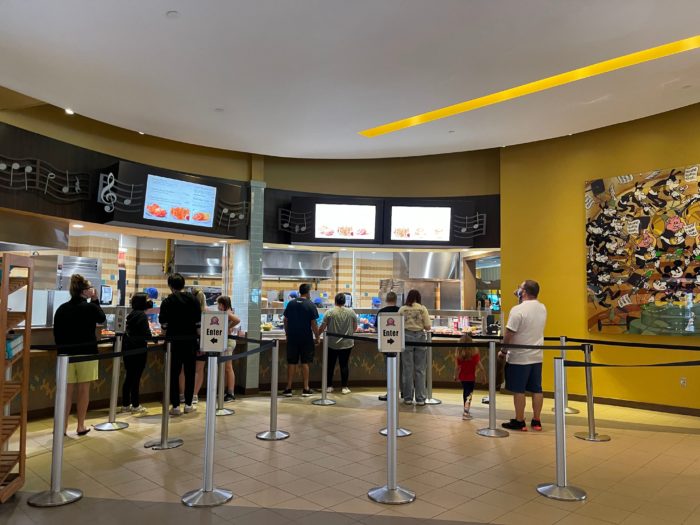 Singing Spirits Pool Bar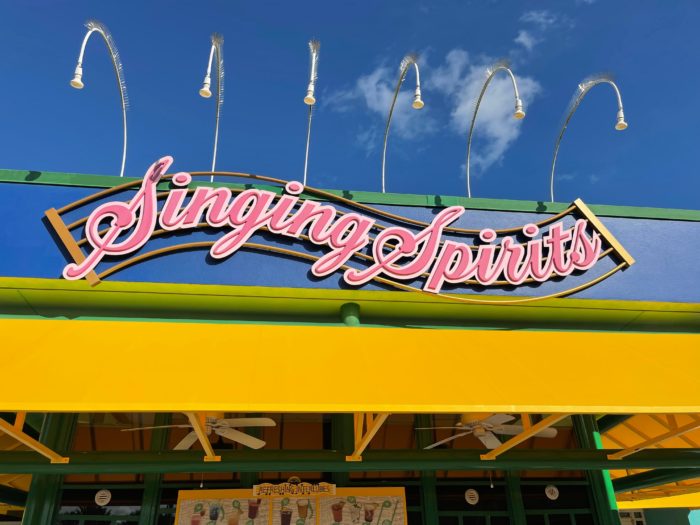 Located by the Calypso Pool, Singing Spirits is open from noon to 11 p.m.
What are your thoughts on Disney's All-Star Music? Let us know in the comments!