Animal Kingdom's 2019 Wait Times Are More Wrong Than Usual
This is a follow-up to our mid-February article describing how posted wait times at Disney's Animal Kingdom seemed to be unusually inaccurate in 2019.
Shortly before we published that, we hired someone to ride Animal Kingdom rides all day, every day, and time their actual wait in line. Those actual wait times were added to the daily actual wait times we get from our users and staff.
Our analysis indicates that posted wait times – the "This is how long you're going to wait for this ride" numbers shown out front of most Animal Kingdom rides – have been wrong in 2019 at historically high levels.
Specifically, the 2019 wait-time data seems to show historically high levels of these two things:
Overestimated posted wait times

Posted wait times suggesting crowd behavior that is physically impossible
All of the data and code used for this analysis are available in Github (link). Posted wait times are collected from My Disney Experience, our Lines app users, and our staff.
Overestimated Wait Times
We've collected 45,593 pairs of actual and posted wait times at Animal Kingdom attractions since 2012. In almost 75% of them (33,560), the actual time spent in line was less than the posted wait time – these are overestimates.
Here's an example from February 28, 2019, showing how Expedition Everest's posted wait times were much higher than the actual wait in line. Green dots are the actual waits; Black dots along the pink line are posted waits: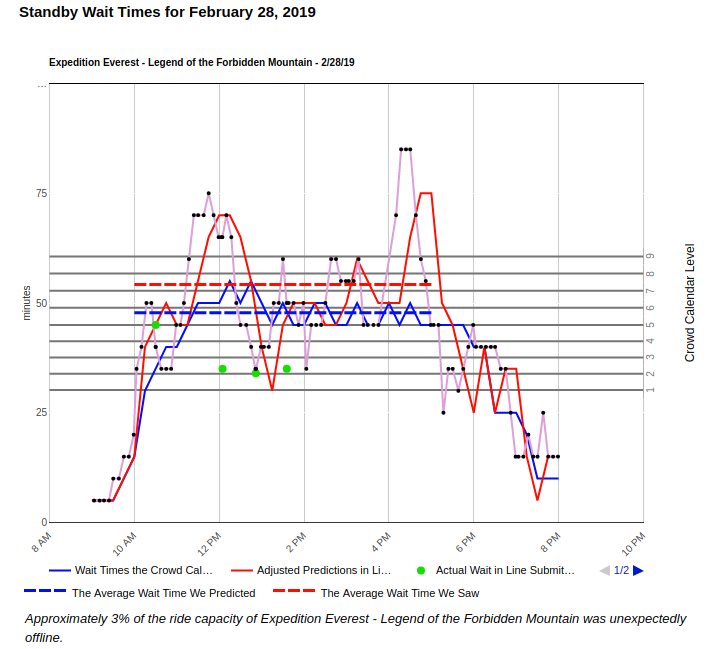 Actual waits at Everest were about 35 minutes from noon through 2 p.m. The posted wait times went from 70, down to 35, then up to 60 during that time. If Disney was following its historical average of having the actual wait be around 80% of the posted, the posted wait time should have been 40 or 45 minutes.
These inflated posted wait times make it look like the Animal Kingdom was more crowded than it was. In Expedition Everest's case, the inflated posted wait times indicated a crowd level of 7. If Disney had followed its 80% rule for posted waits, we would've reported it as a 5. (We predicted the posted wait times would be a 6.) The actual crowd level at Everest was probably a 3.
Park-Wide Analysis
To get a sense of how widespread the overestimating was at the Animal Kingdom, we calculated the average number of minutes it was wrong, for the 86 months between January, 2012 and February, 2019. Next, we ranked each month from most overestimated to least. Here are the results:
Rank
(86 months)
Disney's Animal Kingdom
Month with Most Overestimated Wait Times
1
 April 2018
2
 February 2018
3
 June 2017
4
 March 2018
5
 July 2017
6
 January 2019
7
 August 2017
8
 May 2018
9
 October 2017
10
 January 2018
11
 November 2017
12
 February 2019
It's Worse At Headliner Rides
Those park-wide numbers include attractions like It's Tough to Be a Bug and TriceraTop Spin – secondary attractions that have relatively consistent posted wait times. This makes the Animal Kingdom's overestimation problem look better than it was.
Posted waits at many headliner attractions were much worse than the park average. Here's Kilimanjaro Safaris' rank of worst overestimated wait times by month:
Rank
(86 months)
Kilimanjaro Safaris
Month with Most Overestimated Wait Times
1

 December

2018
2

 April 2018

3
 

February 2019

4

 November 2018

5

 November 2017

6
 January 2019
Safari's average overestimate from 2012 through May, 2017 was around 3 minutes. In 2019, it's around 11 minutes. That translates to an apparent crowd level increase of 2 to 3 points on our 1-to-10 crowd level scale.
Na'vi River Journey and Avatar: Flight of Passage have only been open for 22 months, but their wait times in 2019 have been overestimated at historic levels already:
Rank
(86 months)
Na'vi River Journey
Month with Most Overestimated Wait Times
1

 November

2017
2

 February 2018

3
 

December 2018

4
 February 2019
5

 October 2017

6
 January 2019
Rank
(86 months)
Avatar: Flight of Passage
Month with Most Overestimated Wait Times
1

 April

2018
2

 January 2018

3
 

February 2018

4

 March 2018

5
 

January 2019

6

 August 2017

6
 

February 2019
Flight of Passage's posted wait times in 2019 are inflated by about 11 minutes more than in 2017 and 2018. That translates to an apparent crowd level increase of about 2 points on our Crowd Calendar scale.
January and February 2019 wait times for Expedition Everest were the 16th– and 20th-most overestimated . For Dinosaur they were the 10th– and 24th-most overestimated. Posted wait times for Primeval Whirl were pretty good from a historical perspective (52nd and 84th). Kali River Rapids is closed during colder months of the year; we don't have enough actual wait times from Adventurers Outpost to compare months.
It's Probably Pandora
The 15 months with the highest overestimated wait times at Animal Kingdom have occurred in the 21 months since Pandora – The World of Avatar opened in May, 2017. I can understand how wait times might be overestimated during the first few weeks Pandora was open, when the Park Operations staff was trying to get used to larger crowds, and trying to figure out how Pandora was changing the flow of guests throughout the park.
But Disney's had almost two years to figure this out. And it's worth mentioning that Pandora should not change the way that Disney counts people in line at rides like Kilimanjaro Safaris or Dinosaur. Disney should still be able to say "if the line reaches this point in the show building, the wait is this many minutes." Nothing in Pandora changed that. But clearly, Disney is estimating its posted waits differently since Pandora opened.
Ride breakdowns may also be contributing to the increased wait times, especially at older rides like Dinosaur. And there's evidence that Disney cuts ride capacity at some rides (again, Dinosaur) mid-afternoon, when more people are leaving the park than entering. We haven't yet looked at the effects of these factors.
How This Affects Guests
Artificially high wait times hurt the guests' experience in at least two ways. First, they make the park seem more crowded than it is. Second, they almost certainly cause some guests to balk at getting in line, when they might have decided to ride if the posted wait time was more accurate.  Having guests think the park is more crowded than it is, and having more guests decide that a ride isn't worth the wait, is not a good long-term operations strategy. So it's surprising to see Disney letting this happen for almost two years. There's always a chance that it's part of some master plan that we (I) haven't figured out. But it's also possible that the problem just hasn't got the attention of the right people yet.
How This Affects Our Crowd Calendar
As noted above, these overestimated posted wait times make the Animal Kingdom appear to be more crowded than it really is. For some attractions, the apparent crowd level can be as much as 2 or 3 points higher on our 1-to-10 scale. Because there are relatively few attractions in the Animal Kingdom with posted wait times (currently seven), an increase of 2 or 3 points across even a few of them can make the park appear much busier than it really was.
Future Work
In an upcoming blog post, I'll describe how we're seeing more frequent swings in wait times at the Animal Kingdom, that appear to suggest crowd behavior that's physically impossible.