Ask It Recap: Your Choices for 2017
For nearly a year, Ask It has brought weekly questions to you, the readers, to get an idea of what you think on topics that aren't earth-shattering, but are fun. For each week, I try and guess in advance about how the popular vote will go. Some weeks I feel like I have the pulse of the readership down–other weeks, I'm caught completely off-guard by the results. With a variety of questions on all sorts of Disney- and Universal-related topics, there have been some interesting trends in this wholly unscientific poll. Some results likely would change for 2018 if the same question was asked again. Here's a summary of your thoughts from questions in 2017.
When it comes to parks, Cinderella Castle is your choice for best park icon, but if you had to spend a day in only one area in Magic Kingdom, you'd skip that area and head right for the Frontierland/Liberty Square area. No surprise, because Splash Mountain was your choice for the mountain that was the best overall experience. For best spinning ride, your choice was Dumbo all the way.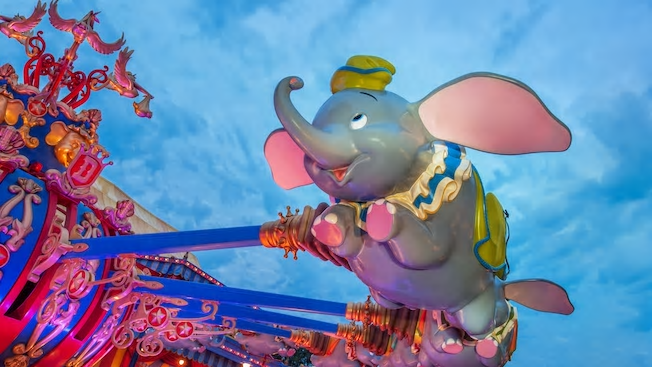 If you had to skip a park altogether, you'd skip Disney's Hollywood Studios, but a large number of people surveyed earlier this year would also skip Animal Kingdom as their second choice–do you think this has changed with the opening of Pandora?
Over at Epcot, if you could only attend one festival, you were very eager to go to Food and Wine or Flower and Garden, but Festival of the Arts barely made a mark. Will things change this year as it is a recurring event? If you're not attending a festival, you might be riding on your favorite Epcot boat ride–Living with the Land. You also were a fan of doing Behind the Seeds for an inexpensive add-on, along with mini-golf if you weren't going to be in a park.
Hurricanes don't cause you to think twice about when you travel, but the summer heat is a trip-killer for many. The need to avoid summer trips may be why the overwhelming majority said that it was okay to take kids out of school for a Disney vacation.
You said that two people was really the best amount of people to fit in a Value resort room, and many of you confessed that if you were going to splurge all the way, you'd go ahead and book Club level (or get a private tour guide). To splurge a tiny bit, you said that getting a preferred location room would be money well spent compared to other upcharge room options.
For dining out, you tip your servers well (20% or more), and enjoy going to resort hotel restaurants at Disney slightly more than eating in theme parks themselves. Perhaps in 2018 Disney Springs will unseat dining at resorts?
Adding alcoholic beverages to the dining plan didn't matter to you one way or another. You do say that Be Our Guest, which is a hard-to-get reservation, is worth it to try for in your book.
Most of you take Disney vacations every 2-4 years, and Universal currently doesn't have enough to make you skip Disney (although doing a Universal/Disney combo trip was a close second). On the other hand, most of you say that you've already booked a Disney trip for 2018, so the 2-4 year gap may be shrinking.
Your favorite of the Disney ships was the Fantasy, but price/night was the most important factor in selecting a cruise. Perhaps you save some money because you don't tend to buy photos on DCL. You prefer to do land and then sea for a combo vacation if given the choice.
On the healthy side of things, most of you are in favor of having Disney post calorie counts. (Don't worry–the Mickey Bar is still your iconic Disney park snack of choice.) Most of you haven't done a runDisney race, but you're open to the idea of trying it someday. Those who have say that Star Wars: The Dark Side is the best east coast race that Disney offers. And speaking of Star Wars, Star Tours is your favorite way that Star Wars is currently represented in the parks. I bet you can't wait to see what's coming up for 2019!
You overwhelmingly believe that Christmas decorations at the parks are far better than Halloween decorations, but say that Mickey's Not So Scary Halloween Party is a better event than Mickey's Very Merry Christmas Party. It was a pretty even split whether or not you dress up in a costume for Not So Scary, though. The Candlelight Processional is an occasional event for most people, and the new offerings at Universal for the holidays aren't going to draw people away from the Disney bubble as of yet. You also noted that New Year's fireworks at Disney are better than Fourth of July ones. Maybe it's just the lack of heat?
Wishes was a favorite nighttime show–is Happily Ever After still ranked as high as a favorite compared to other current nighttime shows? If you could bring back a parade, you'd bring back Spectromagic. Even with all the love for nighttime, it was almost an even split whether Morning or Evening Extra Magic Hours were best.
If given the choice between building a new attraction or just doing a refurb on an old one, you'd want a new attraction. Speaking of attractions, Stitch was more popular in your book when it was changed to a meet and greet than when it was Stitch's Great Escape. (But in the end, most hope we get a new attraction instead of either of those options!)
Most of you have never done pin trading, but almost half of you have received a PIN code. (I'm still waiting on mine, Disney!)
Tokyo is the international parks location that you want to visit the most. If you're staying stateside, most of you feel that an ideal first-time Disneyland trip should be four days or more. The best age for a first trip to a Disney park in general  is the 3-6 age group.
Oh, and speaking of six, Saturday Six is how you like your Derek Burgan articles. Will no one think of the efforts of unpaid outlet report interns of the world?
All in all, it's been a fun year getting to see things from many different points of view. Do you have a question you'd like us to ask in 2018? Let us know in the comments. In the meantime, on with the questions!