Ask It Results: Best Fantasyland Spinning Ride
Happy Wednesday! It seems like just a week since we were here last, doesn't it? (I guess that's what happens with weekly articles….) This time of year can make you feel like you're on an ever-spinning ride. With Halloween over, Thanksgiving on the way, and the holiday season trying to muscle its way into the forefront, life is moving at a dizzying speed. Day to day life in our household can be like a ride on the Mad Tea Party, and yet it is a lot of fun!
With that in mind, last week we asked you:
Which Fantasyland spinning ride do you think is the best?
Here's your answers, with 1,443 votes cast.
Prince Charming Regal Carrousel (197 votes, 14%)
First, an apology to Disneyland for not including it as Prince Charming and/or King Arthur Carrousel — pesky poll lengths! Certainly both carrousels have their charm. Even for some people who can't handle many spinning rides, a carrousel is fairly tame for most riders. (The biggest challenge I have with this is getting up on some of the horses if they stop in the high up position!) It certainly is a timeless ride, and stunningly beautiful to view at night.
I Don't Do Spinning Rides (265 votes, 18%)
It never occurred to me that there would be people who could do thrill rides of all kinds but couldn't do simple spinner rides. This really came to the forefront with something like Mission Space Orange, which took the idea of spinning to a whole new level, but I also watched people turn positively green when riding Cyberspace Mountain at DisneyQuest. It was then I found out that there were many people out there who couldn't do rides like the ones listed here. Have no fear–I'll ride those for you, as long as you don't make me get on a roller coaster!
Mad Tea Party (435 votes, 30%)
It's a very simple premise, and has almost a state fair-like quality to it. You spin around in a teacup that is spinning around on a plate that is spinning around on the table. You really can't get much more spin than that, can you? If you like spinning rides, you can't deny that this one is quite fun, especially if you're able to really get a good group of people getting your teacup spinning wildly out of control. One trick my family uses is to spin very fast in one direction and then halfway through the ride spin the other direction. It seems to make it easier to get off the ride without stumbling. Or maybe that's just me.
Dumbo the Flying Elephant (546 votes, 38%)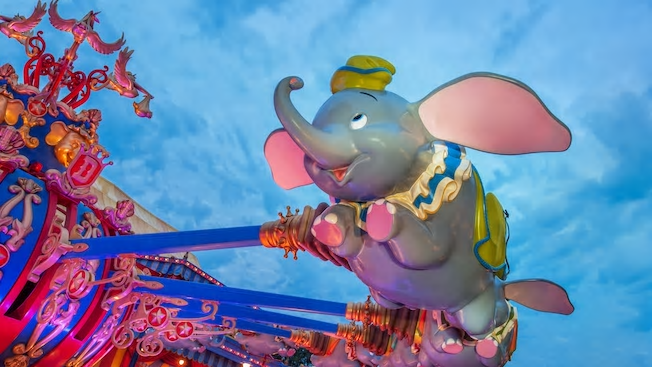 If you came up with a list of the most iconic Disney rides, Dumbo would likely be somewhere on that list. It's interesting that although there are several similar rides to it, from the Magic Carpets in Adventureland to TriceraTop Spin in Dinoland USA, none garner the popularity of this Ninth Wonder of the Universe! In Walt Disney World's version, having an indoor play area for young kids is also an added bonus instead of spending too much time out in the hot sun. One of the best tips is to time your ride on Dumbo to coincide with nightly fireworks–adding both a beautiful view and a thrilling element as you get up a little bit closer to those explosions!
So there you have it–your results for this week's Ask It. Next week's question is live on Twitter and on the blog here. In the meantime, if you could add another spinner-type ride, what theme would you use? We'll see you next week!