What's Your Right Time to Ride Disney World Attractions?
Perhaps the title for this post should be: What's the right time to ride Disney World attractions for your body clock?
TouringPlans parks reporter Chrissy and I recently did a head to head comparison of touring plan use vs. non-use at the Magic Kingdom. Chrissy used a tested touring plan and I experienced attractions in physical order, counterclockwise around the park, starting in Tomorrowland.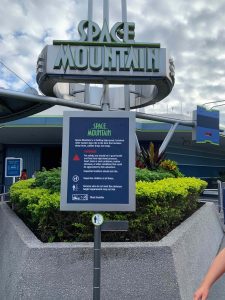 From a time management standpoint, Chrissy's use of a tested touring plan is absolutely the way to go. She was able to experience more attractions in a shorter amount of time, with more rest breaks. On the other hand, I did a lot less walking as I went on the attractions as I encountered them.
While we had different overall experiences, in an ideal world I would not have done either version, because neither of these methods was right for my body clock and circadian rhythm.
For example, we each started off with a roller coaster style attraction; Chrissy with Seven Dwarfs Mine Train and me with Space Mountain. Mine Train and Space Mountain are both fun rides, but neither are the sort that I personally prefer to do first thing in the morning. I like to ease into my day more gently, without lots of jostling right after breakfast.
A few minutes after my test-day turn on Space Mountain, I ended up at the nearby Carousel of Progress. This attraction is a favorite of mine. But here too, the emotional timing seemed off. For me, the perfect time to experience Carousel of Progress is mid-afternoon – a relaxing amusement to get you off your feet and out of the sun. Experiencing CoP before 10:00 a.m. seemed like a loss of momentum when I should have been ramping up for a busy day.
Both Chrissy and I visited Haunted Mansion in the middle part of the day, but in my perfect world, that would be my last attraction, particularly if the sun was down as I left. The darkness would extend the mood of the attraction as I left the park.
Obviously this is all subjective. If you asked my daughter Josie what she likes to start her Disney day with, she would happily volunteer Space Mountain as a great place to start. She likes some action to wake her up first thing in the morning. She prefers to end her day with Splash Mountain because she doesn't like walking around the park after having gotten, well, splashed.
So my question to you is, if this were a perfect world and all the rides were walk-ons, what would be your personal ideal order of attractions? How would you order your Magic Kingdom "mix tape"?
Would you start with the ride equivalent of hard rock, or would you open with a gentle ballad? Do you want the middle to be a soothing break, or do you want that to be the high energy time? What attraction is your version of a goodnight lullaby?
Let us know in the comments!