Can Renting DVC Points Save You Money on Your Disney World Vacation Right Now?
Before we get started, here's a little primer for the uninitiated: DVC stands for Disney Vacation Club. DVC is Disney's version of a timeshare program. However, rather than traditional timeshares where you purchase the rights to stay at a particular property during a particular week, with DVC your purchase entitles you to use "points" that can be used at a range of Disney and non-Disney locations (and on a range of Disney experiences such as cruises or Adventures by Disney trips) at any time of the year. There is an annual grid published that details how many points you have to "spend" to stay in a particular hotel, room type, and date. For example, a studio-sized room at Disney's Old Key West resort during January might "cost" as few as 10 points per night, whereas a three-bedroom until at Disney's Grand Floridian resort during Christmas week could "cost" as many as 227 points per night. The more desirable the location and/or time of visit, the more points your stay will "cost." The catch is that you receive a new tranche of points each year and have a finite amount of time to use those points (typically during one current "use year" plus an additional year).
Disney Vacation Club is very much a "use it or lose it" proposition. You've paid for points, often to the tune of tens of thousands of dollars, and if you don't use them, they're gone forever. Points are flexible enough that, most of the time, even if you have a calendar hiccup, you can figure out a way to use them by traveling on a different date or staying in different accommodations.
But what happens if you find yourself in circumstances where you can't be flexible? Like, say, having a medical situation that precludes travel for an extended time period. Or, for example, a significant curtailment of travel from your home country to the United States. Or, you know, a global pandemic that includes all of the above and a whole lot more. You get the idea.
So what do you do? DVC owners who are unable to use their points themselves (for whatever reason) have long turned to an ancillary DVC points "rental" market to attempt to recoup some of their expenses. When you rent out your DVC points, you are essentially letting someone else use your points, for a fee.
In "normal" times, a modest subset of owners have conflicts and choose to rent out their points to friends or family, or through an agency that brokers deals between DVC owners and potential travelers for use of rental points. If you find a motivated owner that's eager to unload some points, it's sometimes possible to stay in a deluxe resort for the equivalent of a moderate resort price.
Fast forward to pandemic times, when lots and lots DVC owners are skipping their annual trip to Walt Disney World. If ever there was a "buyer's market" for DVC rental points, this would seem to be it.
So let's take a look at what's happening.
For our case studies, I'm looking at one DVC point rental aggregator, DVCreservations.com. [Please be aware that there are many other similar agencies, as well as without-the-middleman deals you might find via friends/family or on internet fora.]
Here are some possible scenarios:
November 3 – November 9, 2020 (seven nights).
DVCReservations has available a Studio Villa at WDW's Saratoga Springs resort for $1,340, or $191.43 per night.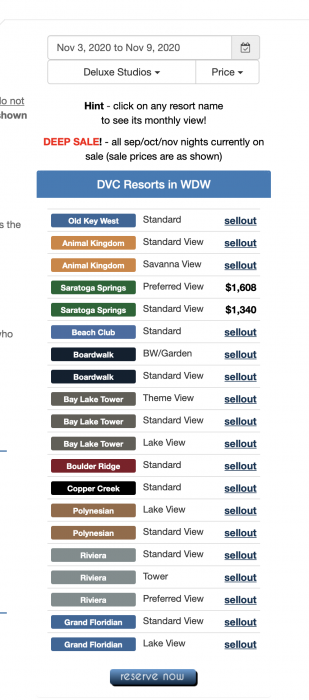 Take a quick hop over to the official WDW website and find that they are offering the exact same room for $459.33 per night. Yes, there are a number of discounts available to bring that $459 rate down for some guests. Florida residents, military personnel, and WDW annual passholders are typical discount recipients. For example, as a WDW passholder, my quoted rate for a Saratoga studio for those dates is $275.60 per night. That's cheaper than rack rate, but still $85 per night more than the rental point rate.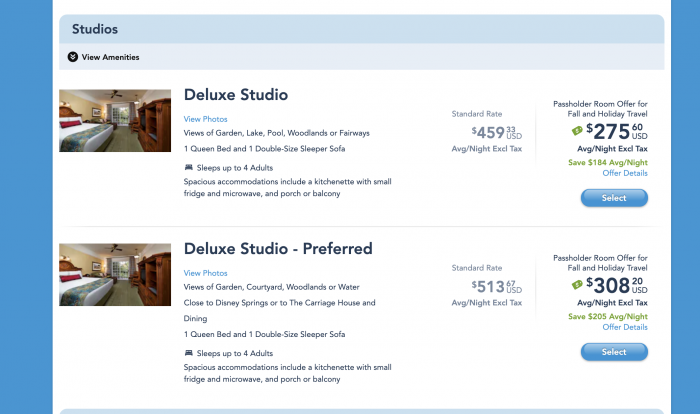 And by way of comparison, that rental rate of $191 per night is in line with the current quoted rack rates $182 per night at Pop Century or $213 at Disney's Art of Animation resort. (Discounts are available for some guests.)
So why would you choose a $191 per night points rental at Saratoga over $182 or $213 at Pop or Art of Animation? (Let's assume that you're not eligible for a passholder or other special discount on the value room.) The difference is that with Saratoga, you're staying at a resort with more amenities. Examples include: more pool options, the community hall, on-site golf courses, and most notably walking distance to the Disney Springs shopping and dining area. Disney Springs access is particularly important during the pandemic when the theme parks close early. [Note, other Saratoga amenities such as the Senses Spa and the Turf Club restaurant are currently on hiatus.] An additional factor is that the Saratoga Studios include a kitchenette with a microwave oven, coffee maker, toaster, and larger refrigerator. If you're planning on making some meals on your own, this alone could be the deciding factor.
September 23 – September 26, 2020 (four nights).
DVCReservations has availability at several hotels. Let's choose a standard view one-bedroom villa at the Boardwalk Villas. The rental point rate is $1,106, or $276.50 per night.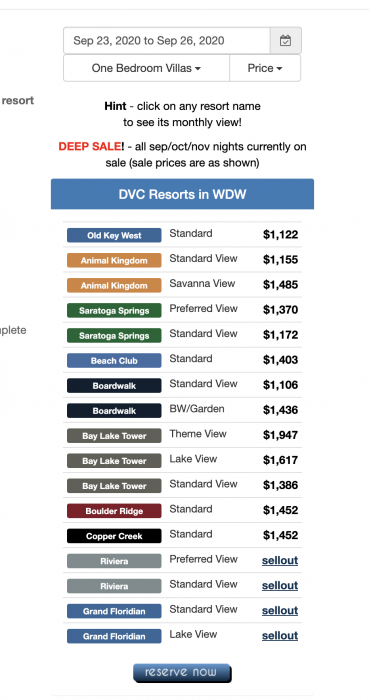 Compare this to the undiscounted rate of $833 per night for that one-bedroom Boardwalk Villa! Even looking at something like the annual passholder rates of $500.00 per night and you can see that the rental point rate is a deal. Consider also that the rack rate for those dates at Disney's Caribbean Beach resort, a moderate level hotel, is a similar $298 per night.

At the Boardwalk Villas, you're getting deluxe amenities such as walkable access to a greater number of restaurants and easy walking access to two of WDW's theme parks, Epcot and Hollywood Studios. Plus you have a full kitchen (stove, dishwasher, large refrigerator, washer & dryer, etc.) at the Boardwalk Villas that does not exist at a location like Caribbean Beach.
Another factor to think about during pandemic times is that many of Disney's hotels are currently closed. So, while the Boardwalk Villas (DVC) are open, the attached Boardwalk Inn hotel is not. If you love staying at the Boardwalk, the Villas are your only choice. If you're not a DVC member, then renting points there is the only remotely cost-effective way to stay.
So what's the down side of renting points?
First, there may be available rooms through Disney directly that are not possible via rental points. Second, there are differences in things like cancellation policies that merit serious consideration. But once you've gotten a handle on that, it can make big financial sense to look at DVC rental points as an alternative to booking through Disney, particularly now when there is generally good availability and pricing for rental points.
Have you saved money renting DVC points for your vacation? Let us know what your experience was like in the comments.