What You Need to Know About a Disney Resort Stay Right Now Part II
It's a whole new world of vacation planning these days; but thankfuly, it's still the same magical Walt Disney World we know and love despite Disney's new implementation of health and safety measures. Still, certain elements of your vacation are different than you remember, particularly when it comes to your Disney Resort experience. So to know what to expect from a Disney Resort experience during COVID-19, here's What You Need to Know About a Disney Resort Stay Right Now Part II. You can read the first part of this series here.
Not All Resort Restaurants Are Open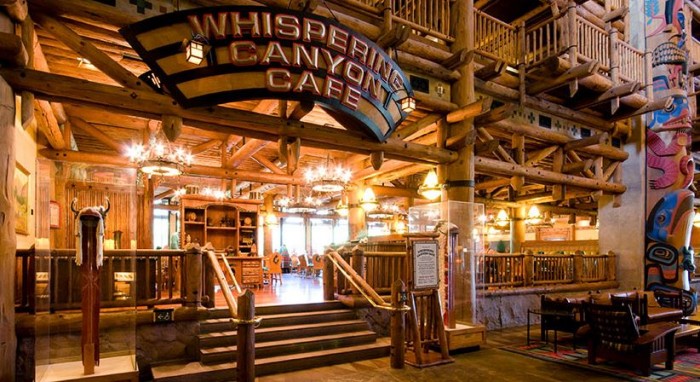 Even if a Disney Resort hotel reopened, that doesn't mean all of their restaurants and dining options have. At the time of writing, certain dining locations such as 'Ohana, Storybook Dining at Artist Point with Snow White, Boma – Flavors of Africa, Trail's End Restaurant, Citricos, Victoria & Albert's, all dinner shows, and more have still not reopened.
For restaurants that are open, be aware that some menus are more limited than usual and restaurant capacity is limited. So even though crowds are lower than usual at this time, a dining reservation is still recommended. Also, in-room dining has been suspended at the resorts; however, it looks like the Yacht Club may be an exception to the rule.
Quick Service is a Different Experience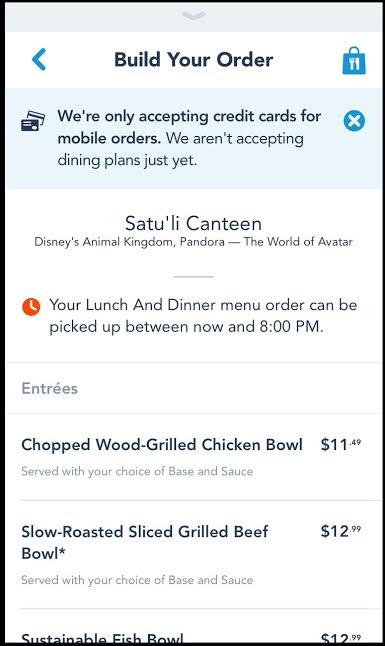 Quick service restaurants at both the parks and resorts have adjusted for our current global situation in a number of ways. First of all, as opposed to ordering at registers, guests mobile order outside of the location using the My Disney Experience app.
Once guests receive a notification that their order is ready, they then enter the restaurant where only certain tables are available to allow for social distancing. Beverages and other items that were previously self-serve are now served by Cast Members instead.
You Need the My Disney Experience App More Than Ever
During this time, several new features have been added to the My Disney Experience app to aid with social distancing. For instance, guests are now encouraged to use the new mobile check-in feature on the app instead of visiting the host stand to check in. Mobile check-in also allows guests to note any dietary or mobility issues and if they're celebrating a birthday, anniversary, first visit, or more.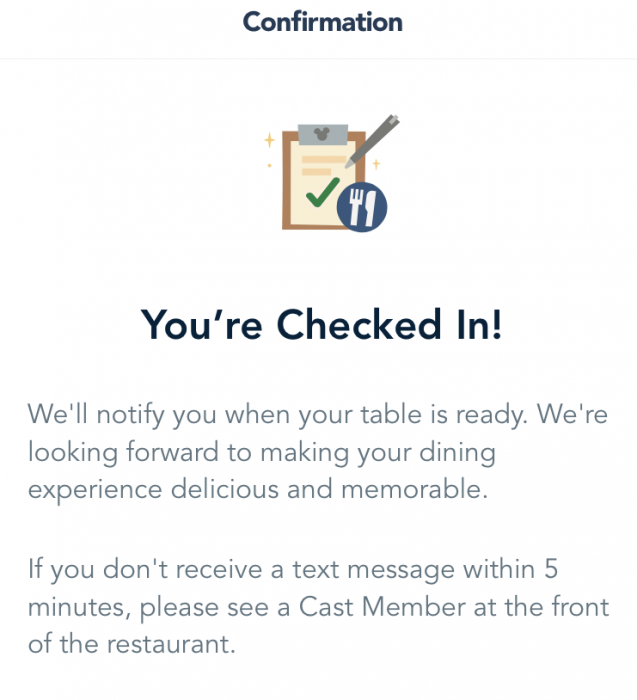 Another change is how guests read the menus. Instead of traditional menus, guests are encouraged to scan a code with their mobile device to access a digital menu as opposed to using paper.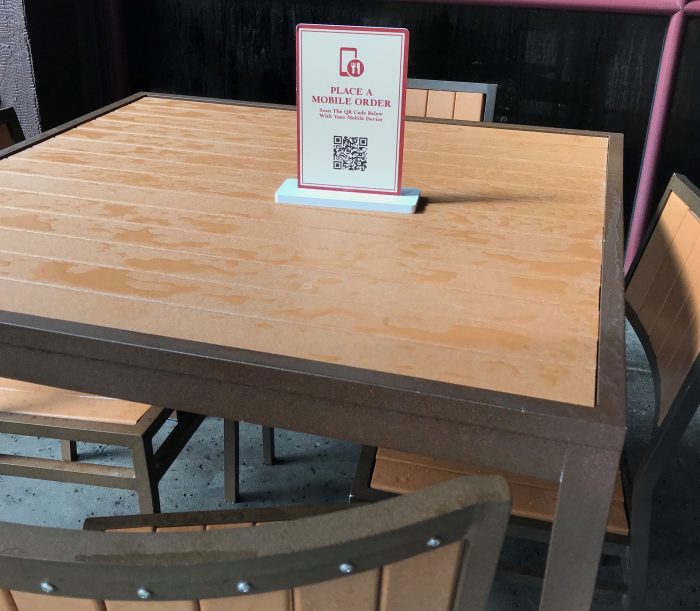 Just recently Disney introduced another new feature on the app allowing guests to join a wait list at certain Disney World restaurants. This can be used to see whether a restaurant can accept walk-ins and to check approximate wait times. At the time of writing, guests can use this feature at resort restaurants at Disney's Contemporary Resort, Kona Cafe at Disney's Polynesian Village Resort, and at Whispering Canyon at Disney's Wilderness Lodge.
Modified Resort Check-in Experience
Guests are asked to use the My Disney Experience online check-in service before arriving at their Disney Resort hotel as opposed to checking in at the front desk. Those who use online check-in will receive a notification when their room is ready along with their room number, allowing them to bypass the front desk completely.
Note: This doesn't mean guests are not allowed to check-in or visit the front desk. Cast Members are still there to help.
Guests without MagicBands can use the My Disney Experience digital key feature on the app to open their room door. Disney says guests can visit the front desk for their MagicBands at their convenience.
Lastly, for guests who have questions or don't want to visit the front desk, they can chat with a Resort Cast Member during their resort stay on the My Disney Experience app.
New Health and Safety Measures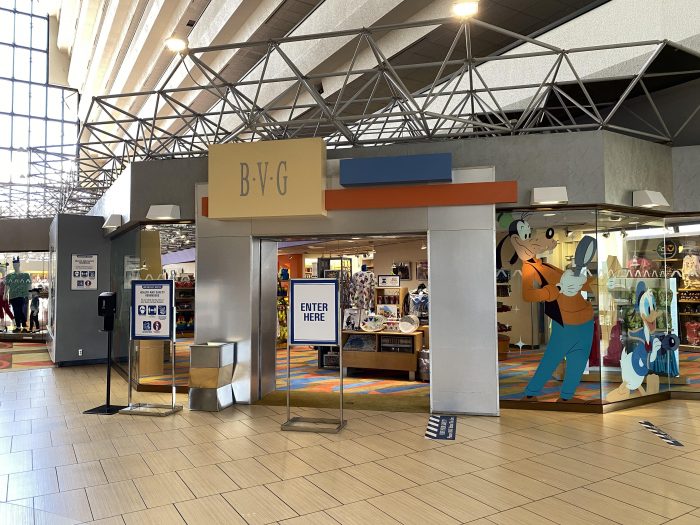 Just like the parks, guests should expect social distancing markers throughout the resort, particularly outside the gift shops, dining locations, boarding areas for transportation, and at the front desk and concierge. There are also designated entrances and exits at shops and restaurants.
One of the biggest changes at both the parks and the resorts is that guests are required to wear face masks at all times. The only exceptions are when seated at a restaurant, at a mask-free zone, or when stationary to eat and drink.
Guests planning to use Monorail transportation or when dining at Disney Resort restaurant should expect to have their temperature taken upon entry. Anyone displaying a temperature of 100.4 F or above will be directed to an additional re-screening. Those with temperatures 100.4 F or above will not be allowed entry; those in their party will not be allowed entry either.
Non-DVC resort rooms receive light cleaning service every other day. This includes new towels and amenities, trash and used towel removal, wiping down surfaces, and possibly vacuuming. Guests may also decline this service upon request.
Finally, the following services have also been suspended or modified: valet service with the exception of guests with disabilities who may require assistance, club-level service, in-room celebrations, shipping services, dry-cleaning and valet laundry, package delivery to Disney Resort hotels from the parks, and resort airline check-in.
Limited Amenities
Resort pools may have modified hours and capacity, as do resort gyms and fitness centers. Arcades, marina rentals, playrounds, Bibbidi Bobbidi Boutique, resort campfires, character experiences, spas, salons, instructor-led fitness classes, and the Electrical Water Pageant are all currently suspended. This also applies to in-room childcare, special classes, fireworks voyages and cruises, fun runs, and more.
Using Magical Express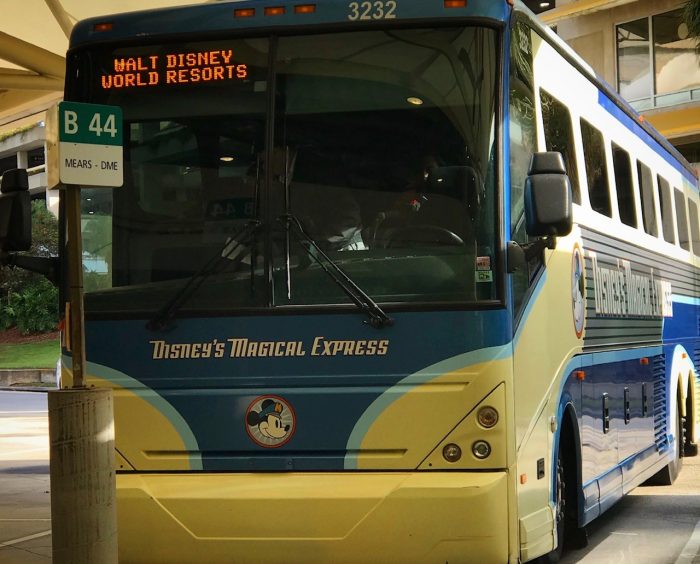 Disney Resort hotel guests can still take advantage of Disney's complimentary Magical Express service to and from the Orlando International Airport. However, luggage delivery for those arriving at and departing from the airport is not available. Instead, guests will be responsible for picking up any of their checked luggage from the airport's baggage claim and have it loaded onto the Magical Express motor coach. Fortunately, luggage assistance and storage at the resort is still available!
When departing from Walt Disney World, guests need to bring all of their luggage to the Magical Express motor coach and to check it in with their airline upon arriving at the airport.
Have you experienced the Disney Resort hotels during these unprecedented times? Are you planning to book a stay at a Disney Resort in the future?