Caring For Giants Tour at Animal Kingdom
Caring for Giants is a 60-minute tour offered at Animal Kingdom that takes you behind the scenes of Kilimanjaro Safaris to learn all about the care and keeping of elephants! It is one of the most affordable tour options at Walt Disney World at just $35 per person. And it's one of the more accessible options for families, because the minimum age is four years old. I recently took the Caring for Giants tour with my family, and now I'd like to share with all of you about this special experience and whether you might want to add it to your next Animal Kingdom day!
Reservation and Tour Check-In
Like most other "Enchanting Extras" at Walt Disney World, you can start booking Caring for Giants 60 days prior to your vacation – 60 days prior to check-in if you're staying on property, or 60 days prior to the tour day if you're off property. You can book online, in the My Disney Experience app, or you can call Tours and Recreation at (407) 939-7529.
You'll need to know the names of each participant, and you will pre-pay for all tickets. The tickets are refundable if you cancel more than 2 days in advance, but are technically non-transferable. (One member of our traveling party learned that they would be unable to travel just a few days before our vacation, and we did have someone else take the tour with us without attempting any transfer of the ticket or the booking. But the fine print says non-transferable, so operate under the assumption you can't reassign the ticket to someone else.)
You can also book directly at the Curiosity Animal Tours desk in the park, and it's not uncommon to find same-day availability. If you're a Disney Vacation Club Member or Annual Passholder, don't forget to ask about discounts. They are periodically available.
You'll receive an email a few days before your tour with more details about the tour itself and where to meet. Park admission and a park reservation (if your admission requires it) are required to take this tour. Your entire party will check in at the Curiosity Animal Tours desk, which is just in front and to the left of the Kilimanjaro Safaris queue entrance. You are asked to arrive no later than 15 minutes before the start of your tour.
During check-in, your tour guide will make sure that names are correct for nametags, give you any last-minute information, and help get waivers signed. They will also recommend that everyone use the restroom – you won't have access to any bathroom facilities for the duration of the tour.
Start the Tour Backstage
There is a small access between the tour desk and Kilimanjaro Safaris queue that leads directly backstage. If you stand in this area you'll frequently see cast members leaving and entering the park. Your guide will take you on a 5-minute walk to a waiting van. Guests aren't allowed to take any pictures during this part of the tour.
Even though no pictures are allowed, as a Disney geek, this was one of my favorite parts of the tour! You may be able to see things like composting activities, a hidden Mickey in Pandora that is only visible from backstage, or even cast members training on how to drive Safari trucks – this is where all of those trucks park at night or when they are not needed.
Then you have approximately a 10-minute drive around the back of the Safari to the elephant barn. Your tour guide will point out more things to see during this drive (and on the drive back), like the Animal Kingdom Imagineering headquarters, a field that grows fruit and plants for animals to eat (it's the size of Magic Kingdom!), animal barns that may be familiar to viewers of the Magic of Animal Kingdom, and even a "retirement savanna" where non-stage-ready animals get to spend their days.
Learning about Elephants
Once you exit the bus after passing by the elephant barn, you'll walk up a ramp and be looking out at the elephant portion of Kilimanjaro Safari. Once off the ramp, you're allowed to take pictures again! You'll likely see many, many trucks full of guests rolling past throughout your tour.
Elephants aren't guaranteed to be near the tour overlook. In fact, they're not even guaranteed to be visible at all during your tour. But with two different portions of the overlook covering most of the elephant area, there's at least a good chance that you'll be able to see them quite clearly. During our tour, two males were right in front of us for the entire 30 or 40 minutes.
Your tour guide will share stories and information about the elephants while you watch them. They'll also teach you more about conservation and learning about elephants in their native habitat too! Each tour guide has plenty of content to easily fill the full tour, but you are actively encouraged to ask any questions that you have as well.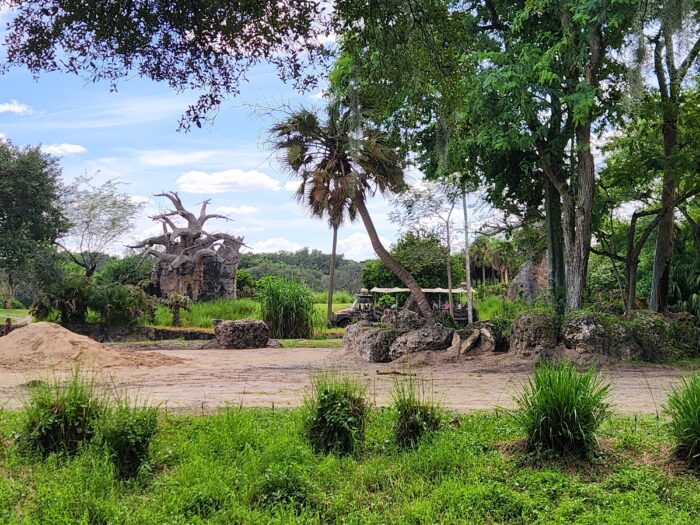 On our tour, we learned about bee fences, and we got to hold an elephant tooth, an elephant tracking collar, and a sanitized piece of elephant poop! I guess elephants aren't great at processing fiber …in fact, your nametags for the tour will be made out of "Poop Paper" – made from 85% recycled poop fiber. Hooray.
Tour guides will describe any elephant activity that you see happening while on the tour, they'll provide additional educational information, and they'll happily take pictures of you and your party too.
When time is up, you'll head back down to the van for another drive and walk to deposit you right where you left originally.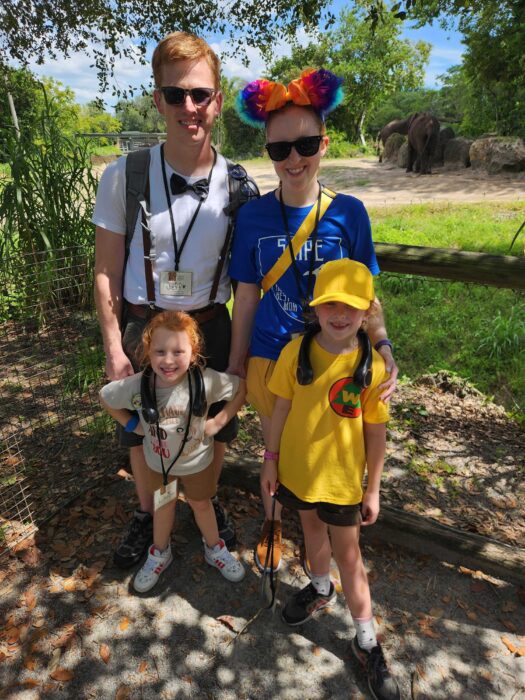 Is the Tour Worth the Cost and Time?
If this is your first-ever visit to Animal Kingdom, your time may be better spent soaking up the animals on various trails and the Safari (plus rides and entertainment) rather than a tour. Animal Kingdom is easily a full-day park without an extra tour, although you may hear otherwise from those who are focused only on rides.
If you have kids (or adults) in your party who are particularly interested in animals, veterinary care, or conservation, I would definitely prioritize this option. The tour group is small enough that you'll get lots of personal attention and time to ask any questions you might have.
I was worried about my 4-year-old getting bored on the tour because she's not particularly enthusiastic about animals or their care. Standing around and listening to someone talk for 40 minutes isn't really a big passion for her (or any 4-year-old probably …). But I shouldn't have worried! The tour guides are like all other cast members – well-trained in keeping kids entertained and happy. She remained engaged and excited for the duration of the tour.
Overall, the cost of this add-on is pretty low, and if you're looking for a cool behind-the-scenes tour at Animal Kingdom, we'd recommend this option!
Have you ever tried the Caring for Giants tour? Is it on your wish list?