Get To Know Your Disney Cruise Line Contract
When you check in for any Disney Cruise Line sailing, you're asked to accept the terms of the Disney Cruise Line contract. Chances are that you just want to go on with your day (or get to bed if you're like the many folks who opt to check in at midnight) so you just clicked that "accept" button without stopping to read the contract at all. As easy as that quick click might be, there are a few things about the the cruise contract you should be aware of as you before you set sail.
Before we get started there are a few caveats:
I am not a lawyer and I am not giving you legal advice. If you have legal concerns, please consult qualified counsel.
There are different versions of the Disney Cruise Line contract for different geographic regions: United States, United Kingdom, Australia & New Zealand, and other. While there is some overlap between the various versions, they are different. I will be discussion the United States contract in this post. If you hail from another area, be sure to read the contract that applies to you.
While you're asked to officially accept the contract at the time of check in, you shouldn't feel pressured to read and understand the entire contract during the check in process. The contract is available online at all times. You can, and should, take the time to thoroughly read it in advance, before you begin to check in. Indeed, you should really read it thoroughly before you reach the payment deadline for your sailing in case there are aspect of the contract that might dissuade you from continuing with your sailing.
If you have a problem, you have to let DCL know in writing, within a specific time period. 
While every vacation should be perfect, that doesn't always happen. If something goes wrong and you want remediation, be sure to check the contract terms. Some examples noted in the contract:
No suit shall be maintainable against carrier [DCL] or vessel [your ship] for delay, injury … unless written notice of the claim with full particulars be delivered to the carrier at its office … within six months from the day that the [event happened].
No suit shall be maintainable … upon any claim relating to loss or damage to any property unless written notice … shall be delivered … within 30 days after termination of the voyage to which this cruise contract relates.
See clauses 10 and 11. 
DCL does not guarantee any of services provided during shore excursions (port adventures).
While you can book port activities through DCL, they are run by independent entities. DCL does not make any representations about the safety or suitability of port adventures.
See clause 21.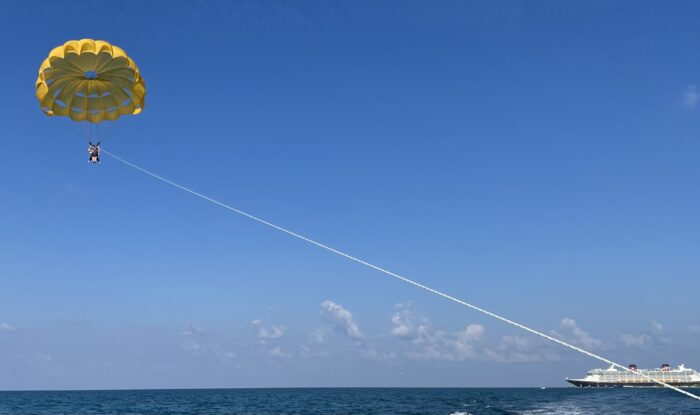 DCL does not guarantee any of the medical services provided onboard.
While there are medical personnel on the ship, the contract makes it expressly clear that medical staff on the ship are independent contractors. DCL is not liable for any injury or other mishap caused by the medical team on the ship.
See clause 22.
DCL does not guarantee the work of any of the other third party operatives on the ship.
Other independent contractors on the ship may include staff in the jewelry shops, spa staff, photographers, wireless and internet providers, art sales staff, and others. DCL is not not responsible for any good or services provided by these third party operatives.
See clause 23. 
DCL or your ship's captain can restrict your movements onboard at their discretion.
If you exhibit any behavior that makes you a risk to yourself or others, including overconsumption of alcohol or ill health of any sort (including COVID-19) you can be refused passage or confined to quarters.
See clause 25.
You are responsible for any problems caused by your kids.
You are responsible for any damage caused to the ship by minors in your care.
See clause 26.
Adults in your child's stateroom have the ability to make medical decisions for your child.
If your child is staying in stateroom other than yours, with a grandparent or nanny for example, that person is allowed to sign waivers and make health care decisions about your child.
See clause 28. 
DCL and your ship's captain may change their route, change ports, skip ports, or cancel a sailing for a wide variety of reasons.
When these things happen, DCL has an admirable track record of compensating guests, but the cruise contract does not require this.
See clauses 30, 31, and 32. 
You and your children may be photographed or filmed onboard. DCL may use those images/recordings in all media in all forms without compensation, forever.
See clause 38. 
You acknowledge the inherent risk of contracting COVID-19 and other communicable or infectious diseases while onboard a cruise ship,
You are responsible for your own medical risk assessment when traveling with DCL. You also agree to abide by any health-related rules on the ship including possible COVID testing, vaccination, temperature checks, masking, quarantine, or disembarkation.
It's your responsibility to be aware of any changes to DCL's health and safety protocols.
See clause 41. 
Again, these are just some of the highlights of the things you acknowledge and agree to when you book a DCL sailing. You should read the entire contract yourself and consult legal counsel if any of them concern you.
In my personal experience of sailing with DCL for 20 years and writing extensively about DCL for 10 years, they generally try to do right by guests, offering generous financial remediation or penalty reduction when things go wrong. But the contract makes abundantly clear that they don't have to do this. To be fair, most other cruise lines and other travel entities have similar contracts in place; DCL is not alone. Any travel is inherently risky. It's up to you to understand your own tolerance for risk.