Catching the Last Cruise out of Port Canaveral — For Now
My family had a cruise on Disney Cruise Line booked for this summer. Earlier this year, we saw better rates and moved our cruise to late April. With several other vacations looking like they'd be cancelled, last week we decided to book a quick weekend cruise on the Disney Dream.
Last night, it was announced that we'd be sailing on the last Disney cruise to leave Port Canaveral before the shutdown begins.
Being part of the cruise group for this particular cruise was a unique experience, even for the week. When most cruise groups are about people coordinating gift exchanges or asking for advice on getting a cabana, this cruise group was focused on "Should I cancel? Will the cruise be cancelled? How long was your wait time to cancel on the phone?"
Every person who cancelled, while understandably disappointed, did so for the right reasons.
There were a lot of factors involved with deciding for us whether to stay or go.
From a logistics standpoint, did we have enough supplies to quarantine at home upon return? (We do and plan to do so unless advised that it is unnecessary by health officials.)
Could we work from home or miss work for weeks? (We can and will be.)
Could our daughter be out of school for two weeks or more? (We homeschool, so classes will continue at home as always.)
Do we have underlying medical conditions that would make illness a greater risk? (We are not in the high-risk category, and we've made preparations not to have contact with friends and family members who are upon our return.)
Where would we be at more risk–in our community or on a cruise ship? (Because of where we live, right behind Magic Kingdom, and with the closure announced, we expect our community to be filled with high numbers of people coming in for "one last Disney fix at the parks" — and, sadly, we know that not everyone will come in good health. They don't check temperatures at the parks or at the grocery store or the bank or any other place where we'd be likely to go if not under quarantine along with everyone coming in from out of town. If we got sick, odds of being able to get access to health facilities would be iffy–there simply aren't enough facilities to go around, and going to the ER to be tested for "Is it allergies or flu or COVID-19?" increases likelihood of exposure to the virus. On board ship, we know we have access to medial facilities and easy access to isolation in the unlikely event we'd need them.)
Even with all that, the real determining factor is that our cruise has limited contact with people other than those screened before getting on board — the only port scheduled for this itinerary is Castaway Cay, where we may be picking up crew members to bring them back to Florida with us.
As a proud germaphobe before all this started, one of the reasons why I sail on Disney Cruise Line as opposed to other cruise lines are their CDC Sanitation Scores.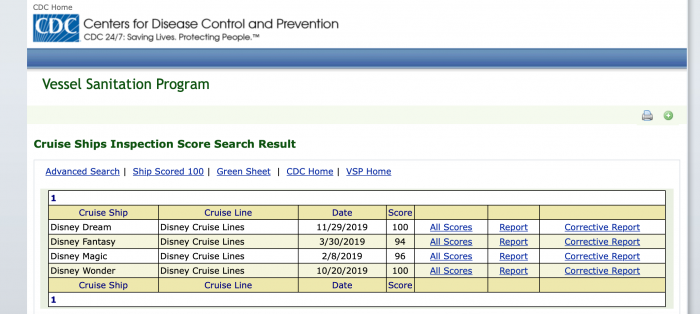 These high scores prior to the additional precautions being taken are nothing to sneeze at, pun intended.
In our letter we received last night, Disney outlined steps they are taking to ensure the safety of the vessel and those on board. These include:
At this time, any Guest or Crew Member who has traveled from, to or through the following countries and regions within 14 days of embarkation will not be able to board our ships: Austria, Belgium, China, Czech Republic, Denmark, Estonia, Finland, France, Germany, Greece, Hong Kong, Hungary, Iceland, Iran, Italy, Japan, Latvia, Liechtenstein, Lithuania, Luxembourg, Macau, Malta, Netherlands, Norway, Poland, Portugal, Slovakia, Slovenia, South Korea, Spain, Sweden, Switzerland, Monaco, San Marino and Vatican City.
Any Guest or Crew Member who has been in contact with someone from these areas, including guests with connecting flights in these locations, also will not be able to board, nor will anyone who has helped care for someone suspected of having or diagnosed with COVID-19, or who is currently subject to health monitoring for possible exposure. Guests who have air travel booked through Disney Cruise Line will automatically have their flights rebooked on an alternate route. Guests who booked their own air travel arrangements should contact their airlines directly to make the appropriate changes.
As is always our practice, we screen all guests and crew members before they board, and anyone who feels unwell with gastrointestinal or flu-like symptoms (fever over 100.4º F, chills, cough or difficulty breathing) will not be permitted to sail.
In addition, all Guests and Crew Members will have their temperature checked by a nurse with a no touch thermometer prior to boarding, regardless if they are symptomatic or feel unwell. Additional medical screening will be required for anyone with a temperature of 100.4º F or greater, and they along with their travel party may be unable to sail.
Disney Cruise Line consistently receives among the highest public health inspection scores and has health and safety protocols in place. We also have a comprehensive plan that outlines protocols for preventing and managing illness and closely follow the guidance of public health officials. In light of COVID-19, Disney Cruise Line is operating at elevated cleaning and sanitation levels. Among our procedures currently in place include:

Training for all of our Crew Members on how best to prevent the spread of illness onboard.
A health screening completed by all Guests and Crew Members to check for illness before they board the ship.
Extensive cleaning and sanitation of high-traffic areas (e.g., handrails, doorknobs and elevator buttons) and children's facilities.
Cleaning of all staterooms twice a day, and additional disinfection when necessary.
Discontinuing self-service at buffet locations.
Regular communication to Guests and Crew Members regarding how to prevent illness.
Hand washing stations and sanitizing wipes conveniently located throughout our ships.
Medical clinics on our ships staffed with experienced doctors and nurses and stocked with supplies and medications to treat a variety of illnesses.
Things will certainly be different on this cruise. We do not plan to use the elevators if at all possible. We're already obsessive about hand washing and hand sanitizer, but will be doing so hourly (at a minimum) during waking hours. We may be skipping some enclosed areas, like evening shows. Among the people of our cruise group, everyone has decided that handshakes are a no-go. We're bringing activities in case there's a call for us to be confined to our stateroom. We've made arrangements in case there's a need for an extended quarantine on ship or at a facility on land before we return home. We're bringing every bit of medicine in our medicine cabinets so we can start treatment of symptoms should anything come up as directed by the CDC. And, of course, we'll follow additional directions when on board. It will certainly be a different experience from our previous cruises.
As long as we're permitted to board the ship (this whole experience is a dynamic one, and things could change between now and embarkation time), we'll be sharing our experience here on the blog and on the TouringPlans Twitter account. Feel free to ask any questions that you may have and we'll do our best to answer.