Cinco de Mayo Park Hopping Taco Challenge
So, theme park fans, how do you celebrate Cinco de Mayo this year?
Have a park pass for Magic Kingdom or Hollywood Studios? Secured a Universal Orlando VelociCoaster preview spot for May 5? Maybe have the fates aligned to have both a VelociCoaster preview and a Disney park pass? Looking for something over the top to try? Here's a completely hypothetical idea that we could have done today (but were smart enough not to try!).
It's 2021, and so let's go wild. Why not take park hopping to a new level and enter several parks in a day, having tacos in each park? (Or if you want to stay at the easy difficulty level, you can pick any one of these options to enjoy tacos for Cinco de Mayo.)
If you want to take on this incomprehensible fabricated theme park food challenge, then where would you start? In our theoretical world of pixie dust and wizarding magic, you were sanctified with a park reservation for Magic Kingdom and a virtual timeslot for the VelociCoaster Universal Orlando Annual Pass preview day both on May 5. These will be important pieces in your food challenge.
Since you scored a 10:30-11:00 a.m. time slot for VelociCoaster on May 5, you decide to start your day at Islands of Adventure. You probably won't feel like hitting too many high-intensity roller coasters later, so enjoy a ride on the Incredible Hulk coaster before your VelociCoaster virtual time slot. Relish your smashing good time with Hulk and walk through Toon Lagoon and Skull Island to eventually arrive at the Jurassic World VelociCoaster. Enjoy the queue and the 360-degree barrel roll above water with a zero-gravity inverted stall that lasts for some 100 feet. (Aren't you glad the food part of this day hasn't started yet?)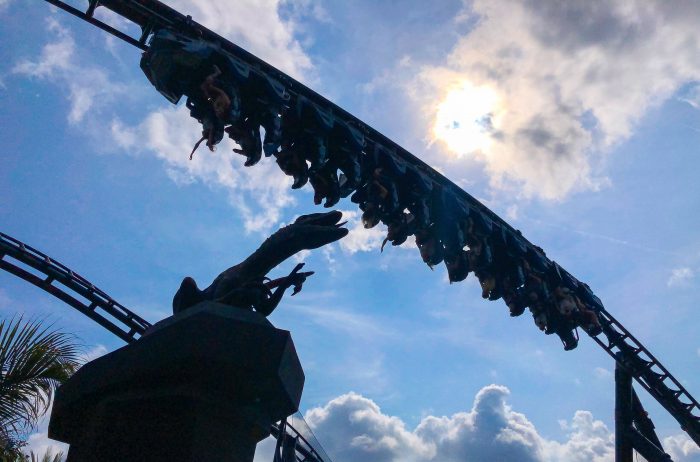 Now it is time to enjoy tacos. You travel park to park over to Universal Studios Florida to visit Springfield USA, the Simpsons area. Fittingly, you dine at a taco truck known as Bumblebee Man's Tacos.  This truck is decorated with an enormous taco and a thematically fitting gigantic Bumblebee Man head coming out of the roof. There are three type of tacos here: chicken, Korean beef, and carne asada varieties. Each style is high quality and priced at $10.99. They are served with tortilla chips but sadly with no salsa or other dips. These soft tacos are reasonable size that would compete with the Moe's Southwest located in Universal Orlando CityWalk. Most guests give this place high ratings (89% thumbs up from our readers) and prefer the Korean and carne asada varieties.
Wash down your tacos with a Buzz Cola and return to your car. Off to the Transportation and Ticket Center for a trip to Magic Kingdom. This travel time gives you an adequate period to digest preparing for lunch at Pecos Bill Tall Tale Inn and Café. To save time, you mobile order the "Taco Trio", which is prepared for you quickly since you are having a lucky day. You receive, for your $11 (plus tax), three tacos with lettuce, tomato, and cheese. You get three standard looking tacos but no chips. The fixing bar is on break due to COVID procedures, however you can get other Tex-Mex toppings upon request. As opposed to your first tacos of the day, these are not as flavorful, but this place has plenty of seating with even an overflow area during these days of social distancing.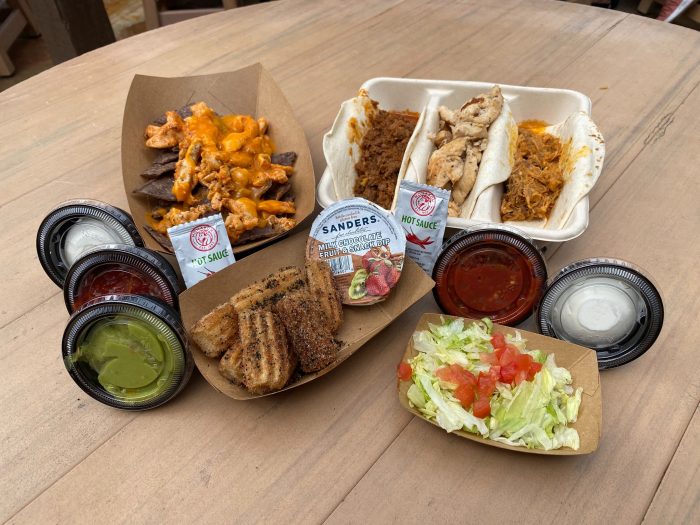 Since park hopping does not start until 2:00 p.m., you decide to ride Jungle Cruise. After all, what is better after tacos than cheesy jokes. You complete that journey and exit the park to travel to Hollywood Studios. You may not have been lucky enough to get a park reservation for this park, but you are in luck regarding tacos.
The much-maligned ABC Commissary has been updating their menu in recent months. This cafeteria-themed quick service place has added tacos to the menu. They will not be the best tacos you have ever eaten, but the shrimp and pork soft tacos ($13 and $11, respectively) are fresh and flavorful. Each of these comes with rice and beans topped with queso fresco. You decide to save a little money and get the pork taco kid's meal which comes with a bottle of water for $7.49. (Remember to hydrate because it is May in Florida after all!) You will need that water because after this you decide to walk to Toy Story Land, the home of the shade-deprived-queue for Slinky Dog Dash.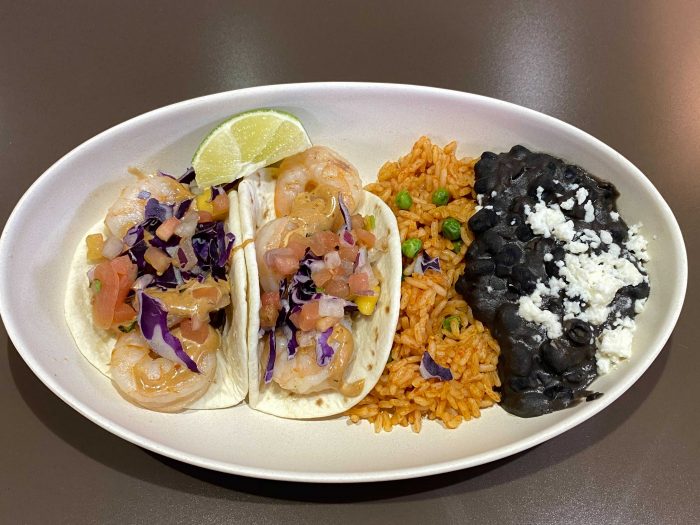 Somehow, you're still standing and ready for the next round of tacos. Time to grab a ride on the Skyliner to head to EPCOT, the home of many food festivals. You're skipping the food booths this time and off to the Mexico pavilion's La Cantina de San Angel. You can choose between chicken and beef tacos. These tacos get high marks on flavor with an 89% thumbs up rating from our readers, just like Bumblebee Man's version. These will be served in corn tortillas with rice, refried black beans, and salsa. This time, instead of the kid's meal offered here, go for the full adult entrée. Since the quality is higher and it is EPCOT dining, you willingly pay around $15. This location has open-air seating with many covered seats near the lagoon. It's a perfect ending to a taco-filled day.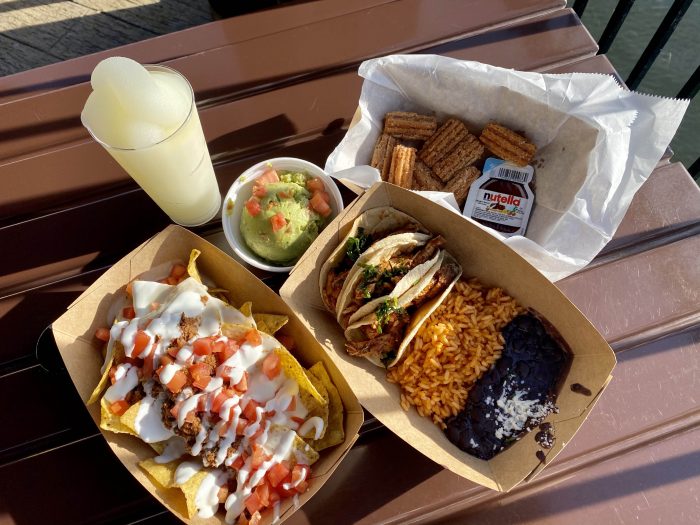 What do you think? Are you brave enough (or foolish enough) to do this multi-park taco challenge? Would you add a late-night stop at either CityWalk or Disney Spring for more tacos? Would you have added breakfast tacos?
If people question your taco gluttony, feel free to borrow this Cinco de Mayo joke: Which Disney princess only appears on Cinco de Mayo? Taco Belle! That should cause them to flee, and you can have another taco in peace. Happy Cinco de Mayo.
What's your choice for tacos at Disney or Universal? Let us know in the comments where you'd want to dine.