Classic Toys Found in Toy Story Land
The amazing concept behind Toy Story Land at Walt Disney World's Hollywood Studios is that, upon entering, guests are shrunk down to the size of a toy to explore and play in Andy's backyard. For many of us who grew up with Andy and the gang, this is a dream come true.
And Imagineers spared no opportunity to include as many supersized classic toys throughout the land as possible, as if Andy had built everything himself, out of simply whatever he had lying around. The details are so rich, nostalgic, and frankly, adorable, that they really bring out the kid in everyone.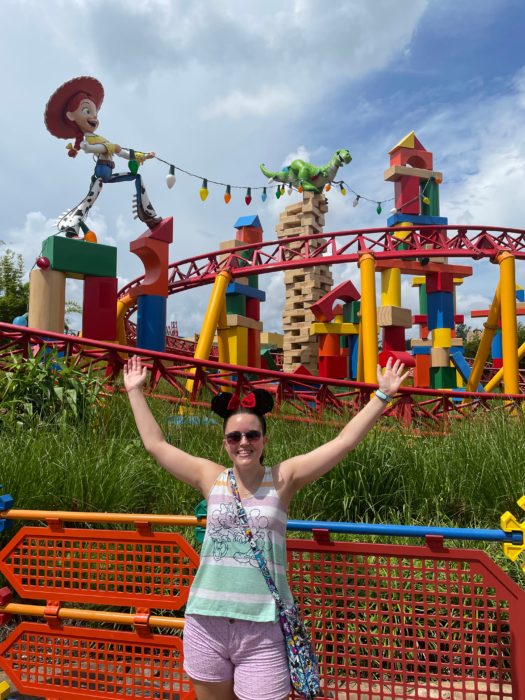 Let's take a look at what classic toys Imagineers have included throughout this beloved land:
Building Toys
When building his backyard amusement park, Andy turned to some very standard children's construction materials.
Various Tinker Toy pieces are used for many of the main structures, like holding up the Christmas lights strung across the land, as well as forming the bridge to Slinky Dog Dash, while K'Nex pieces make up a lot of the fencing.
Blocks are also featured prominently throughout the land. Brightly colored blocks in every shape form the building for the bathroom as well as towers around Slinky Dog Dash. Wooden cube alphabet blocks are used for signage, including the word "land" at both entrances to the area.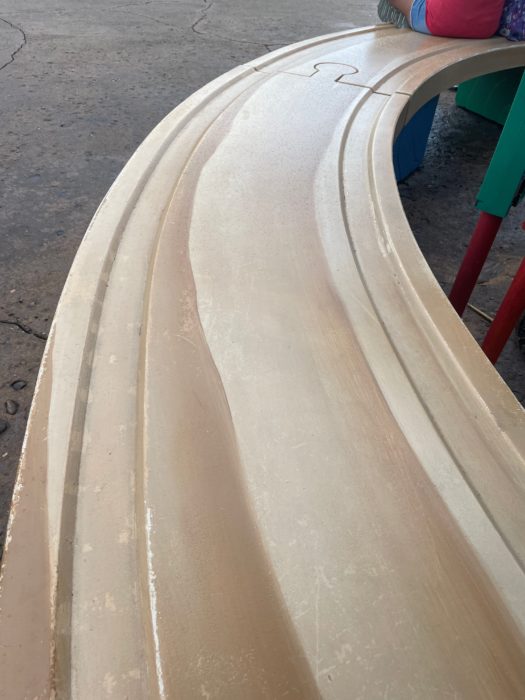 Lincoln Logs and wooden pieces from a railroad set are also cleverly used as bench seating. Unfortunately, with LEGOLAND serving as a competitor not far away, their popular bricks were not used here. But there is so much to discover, you won't really miss them!
Games
There are also references to numerous board and card games sprinkled throughout the land.
The queue for Toy Story Mania is a treasure trove of classic games, including Monopoly, Candy Land, and Scrabble game boards, as well as property cards from Monopoly, Uno playing cards, and many escaped monkeys from Barrel of Monkeys. On our recent trip, the lines were so short I felt I didn't have enough time to take in all these amazing details (not that I'm complaining about short lines, but…).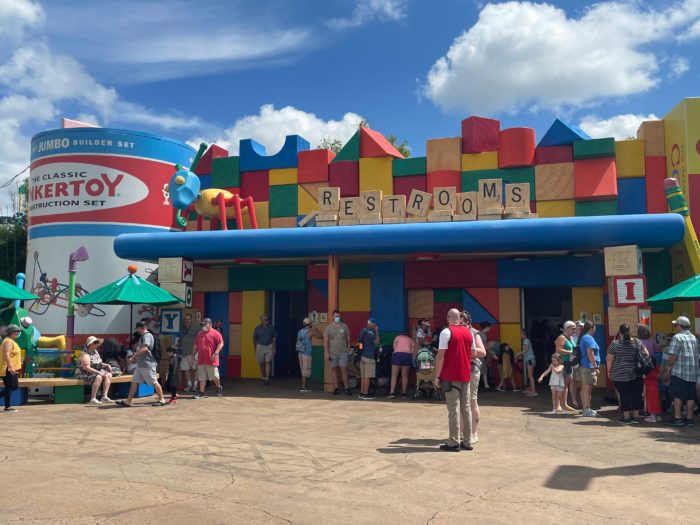 Outside, you will find some huge Cooties both on the restroom sign and just next to the building. Speaking of which, the restroom sign is made out of Scrabble tiles. Over at Slinky Dog Dash, a Candy Land game piece is used to measure the height restriction for the ride, and a Jenga tower stands in the middle of it.
These are just a few examples of the many games you can spy throughout Toy Story Land.
Toy Story Toys
Andy can't leave out his most special toys from all the fun, so a lot of our Toy Story favorites are also featured.
Woody is front-and-center at the main entrance to Toy Story Land (coming from Animation Courtyard), ready to greet his favorite deputies, while Buzz Lightyear and the Pizza Planet green aliens await a message from Star Command near Alien Swirling Saucers.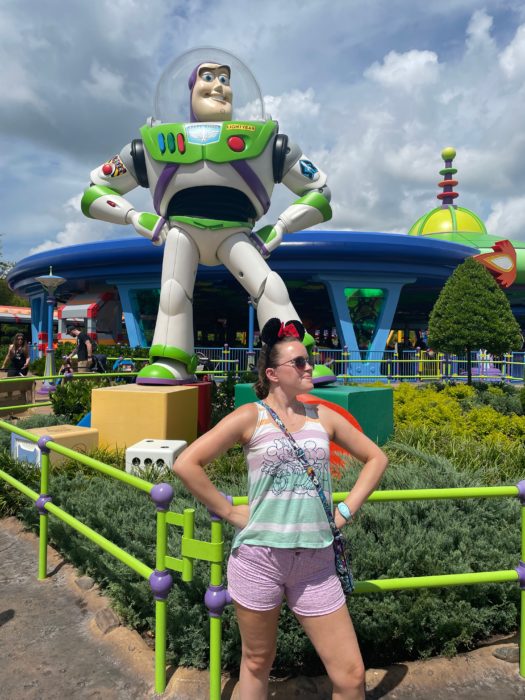 Jesse and Rex the dinosaur are found stringing lights above Slinky Dog Dash, while guests get to ride right on Slink himself. Mr. Potato Head chats with those waiting in the Toy Story Mania queue, and the Green Army Men are standing guard throughout the area.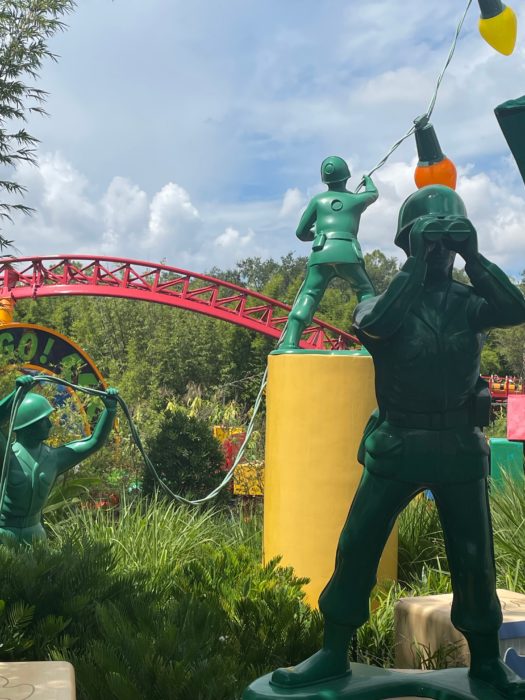 The famous Pixar ball, featured in many Pixar films, but making its debut in the original Toy Story, is located near Woody's Lunch Box, and makes a great photo op!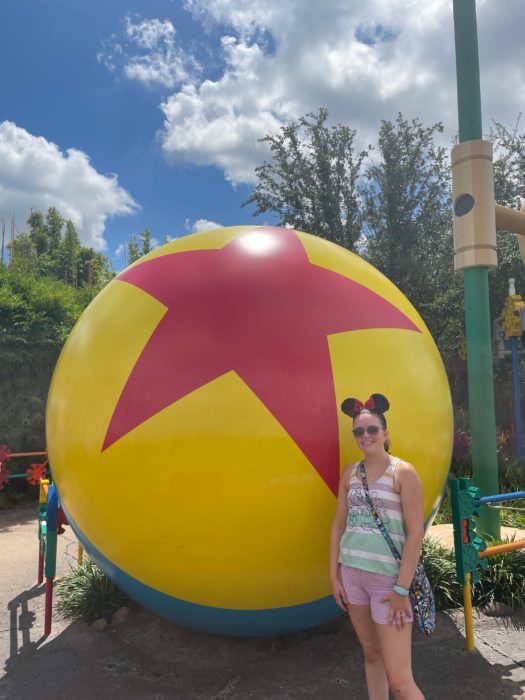 Throughout the years, these toys (many of which were created for the films) have become mainstream classics, and it is fun to see so many of them throughout Andy's backyard.
Other Classics
There are lots of other classic toys to be found, as well. Crayola products, including crayons, markers, and chalk, in a rainbow of colors, are sprinkled all around the land.
A Fisher-Price Little People camper serves as the main souvenir cart, with shelves and racks carrying various Toy Story products. There is also a Little People driver! And it's even the old-school kind Andy would've had in 1995 (the kind whose head could pop off and cause a choking hazard)!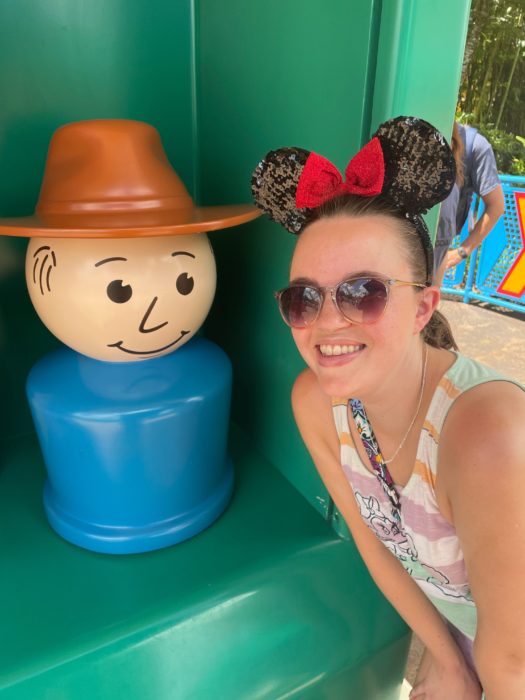 And is anything more classic than a simple yo-yo? Wooden versions of this toy are found at both Toy Story Land entrances, with the Toy Story Logo stamped on them, welcoming you in.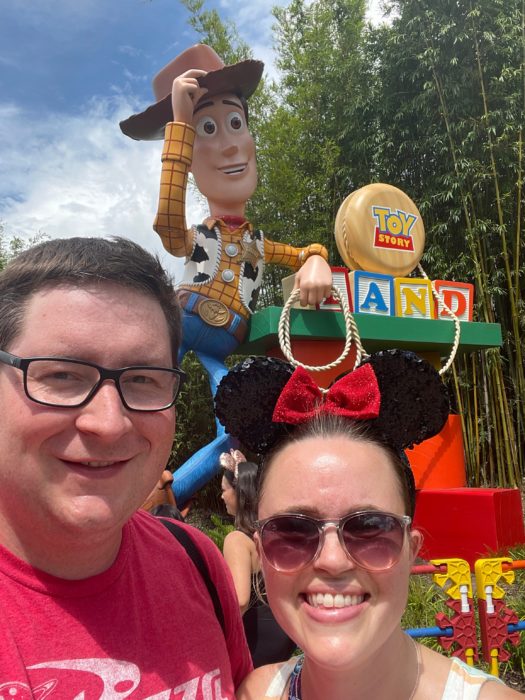 Toy Story Land is a true playground for both kids and kids at heart. People of all ages will find toys here they connect with, which bring back good memories, and remind them of a simpler time. This place is pure joy, and that's what Walt Disney World is all about!
What other classic toys have you noticed throughout Toy Story Land? Let us know in the comments!