Toy Story Midway Mania vs. Buzz Lightyear's Space Ranger Spin: What's the Difference?
Walt Disney World has not one, but two rides that are themed to the Toy Story film franchise and also involve target shooting: Buzz Lightyear's Space Ranger Spin and Toy Story Midway Mania. Like the multiple spinner rides at Disney World, the two Toy Story shooter attractions have much in common; neither ride has a height requirement, for example. But there are plenty of distinguishing features that make for different ride experiences and different gameplay experiences.
Here's what you need to know to tell them apart.
LOCATION
Obviously one of the primary factors in choosing which of the two Toy Story shooter rides you experience is your location.
TSMM: Disney's Hollywood Studios, Toy Story Land
Buzz: Magic Kingdom, Tomorrowland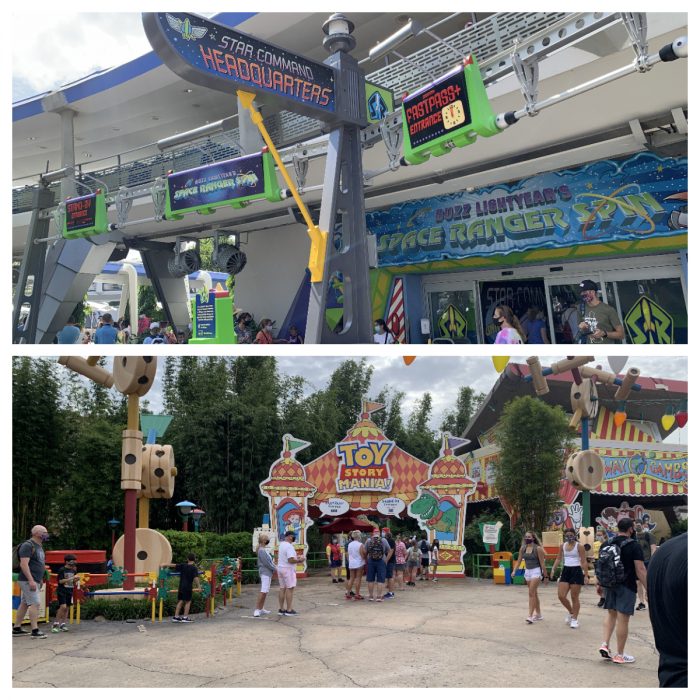 AGE OF THE ATTRACTION
While neither of these attractions is brand new, the ten year age gap feels like a world of difference. Buzz feels much less technologically advanced.
TSMM: Officially opened in May 2008
Buzz: Officially opened in November 1998
SUBTHEME
While both Buzz and Toy Story Midway Mania (TSMM) are themed to the Toy Story films, they have different takes on the franchise.
TSMM: You're at a carnival, playing midway-style games of chance. There are many Toy Story characters seen in and around TSMM, but none of them takes the lead. (For a real life version of the TSMM carnival games, head over to the Dinoland section of Animal Kingdom.)
Buzz: Buzz focuses, not surprisingly, on just the Buzz character. In the attraction, you're helping everyone's favorite space ranger to fight the evil Emperor Zurg.
TSMM: The entire queue is like living in a toy box. There are giant replicas of iconic toys and game boxes. Every surface is covered with something engaging to look at. Partway through the queue is an oversized talking Mr. Potatohead. Sometimes he interacts with guests.
Buzz: There is an animatronic talking Buzz near the end of the queue. There is some space-themed artwork on the walls, but nothing particularly engaging.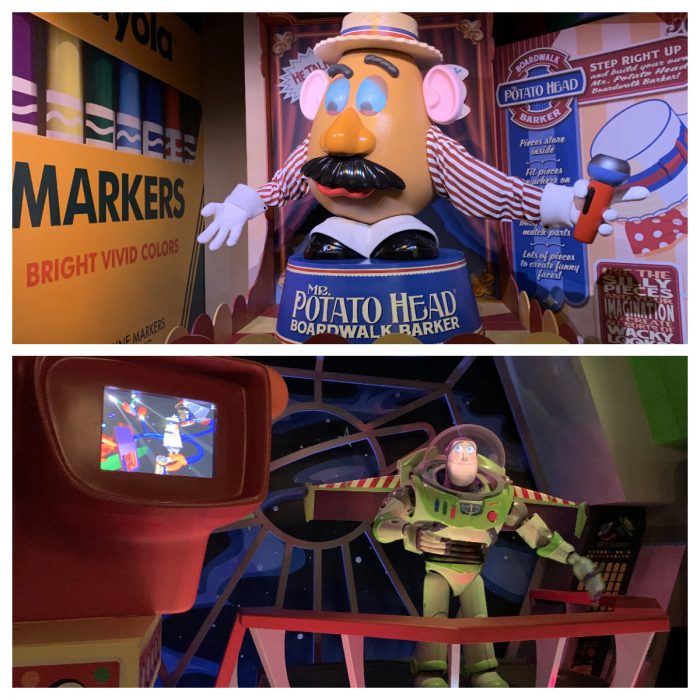 RIDE VEHICLE CONFIGURATION
Both Buzz and TSMM have vehicles with two shooting devices. The ideal number of riders for each vehicle is two (or one if you're flying solo); however, an additional small child may be accommodated in each vehicle. If you're an adult riding with two children, be sure to work out in advance who gets to do to the shooting.
TSMM: There are two separate lap bars in each vehicle. They can be pulled close to the each rider's body.
Buzz: There is no safety restraint in the vehicle. As the ride embarks, a cast member will close the rider compartment, but there is nothing touching the guest's body. Larger adults may find this more comfortable.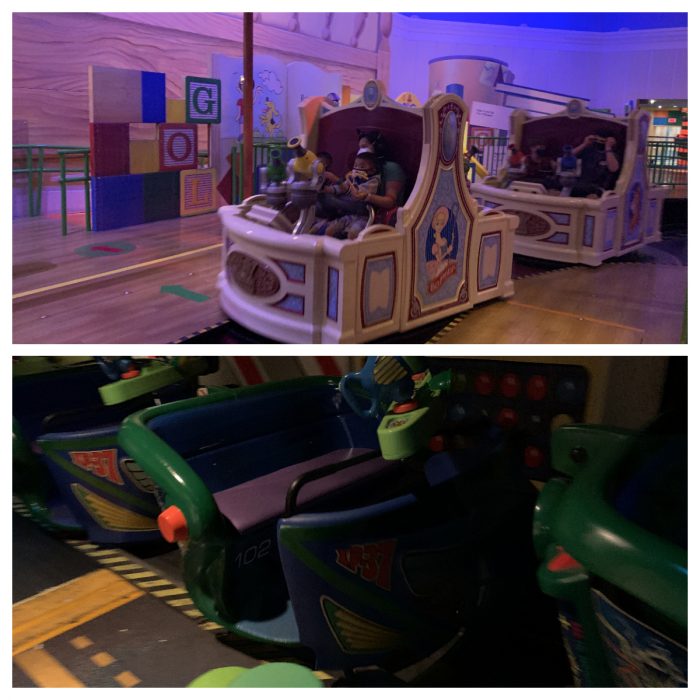 SHOOTING MECHANISM
Both rides have two swivel mounted shooters, one for each of two guests.
TSMM: You shoot by pulling repeatedly on a short rope that ends in a plastic knob. Some guests complain of minor wrist or arm strain after repeatedly tugging on the rope.
Buzz: You shoot by pressing down on a plastic button.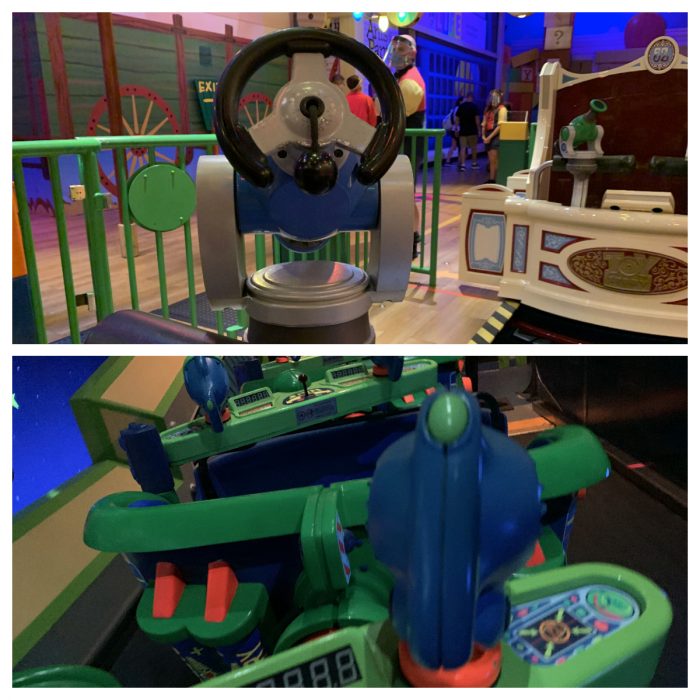 TARGETS
TSMM: There are a variety of targets such as balloons, plates, or little green alien men. Target that are moving or are more distant may have a greater point value. All point values are prominently displayed on the targets.
Buzz: All targets look identical – a red lightning-bolt-shaped letter Z (for Zurg) inside a yellow-rimmed circle. The targets have different points, but there is nowhere in the game that identifies which targets have a greater point value.
AMMUNITION
TSMM: There are several different kids of ammo depicted during each ride: baseballs, darts, ring toss, etc. Each game screen is used by only the two guests in your vehicle at any one time. Each user's ammo is a different color, making it easy to tell where you're shooting.
Buzz: The ammo is a red laser dot. Every guest in the ride at any one time is shooting at the same group of targets. Every guest's ammo is the same, making it difficult to determine which shot is yours and to aim with accuracy.
MOVEMENT of the RIDE VEHICLE
TSMM: The ride vehicle remains stationary most of the time while you're shooting. In between game screens, your vehicles spins rapidly, but only for a few seconds.
Buzz: There are sometimes targets on both sides of your vehicle. You control where you shoot by pushing a large "SPIN" lever. Two children may disagree on when to spin. Holding the spin lever results in constant spinning of the vehicle.
3D FEATURES
TSMM: The target field is a projected screen. The images are in 3D which must be viewed when wearing 3D glasses, provided in the game queue. The 3D glasses can be worn on top of a guest's regular prescription glasses, if they wear them. 3D glasses must be returned at the end of the game. Some small children may have difficulty keeping the glasses on their face.
Buzz: There are no special 3D features on this ride.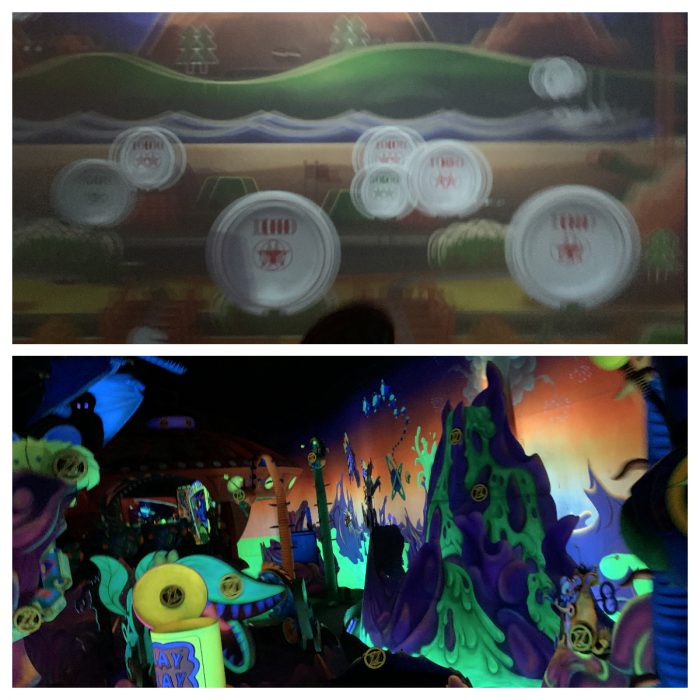 RIDE PHOTO
TSMM: There is no on-ride photo.
Buzz: There is a a photo taken during the last full ride scene. Look for the flashing light. Guest may claim their photo in the attraction's exit shop by tapping their MagicBand or ticket medium on a touchpad.
FEAR FACTOR
Neither of these rides typically registers as scary for most guests, but there are a few factors that may raise concern for some.
TSMM: A very few guests may be afraid of the illusion that objects are flying at them.
Buzz: There is a portion of the ride that takes place in the dark.
SCORING
TSMM: There's always room for a higher score, giving the ride significant re-rideability. Leader boards at the end of the ride let you know who was the high scoring person in your ride vehicle and how you stack up with other high-score achievers.
Buzz: A maximum score of 999,999 can be achieved by some guests by finding high-value targets.
PRO TIP
TSMM: If you're looking to reduce arm/wrist fatigue, you can skip the practice round at the beginning of the attraction.
Buzz: Keep the green trigger button depressed at all times. You rack up 100 points every ten seconds or so, regardless of whether you hit anything.
Which of these rides is your favorite? Tell us why!