Deciding Between the Wizarding World Restaurants
As a Muggle that visits Universal Orlando often, I get the privilege to enjoy the wonders, sounds, and attractions there at a casual pace. A large portion of guests to Universal Orlando will only visit one day during their Orlando area vacation. Based on pricing for one-day tickets at any of the Orlando area theme parks, this can be expensive. This causes visitors coming for one day to have to make some tough decisions regarding things to do and things to skip.
For many guests being fans of the Wizarding World, they must decide between dining at Three Broomsticks in the Hogsmeade area or The Leaky Cauldron in Diagon Alley. Now this decision may be made for you since you may only have a one-day ticket without park-to-park access.
If you have park-to-park ticket access, you may be thinking that you will have breakfast at one and then a late lunch at the other Wizarding World restaurant. That plan might work if you have park-to-park access. However, on busier days, most breakfast spots are taken by people with vacation packages. This means there is a chance if you did not pay for a vacation package, then you may not be able to get breakfast at the restaurant you want.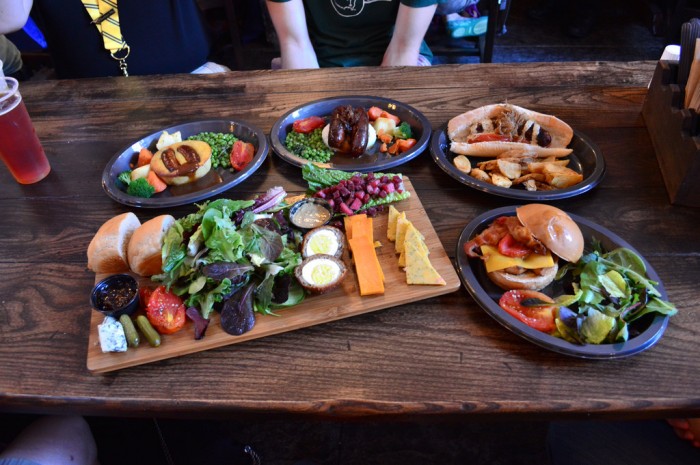 Based on that, if you can only count on going to one of the Wizarding World restaurants, how do you choose? As with all theme park decisions, this comes down to what your group wants. Both Leaky Cauldron and Three Broomsticks will be busy. Both are very popular and have above-average theme park food that does not fit mold of burgers and pizza. Equally they have excellent theming within the restaurant. Fish and chips fans will be pleased that this is on both menus.
Now, neither of these "British" themed restaurants is going to cause our friends from the UK to consider this authentic British cuisine. Having said that, Leaky Cauldron has a more British style food (including breakfast). Three Broomsticks has very little I would define as British cuisine.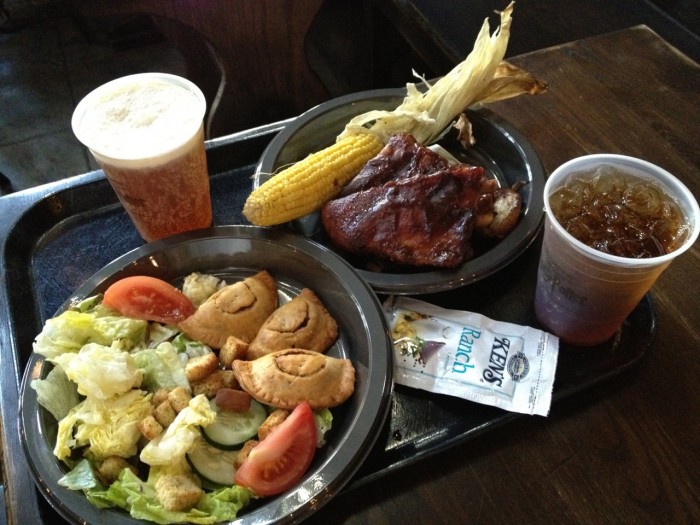 Three Broomsticks has menu items such as shepherd's pie, beef pasties, rotisserie smoked chicken, rib platter, combo chicken/ribs platter, smoked turkey leg, and rotisserie chicken salad.  Leaky Cauldron features bangers and mash, toad in the hole, beef/lamb Guinness stew, cottage and fisherman's pie, and scotch eggs. If you want a more authentic version of theme park British fare, then Leaky Cauldron should be your choice. If you want non-traditional less themed theme park food, then Three Broomsticks may be your better choice.
What if you still cannot decide? Leaky Cauldron does feature the Ploughman's Platter which is a sort of British version of a charcuterie board. This is designed to serve two people with English cheese, crusty bread, field green salad, roasted tomatoes, cornichon pickles, apple beet salad, Branston pickle, and scotch eggs. If you have a larger group, then Three Broomsticks has feast for you. They call it The Great Feast. This entrée designed for four consists of generous amounts of garden salad, rotisserie smoked chicken, spare ribs, corn on the cob, and roasted potatoes. This entrée currently costs $70 for four with additional fee for more people. Depending on your size of party, these entrées may make your decision.
If the above details have not made the decision for you, let me list a few of the remaining pros and cons of each place.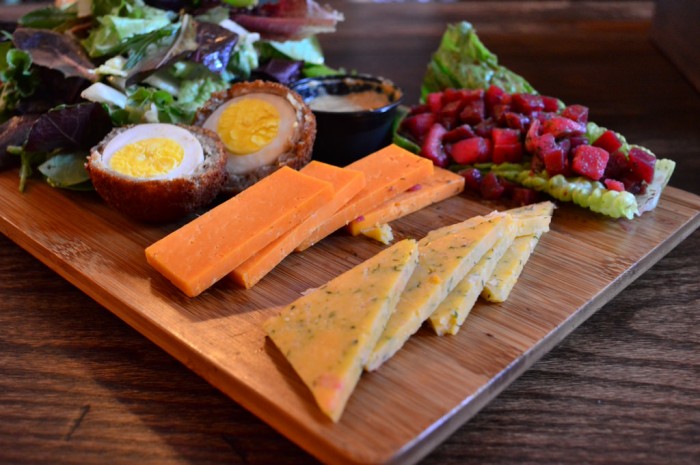 Positives of Three Broomsticks:
Outdoor patio can be very enjoyable on a nice day in Orlando. The noise level will be lower usually in this area. The only exception is the sound of the Jurassic World VelociCoaster speeding by every so often.
Hog's Head Pub is literally next door to Three Broomsticks and shares some seating. This themed pub is a great place to relax and get all types of beverage.
Negatives of Three Broomsticks
Tends to be very loud at least indoors.
Most people complain about how low the seats are to the floor here. Some have compared it feeling like a little kid barely able to see over the table. That might be an exaggeration, but it is noticeable how low the chairs are in relation to floor.
Can feel very congested.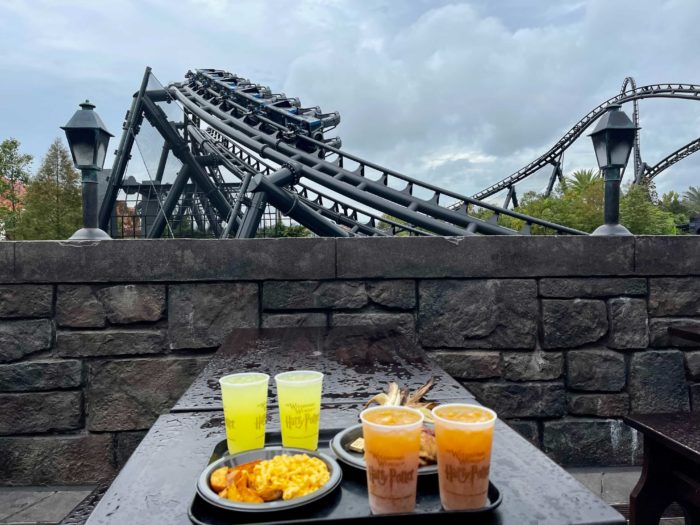 Positives of Leaky Cauldron
If you are looking for a light meal, you can order just a side of scotch eggs here. This can be an excellent and cost-effective way to enjoy the restaurant theming without hurting your budget and waistline too much.
Restaurant and area nearby are less congested compared to Hogsmeade and Three Broomsticks.
Florean Fortescue's Ice Cream Parlor is a short walk from Leaky Cauldron. This place has arguably the best theme park resort ice cream in the Orlando area.
Wizarding World veterans tend to prefer breakfast here (remember there is a small chance that will not be an option).
Negatives of Leaky Cauldron
As mentioned, this place may not be a good fit for picky eaters with exception of the Muggle-approved chicken sandwich.
More family-style seating which can be off-putting during busy dining hours.
From this Muggle's perspective, either is a good choice. My Hufflepuff spouse says she preferred Leaky Cauldron so guess which one I would pick! You will need to consider your group's preferences. Remember, neither of these is a bad choice.
Do you have a preference for either of these Wizarding World eateries? Let us know in the comments.