Coping with Airline Travel Snafus
I've made hundreds of trips from my home in the New York City suburbs to the Orlando area, for stays at Walt Disney World or transfers to Port Canaveral. All but two of those visits involved air travel. I've had the odd glitch here and there, one trip understandably extended by a few days due to a blizzard that wiped out the entire East Coast, and a handful of extended waits at MCO, but overall I've had great experiences with air travel to Central Florida, until this month.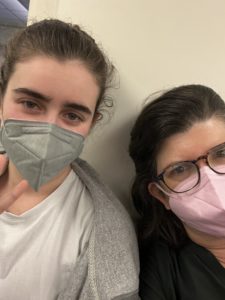 A recent six-day trip to WDW was plagued by disaster on both ends, with multiple flight cancellations (Five, I think. Honestly, I lost count after a while), multiple delays, two airport waits in excess of seven hours each, two airline changes, one destination change, the loss of two days at the front of the trip, a hastily added extra day at WDW at the end of the trip, and an unplanned stay at the Orlando Airport Hyatt. While I did have fun at the parks, suffice it so say that this was not my best trip ever.
During the upheaval, I did some things well, I did some things that made my trip unnecessarily complicated, and I learned lots of lessons that may help you if you ever run into a similar situation.
If you have the option, larger airports may be a better choice.
All of the travel woes during this trip were encountered by me and my daughter Louisa. Our original flights were booked out of and into a regional airport north of New York City, on relatively small aircraft.
Louisa and I chose the regional airport because it was going to save us half an hour of car time getting to the airport, but we could easily have chosen any of the major NYC airports: LGA, JFK, or Newark.
Louisa's twin sister, Josie, flew into and out of JFK, on a larger plane. Her flights on both ends took off within an hour of their scheduled departure time.
When trouble hits, airlines need to decide which flights to prioritize. Not surprisingly, they will almost certainly favor flights that carry more people. Additionally, there will be more crews available at larger flight hubs.
Beware of code-sharing situations.
My original flights were booked using some nearly forgotten American Airlines miles – though we weren't actually flying on American. When planning this trip, I was thrilled to see that at some point during the pandemic, American had entered into a code-sharing relationship with JetBlue – the main airline flying out of the regional airport nearest my home.
This seemed fantastic, except when JetBlue started cancelling flights. Because we were using American miles, not JetBlue miles or cash, the JetBlue agents were limited in their options they could offer us without speaking to American. American had a six-hour hold time which slowed us down considerably in trying sort out next steps. Had I to do this over, I would have just chosen to fly American out of LGA or JFK without using the code-share option. (Note: Code shares are often necessary in international flight situations, but in our case, we had other options.)
Make sure all your family reservations are linked.
Another factor compounding our frustration was that while Louisa and I were booked on the same flight, our reservations were not linked – that is, we knew we were flying together, but the airline didn't. This happened because the trip was initially planned for me and Josie, with Louisa added to the trip several weeks later.
When JetBlue started rebooking us, they sent Louisa and I on completely different itineraries. Me directly to Orlando two days later and Louisa to Boston, then a lengthy layover, then to Sarasota. While she is certainly old enough to fly on her own, given the tumult happening with the airlines, we became concerned that she might become stranded in Boston.
We could have, and absolutely should have, called the airline in advance of our trip and had them link our reservations so that if rebooking became necessary, they would send us on the same itinerary. This is a mistake I will not make again.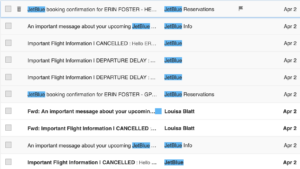 Be aware of other airports near your destination.
When looking at options to get us to Orlando, we considered the itinerary Louisa was given, but it turns out I didn't actually know where in Florida Sarasota was. (I know, I know.) We were easily able to suss this out with Google, but even losing a minute during your attempt to assess your flight plans may mean that your perfect alternative has been scooped up by another customer. (Anyone who has experienced a technical glitch when attempting to make Genie+ reservations understands the frustration.)
As it became clear that we would be unable to get to Orlando for the next several days. We started looking at flights to Tampa, which we did know was the next closest major airport in Florida.
Download the apps for all the airlines that serve your destination.
JetBlue was untenable to both Orlando and Tampa, so we decided to research other airlines. One positive step I took was that as the delays mounted, I made sure to have the apps of other airline options downloaded on my phone and logged into them. This was one step where I shaved a minute or two off my time hunting for alternative flights, eventually ending up with two seats on Delta flying into Tampa.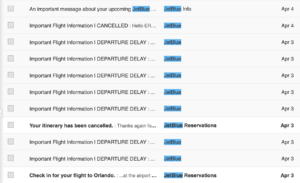 Have help on the ground.
At several points, I was searching flight alternative on my phone, Louisa was waiting in customer service lines or watching our luggage, and we had my husband at home searching for flights on his computer at home. If you can corral a family member, trusted friend, or travel agent onto your flight search team, you have all the more opportunity to find acceptable alternatives.
Grab snacks and comfort items when you can.
On both ends of our trip, we ended up in airports after 11:00 p.m. after lengthy waits in gate areas. As we waited, the airport shops closed for the evening. If you see trouble ahead and you have a spare moment, you may want to visit the airport shops earlier in the evening to grab things like bottled water, snacks, and comfort items that will make your wait more pleasant.
Photograph your baggage claim tags and your luggage.
On our return home from Orlando, our initial flight was cancelled and our replacement flight announced delay after delay, eventually posting a near 2:00 a.m. departure time. Given our experience from the previous weekend, we feared this flight would eventually be cancelled, so we decided again to switch airlines and destination airports.
Our bags had already been checked in, so we needed to get them back, which required our baggage claim numbers. I was working with a customer service agent and Louisa was watching our carry-on luggage at the gate. I didn't have her physical claim tag with me, but I do routinely take photos of all of my party's baggage claim numbers and luggage whenever I fly, in case the claim tags become lost during travel. The photos were sufficient to allow our bags to be pulled.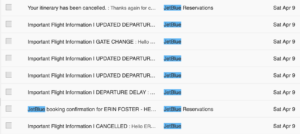 Pack lightly – or pack heavily.
As noted above, we had checked luggage on this trip. I tend toward overpacking and like to leave room in case we make purchases on vacation, but if I had been more conservative with my packing choices, we might have been able to fit our clothing into carry-on bags. This would have given us the opportunity to fly standby or to run to one flight that might have had seats.
However, when we ended up staying longer, I was grateful to have extra changes of clothing with me to keep fresh during our extended stay.
Regardless of which option you choose, be sure to pack several days more than you think you'll need of any necessary medications. And if you have a job that allows you to work from home (even if that home might be temporarily be an airport gate), consider whether it makes sense to bring your work laptop or other equipment with you on vacation – just in case.
Consider buying a day pass to an airport lounge.
Most major airports have lounges available for frequent fliers or for guests willing to pay a fee for day access. If you feel you'll be more comfortable in a lounge rather than waiting at a gate, then a day pass may make sense for you.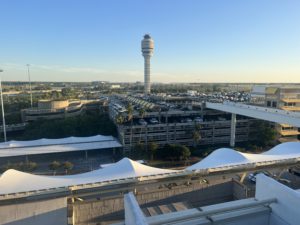 Sometimes you just need to spend the money to save your sanity.
We were already exhausted when we learned that our flight would be delayed until nearly 2:00 a.m. Had no other options been available, we obviously would have waited, but my husband was able to find us a flight out on another airline the next morning. We then decamped to the on-site Hyatt hotel located within the Orlando airport. This was a pricey option, but it allowed us to get hot showers and a good night's sleep, which greatly improved our moods. Sometimes you do what you gotta do to keep your head on straight.
Leave a buffer day to get home from every vacation.
Given the increasing impact of weather phenomena on travel, combined with panedemic-era stress on flight crews, delays and cancellations are becoming increasingly common. We were fortunate that our return travel was Saturday, rather than Sunday, giving us a buffer day to sort out flight complications before Louisa needed to be back at her desk on Monday.
A corollary of this point is that you should leave a buffer day, or days, to get to a cruise vacation. We were not cruising on this trip, but I'm hearing more and more tales of guests missing cruises due to flight delays. The ship will not wait for you. In the past, I've told guests to book a flight to a cruise the day before sailing. After this trip, I might advise flying in two days early if at all possible.
Don't plan your big event on the first or second day of your trip.
The focus of this trip was to get Louisa, a big Star Wars fan, to Galaxy's Edge for the first time. She had had several trips to Walt Disney cancelled during the pandemic and this was finally IT – a long overdue chance to ride Rise of the Resistance, grab a drink at Oga's Cantina, and build a lightsaber at Savi's. While I was tempted to start the trip off with a bang, frontloading our Batuu reservations at the start of the vacation, instead I booked these experiences several days into our visit. My rationale at the time was that we needed a few days to get better acclimated to the Genie+ system, but as it turned out, my mid-trip booking of the special events was the key to saving the mission of the vacation. Had I booked Oga's and Savi's during the first two days of the trip, we would have missed them, again.
If you have a make-or-break must-do component of your trip, try to avoid scheduling this at the very beginning of your trip in case flight complications delay your arrival.