Review of Chef Art Smith's Homecomin' Brunch
If Disney Springs is a theme park for foodies, Chef Art Smith's Homecomin' is a Lightning Lane-worthy restaurant among most Disney World fans!
Chef Art Smith was Oprah Winfrey's former private chef, and Homecomin' is a celebration of his Florida roots, farm-to-table cuisine, and favorite Southern flavors.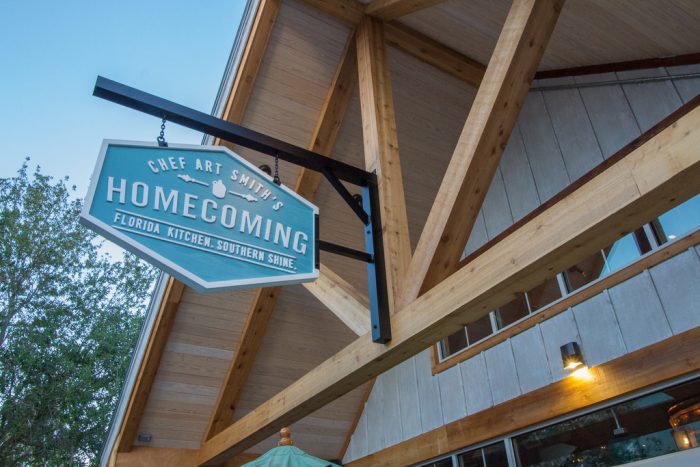 Located in The Landing of Disney Springs, the restaurant itself is bright and airy with burlap accents and Florida-inspired touches. In addition to both indoor and outdoor dining, there's also seating at the bar.
What You Need to Know
Homecomin' serves lunch from 11:00 a.m. to 3:55 p.m. and dinner from 4:00 p.m. to 10:00 p.m. On Saturday and Sunday, a Southern-style brunch is offered from 9:30 a.m. to 1:00 p.m.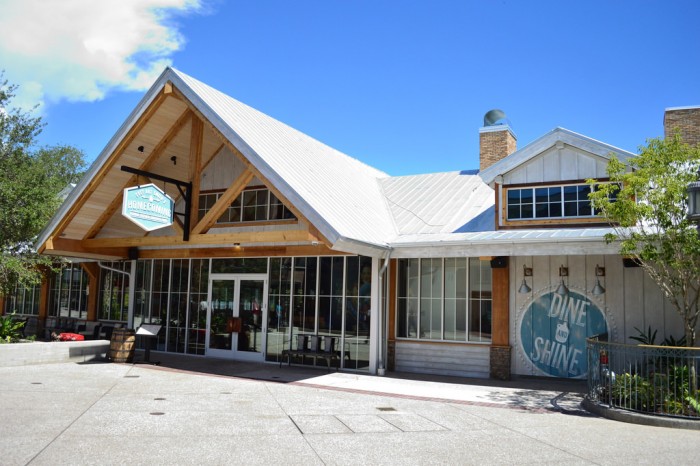 All meals range in price from $15.00 to $34.99 per adult, but Homecomin' does accept a 10% Annual Passholder discount.
Due to its popularity, reservations are encouraged and can be made on the My Disney Experience app. If you happen to already be within that 60-day window, be sure to check out our handy TouringPlans Reservation Finder!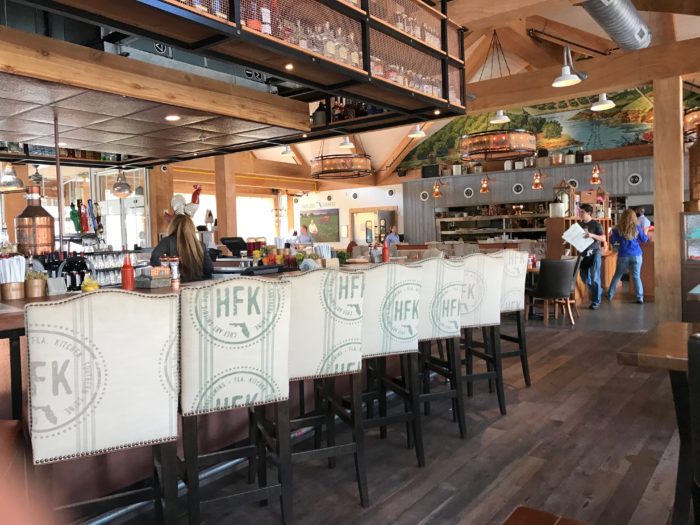 Our team recently visited Chef Art Smith's Homecomin' for a lovely, Southern-style brunch! Here's what we enjoyed during our visit:
Rise n' Shine Cocktails
Southern Mary – $15.00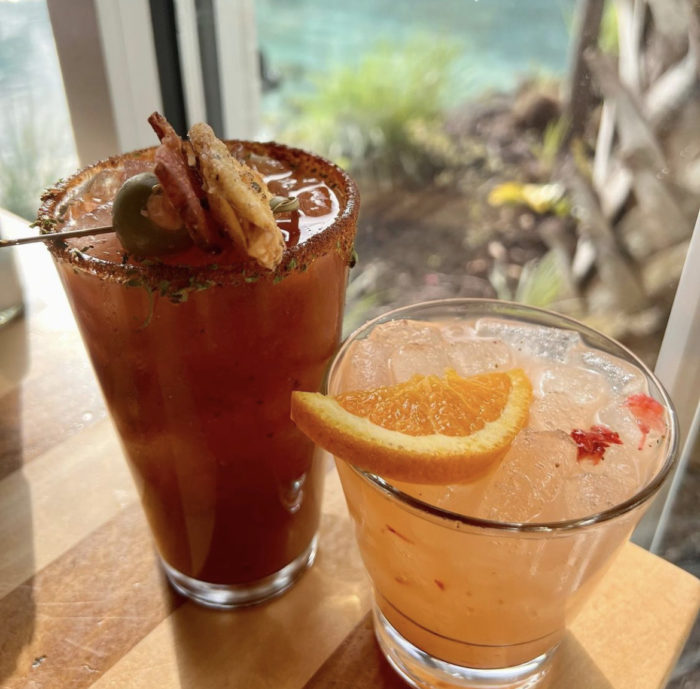 Brace yourself for Dixie Black Pepper Vodka, Whiskey Willy's Blood Mary mix, pecan-smoked bacon, fried green tomato, pimento cheese-stuffed olives, and a seasoned salt rim. A little strong for our taste.
Florida Crush – $14.00
This Sunshine State-inspired concoction is Tito's Vodka with orange and strawberries, along with fresh-squeezed orange juice and agave syrup.
Unfortunately, our team didn't love either of these libations. Again, just too strong. Our advice? Skip the cocktails and go with the moonshine. Always a safe bet.
Sunrise Starters
Bee Haven Bay Fried Green Tomatoes – $15.00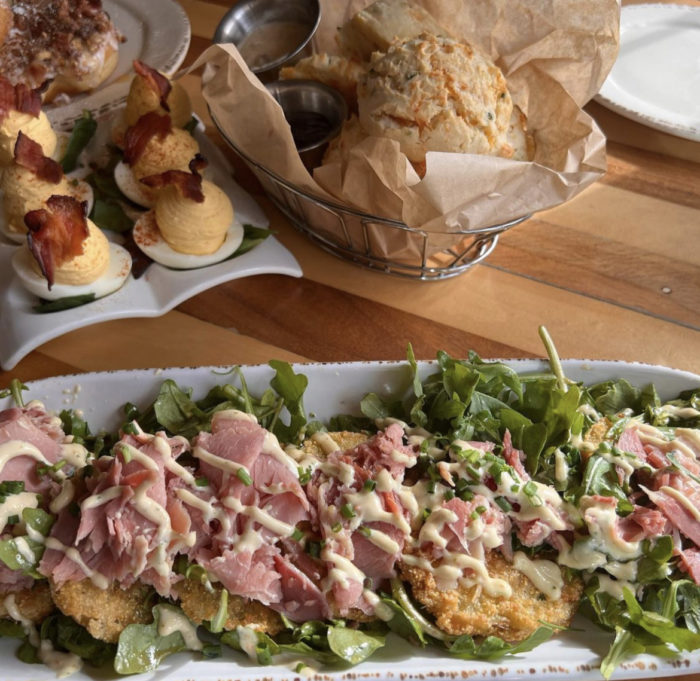 Who knew fried green tomatoes could be so Instagrammable, right? For optimum taste, ask for this one with its heaps of ham on the side.
Biscuits – $9.00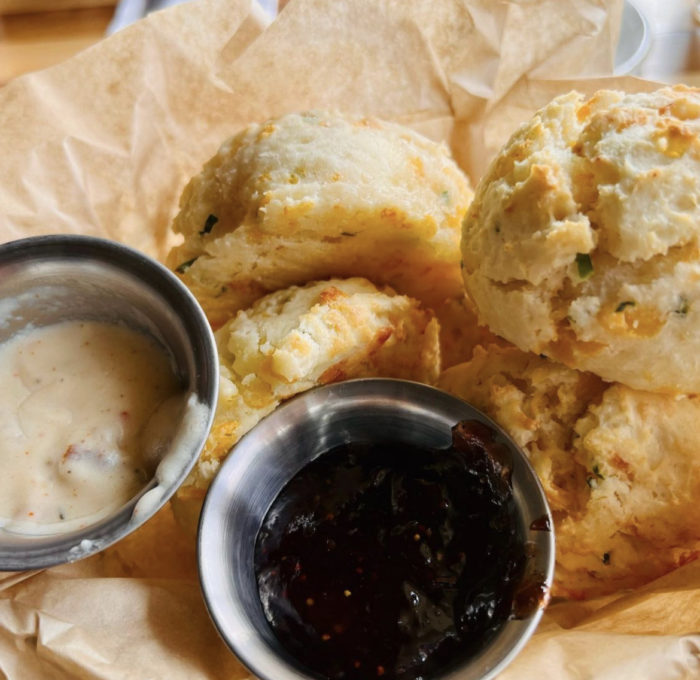 These cheddar cheese drop biscuits were still warm when the server dropped them off. Fluffy, salty, and just outstanding, they come with the choice of blackberry fig jam or sawmill gravy.
Church Lady Deviled Eggs – $13.00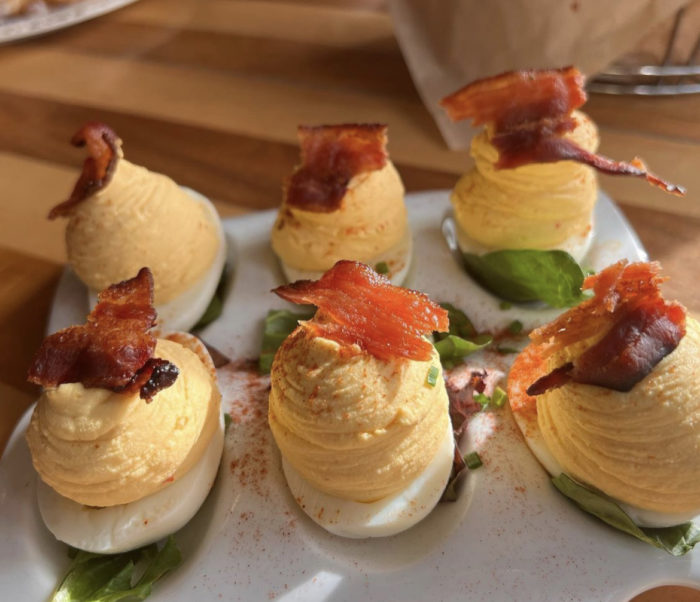 Scrumptious, whipped, and perfect. This is a YES.
Doughnuts – $10.00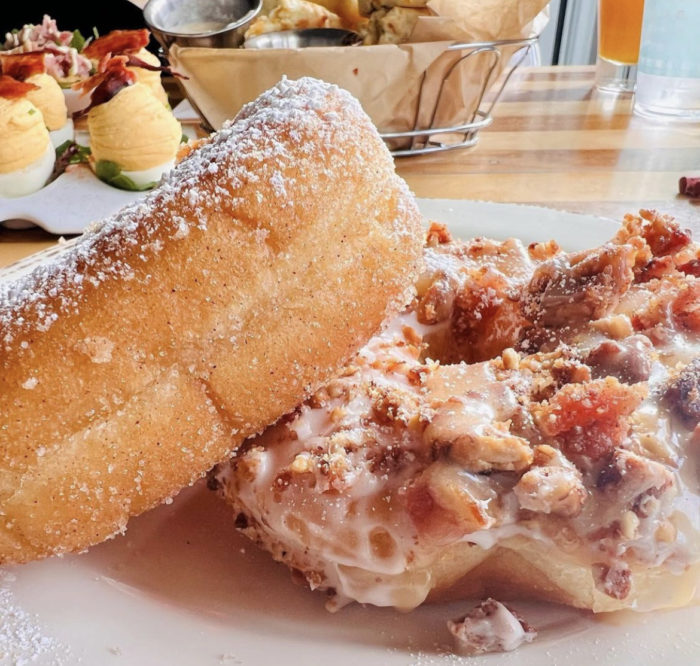 Is it a dessert? An appetizer? Both?
Well, in addition to this question, Homecomin' presents you with another. House-made caramel, bacon, and pecans or fruit and spiced cane syrup? Our team loved the pecan bacon the most.
Shining Features
Grits & Greens Breakfast Bowl – $21.00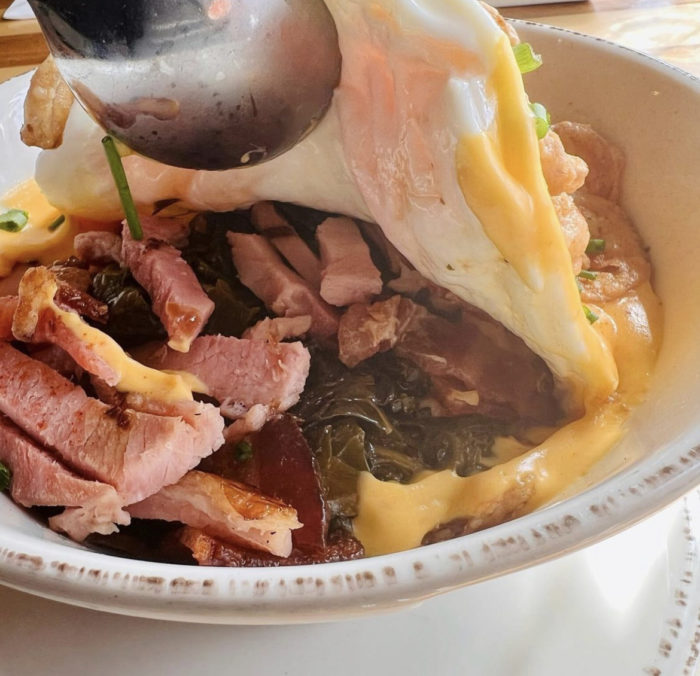 The menu lists this item as Bradley's grits blended with house-made pimento cheese and topped with griddled honey ham, braised kale and collards, two over-easy eggs, spicy hollandaise, chives, paprika, and crispy fried shallots.
Basically, we were shocked at how much we enjoyed this one. The vinegar kick of the greens coupled with the creaminess of the grits was just fantastic. Love.
Hallelujah Biscuit – $24.00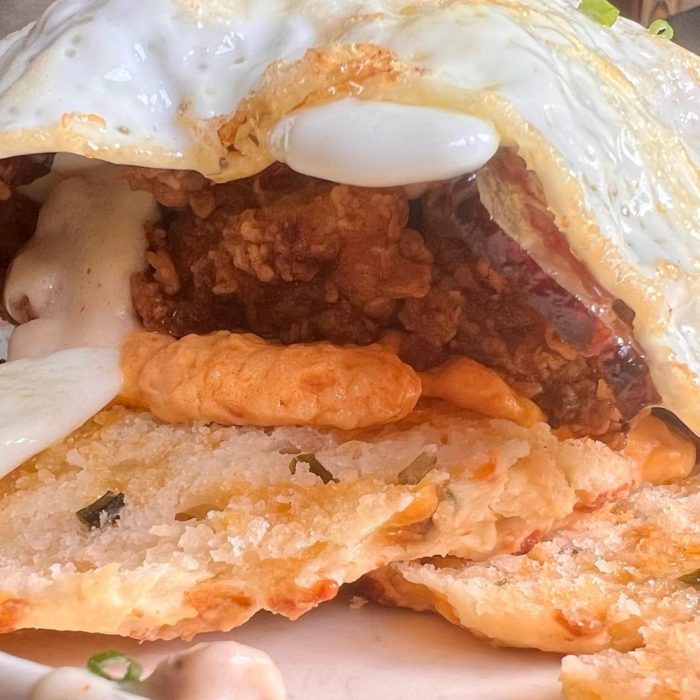 Homecomin's famous chicken atop a delicious biscuit with eggs and gravy? A safe bet for anyone who likes food.
Add mac & cheese as a side to any dish for $2.00 more! It's well worth it.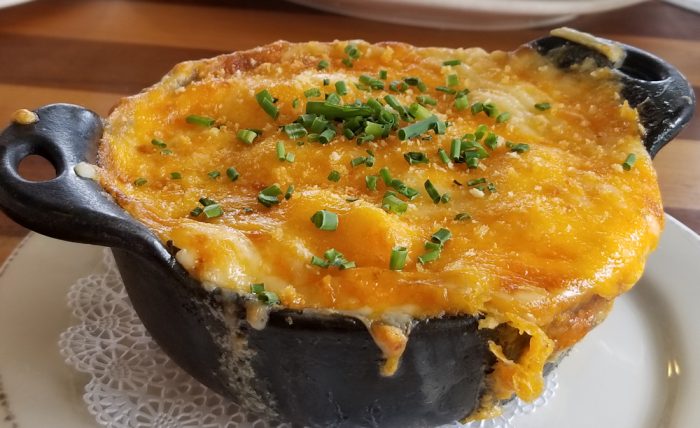 Sweetness
Hummingbird Cake – $13.00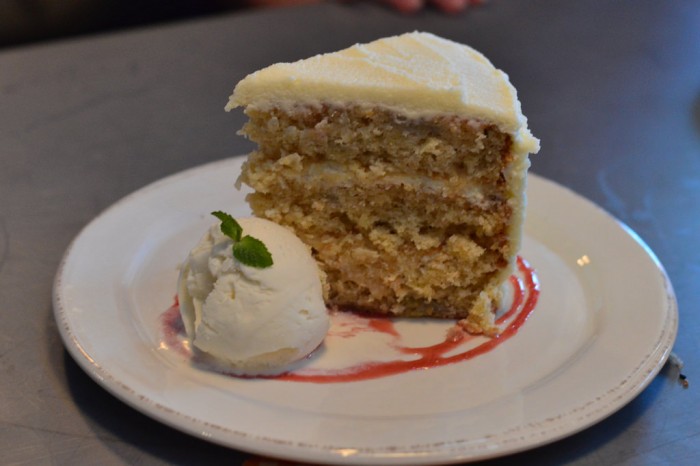 Chef Art Smith's famous pineapple-banana cake with cream cheese frosting is possibly the best cake at any Disney location.
Chocolate Pecan Pie – $12.00
What every pecan pie should be, this slice was a salty, sweet, crunchy, creamy joy.
Key Lime Pie – $13.00
It's never on the printed menu so if you're server offers it, just say yes! The meringue defies both height and description.
Tip: Ready for potentially the best tip ever? You can pop in at the bar and order all three of these desserts to go; no reservations required!
Final Thoughts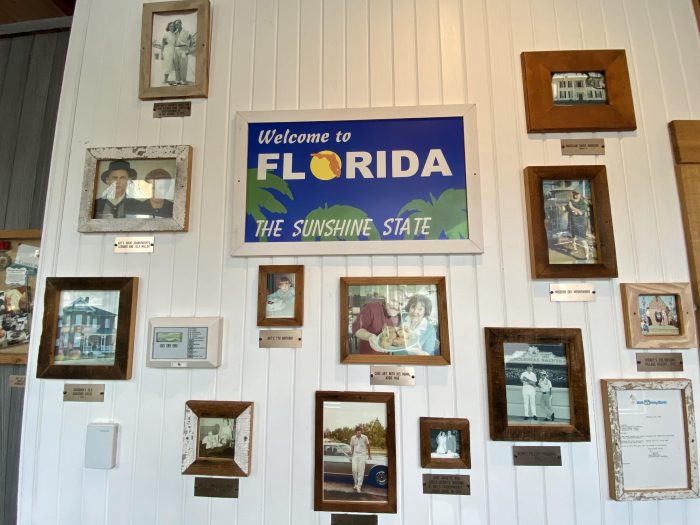 Brunch at Chef Art Smith's Homecomin' is absolutely worth the trip! However, if you happen to be there at brunch but are also interested in a dish from the lunch selections, know that the full menu is available to order beginning at 11:00 a.m. for some mixing and matching!
Have you ever experienced brunch at Homecomin' before? What did you order? Let us know in the comments!