Disney Attractions that are Even Better at Night
Walt Disney World attractions are a ton of fun to ride at any time of day, but when the sun goes down, and the lights come on, certain attractions really come alive.
Whether it's the darkness making everything more exciting, or the bright, twinkling lights making everything more beautiful (or a combination of both), these rides seem to take on an even more magical quality at night. Whether you've ridden them once or a hundred times, trying these attractions after dark can feel like diving in to a whole new world.
Here are the attractions I believe everyone should experience at night.
Jungle Cruise 
The darkness takes this charming, corny boat ride and turns it into a mysterious river adventure. With tiki torches serving as your main source of light, you feel like you never know what is coming around the next corner as you journey through the jungle. It's still not exactly scary, but it does seem to heighten your senses and keep you on the edge of your bench seat.
Big Thunder Mountain Railroad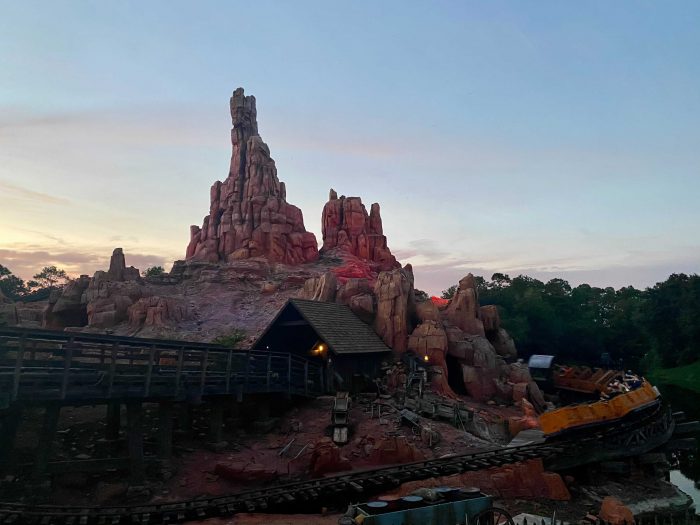 This family coaster is a fan-favorite for the amazing scenery and thoughtful details throughout. While it may seem like these would be easier to see and enjoy during the day, this attraction is expertly lit to highlight the landscape and fun elements at night and really help them shine. Not only is it beautiful, but it also feels even more thrilling to race around on this runaway train through the dark.
Prince Charming Regal Carrousel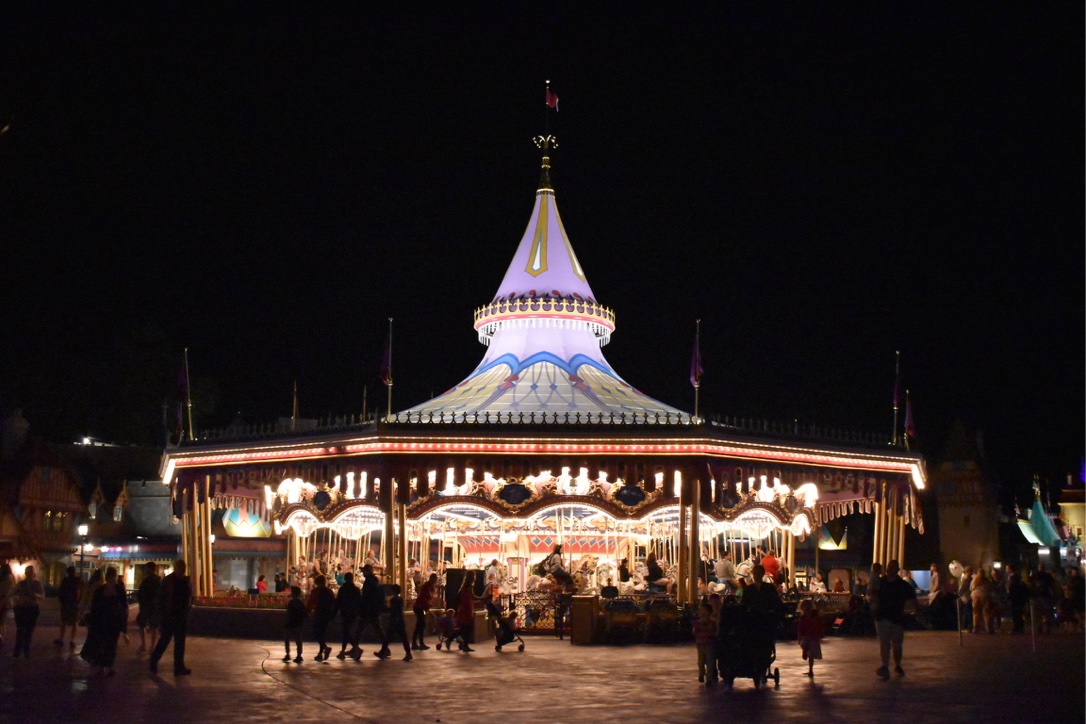 We all know merry-go-rounds are not the most exciting rides, but when the lights on Prince Charming Regal Carrousel are twinkling, you will feel like you've been transported to another, simpler time. Climb aboard your bejeweled horse, take in the classic Disney music jingling overhead, and enjoy the bright, gorgeous views of Cinderella Castle and all of Fantasyland surrounding you. It's hard not to smile.
Mad Tea Party 
Bright lights and paper lanterns of all colors add an even more surreal, quintessentially "Wonderland" quality to this attraction. As you spin your teacup (the faster, the better to achieve the desired effect), the colorful lights will swirl in your vision all around you, making you feel like you are literally inside one of those nighttime time-lapse photos. It is really cool to see, as long as your stomach can handle it!
Tomorrowland Transit Authority PeopleMover
A nice, peaceful ride during the day is elevated to something more spectacular after dark. It's still a nice, peaceful ride, but this time as you glide high above Tomorrowland, you can sit back and enjoy breathtaking views of the colorful neon lights glowing throughout the land, the bright white spotlights accentuating Space Mountain's retro-futuristic look, and Cinderella Castle gleaming in the distance.
Slinky Dog Dash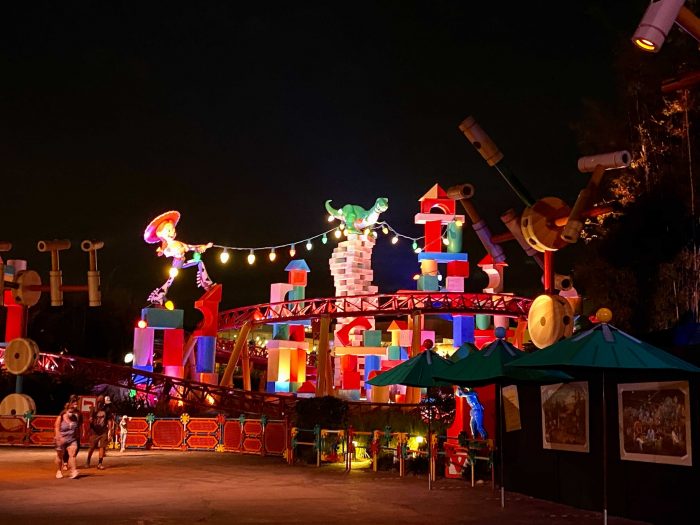 While this attraction is a perfect candidate to rush to at Rope Drop, you can tell it was designed with night rides in mind, because it is surrounded by cheerful Christmas lights. And since you are shrunk down to the size of Andy's toys in Toy Story Land, the Christmas lights are actually huge! The effect is both stunning and nostalgia-inducing, giving the whole ride experience some added fun.
Kilimanjaro Safari 
I don't know if I can say this popular safari ride is actually better at night, but it is a very different experience, so you should definitely give it a try after the sun goes down. You may see some animals that you don't see at all during the day, or some that are just more active at night. Your guide will help you know where to look, and strategically placed lighting will also help.
Expedition Everest
This man-made mountain looks incredibly impressive when it's all lit up, and the dim lantern lighting throughout the queue helps create an ominous atmosphere. Although much of this thrilling coaster takes place inside Everest itself, enough of it takes place outdoors, including the initial climb, the broken tracks, and the biggest hill, to make it completely worth a nighttime ride. As always, be on the lookout that yeti lurking somewhere in the darkness!
Next time you're at Walt Disney World, make sure you stay in the parks after dark (which can be tricky depending on the time of year and operating hours, so plan ahead) so you can experience some of your favorite rides in a completely different way.
What are your favorite attractions to try at night? Let us know in the comments!