Disney Cruise Line Cupcakes to Spoil Your New Year's Resolutions!
Sponsored by Storybook Destinations
Do you love cupcakes? Silly question, of course you do! Who doesn't love cupcakes? Clearly not many people…because Disney specialty cupcakes keep rolling out faster than we can count. And they've finally made their way out to the big blue! Vanellope's Sweets and Treats on the Disney Dream and Sweet on You on the Disney Fantasy have carried various cupcakes as part of their regular repertoire, but now the super "extra" concoctions we've seen at the parks are joining the ranks. The Red Rose seems to be a tie-in to Beauty and the Beast, which is performed on the Disney Dream. The Nautical Navy has a classic cruise motif, but don't forget the hashtag #DCLNauticalNavy when you Instagram those baby blues. Speaking of Instagram, looks like DCL really wants to see a sea filled of cupcake posts with the trendy unicorn cupcake they've added to the ranks.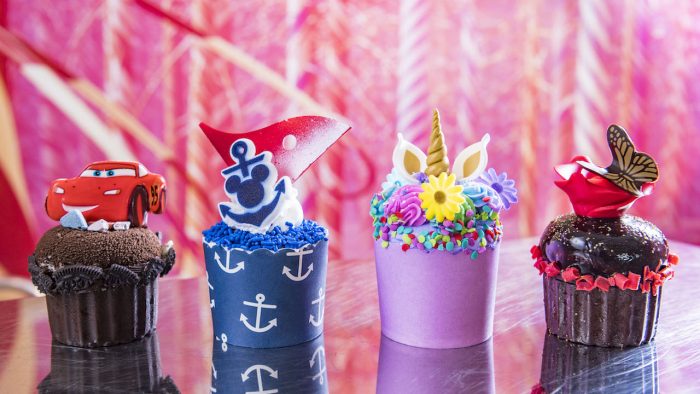 What if you are sailing on the Magic or Wonder? Well, unfortunately these beauties won't be sold onboard, but if it's cake you crave, you have some other options! There are specialty cakes that you can order in advance through the onboard gift shopping page. You have the option to send the cake to your stateroom, or to the dining room on a night of your choice. Don't worry if there are leftovers:  your server will box it up for you to take back to your stateroom for a midnight snack. Have an allergy that means the standard cakes are off limits? Allergy-friendly Mickey cakes are available at almost all ports. There's also an allergy-friendly cupcake option. As a family where 3/4 of us eat gluten-free due to Celiac disease, we've tried both these options – the full-sized cake was fantastic, but the cupcake was definitely a one and done, especially at the current price point of $9.50. Not horrible…but certainly not memorable by any means. Keep in mind that any cake options must be ordered at least 7 days prior to sailing. Once onboard, you'll want to check out the options in the pastry case at Cove Cafe to see what goodies are waiting for you. Also…room service will have a cake of the day option. You'll have to call from your stateroom phone each day to find out what is being offered, but taste testing daily is definitely encouraged!
Have you tried any of the new specialty cupcakes yet? What did you think? Let us know in the comments.
This Disney Cruise Line Update is brought to you by Storybook Destinations. Storybook Destinations specializes in Disney travel, is consistently highly rated by our readers, and is owned by our own blogger extraordinaire, Tammy Whiting. Storybook also offers free subscriptions to TouringPlans to clients with qualified bookings.