Nighttime Entertainment Returns! Surely We Have Data About That …
Hello all, allow me to reintroduce myself. I'm Becky, the Genie expert chatty YouTube person data analyzer/storyteller/etc. In case you can't remember, I do sometimes write about things that aren't Genie, Genie+ or Individual Lightning Lanes. And thankfully we have something really exciting to talk about today!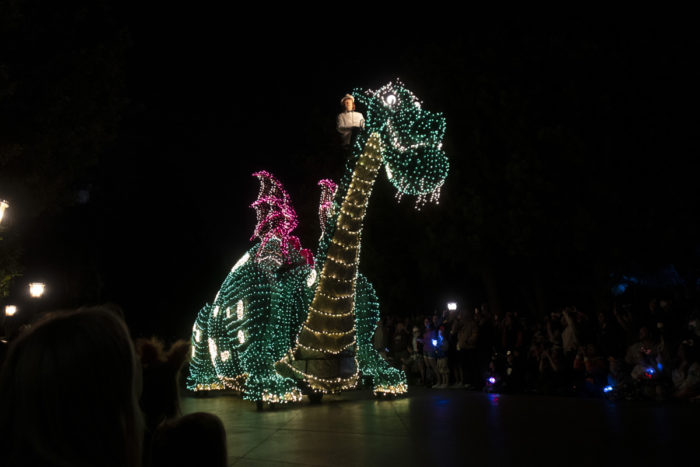 Disneyland's nighttime entertainment (mostly) returns tonight! Main Street Electrical Parade, Disneyland Forever and World of Color will all make their post-reopening debuts. Fantasmic is the only holdout, with its own return date in late May. Coincidentally, I'm travelling to Disneyland for the very first time late next week, so I'll get to catch all of these exciting shows!
And, of course, that means I'm curious about what the data has to say about them. How does satisfaction with Disneyland nighttime entertainment compare to Walt Disney World? How high (or low) should I set my expectations? Spoiler alert: if there's one thing that makes me ignore data (gasp!), it's nostalgia, and my all-time most stand-out Disney memory from childhood was watching the Main Street Electrical Parade at Magic Kingdom when visiting with my family in 2000. Soooooooooo, expectations for that will be sky-high. But I'll see what the data says anyway for funsies.
Explain the Math!
When you visit Walt Disney World or Disneyland or Universal Orlando (or a DCL cruise or Tokyo Disney Resort or Washington DC … but I digress), you can fill out a post-visit survey to tell us all about your trip! That way we get more data to then give you more insights and tips for your next vacation. It's the circle of life data.
One part of that survey tracks satisfaction with "attractions" during your visit. Attractions can be rides or entertainment – mostly anything that isn't your hotel or dining. We ask you to score each attraction that you visited on a scale of 1 to 5, with 1 being very unsatisfactory and 5 being very satisfactory. And, bonus, we ask each member of your party to score it according to their age group. That way we can figure out if certain attractions appeal to kids more than adults, or seniors more than anyone else, or if teenagers hate everything.
For today's analysis, I'm pulling satisfaction for anything that was open pre-pandemic based on surveys from Jan 2018 through closure. For post-reopening attractions, I'm pulling any surveys that we have from that entire timeframe.
And we'll just be comparing averages of those satisfaction scores. With averages, plus counts and standard deviations, we'll be able to tell if results are significantly different between any two experiences/attractions/entertainment offerings.
Disneyland Forever vs Disney Enchantment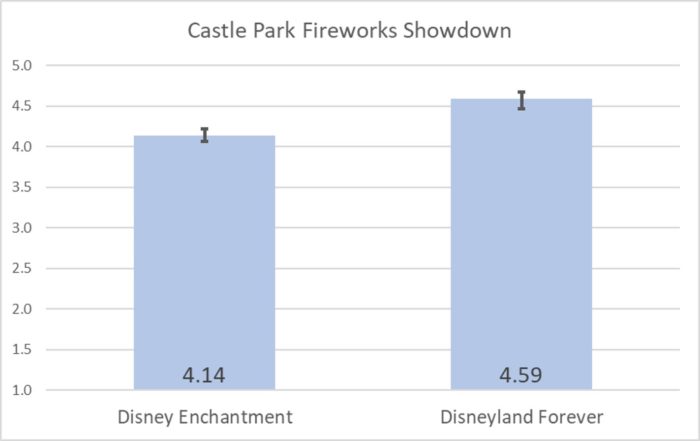 World of Color vs Harmonious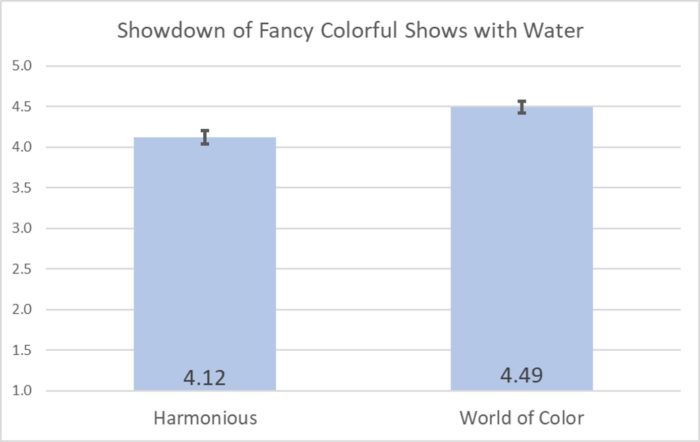 Now let's pivot and do some historical perspectives, because maybe those help tell the story!
Main Street Electrical Parade vs Paint the Night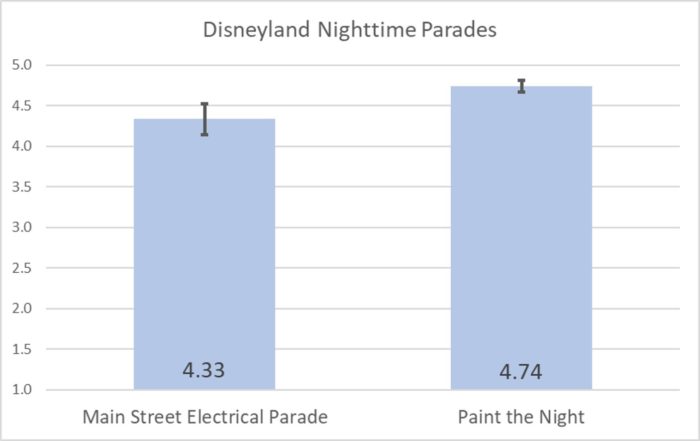 Why is WDW losing?! Let's look at some more historical comparisons.
Enchantment vs Happily Ever After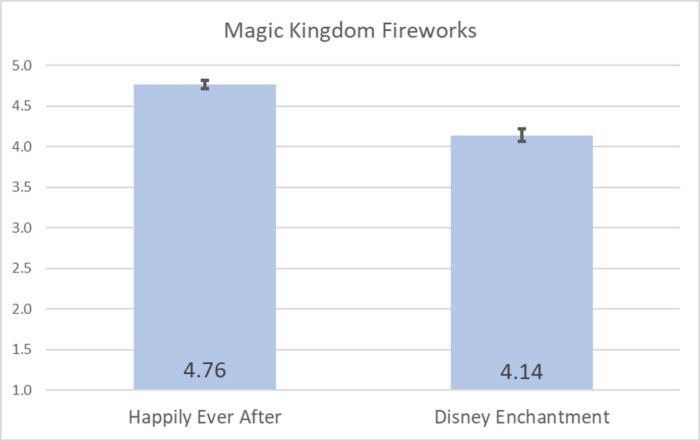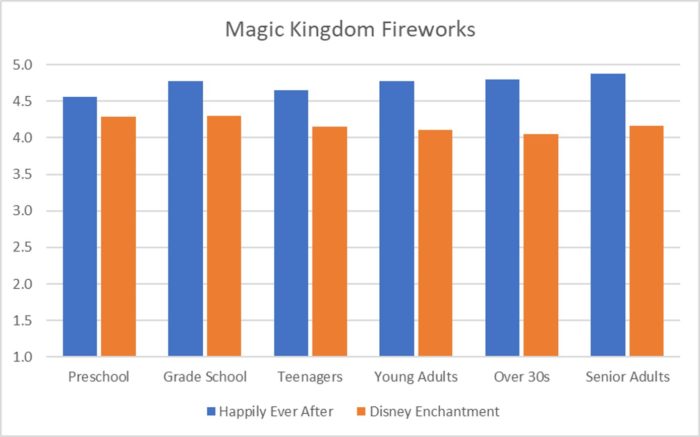 EPCOT Spectaculars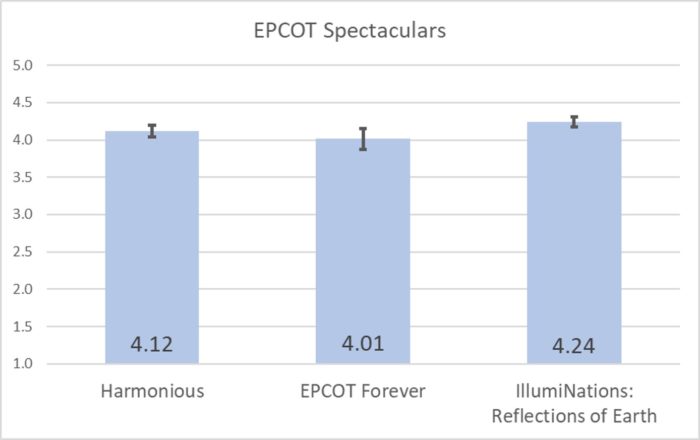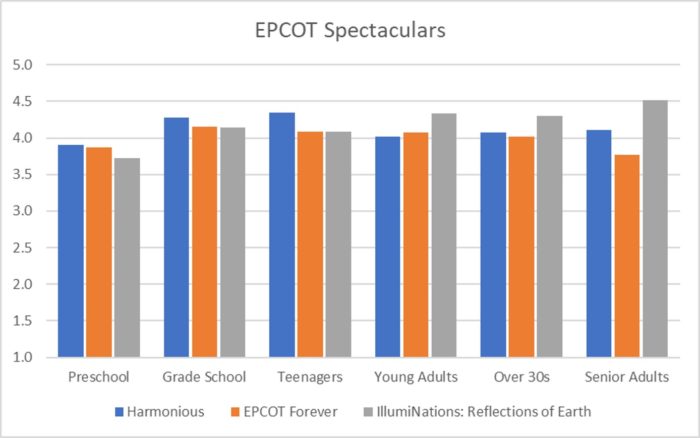 What Does This Mean For You Me?
I've got 2 nights in Disneyland, and I'm going to work my tail off trying to see all of the things. Hopefully the parade more than once. Crossing all of the fingers.
Assuming that Disneyland Forever and World of Color keep their pre-pandemic satisfaction scores, nighttime entertainment at Disneyland is the clear winner in the battle of the coasts.
All of this high satisfaction, plus parks that are popular with locals who haven't gotten nighttime entertainment in literally years means high crowds in the evenings. Plan accordingly!
Are you surprised by any of the coast-to-coast or historical comparisons? What is your favorite Disney nighttime spectacular? Let me know in the comments!