Goshiki Food Studio: 2023 EPCOT Festival of Arts
Japanese cuisine has its own color theory – the "5 colors of Japanese cuisine".
Our recommendation: The food in this booth is all new this year. Perhaps they should try again next year. If you're a red bean fan then give the mochi a try, but otherwise stick with the pretty purple drink and get your food somewhere else.
Booth Overview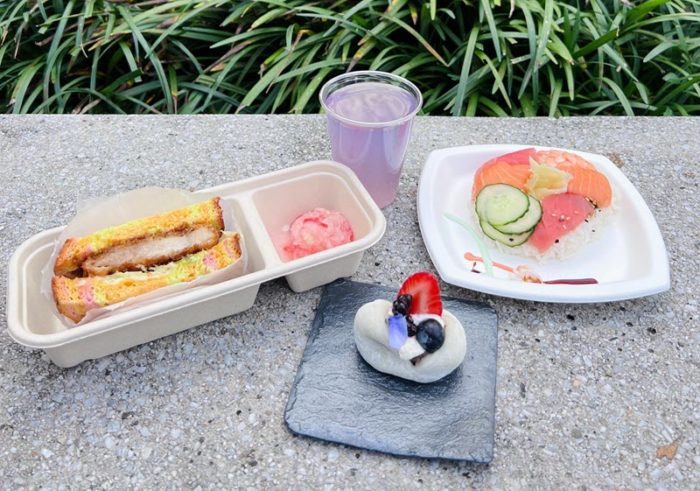 Food
New! Rainbow Katsu Sando – $6.50
– Pork Cutlet Sandwich with Tangy Tonkatsu Sauce and Cabbage in Rainbow Sweet Bread
Sushi Donut – $8.25
– Donut-Shaped Sushi featuring Salmon, Tuna, Shrimp, Cucumber and Sesame Seed over a decorated plate of Wasabi Aïoli, Sriracha Aïoli and Eel Sauce
New! Ichigo Daifuku – $6.75
– Mixed Beery Mochi, Sweet Azuki Bean Paste and Mascarpone
Beverages
Sui Sui Watercolor Lager – $5.00/$10.00
Masu Sake – $12.50
– in a Traditional Personalized Wooden Cup
Purple Yuzu Sake Lemonade – $8.50
– Sake Cocktail infused with Butterfly Pea Flower and Yuzu Lemonade
Our Thoughts
Best of the Booth
This really pretty tile that this is served on is going to give you Inconvenient Truth guilt about chucking it. We liked this bite – it's pretty and not too sweet, but we're deeply in love with red bean for dessert. The same cannot be said for everyone else in our group so this may not be the crowd-pleaser that other finales might be.
Rest of the Booth
The pork was fine and the rainbow sweet bread was very pretty, but this was mostly flash and no fun to eat. The cabbage goes well with the tangy sauce, but that's not enough reason to spend the $6.50. You could do worse, but we'd skip this because you can do a lot better too.
We've enjoyed the Sushi Donut in the past, but the rest of the food at this festival has been elevated so beautifully that this is now just overworked and over-priced compared to the other great dishes on offer. Again, it's OK – but unless you're on a quest to eat everything at the Fest, you should give this a pass.
If the mochi isn't doing it for you, there's still one thing worth stopping for. Grab yourself a Purple Yuzu Sake Lemonade as you stroll on past.