FIRST LOOK: Breakfast at Boma is Back — Here's Our Review
One of the big questions that we've been getting for over a year now is "When is Boma reopening?" The official answer is Friday, August 20, but be got an exclusive invite to try it out a day early. Is Boma as good as we remember? Read on . . .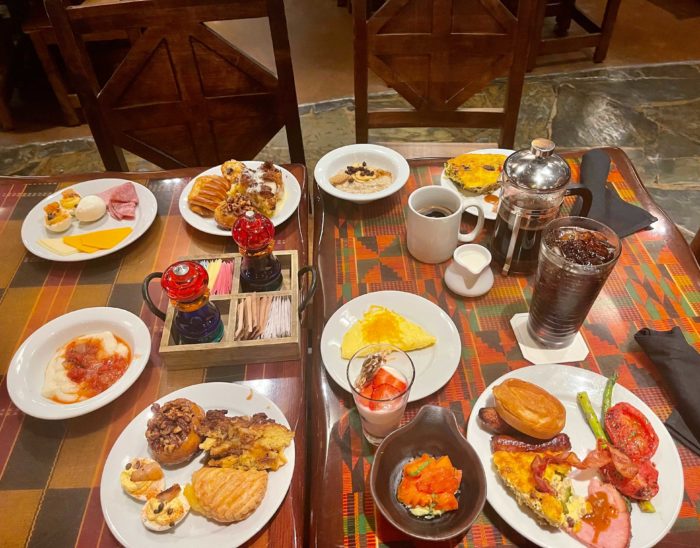 Boma, located on the first floor of Animal Kingdom Lodge (which, amusingly, is two floors below where you enter the hotel), serves a breakfast buffet African-inspired foods alongside American breakfast favorites. Specific items can change from day to day, but here's what was offered for today.
An assortment of sweet pastries and muffins
Croissants and bagels with cream cheese and other spreads
Sticky Buns and Cinnamon rolls
French Toast Bread Pudding with Pecan Praline Sauce or Vanilla sauce
Meats, cheeses, and deviled and hard boiled eggs
Yogurt parfait
Avocado, Papaya, and Grapefruit Salad
Pap and Chakalaka (White cornmeal with spicy tomato stew)
Oak-grilled tomatoes and asparagus
Turkey Bobotie (an African-style meatloaf with ground turkey, mushrooms, and egg)
Carved ham
Coconut steel cut oats
Sweet plantains
Tater tots
Pork sausage
Bacon

Mickey and Simba waffles
Pancakes (regular and blueberry)
Omelets (ham and cheese, cheese, or western)
Scrambled eggs (plain or with spinach, tomato, and feta)

Watermelon slices with or without mint-pistachio crumb
Fruit salad
Grapes
Whew. It's a lot of food. Your meal also includes choice of non-alcoholic beverages.
In short, the food is as good as ever, with hot items hot and cold items cold. What we really love about Boma is the wide variety of food for all tastes. If you're looking for Mickey waffles and bacon, they've got you covered. But they do have a variety of unique offerings that you won't find elsewhere that are still approachable. Maybe "pap" isn't familiar to you, but if you like grits, you will find this a familiar flavor and texture. Oatmeal is taken up a notch with coconut. You can get plain, scrambled eggs, but you can also get the flavorful spinach, feta, and tomato kind. And if you haven't tried bobotie yet, you'll want to give it a taste. There's a reason it has been on the menu for both breakfast and dinner for more than a decade. It is the quintessential flavor of Boma, and having it back can bring tears to your eyes.
Here's some of the other items we found outstanding.
The Avocado, Papaya, and Grapefruit salad is now already pre-portioned in single servings instead of in a large bowl. This helps keep every option fresh. It is fresh, fruity, unique and delicious.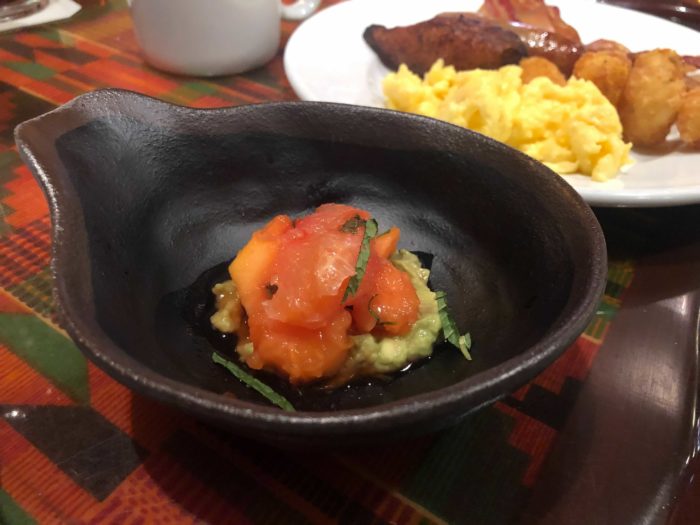 Pap — with roasted vegetables. Not a fan of the heat of the chakalaka? Get the pap and then hit up the roasted asparagus and tomatoes section to put that on your bowl of pap. It's worth the price of breakfast alone.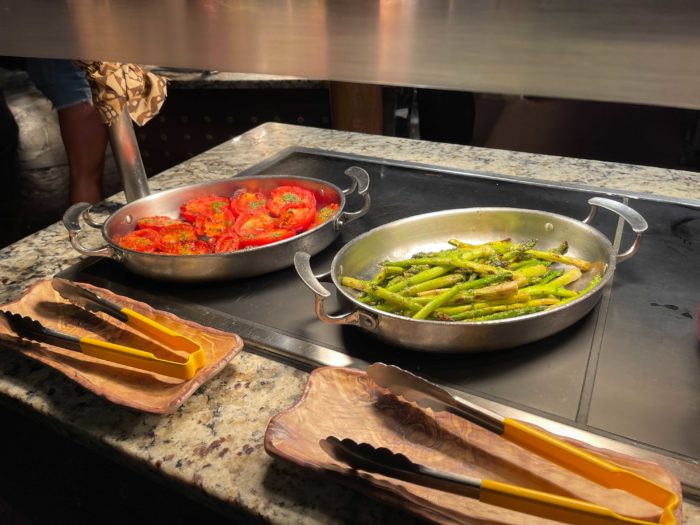 Bread pudding with pecan praline sauce. This is so, so, so, so SO so sweet, but absolutely delicious. Think of it as the dessert course for your breakfast. (What, you don't do dessert after breakfast? You're on vacation. You can make an exception.)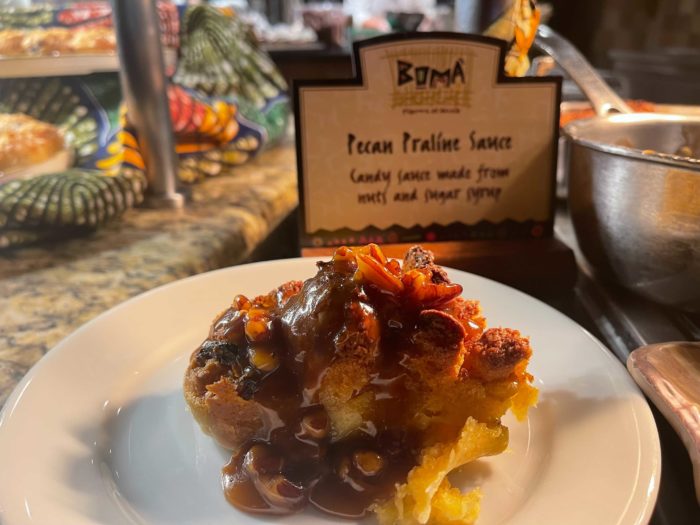 One interesting aspect of Boma is that it is a buffet, unlike other formerly buffet options that had switched to family style platters. With COVID still being on everyone's mind when they think of Florida, it is an interesting choice for Disney to reopen a self-service buffet. This buffet is "old style" — completely self serve. Masks are required at the buffet, and serving utensils are switched out often. Still, for some it may feel like the return to the full buffet experience is too soon. Disney is doing a great job with maintaining the buffet — very strict about masks, hovering around to change utensils out, and so on. If they keep up with the protocols, it is the cleanest buffet you've ever eaten at. It will be interesting to see what the guest reaction is. Let us know what you think in the comments.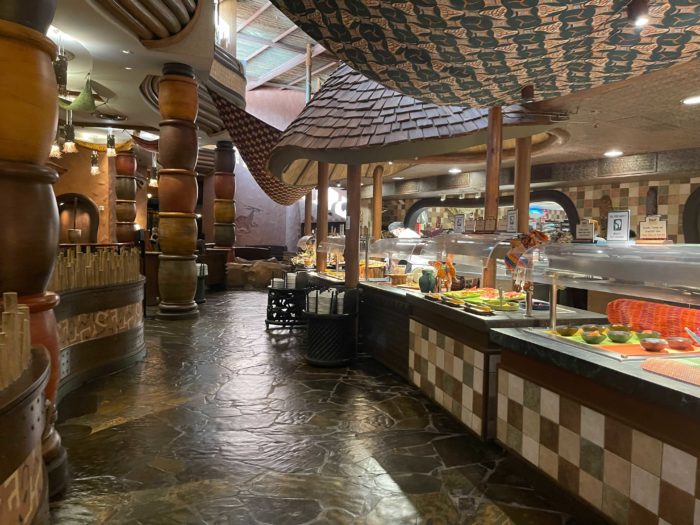 The price for Boma at breakfast is $29 for adults and $16 for kids. Our TouringPlans readers have given Boma a 95% thumbs up rating, making it one of the highest rated restaurants at all of Walt Disney World.
Are you happy to see Boma has returned? What are your thoughts about it as a buffet? Let us know in the comments.