Five Things We Would NEVER Do Again at Magic Kingdom
Magic Kingdom is one of the most visited theme parks in the world. It is important to come here with a plan to help you make the most of your trip to Walt Disney World. Our researcher, Chrissy, shared on Instagram Five Things We'll Never Do Again in Magic Kingdom:
1. Never Arrive Late!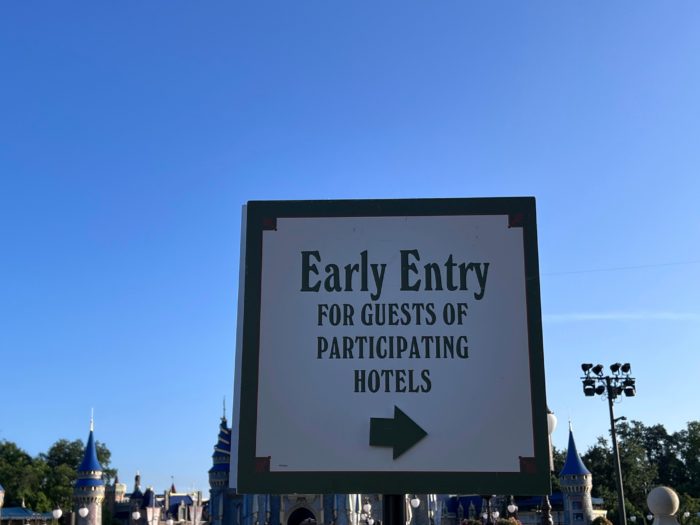 Magic Kingdom opens between 8 a.m. and 9 a.m. most days and stays open through about 11 p.m. While this may seem like plenty of time in the park, it still might not be enough to do everything – especially if you arrive late! Plus, with younger children and toddlers, staying until 11 p.m. can be difficult. So, we recommend getting to the park on time.
If you are staying at a Disney World resort (or a select off-property resort), take advantage of the 30-minute early entrance (called Early Theme Park Entry) to be there before the park opens to all other guests. These 30 minutes can help you make a good plan for the rest of the day. Use this time to hop on rides that normally have the longest wait times such as the Seven Dwarfs Mine Train, Peter Pan's Flight, or Space Mountain. Now you have the rest of the day to ride things that typically have a shorter wait time. Since the early entrance only covers the first part of the day, we recommend using the TouringPlans Lines App to help you make the most of the rest of your day at Magic Kingdom.
If you are staying off property, take into account your transportation arrangements. Will you be driving your car or a rental car? Leave plenty of time to park and get to the park entrance. You will be parking at the Transportation and Ticket Center (TTC). Upon parking your vehicle, you will walk or take a tram to the main gates of the TTC. From here, you then have the option to take a monorail or ferryboat to the Magic Kingdom entrance. This could take longer than expected so be sure to leave with plenty of time to park and be transported to the park. Depending on the crowd, you can expect it to take roughly 30 minutes to get parked and arrive at the Magic Kingdom entrance.
Will you be taking an Uber or other rideshare? If so, leave enough time to order an Uber and be dropped off at the designated rideshare area at the TTC. Again, from the TTC hub, you will need to take a monorail or ferryboat to the park entrance. You will come back to the TTC when you leave to get an Uber back to your lodging.
As previously mentioned, we highly recommend using the TouringPlans Lines App. It will be especially helpful if you cannot partake in the early entrance because it will strategically plan out the entire day for you and will help you get to the most popular attractions at the best times so that you do not miss them.
2. Never Stop on Main Street for Starbucks or PhotoPass First Thing in the Morning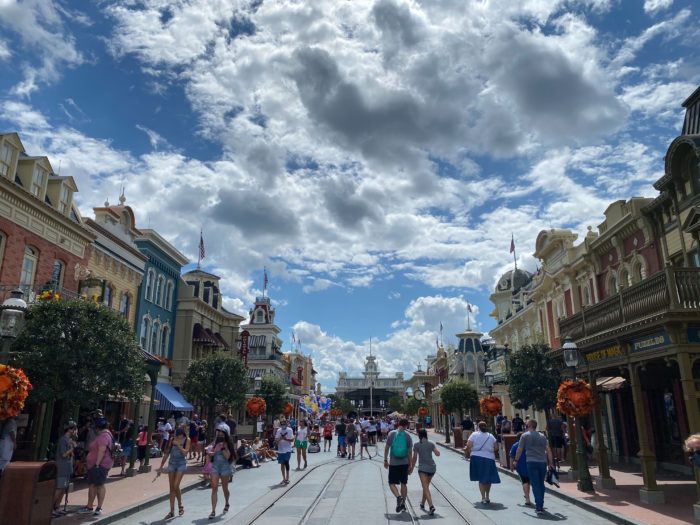 When you enter Magic Kingdom, you are greeted by the hub of the park, Main Street, U.S.A. Here is where you can shop, eat, and rent strollers, wheelchairs, and lockers. Because this is the first stop when you enter the park, it will be very busy! We recommend not spending much time here right when you arrive. Take advantage of other parts of the park not being as crowded yet and get on popular attractions. This means skipping Starbucks at the Main Street Bakery Street and opting out of the Cinderella Castle PhotoPass stops. You can get coffee at most quick-service locations and at other spots around the parks. If you start at the Transportation and Ticket Center, you will find a Joffrey's Coffee kiosk there (and yes, you can bring it into the park). There is also another Joffrey's kiosk inside the park in Tomorrowland near Space Mountain. As for PhotoPass, head back there later in the afternoon after most guests have arrived for the day, around 2 p.m. according to the traffic patterns which we have observed.
3. Never Forget to use FuelRod
One of the last things you want in the parks is for your phone to die. Especially if you have kids, you will most likely be taking photos all day long! You may also be checking your phone for wait times or keeping up-to-date with your personal itinerary in the TouringPlans Lines App. All parks at Disney World have FuelRod stations that offer portable chargers for $30. The best part is that when it is dead, you can either charge it in an outlet or swap it out for a fully charged one all day long- for free! Not only is it great for you, but it's great for your traveling companions, who can charge their devices, too!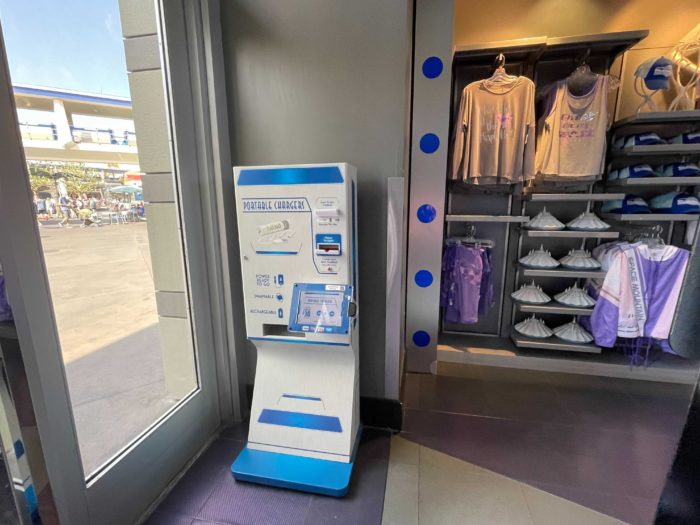 FuelRod is a third-party system that takes any major credit card. Once you follow the payment directions on the screen, the machine will dispense a fully-charged rod, a USB to micro-USB cable for most Android devices, an Apple Lighting to USB for most Apple devices, and a USB C Adapter needed for some devices. You are also able to use your own phone charging cord to connect the FuelRod to your device, so don't forget to pack it.
There are 6 FuelRod kiosks in Magic Kingdom:
Tomorrowland Restrooms
Pecos Bill Tall Tale Inn and Café
Big Top Souvenirs
Curtain Call Collectibles
Cosmic Ray's Starlight Café
Adventureland/Frontierland Breezeway
4. Never Buy Water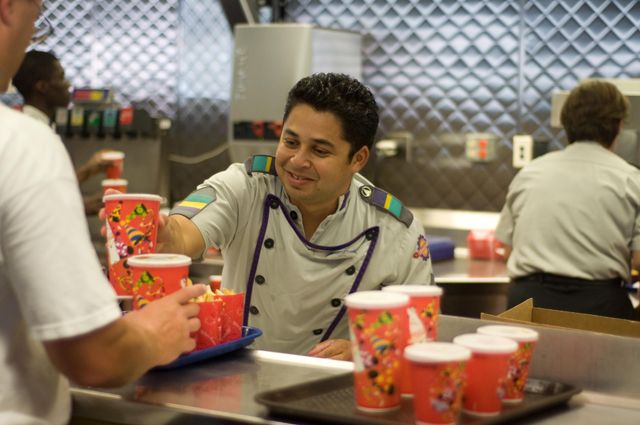 Staying hydrated is so important when you are walking around Disney World. Especially if you are not used to the weather, it can be draining. You are permitted to bring water into the parks, but you will find that it is not difficult to run out quickly. Save your money by not buying water bottles, which are typically between $3-$4. Instead, go to any quick service location and get a free cup of water. You can even pour these into your empty water bottles so that you can have water for later.
5. Never Eat at Pinocchio Village Haus
Pinocchio Village Haus is a quick-service dining location in Fantasyland that serves "Italian" fare such as pizza, sandwiches, and salads. Even though this restaurant offers a great view of the "it's a small world" attraction, the food is not worth it. There are better quick-service options in Magic Kingdom. The best-rated options are:
Main Street Bakery
Sleepy Hollow Refreshments
Columbia Harbor House
Gaston's Tavern
Golden Oak Outpost
Pecos Bill Tall Tale Inn and Café
Casey's Corner
If you are going to dine at a quick-service location in Magic Kingdom, try from the researched list above.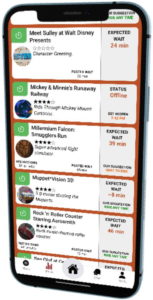 6. BONUS: Never Go Without Using TouringPlans Lines App
Lines has helped thousands of families save time and money during their Disney World trip. Our data are tested and trusted, making Lines the best app to use for wait times, planning your day, and more. One of the best things about our app is that it will tell you the expected wait time for each ride – how long you will really wait compared to the posted wait time. This is something that only the TouringPlans Lines App does; not even Disney's official app can provide this information. Our app helps you to plan your day like no other app can! We will never go a day in the parks without it.
Contact a Destination Specialist today about your next Walt Disney World vacation.