How To Meet Mickey Without the Wait
A trip to Walt Disney World isn't complete without visiting the mouse that started it all! Meeting Mickey is an essential part of a first Disney visit, a fifth Disney visit, and a 40th Disney visit. Fortunately, there are several options for spending a few minutes with Mickey. Unfortunately, everyone wants to spend a few minutes with Mickey, and all of that time adds up quickly. Specifically, wait times for Mickey Mouse at Town Square Theater have been very high recently. If you want to meet the mouse and not spend an hour in line, it's best to seek out an alternative. And thankfully you have TouringPlans to point you in the right direction.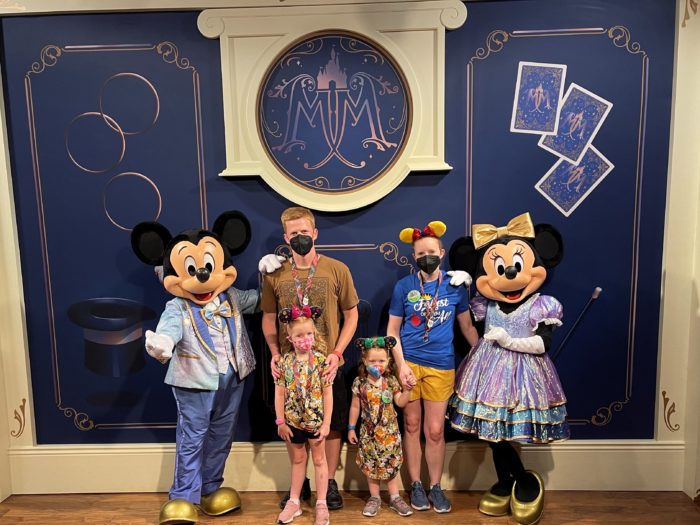 Town Square Theater Wait Times
Just like most people have to meet Mickey during their trip, most people also have to start their Walt Disney World vacation at Magic Kingdom. Add those two must-dos together, and that means a LOT of demand for seeing Mickey at Magic Kingdom. And he's so conveniently located at Town Square Theater as soon as you enter the park!
The only way this high demand wouldn't create high wait times is if it could be balanced out by high supply. If your kids are reading this, distract them quickly. Disney can increase supply by hiring more Mickey performers and staffing multiple meet-and-greet rooms in Town Square Theater. Unsurprisingly, Disney is not immune to all of the staffing and personnel woes that are impacting pretty much every company across the country. These staffing issues are part of the reason why princess character meals (Akershus and Cinderella's Royal Table) aren't back to their pre-pandemic normal. And they're also currently adversely affecting the number of available Mickeys.
So let's do the math together. High demand + low supply = higher wait times! Just how high? Let's look at data from August and early September. For that time period, we can pull the average posted and actual wait times for every attraction. To make things fair, we'll narrow down to just posted and actual wait times from peak hours (11 am to 5 pm).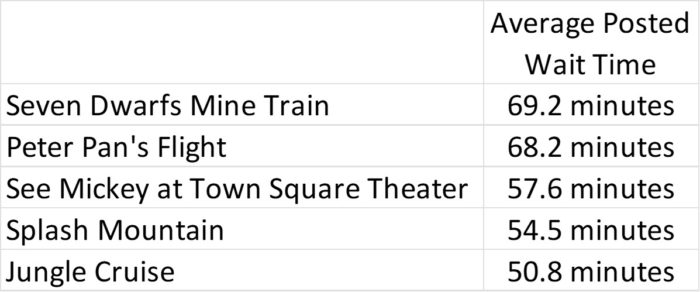 So meeting Mickey will take, on average, more time than going on Splash Mountain or Jungle Cruise (those differences are statistically significant). Those are two attractions that are well-known for having long waits. Having an even longer wait than Jungle Cruise is not a really great thing. On the other hand, it will take less than time than Seven Dwarfs Mine Train or Peter Pan's Flight (those differences are also statistically significant). But we also know that posted wait times don't tell the whole story.

At first glance, it looks like maybe Mickey isn't quite as bad as third-highest wait. Actual wait times put it in … fourth place over the same time period. Oh … not so fast! None of these waits are statistically different from one another because of lower sample sizes. And a 43 minute wait still isn't spectacular.
So is our only option to buy Genie+ and use it for the Mickey meet? No, no. We have a much better alternative!
Mickey at EPCOT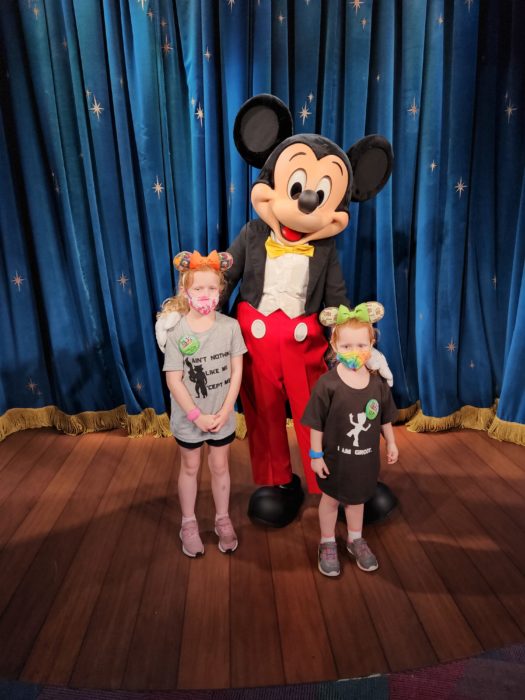 Prior to EPCOT's reimagining and the resulting tear-down of Innoventions, guests could reliably meet Mickey and some friends at the EPCOT Character Spot. Since that is no longer an option, it makes sense that a new meet and greet opportunity had to get added to the mix.
Thankfully for Mickey Mouse fans, not many people know about Mickey's new spot. Which makes sense, because it's literally tucked in an out-of-the-way corner, in an unpopular part of the park! Specifically, you can find Mickey meeting guests just inside the entrance to the theater that houses the Disney & Pixar Short Film Festival. You go inside the doors and make a sharp right.
Once there, you'll find Mickey in his classic outfit. And the best part is – the wait to meet him is rarely more than 10 minutes. In fact, most of the people in line stumble upon the meet and greet on their way to the Film Festival – which isn't a very popular attraction itself.
The hours for EPCOT Mickey aren't quite as good as the Magic Kingdom version, but you can still see him from 10-2 and 3-5:30 every day!
What Does This Mean For You?
Don't be surprised by long wait times for Mickey at Town Square Theater. Even on some of the lowest crowd days, posted wait times are up around an hour during the middle of the day.
Instead of following the crowd and meeting Mickey at Magic Kingdom, seek out Mickey at EPCOT! Wait times are almost always under 10 minutes, he's in his classic outfit, and you won't be shepherded out quickly to keep the line moving.
This single "trick" should save you an average of 30 minutes. And especially if you have little kids, that can also mean it saves you a lot of frustration and whining.
Have you endured the long waits at Town Square Theater recently? Or were you savvy enough to breeze through a Mickey meet at EPCOT? Let us know in the comments!