Five Things to Know About Space Mountain
Space Mountain has become an iconic symbol of the Magic Kingdom at Disney World. It proved so popular that it gave rise to Space Mountains at every other Disney Park worldwide, except one. But today we'll confine our conversation to the original, so strap in and get ready to take off on a wild ride (with apologies to Mr. Toad). If you want to avoid the launchpad and head straight for the whys, wheres, and whats, here's your shortcut.
1. You'll be kept in the dark.
Space Mountain is an enclosed roller coaster ride in the dark – the darkness of outer space. So, thrills come from the fact that, as opposed to other coasters, you never know what's coming! And unlike in space, everyone can hear you scream.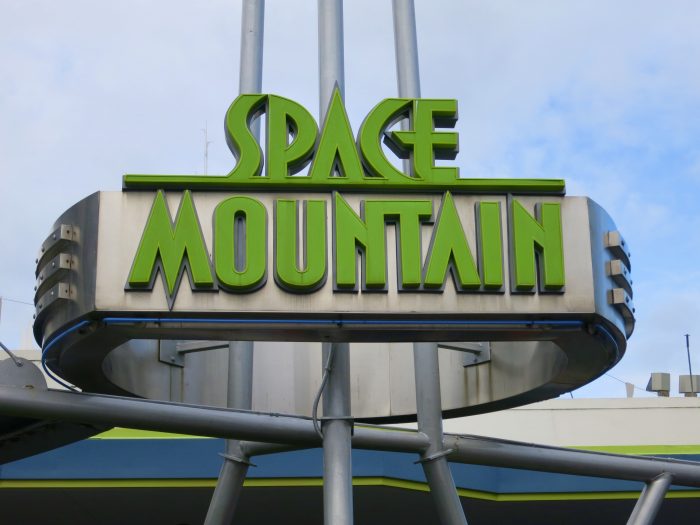 The queue is a long, long, winding interior hallway that gets darker and darker as you proceed past "windows" affording you views of stars, planets, and galaxies. While in line, you can play games with others in your group using the Play Disney Parks app. At the end of the queue is the loading area where you'll be directed into line for one of the two tracks and board a rocket-shaped vehicle. As your rocket leaves the station, you'll enter a tunnel of flashing lights, then go up a ramp, passing by spacewalking astronauts. And then your ride really begins.
For the next two and half minutes, you'll experience quick turns and small drops. It's a jerky ride – in addition to the quick turns it's also a bit "rattly" – so thankfully there's a handlebar. But believe it or not, the top speed you reach is 27-28 mph, which makes this almost the slowest coaster ride in the Magic Kingdom! For comparison, the top speed over at Goofy's Barnstormer is 25 mph; the next fastest coaster is 7 Dwarfs Mine Train at 34 mph.
After the ride, you'll exit past a baggage claim and a Lost and Found station labeled TLS MK-1. This stands for Tomorrowland Station, Magic Kingdom, first Space Mountain. Personally, I love that the overhead light fixtures in the exit hall look a lot like what every HGTV designer is now putting in dining rooms!
2. It was inspired by another mountain…and a mouse.
The idea for the ride came to Walt Disney after he saw how successful the Matterhorn Bobsled ride was at Disneyland. The Matterhorn is essentially a Wild Mouse ride, a type of coaster that relies on sharp, jerky turns for its thrills instead of big drops or inversions. (Picture a mouse trying to get past a cat that has it cornered, and you'll see where the name comes from.) Walt envisioned a version of the same type of ride, with a space theme – and in the dark.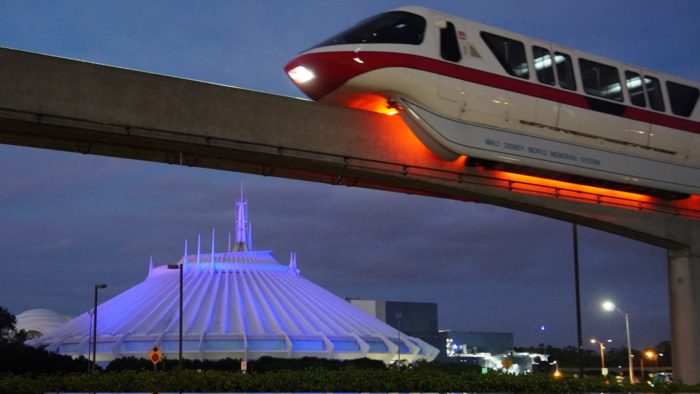 The initial design was for four separate tracks, but that turned out to be way too challenging for the technology of the time. Then Walt died and the idea for Space Mountain (or Space Voyage as it was referred to then) was shelved until the opening of the Magic Kingdom.
Construction on Space Mountain at Disney World started on December 15, 1972. The iconic conical building – 183 feet tall, 300 feet in diameter – was the work of Disney Imagineer John Hench. Its unique appearance is the result of putting the support beams outside the structure, instead of inside.
After two years of work, Space Mountain opened at the Magic Kingdom on January 15, 1975. In attendance at the opening were astronauts Scott Carpenter, Gordon Cooper, and Jim Irwin. The ride underwent a major refurb in 2009, replacing some track, adding new space rockets, and adding "Starry-O-Phonic" music to the fun.
3. Four reasons why Space Mountain at Magic Kingdom is #1.
Sometimes being #1 is just about being the first.
Versions of Space Mountain have been built at every Disney Park around the world except Shanghai Disneyland, but the one at Disney World was the first.
It was the first Mountain at Disney World.
It was the first roller coaster in the world to be completely enclosed in a building. (Bonus: It's also the oldest still-operating roller coaster in Florida.)
Perhaps most important of all the number ones, Space Mountain was the first computer-controlled coaster in the world.
That last one is a biggie. The computer uses a tracking and braking system to know the position of each ride vehicle. This allows it to safely determine when to launch the next ride vehicle. It also controls the distance between each rocket. And it knows when to shut things down, making it one of the safest coasters you can ride. Today, most coasters employ a similar system.
4. There are no rabbits in space …
But of course there are Easter Eggs in Space Mountain! Let's start with the sign near the entrance, which reads: "Welcome Space Travelers. Starport seven-five, your gateway to the galaxies". Starport was the name Walt first used for the area in Disneyland that would house this attraction, and 7-5 is the year Space Mountain opened at the Magic Kingdom.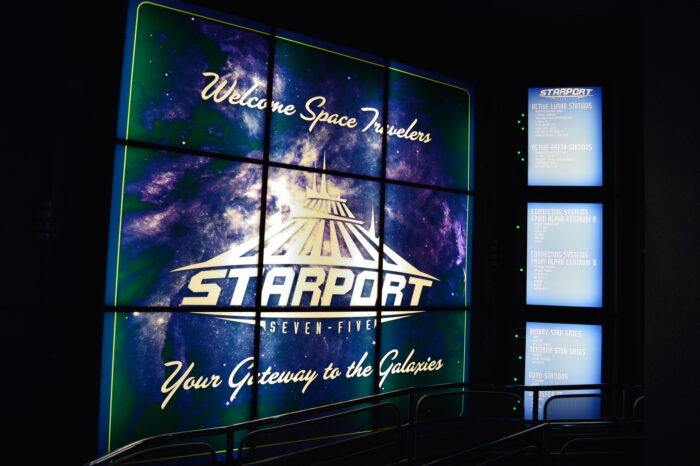 Don't miss the three lighted panels to the right of that bigger sign. The top panel has two main categories. The first is  "Active Lunar Stations", listing the names of real star systems, scientists, and astronauts. The second is, "Active Earth Stations," which is a listing of all the Disney Park Space Mountains: Tomorrowland Station MK-1 (Disney World), TL Space Station 77 (Disneyland), Discovery Landing Station – Paris (Disneyland Paris), Ashita Base – Tokyo (Tokyo Disneyland), and HK Spaceport E-TKT (Hong Kong Disneyland).
Further along in the queue, there are seven lighted celestial charts. The second one, Titan Stations Sector Two, marks the location of "Disney's Hyperion Resort" in the upper right. Hyperion Avenue was the street where the Walt Disney Studios moved in 1926.
This isn't really an easter egg, but just for fun, here's what a ride on Space Mountain looks like with the lights on.
5. The Nuts and Bolts.
Space Mountain is located inside Tomorrowland in the Magic Kingdom. It's an indoor ride so the weather doesn't affect its operation. It has a fairly long indoor queue, but if the line extends outside the building, guests waiting to ride will be exposed to the weather.
The ride vehicle for Space Mountain is a 3-seater rocket, with two of the rockets in each train. Seats are positioned front to back, so you'll be pretty much riding solo, which can be scary for younger kids who would prefer to sit next to a parent.
Guests must step over a small wall and then step down before sitting down in the rocket, and the seats are very low to the floor. You'll need to sit with your legs extended in front of you, and guests with longer legs can find it awkward getting in and out of the seats. (Pro tip: press your feet to the sides of the car for stability during your ride.) The restraint is a T-bar, which some larger guests may also find uncomfortable. Those using wheelchairs must transfer to a standard wheelchair, and then to the ride vehicle.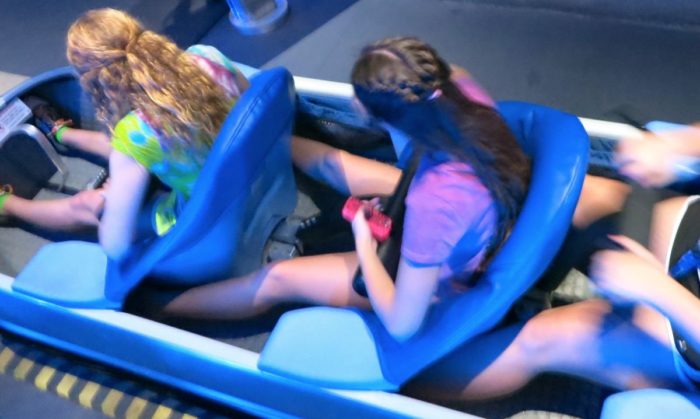 Guests must be 44 inches or taller to ride; as with all rides that have a height requirement, Space Mountain offers Rider Switch.
Disney advises that for safety, you should be in good health and free from high blood pressure, heart, back or neck problems, motion sickness, or other conditions that could be aggravated by this adventure. Expectant mothers should not ride. Guests with a sensitivity to flashing lights, loud noises, or sudden drops may want to sit this one out as well. You will probably not be surprised to hear that service animals are not permitted on this attraction.
As one of the most popular rides in the Magic Kingdom, Space Mountain is open for Early Theme Park Entry (also for Extended Evening Theme Park hours if you're staying in a qualifying hotel). It's best to visit early in the day or nearer park closing time. Alternatively, you can purchase Lightning Lane entry via Genie+.
The Bottom Line.
We rate Space Mountain as not-to-be-missed. Despite the absence of loops, inversions, or long drops, it's an intense ride, as my wife will attest. The first (and only) time she rode, she held on to the handlebar so tightly, the ring she wore was bent into an oval.
Have you ridden Space Mountain? Do you consider it tame, thrilling, or not-gonna-do-it? Let us know in the comments.