Five Things to Know About TRON Lightcycle / Run
Have you heard there's a new coaster in the Magic Kingdom? Modeled after a similar ride at Shanghai Disneyland, TRON Lightcycle / Run is among the most anticipated recent attractions to open at Disney World. First announced in July 2017, TRON officially opened on April 4, 2023, after lengthy delays in construction.
After all that waiting, anticipation, hype, and build-up, what do you need to know about TRON? Here are 5 things that top our list about the Lightcycle lifestyle. (Want to skip the deep dive? Head straight for the Nuts and Bolts section.)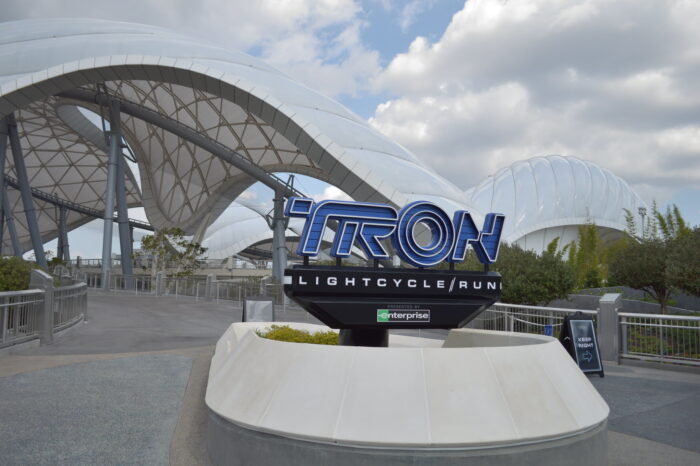 1. It's inspired by the TRON movies
The first TRON movie was released by Disney in 1982. TRON starred Jeff Bridges as Kevin Flynn, a computer engineer and video game developer. He finds himself digitized into a virtual reality called "The Grid", where he interacts with evil programs as he tries to return to the real world. He carries an Identity Disc, which contains "all that a program is, in the form of a detachable glowing disc normally worn on the upper back."
Quick refresher: in 1982, the Apple III, Commodore 64, and TI 99/4A were popular home computers. The Atari 2600 was the home game system of choice and Pac-Man was the game to play on it. Using computer-generated graphics or animation in movies was in its infancy, and TRON was the first film to use a scene created entirely with computer animation – CGI. Lauded for its state-of-the-art special effects, one notable action sequence features Kevin and the blue team racing on light cycles against the evil orange team in the light cycle arena. In all, these CGI sequences ran an unprecedented 15 minutes.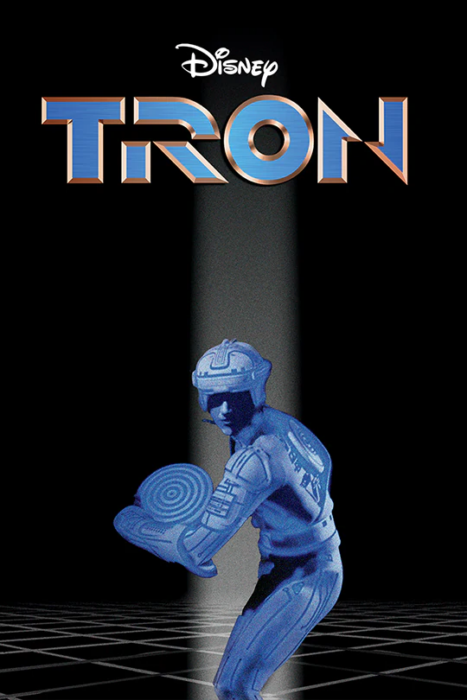 Groundbreaking as it was, TRON received a mixed reception from critics, with some praising the special effects and many citing the weak (or undecipherable) plot. Although it received Academy Award nominations for Sound and Costume Design, TRON was considered ineligible in the Special Effects category because the Academy felt at the time that using computer-generated effects was "cheating." (That's pretty funny now, isn't it?)
Flash forward 28 years. TRON has a cult following, and Disney decides to get the band back together to make TRON: Legacy. Computers have come a long way in those 28 years, so in addition to state-of-the-art computer-generated imagery, this film utilizes 3-D effects. But as with the first movie, this one received kudos for its stunning visuals but a lukewarm reception from critics. Their complaint? Drum roll please … "a weak plot".
2. TRON Lightcycle / Run is a fast, fun flight
Ok, so now that our history lesson is over, let's get to the ride itself. Here's Disney's official description: "Climb aboard your very own Lightcycle and take off on a high-speed adventure, racing against the Grid's most menacing Programs. Surge past your fierce opponents as you attempt to cross through 8 Energy Gates and secure your team's victory."
When they say, "high speed", what they mean is that TRON is a launch coaster, propelling you from a dead start to 59 mph in seconds. The track takes you soaring over the waiting crowds outside, before entering the "dark" portion of the ride that's inside the building. Even though there are no loops or inversions, the ride is the most intense coaster in the Magic Kingdom, lasting about 60 seconds.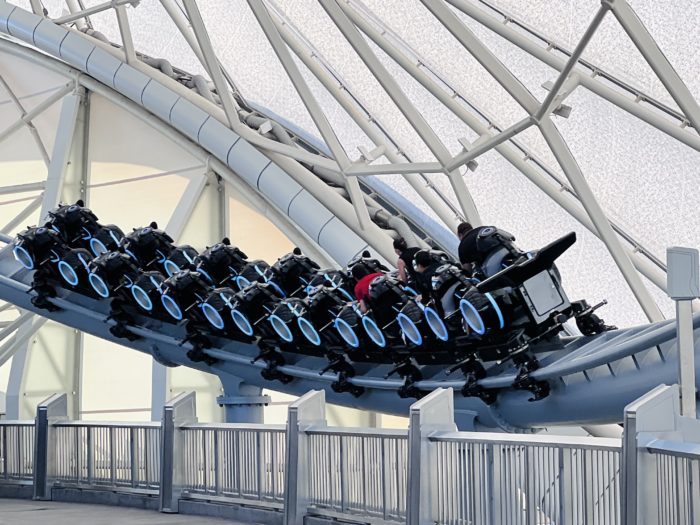 Did you notice how we kept emphasizing that the movies were dissed for a weak plot? There's not much of a narrative for this attraction. Our own Len Testa in his spoiler review says: "The ride is supposed to follow a plot of some kind … a contest, I think? That part wasn't explained in the preshow, it definitely didn't come through on the ride." But realistically, there's no storyline for Space Mountain either, and nobody misses it – it's just that unlike TRON, it doesn't even claim to have one.
What about motion sickness?
Here's what we think: if you have issues riding Seven Dwarfs Mine Train or Big Thunder Mountain, you may want to think twice about riding TRON. Personally, I'm prone to motion sickness. I've ridden both Seven Dwarfs and Big Thunder Mountain without too much in the way of ill effects, but I skipped TRON on our recent visit. Instead, I sat outside waiting for my twelve-year-old grandson to emerge and give his account which was two words long: "It's amazing!" Others exiting didn't appear bothered by the ride's intensity.
3. The Lightcycles are unique at Disney World
TRON's vehicles are different from many coasters you may have ridden, with TRON riders sitting on what resembles a motorcycle. The vehicles are set up as 14 semi-detached cycles, with 7 rows of 2 cycles each. Riders sit leaning forward, resting their shins into a leg brace, then holding the handlebars of the lightcycle. The back of the lightcycle "seat" folds down to hold the rider's back securely in place (and yes, that's an Identity Disc you see on the "seat" back!)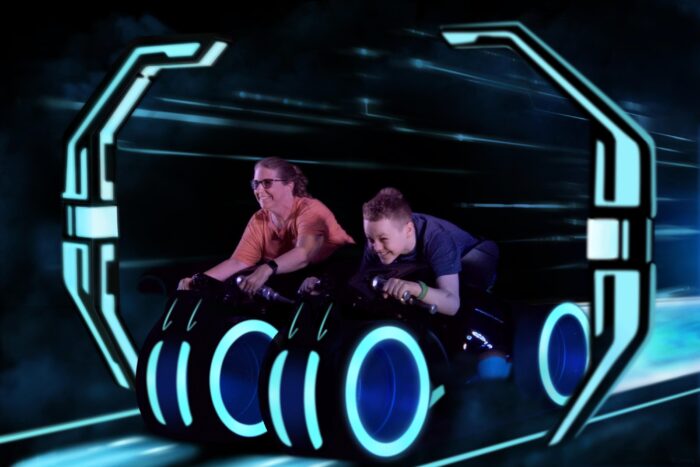 Motorbike coasters are intended to increase the sensation of speed, but early reports from larger riders mentioned that the harness system in the lightcycles did not accommodate them comfortably. It's worth knowing that there are oversized seats riders can request that are built like a normal coaster car with a lap bar. There are also test vehicles set up for guests to see if they will fit into the lightcycle seating position "comfortably."
4. TRON's canopy comes alive at night
During the day, TRON beckons you with its huge white curvy canopy. Sunlight flickers through, helping create an atmosphere all its own that feels distinctly separate from its surroundings in the park. It's an impressive feat of design and engineering, unlike anything else in the park. Which is a big plus, because to find space for TRON, the Imagineers had to sort of shoehorn it into the spot next to Space Mountain.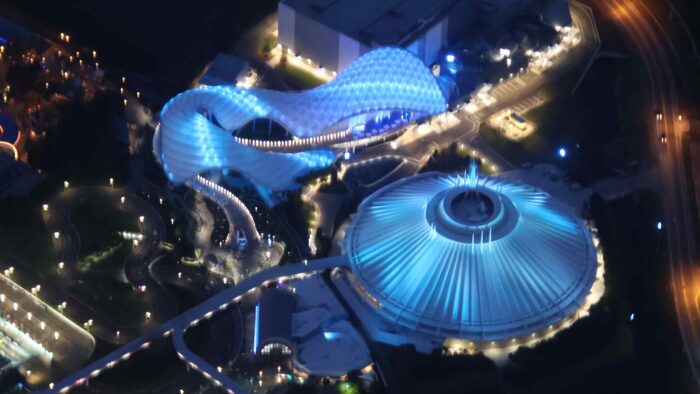 At night, the canopy comes alive with the electric, dynamic feel of the Grid, shifting in color from blue to orange and back again. It lights up so beautifully that it's worth the trip to see even if you don't intend to ride.
5. The Nuts and Bolts
TRON has no standby line at this point. To ride, you must enter the Virtual Queue to get a Boarding Group or buy an Individual Lightning Lane Reservation. Virtual Queues open at 7 a.m. and again at 1 p.m., and there is a third VQ opportunity at 6 p.m. for guests eligible to take part in Extended Evening hours. For a detailed guide to nabbing a place in the queue and instructions on getting an ILL, check out our illustrated step-by-step guide.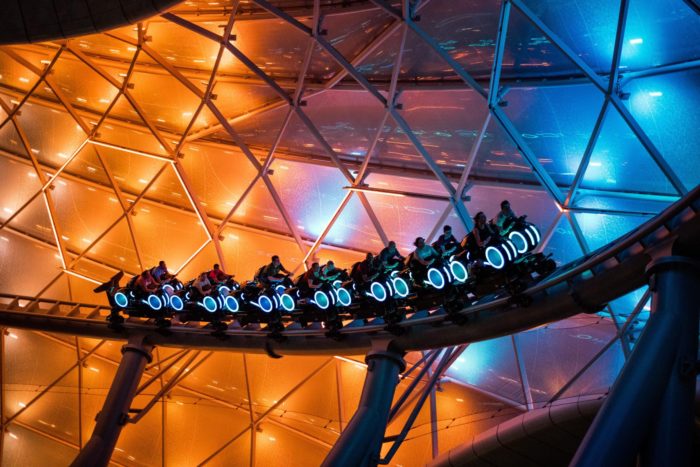 Once you have your boarding group or your ILL, head over to Tomorrowland in the Magic Kingdom as if you're going to Space Mountain. Turn left just before the Space Mountain queue and follow the pathway that will take to you TRON. Note: partly due to the difference between riding daytime TRON and nighttime TRON, return times for the Virtual Queue are strictly enforced. This means that when your boarding group time is announced, timely arrival is of utmost importance.
TRON is the first ride at Disney World to require the use of lockers; there is a small compartment on the lightcycle that will hold a phone and perhaps a pair of sunglasses, but everything else has to be safely stowed in a locker before entering the loading platform. The free-to-use lockers open with your Magic Band (or admission media).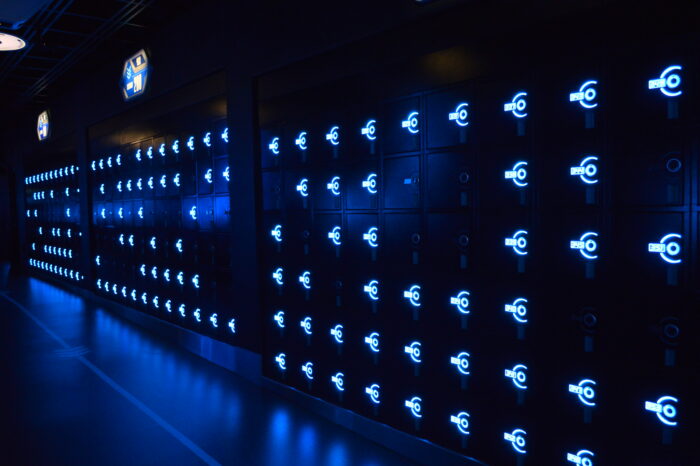 Because the canopy covers the outside portion of the track, TRON is considered a "covered ride" that can operate during rain. Blog Mickey reports that according to Cast Members, it can also operate when there's lightning.
There's a minimum height requirement of 48 inches to ride TRON, and there are also some significant health advisories. Riders on TRON should be in good health and free from high blood pressure, heart, back, or neck problems, motion sickness, or other conditions that could be aggravated by this adventure. Expectant mothers should not ride.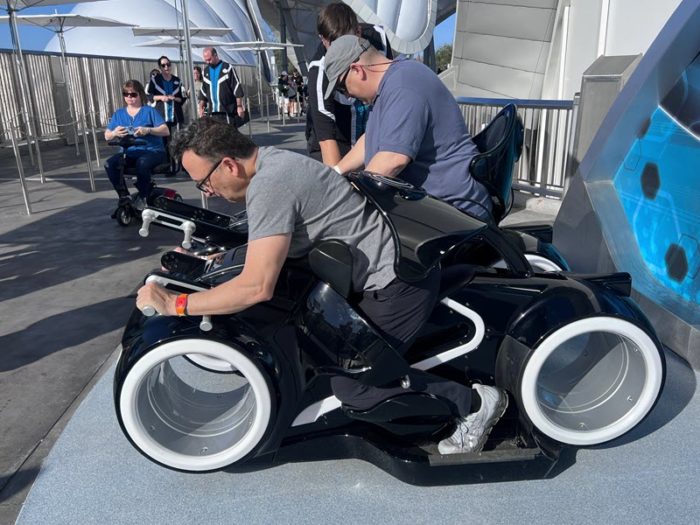 As previously discussed, TRON's motorbike-style seats may not fit larger passengers; if you're taller or have thicker calves, make sure to try the available test seat. If you don't fit, ask Cast Members in the loading area for the Light Rover, which is the regular-style coaster car. ECV riders must transfer to a wheelchair and then to the ride vehicle.
Rider switch is available for TRON. And to make TRON accessible to as many as possible, these aids are available from Guest Services with a refundable deposit: Video Captioning, and Audio Description Devices.
The Bottom Line
We think TRON is a must-ride attraction (unless, like me, you consider most coasters "must-not-ride" attractions). Fast, fun, and perhaps over too soon, it expands the repertoire of rides in the Magic Kingdom in a significant way. For an added dimension of awesomeness, ride TRON at night when the canopy is lighted.
Have you ridden TRON? Let us know your thoughts in the comments below.