Getting to Know Universal – The Bourne Stuntacular
Today in Getting to Know Universal we are covering the ins and outs of Universal Studios Florida's The Bourne Stuntacular. Located in the Hollywood section, the park's newest attraction features high-intensity, live-action sequences; digital projection technology; and large-scale props to bring an action movie to life.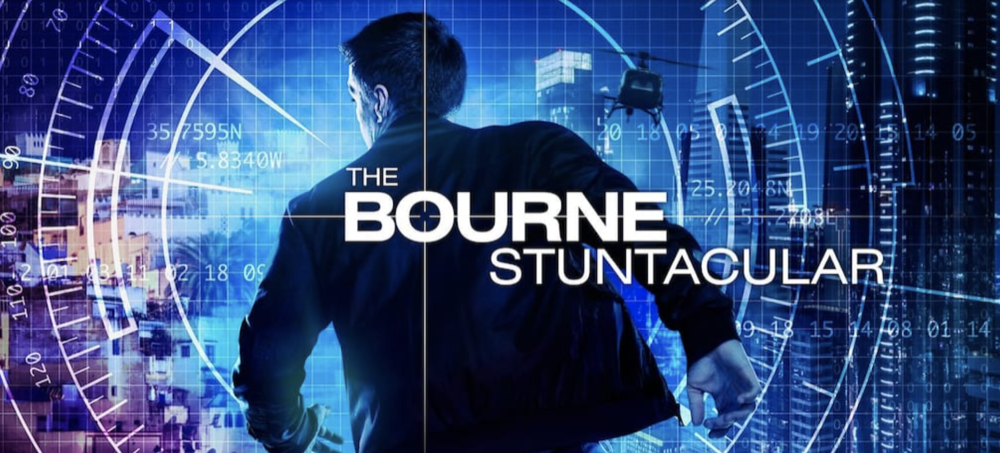 The Bourne Stuntacular replaced Terminator 2 3D: Battle Across Time. Terminator debuted in 1996 as the most expensive film per minute. Combining actors, animated figures, props, and a 3D movie T2:3D changed theme park shows forever. After 21 years of operation T2:3D closed in fall 2017.
The Experience
Behind the Hollywood facades lies the headquarters of the secret CIA black-ops program Treadstone. As new recruits, we are invited to observe and track the CIA's rogue assassin, Jason Bourne. Using a new visual surveillance system we watch Bourne as he crosses three continents, escapes assassins, and flies through the air.
If that seems complicated do not worry, it's just a fancy backstory for explaining how there are live stunts on a stage in a theme park.
Bourne Stuntacular's backdrop is a 3640 sq ft high-resolution LED screen that stretches the length of the stage. The screen is used in conjunction with actors, sets, and large props to seamlessly create a modern action movie right in front of guests' eyes. In one memorable scene, Bourne climbs a tower that rotates in unison with the panning cityscape background.
It is hard not to compare Bourne to the Indiana Jones Stunt Spectacular at Hollywood Studios; both have "stunt" in the title and are based on popular action movies. Indiana Jones though replicates a movie shoot and attempts to show how stunts are performed (or were performed in 1980s). Bourne instead goes for a cinematic feel with modern effects and technology. What you get is less audience participation but a show that is tighter in execution.
The Opinion
T2:3D's unique blending of film, actors, and effects left big shoes to fill. Despite Bourne being a slightly out-of-date franchise, the show not only lives up to T2:3D but surpasses, creating a new bar by which all stunt shows will be judged. Univeral really hit it out of the park with the show and we expect it will become a must-see, guest favorite.
Restrictions & Accommodations
Bourne Stuntacular is accessible by wheelchair and ECV.
CC and assisted listening are available.
The show features flashes, fire, and loud gun noises.
Motion on the video screen can cause motion sickness.
Due to the content of the show parental discretion is advised.
When to Visit
Bourne is the hottest show at Universal Orlando. Due to COVID-19 seating changes, expect to wait at least 30 minutes and up to an hour before being seated. Shows run every 45 minutes starting at roughly 10:40 a.m. and ending in the early evening. We suggest visiting one of the first two showings of the day and queueing up half an hour before scheduled showtime.
Are you excited for this new attraction? Let us know in the comments.