Getting to Know Universal – The Cowfish Sushi Burger Bar
This week Getting to Know Universal visits The Cowfish Sushi Burger Bar at Universal CityWalk. Cowfish was founded in Raleigh, NC, when two brothers each had an idea for a restaurant to open: one sushi, the other burgers. To save money (and split a kitchen) they combined their ideas into one restaurant. Cowfish opened at CityWalk in 2014 and resides above Vivo Italian Kitchen and Red Oven Pizza Bakery.
The Experience
Cowfish's unique fusion of cultures starts with its design and attitude. In the lobby, kids can customize their own fish on large touch screens which then appear in a virtual fish tank inside the restaurant. At the reception desk, a large fishbowl topped with a pair of chopsticks is home to real fish.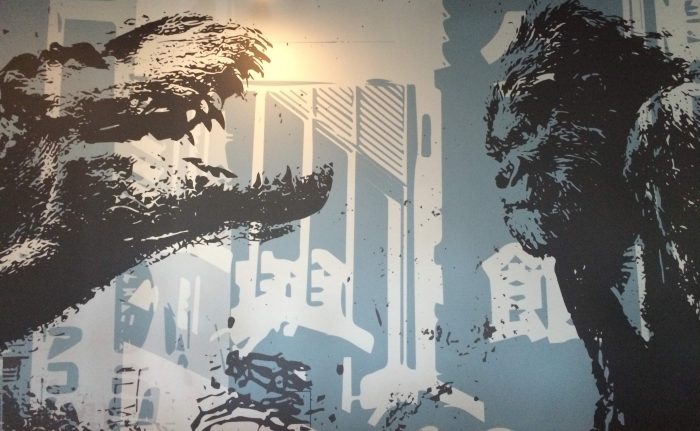 The restaurant's walls are covered in a merge of pop and Japanese Ukiyo-e art inspired by Roy Lichtenstein, Andy Warhol, and Sharaku. Art includes a T-Rex and King Kong fighting in downtown Tokyo and a 17th-century Japanese-print-art-inspired portrait of Elvis eating a burger. Natural wood tables, red and white chairs, and multicolored booths are accented by fish scale lighting fixtures and partitions throughout the large dining spaces.
The restaurant's outdoor patio offers some of the best views at the resort outside of Bar 17 at the Aventura Hotel. Guests overlook the CityWalk marina where they can watch a musical performance  or see the fireworks from one of two nighttime shows at the parks.
Never pretentious or unwelcoming, Cowfish acknowledges its absurd existence and plays with it.
The Food & Drink
The star of Cowfish is the hybrid high-end sushi and burger bar menu. Appetizers range from the American truffle fries and fried pickles to Japanese-inspired edamame and sashimi. Touring Plans is a fan of the Crab Ragoon Dip and I order the Fried Pickles every trip.
For the entrees, half is dedicated to sushi. Classics like the California Roll, Spicy Tuna Roll, nigiri, and sashimi are on the menu and are served with ginger and wasabi. Cowfish also created their own speciality rolls such as the Geisha Roll (lobster and shrimp inside, topped with tuna) and the Tropical Storm Roll (Kani, avocado, and cucumber inside, topped with tuna, salmon, yellowtail).
The other half of the entrees feature burger creations like The Cowfish Has Left the Building Burger (a full pound of meat, peanut butter, fried bananas, and bacon), Hoisin Burger (short ribs, bacon, pickled red onions, and English cucumber), and the Black & Brie Burger (brie cheese, blackberries, marinated Asian pear, microgreens).
But what if you want both sushi and a burger? Cowfish has you covered with "Burgushi", entrees that combine the styles and flavors of each cuisine into one unique dish. The Taste Explosion Roll a beef burger in the shape of sushi (cooked, of course). What's Shakin Tuna Bacon Sandwich is a spin on the classic BLT by adding tuna, jalapeños, spicy mayo, and spring roll wrapper "buns". For those who want both sushi and burgers, but separate, pick up a bento box that includes burger sliders, a sushi roll, and choice of sides.
To complement the burgers, Cowfish also features a selection of house-made milkshakes that give Toothsome a run for its money. While this humble author is lactose intolerant, the Rice Crispy milkshake gets rave reviews from friends. For the adult who just bought a family's worth of Harry Potter merchandise and needs to take their mind off the upcoming credit card bill, Cowfish also offers a solid selection of beer, wine, sake, and cocktails.
The Opinion
With its unique spin on casual dining, Cowfish remains a hit with families and young adults. The menu is surprisingly complex yet also simple and approachable; if you have ever wanted to try sushi (cooked or raw) come to Cowfish. The sushi ranges from subtle and refined to over-the-top American while the burgers are all cooked with never frozen beef and feature unique, fresh toppings. Come to Cowfish if you want a funky and fun lunch or dinner.
Have you eaten at Cowfish? Let us know your thoughts in the comments below.