Getting to Know Universal – Leaky Cauldron
This week on Getting to Know Universal we are back in the parks to cover the iconic Leaky Cauldron restaurant. Located inside Diagon Alley at Universal Studios Florida, the Leaky Cauldron serves English pub food based on London dishes.
The Experience
Per Potter lore, Leaky Cauldron "opened" in the 1500s as the gateway between Diagon Alley and the muggle world. Due to the International Statute of Wizarding Secrecy, the pub's muggle exterior appears as a closed shop while wizards and witches know inside is a friendly inn and pub for weary travelers. The backyard acts as a barrier where if the correct bricks are tapped the wall parts and opens to Diagon Alley.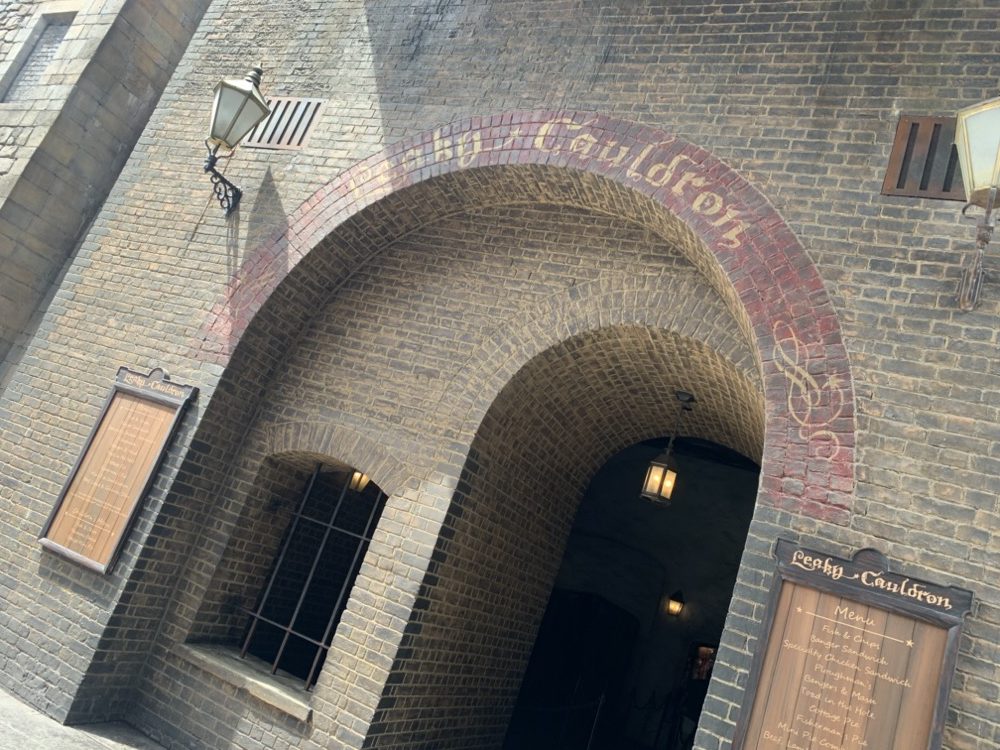 Universal Studios' version of Leaky Cauldron foregoes the secrecy and is only accessible from Diagon Alley; look for the hanging sign featuring a witch and cauldron across from Weasley's Wizarding Wheezes. Leaky Cauldron's interior mimics the one seen in the movies with communal seating and a (fake) inn above the guests.
The Food & Drink
Leaky Cauldron features fresh British pub food such as fish and chips, stews, meat pies, and sausages. Entrees come with a side of either salad, vegetables, or potato wedges. The star of the menu is the Ploughman's Platter, a feast for two including salad, several types of cheeses, crusty bread, and fried Scottish eggs. For less-adventurous eaters a grilled chicken breast sandwich is available; do not expect to find burgers or chicken tenders here. Kids options include fish and chips, mac and cheese, and a mini pie.
As with all Wizarding World locations, no Coke products are offered. Instead, totally unique and new drinks were created for the land and this restaurant. The famous Butterbeer is offered in frozen and cold varieties along with Tongue-Tying Lemon Squash (fizzy lemonade), Otter's Fizzy Orange Juice (fizzy OJ), Peachtree Fizz Tea (fizzy peach tea), and Pumpkin Juice on tap (fizzy apple juice with pumpkin spices–notice a trend?). If you are adventurous try the boba Fishy Green Ale with flavors of mint and blueberry boba.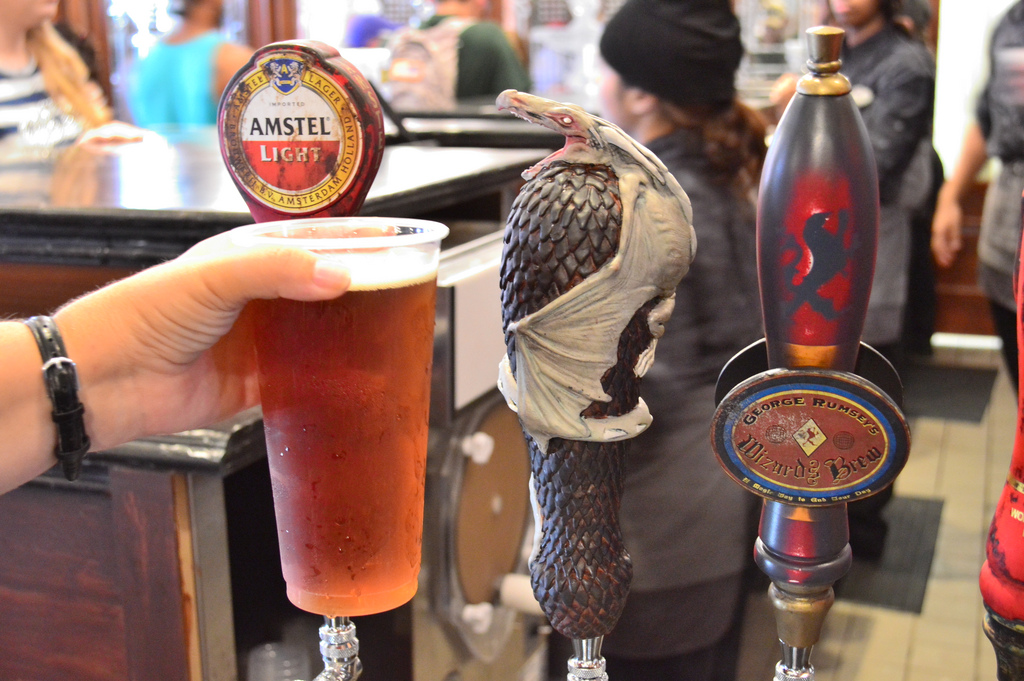 For adults, there are imported British beers like Strongbow, Heinekin, and New Castle on tap and exclusive beers, Wizards Brew and Dragon Scale, brewed by Florida Beer Company.
Breakfast is also offered but we advise to avoid; items are either "college dorm" levels of quality or severely overpriced. We advise you to skip breakfast and hit Leaky Cauldron up for an early lunch instead.
The Opinion
Leaky Cauldron receives a 91% approval rating on Touring Plans, ranking it a top 10 counter service location at Universal Orlando. While we cannot recommend breakfast, I always find myself at Leaky Cauldron for fish and chips or a pie at least once per trip. A trip to the Leaky Cauldron is a must-do for any Potter fan.
Have you eaten at the Leaky Cauldron? Let us know your thoughts in the comments below.