Getting to Know Universal: Bigfire
Today in Getting to Know Universal we are covering the ins and outs of CityWalk's latest restaurant, Bigfire American Fare. Located between the Universal Studios Store and Margaritaville this restaurant replaced the much loved Emeril's Orlando. Bigfire focuses on flame-grilled entrees, hearty appetizers, and an impressive whiskey selection.
The Experience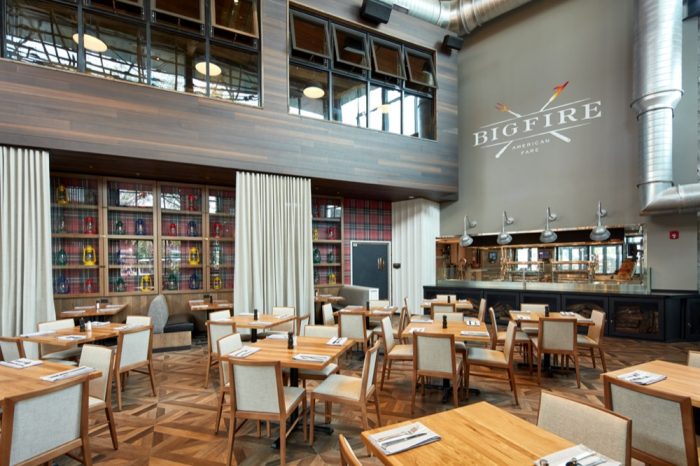 Bigfire takes design cues from "lakeside summer house[s], creating an atmosphere reminiscent of relaxed evenings spent at the water's edge, cooking and creating memories with friends and family." Bigfire straddles rustic and modern design with large windows, exposed wood, "flannel" (it's tartan) accents, and camping supply wall decorations. Outside guests can find a large fire pit surrounded by Adirondack chairs to relax at when it is cooler. Bigfire is the sort of place I imagine Nick Offerman would eat at.
The Food & Drink
The rustic charm continues continues with freshly grilled menu entrees. Bigfire's signature Off the Embers menu items use a blend of oak, peacanwood, and cherrywood to grill steaks, chops, and fish with a unique flavor. Appetizers are large and shareable; the rustic baked bread is a steal at $4. Other entrees include burgers, seafood, pasta, cauliflower steak, beef burgundy, and chicken. Off the Embers and sandwiches include a choice of sides; sides include pork belly mac and cheese, crispy smashed potatoes, fries, and vegetable options.
Love whiskeys, ryes, and bourbons? Bigfire is your new home. Featuring an impressive bottle list, including aged Rip Van Winkle bourbon, all drinks are available in single or double pours, neat or over ice (multiple or single cube). These same liquors also compose a whiskey forward craft cocktail menu with old fashioneds and manhattans. A sizable bottled and draft beer selection is offered too, including the custom Bigfire Smoked Amber. Red, white, rosé, and sparkling wines are also available.
The lodge theming continues with desserts with a shareable skillet-baked cookie, Baked Alaska, and even table side s'mores.
The Opinion
Bigfire receives rave reviews from those who eat there; it currently stands at 94% approval rating on TouringPlans. Despite an apparently expensive food selection the menu prices are reasonable for a theme park. Steaks range from the mid $20s to low $30s, entrees in the mid $20s, and appetizers $4 to $15. I have found myself at Bigfire several times since opening; the smoked old fashioned is a fantastic drink and I love splitting the baked bread and mussels with friends. Bigfire is a huge hit with my friends and family.
Have you eaten at Bigfire? Leave your thoughts and questions below.