Halloween Horror Nights Orlando 2023 Guide Part 1: Planning & Tickets
Universal Orlando Resorts' Halloween Horror Nights is an adult-oriented Halloween party held after normal theme park hours. HHN has been voted the Best Halloween Event by the Golden Ticket Awards for over a decade and its reputation for grand sets and incredible details is well earned. In this two-part series, we will cover all you need to know about HHN 32. Part 1 focuses on planning, operating hours, ticket options, discounts, and warnings. Part 2 covers touring tips of the haunted houses, scare zones, and shows.
What is Halloween Horror Nights?
Halloween Horror Nights is a separately ticketed event that runs after Universal Studios Florida closes to guests. Once the park closes Universal Team Members transforms USF into a huge Halloween party with ten haunted houses, five scare zones, and two shows. Dozens of unique food booths serve devilish food items like fried Oreos, pizza fries, themed food items, and lots of alcohol.
Mickey's Not So Scary Halloween Party at Walt Disney World focuses on family-friendly activities with the scariness level of the Haunted Mansion, Universal embraces its horror roots to create an edgy, adult-oriented event more in line with Scream than Ichabod Crane.
Additional Reading
Halloween Horror Nights is a huge event that transforms Universal Studios Florida into a completely different park. The event is so large we split our coverage into several pieces. We suggest reading these posts in addition to this part 1 and 2 series: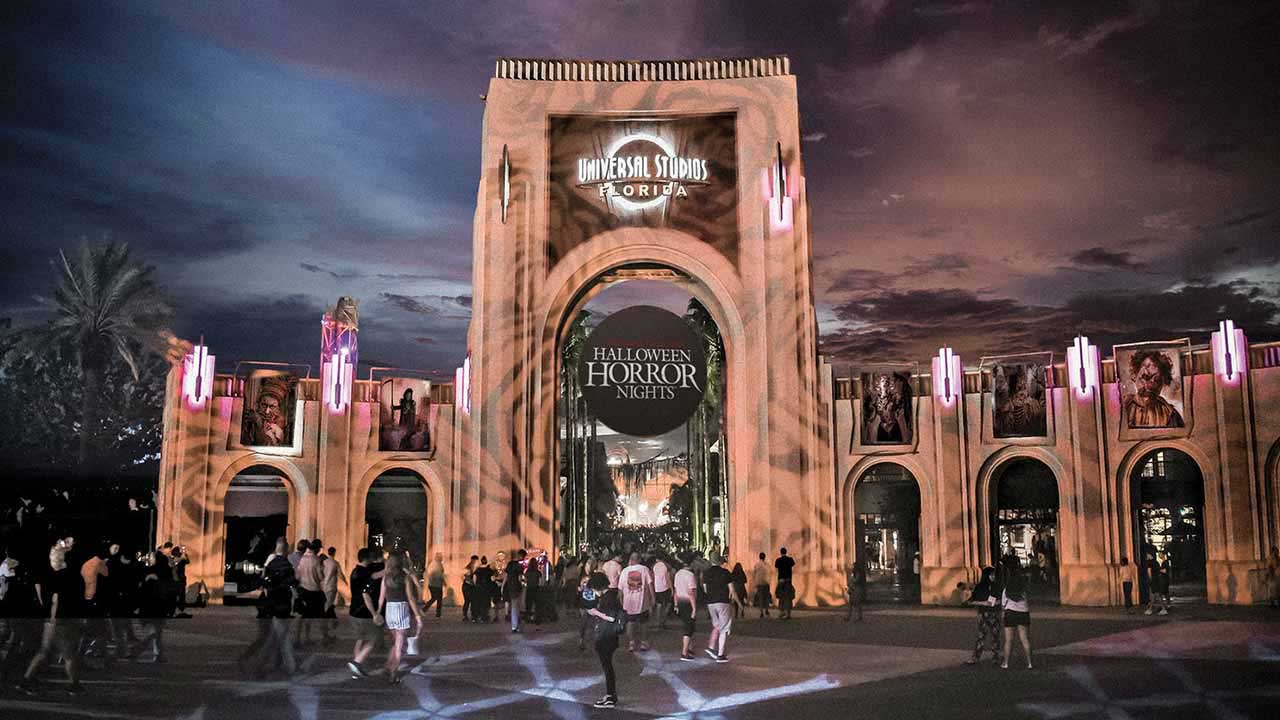 Planning
When Should I Visit?
The busiest days of Halloween Horror Nights are all Fridays and the weekends leading up to Halloween. The least crowded days are weekdays in September (excluding the opening weekend), Halloween night, and nights after the Halloween holiday. Universal's online ticket and Express Pass pricing reflects their expected attendance, the lower the price the fewer guests they are expecting. Rainy nights scare away guests more than a Demigorgon, so pack footwear that's easy to dry, a poncho, and an umbrella and hit the streets.
Queue times for the most popular houses easily reach over 60 minutes on days with lower crowds and over two hours on the busiest days. Part two of this series (coming soon) covers our tips and strategies to make the most of your night.
Figuring out when to visit? Request a free vacation quote from our Touring Plans Agents! From hotels to event tickets, our agents have your back.
Operating Hours & Prices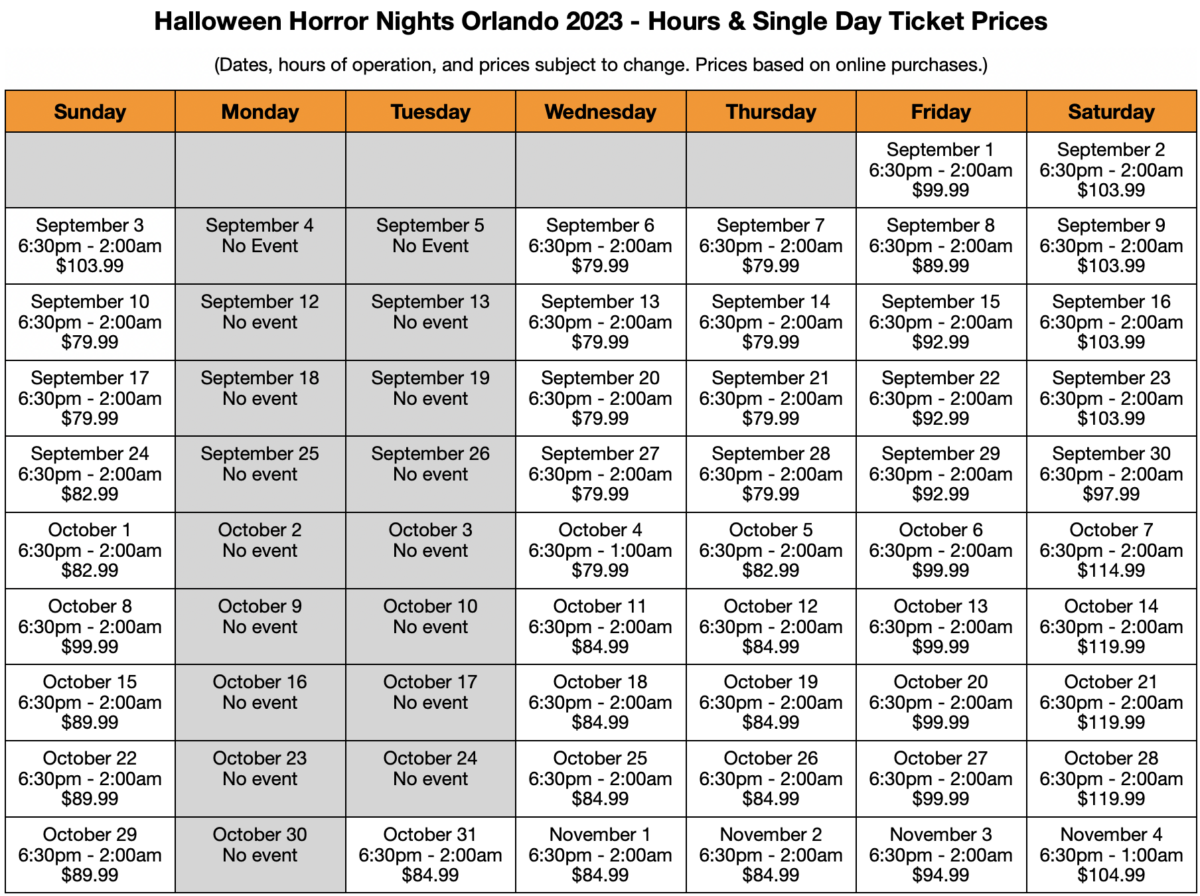 Universal Orlando's Halloween Horror Nights 31 runs on select nights from September 1 through November 4. On event days Universal Studios Florida closes at 5:00 p.m. and reopens for HHN at 6:30 p.m.
Which Ticket Should I Buy?
Halloween Horror Nights is a separate charge event in Universal Studios Florida operated after the park closes to day guests.
Single-day event tickets start at $79.99 plus tax online and $129.99 plus tax if purchased at the gate. Tickets purchased online can be printed out at home, scanned from a phone, or picked up at Will Call. Purchase your tickets online to save a considerable amount of money and time.
Multi-night"Fear Passes" are valid for multiple event days with pricing based on when the passes are active. The general rule of thumb is a pass is cheaper than purchasing three (3) single-day tickets, but do your own math.
Rush of Fear Pass: $179.99 plus tax, valid for admission the first four weeks of the event (September 1 – 24). Not valid for any days in October or November. If you are visiting more than one night only in September this is the pass for you.
Frequent Fear Pass: $229.99 plus tax, valid for admission for every event night Sunday, Wednesday, Thursday, and the first weekend (September 1-3) of the event. Good for those visiting over a week or locals.
Frequent Fear Plus Pass: $269.99 plus tax, valid for admission every event night Sunday through Friday plus the first and last Saturday of the event (September 2 and October 28). Good for those visiting over a week or locals.
Ultimate Frequent Fear Pass: $379.99 plus tax, valid for admission every night of the event. Only for locals or haunted attraction super fans.
If you only have one day and want to see all the event can offer, then consider purchasing Express Pass.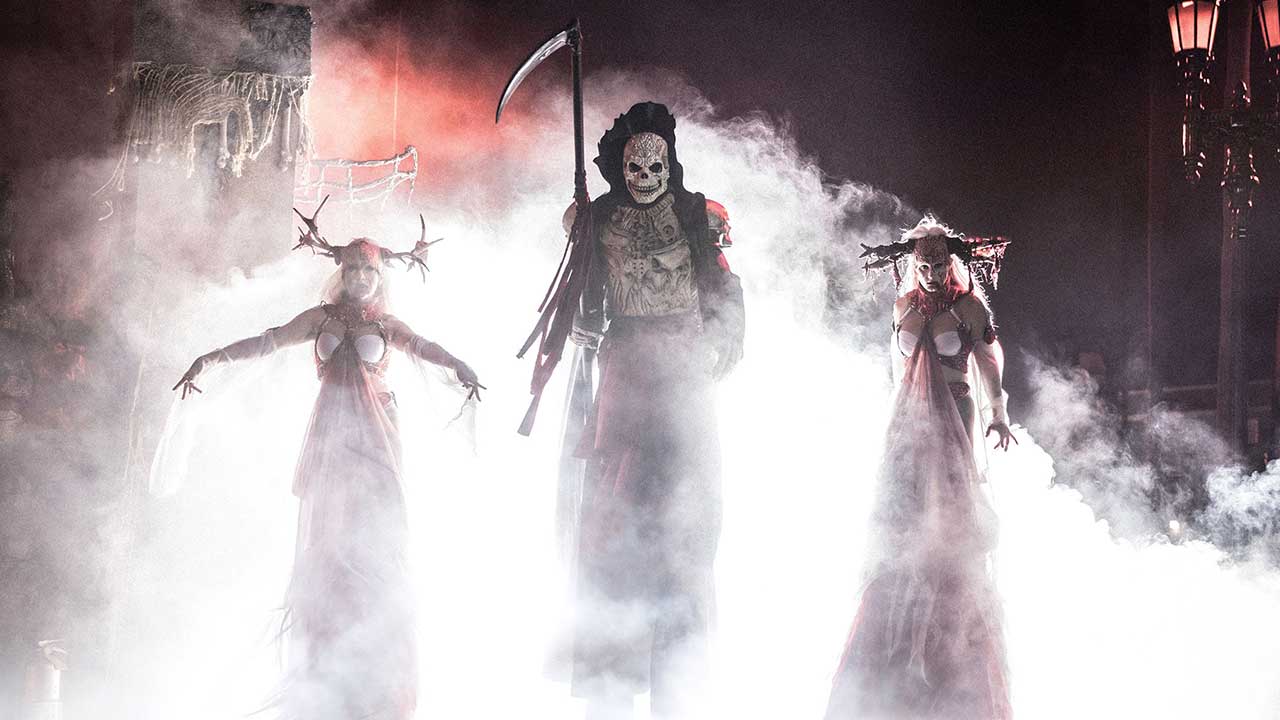 Express Pass
Halloween Horror Nights Express Pass allows guests to bypass stand-by lines for houses and attractions to dramatically reduce wait times. Express Pass starts at $119.99 plus tax per guest and grants access to the Express queue for each haunted house and attraction once that night. In the past waits for the most popular houses have soared above three hours on the busiest days; Express can reduce waits by at least half.
Universal sometimes sells a heavily discounted (usually half off) Express Pass that is valid after 11:00 p.m. Half Price Express Pass is available first come, first served based on availability. We suggest inquiring early in the event on availability, you can't miss the Team Members selling the passes with their red flashing lights. This also pairs nicely with our Touring Plan (see part 2).
Multi-day passes featuring Express Pass are also available. These passes include HHN admission on select dates (see dates in the previous section) plus one use of Express Pass at each haunted house and attraction per night. Be warned, these passes are expensive:
Rush of Fear Pass with Express: $529.99 plus tax
Frequent Fear Pass with Express: $609.99 plus tax
Frequent Fear Pass Plus with Express: $699.99 plus tax
Ultimate Frequent Fear Pass with Express: $919.99 plus tax
The break-even point between purchasing admission and Express each night versus purchasing a pass is between three and five visits.
Note: Express Passes offered to guests staying at Premier Universal Orlando hotels are not valid during HHN. Express Pass is not valid admission into the event.
Add-Ons
Universal's Scream Early ticket lets guests without day tickets in before the park closes to see new attractions or participate in Stay and Scream. A valid ticket for Halloween Horror Nights is still required. Tickets are $40 per person plus tax.
Scare Actor Dining is an all-you-can-eat dinner buffet featuring iconic slashers, creepy crawlies, and Universal's own monsters roaming among guests. Seatings are prior to the event start but guests will miss prime touring time so we advise skipping scare actor dining if you only have one day. At the time of writing Universal has not released details for scare actor dining in 2023, we will update this post when we have more information.
Daytime Behind the Screams tours offer a guided, lights-on look at the haunted houses. Knowledgeable guides take guests through select houses to learn behind-the-scenes secrets, stories, and incredible effects. This is an excellent choice for guests who wish to experience the event without the scares or nighttime festivities. Tours are offered for three or six houses, pricing starts at $119.99 plus tax per guest. Tickets can be purchased online, theme park admission and event admission are not included.
Do you crave no waits at all? Guided RIP Tours provides guests immediate access to all the houses and preferred show seating if money is no object. RIP Tours pricing varies by night, ranging from $319.99 to $449.99 plus tax per guest; tours are purchased online. Private RIP Tours are also available; call 866-604-7556 for pricing and more information. Admission to HHN is not included.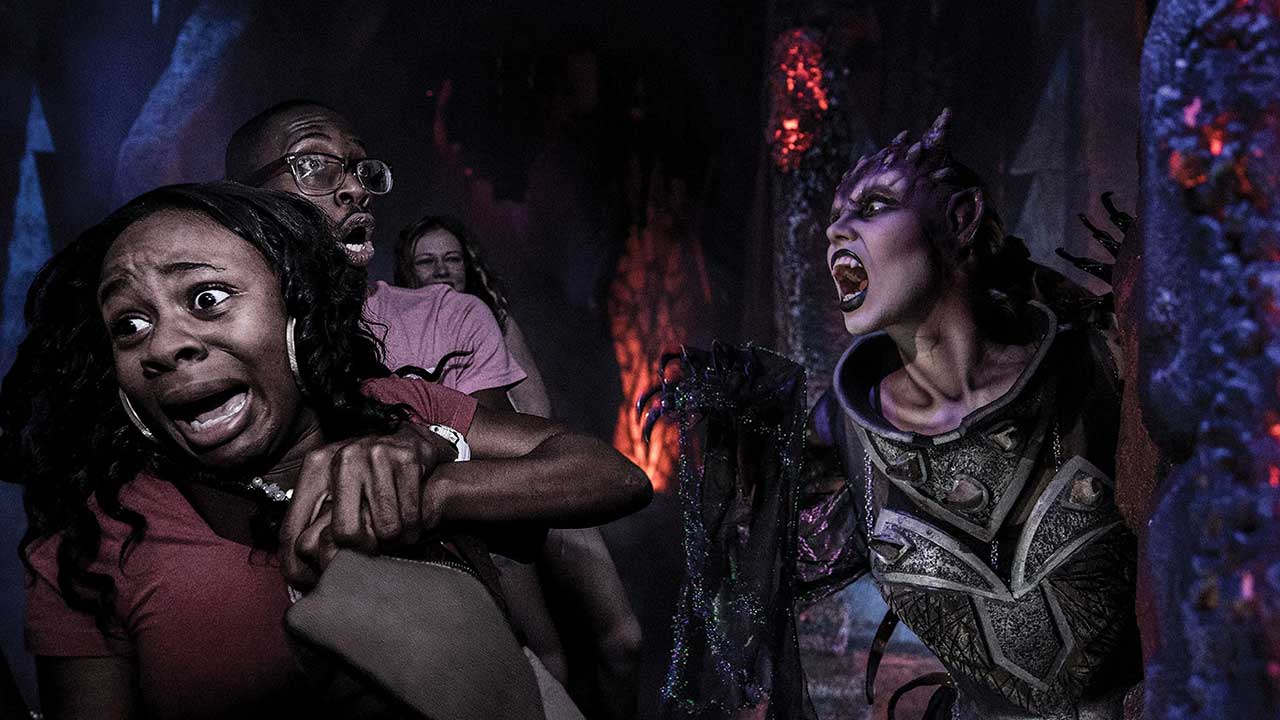 Annual Passholder Offers
Universal Orlando offers special events, discounts, and merchandise for Annual Passholders during HHN.
One free Horror Nights ticket on select dates for Premier Passholders:

September 6, 7, 8, 9, 10, 13, 14, 15, 16, 17, 20, 21, 22, 24, 27, 28
October 4, 5
November 1, 2

Exclusive Passholder entrance into Universal Studios Florida prior to the start of the event for Stay and Scream
Exclusive merchandise & pins at the UOAP Lounge
Discounted single-day event tickets in September
5-10% discount on RIP tours
Guidelines, Accessibility, and
Warnings
Halloween Horror Nights is intense, loud, and startling. This event scares adults, parental discretion is advised.
Houses and scare zones feature theatrical lighting, strobe lights, theatrical fog, and fake smells. Some haunted houses also feature strings or objects you must walk through or uneven walking spaces. See a house attendant for more information.
Food, beverages, photography, videography, or any light-emitting devices are not allowed in houses.
HHN houses are fully accessible by wheelchair; electric wheelchairs and ECVs must transfer to a wheelchair. See Team Members at the queue entrance for more information.
Guide dog relief areas are available in the back of the park near Men in Black and cages are available at the exit to all houses.
Physical contact of any kind with scare actors is strictly prohibited and will result in ejection from the event.
If any of these warnings give you pause then reconsider going for your own health and safety.
Have we scared you away yet? No? Well, good — in part 2, we will cover the best tips for touring Halloween Horror Nights.

What are you looking forward to the most at Halloween Horror Nights 2023? Leave your comments and questions below!