Getting to Know Universal – Halloween Horror Nights History, Lore, and More
Light the jack-o-lanterns, rev up that fake chainsaw, and put on some slasher flicks – this week we are Getting to Know Universal's Halloween Horror Nights! Whether this is your first time or you have been visiting for years there is a lot to learn. In this article, we will cover the history of the event, explain Universal's created characters, explore the event's lore, and answer some basic questions.
Halloween Horror Nights is frequently abbreviated to "HHN" by fans. Similarly, the event's years running delineates the year's offerings: with this being HHN's 30th anniversary this year's event is called HHN30. Universal also will also use the actual year, too, such as HHN 2021.
This article is part of a series of Halloween Horror Nights articles. We also suggest reading:
Four Money-Saving Tips for Halloween Horror Nights (coming soon)

Ultimate Halloween Horror Nights 30 Guide Part 1 & Part 2 (coming soon)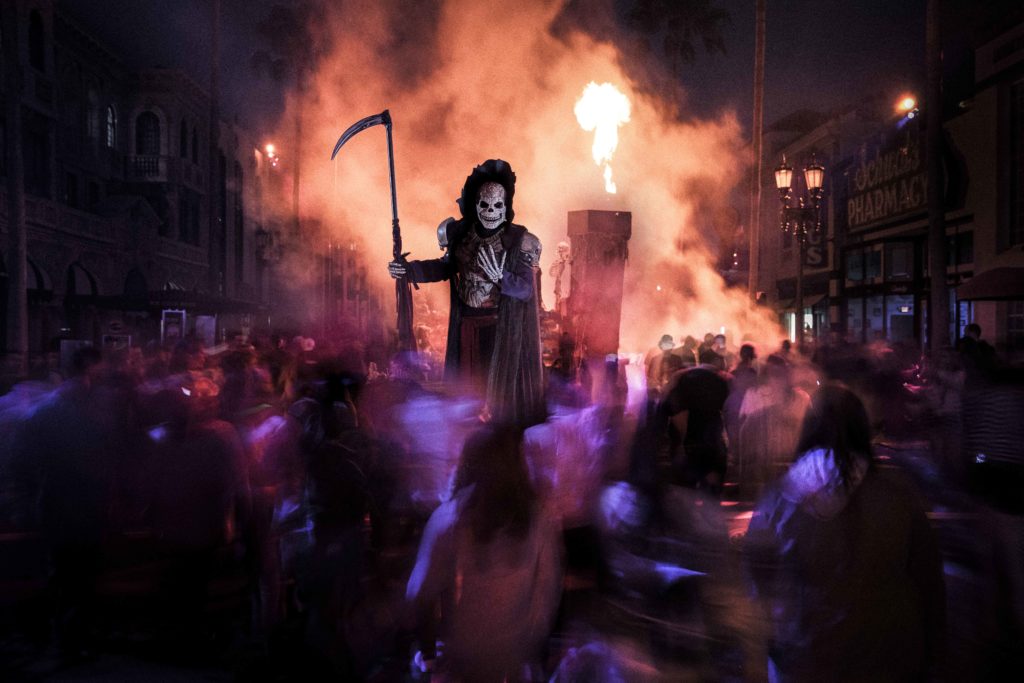 What Is Halloween Horror Nights?
Halloween Horror Nights is one of the nation's premier Halloween events. Each year Universal creates new walkthrough haunted houses based on original concepts and popular movie, television, and video game properties. The lands of Universal Studios Florida transform into themed "scare zones" full of actors, props, and spooky lighting. Unique and original stage shows, fountain shows, and entertainment occur only during the event.
This is not Disney's Not So Scary or Boo Bash. HHN is loud, in-your-face, and intense – it is not for the faint of heart. Universal says the event is not for those under the age of 13; we suggest using parental discretion up to age 18.
A Brief History
Universal has been synonymous with horror ever since Lon Chaney transformed into Quasimodo for The Hunchback of Notre Dame. For decades the classic Universal horror films such as Phantom of the Opera, Dracula, Frankenstein, The Mummy, and The Invisible Man haunted cinemas (including some real stinkers, like This Island Earth). Legends in horror such as Lon Chaney, Boris Karloff, Bela Lugosi, and more honed their skills while working on Universal's movies. 
After a rocky first year, Universal Studios Florida created an event in the fall of 1991 to attract locals. "Fright Nights" was born, a 3-day after-hours Halloween party with live entertainment and one haunted house. The following year the event returned under its current name, Halloween Horror Nights, and ever since the event hosted its share of slashers, monsters, mutants, and freaks. 
Over 30 years the event has spawned its own mythology, represented classic horror movies, and brought to life their own original concepts. But one icon remains heads and shoulders above the rest…
Who is Jack the Clown?
For several years HHN used The Cryptkeeper as the event's spokesperson who would appear in advertisements, on merchandise, and in the event itself. This spokesperson (spooksperson?) would be referred to the event's icon, a single figure that would represent that year's event.
In 2000 Universal Orlando set out to make its own icon character. After doing research finding people are scared of clowns they created Jack the Clown, a beyond terrifying clown with a creepy grin and a maniacal laugh. Universal even created an elaborate backstory for Jack to introduce him to the public:
Jack Schmidt started as a stage act for Dr. Oddfellow's Carnival of Thrills. Upon discovery of his murderous tendencies, he was tried and executed for his crimes, only for Oddfellow to use Jack's corpse as a prop in his House of Horrors. Universal Orlando then bought the remains of Oddfellow's House of Horrors for their own event, where they accidentally unleashed a supernatural Jack to wreak havoc during the event. 
Since his introduction, Jack the Clown evolved into the ringmaster and rock star of the event, and for HHN30 he returns in all three incarnations.
Are There Other Icons?
Universal created several other icons featured throughout the years after the success of Jack the Clown:
Jack and these icons are rumored to be featured in a new haunted house for HHN30.
What is with Carey, Ohio?
A running easter egg throughout Halloween Horror Nights, Carey, Ohio is a real-life city that one of HHN's creative designers grew up in. Similar to a Hidden Mickey, Carey, Ohio (fictional) is picked as the location for many HHN stories and houses to create a tied-in running universe of stories.
The tradition continues as 20 years of Carey, Ohio stories are retold in a rumored new haunted house at HHN30.
What is the "Legendary Truth" I keep hearing about?
For the 2008 event, Universal created the Legendary Truth organization whose members were responsible for investigating paranormal locations and items. Their first investigation was into 2008's icon, Bloody Mary. In subsequent years the collective investigated haunted houses and even items acquired by Universal Orlando's entertainment team.
The Legendary Truth is rumored to return this year in a brand new haunted house, exploring a new legend.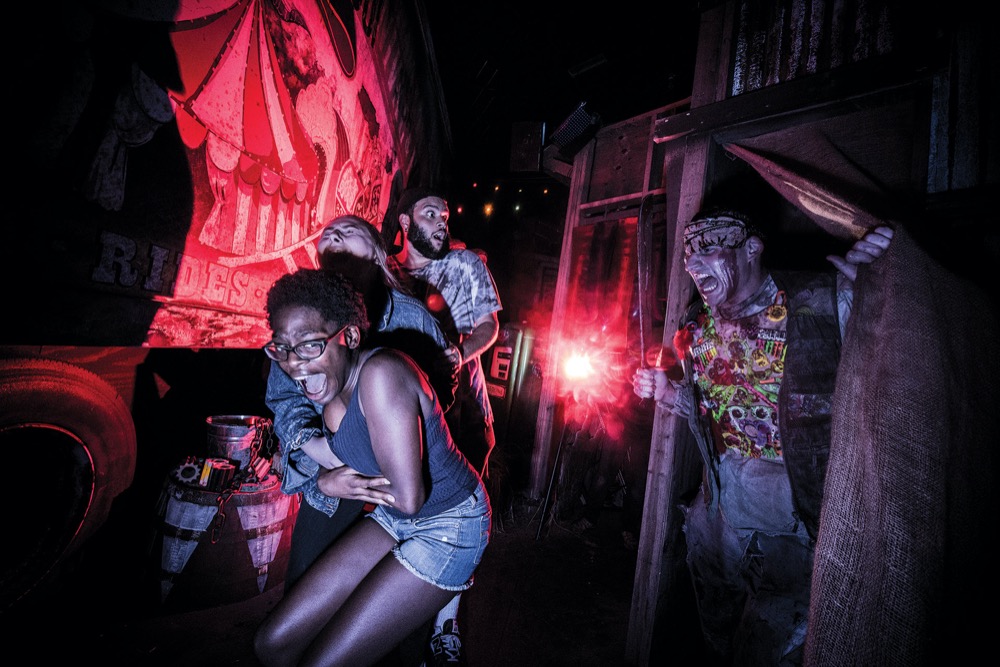 So How SCARY Is HHN?
It depends.
Fans of Disney's offerings, such as Mickey's Not So Scary Halloween Party and Disney's After Hours Boo Bash, will find Halloween Horror Nights terrifying and loud. The event is a non-stop blast of loud music, startling sounds, gruesome imagery, and actors tasked with scaring the pants off you. Universal advises the event is not for anyone under 13, we go further and suggest parental discretion is advised for anyone under 18.
If you have attended local haunts, such as Netherworld in Atlanta, you might find HHN tamer and more in line with an adults-only Halloween party. Other haunted events use more complicated scares, startling scenes Universal would not use, and sometimes even allow scare actors to touch guests. What you get at Universal will be grand, elaborate movie-style sets with scare actors with more limited engagement.
We suggest watching a walk-through of a haunted house first on YouTube to get an idea of the intensity level.
Can I Do Everything in One Night Without Express Pass?
Yes, it is possible. Here are our tips to do the most with your time during the event:
Choose a day with low crowds, such as weekdays. If the single-day ticket price is low expect low crowds.
Get a one-up on crowds with Stay and Scream, a way to start seeing houses before the front gates open. Be inside the park prior to close and enter a special holding area located in New York, Hollywood, or Springfield. At 30-45 minutes before opening Team Members will allow guests into select houses. It is possible to see half the haunted houses within the first hour the event is open.
Attend the very first or very last shows of the day as those are the least crowded.
Stay to the event close; haunted house lines clear out in the last half hour of the event. Note, Universal will post exaggerated wait times to dissuade guests from getting into line.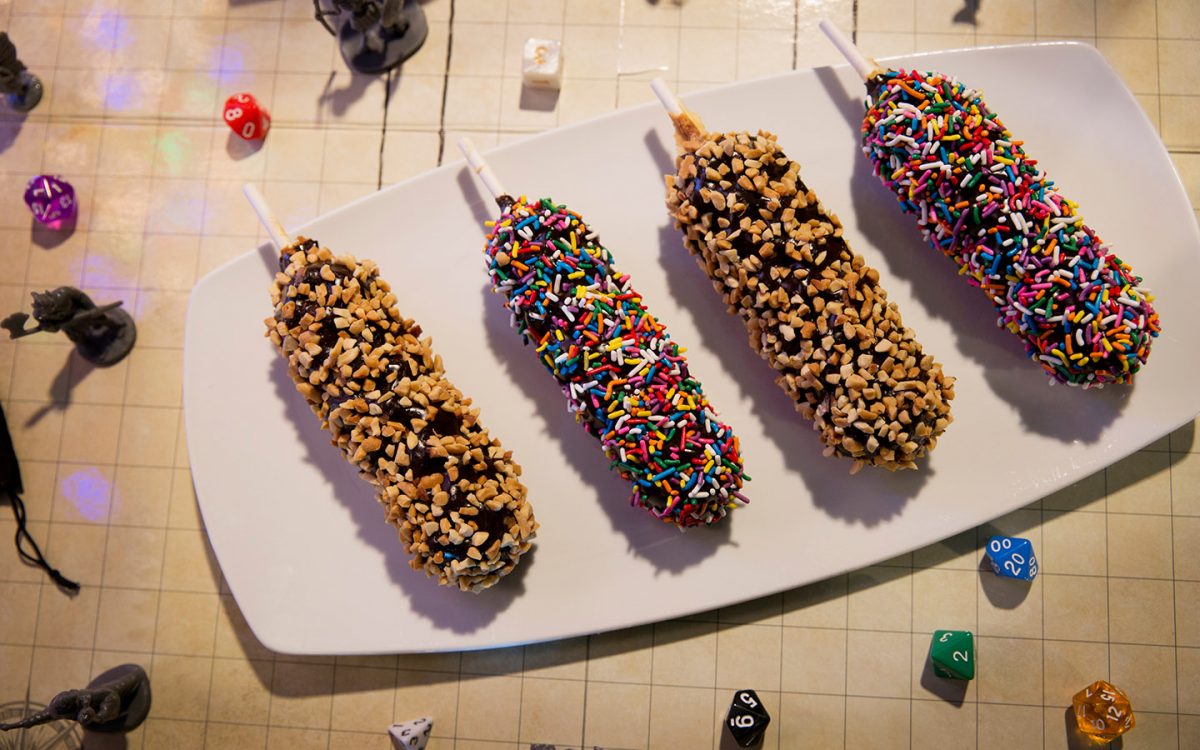 Is Food and Alcohol Available?
Oh boy, yes there is, and in abundance. In addition to existing restaurants being open, the event also opens a dozen unique food stands serving unique items just for the event. Some popular items include Pizza Frizes (think poutine, but pizza), twisted taters (a spiral cut potato on a stick dusted with one of several seasonings), elaborate desserts, and sinful fried foods.
Alcohol is readily available in the event from existing locations, new temporary bars, and alcohol stands in queues. Hard liquor can be found in Finnegan's Bar & Grill, Cafe Labamba to-go window, and the outside Lombards bar. Beer, cider, pre-mixed drinks, and wine are offered at all locations. We suggest avoiding the pre-mixed drinks and sticking to the beer or cider.

Have questions about Halloween Horror Nights? Leave them in the comments below.