Jedi Training: Trials of the Temple Alternative
The introduction of Batuu radically changed and enhanced all of the ways that Star Wars fans can celebrate their fandom in Hollywood Studios. But not everything changed for the better. Most specifically, one of the most beloved (free!) experiences in the park is gone. In Jedi Training: Trials of the Temple, young padawans could train with a Jedi to join the fight against the Dark Side, but this experience disappeared with the pandemic and never came back.
On our recent family vacation, I decided to try to recreate the magic of that show that my kids never got to experience. We made our own inexpensive lightsabers at Hollywood Studios (see: Save Money: Build Your Own Lightsaber at Tatooine Traders). And then we got the most excellent personalized and memorable Jedi Training back at our resort!
The History of Jedi Training at Disney World
Before the pandemic, Jedi Training in Hollywood Studios was a huge draw. People would rope-drop sign-ups for this activity + show, just to guarantee that their child got to duel Darth Vader (or Kylo or Maul or whoever was the baddie of the day). The one complaint I've seen more than any other post-pandemic is how this offering never came back. For families with kids spanning multiple ages, it felt like a rite of passage that got taken away from younger siblings. I'm personally surprised that it was never even replaced with a paid version of what used to be the free experience. The stage still just sits empty and sad in the middle of the bustling park.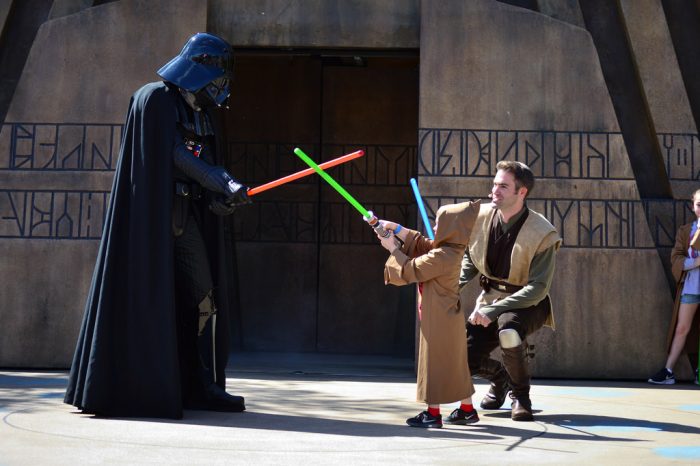 Finding An Alternative Jedi Training Option
Last year when I was on the hunt for a special makeover/haircut option when I couldn't get an opening day appointment at Harmony Barber Shop, I discovered the Ear For Each Other group on Facebook, and discovered our fairy godmother (which I wrote about here). Ever since then, the one offering that is posted about and praised in that group more than any other is Jedi training with Justin Aldridge. Justin was one of the trainers for the Trials of the Temple in Hollywood Studios before it was taken away, and now he offers the same training to small groups and families around the Orlando area.
I decided that with so much sadness about the lack of training in Hollywood Studios, and so much effusive praise about Justin and his program, I had to try it out and write about the experience. I messaged Justin on Facebook about 3 months before our trip and asked if he had availability during the rest day of our most recent vacation. Since I hadn't yet made dining reservations, I had very little information about potential timing or even location. All of that was just fine – Justin was flexible and easy to work with as first I nailed down timing (11 am) and then switched up location on him just 3 days before our trip because I switched resorts.
Our Personalized Jedi Training Experience
You don't have to provide your own lightsabers for Justin's training – he can bring plenty for your whole party. But since we had just made our lightsabers the day before, we opted to use those. Justin even provided some crucial information before we traveled. Apparently the yellow lightsaber blades are much more prone to cracking and breaking than any other color. Our little kid originally wanted a yellow saber, but after talking to her about it … she converted to the dark side and went red instead. This is fine.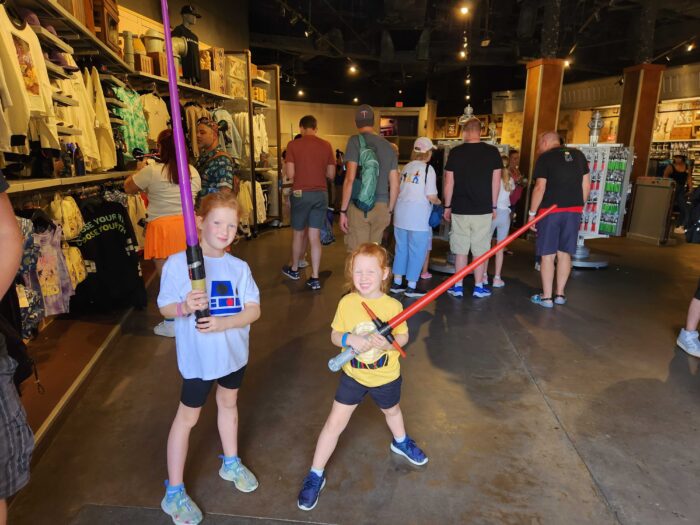 What I really appreciated about the training is that Justin grounds it all in some really important principles. He explains what the colors of the Lightsabers mean. He talks about what the Force is and how anyone can use it. He emphasizes the importance of keeping the peace and only fighting as a last resort. And he regularly refers back to having control, and practicing any skill that you want to hone – including wielding a lightsaber. As a mom of two young kids who now have some heavy plastic sticks that they can swing at each other, this warmed my heart. It wasn't just fight-training. It was a whole lot more.
There is duel training, though. All taught in a very safe and repeatable way. First, participants learn how to defend themselves in the five main zones – head, both shoulders, and both legs. Only once they have mastered those moves (and a cool duck to avoid a high shot) do they get to move on to being on offense instead. During offensive training, they learn how to target those same five zones. This way, there is a controlled duel with both participants being able to anticipate where to defend and hit.
Once those 5 zones are covered and practiced, you add the most basic footwork. Step backward while defending, and forward with each offensive strike. Everyone practices this with Justin first, but can then start dueling one another in a controlled and predictable way.
You also get to learn about force pushes and throws, and how to finish a fight – one spectacular fight finish is pictured below. You'll even practice disarming a lightsaber-wielding opponent with an expert twirl of your own weapon.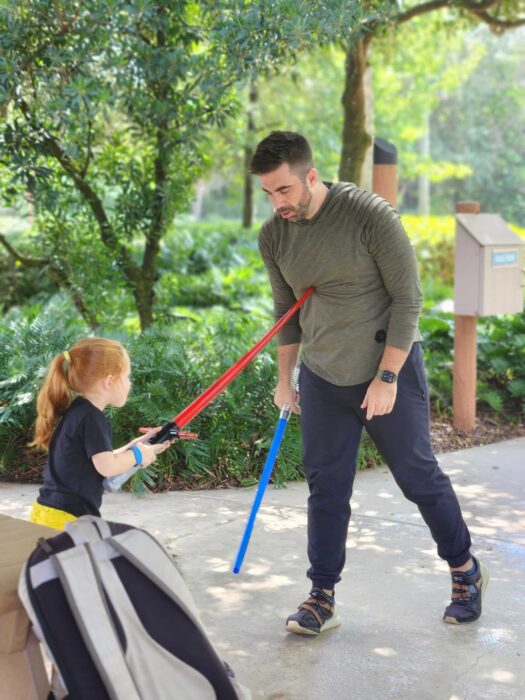 Finally, and most importantly, you'll learn how to pose with your lightsaber and while using the Force, so that you can take awesome pictures without blocking your own face!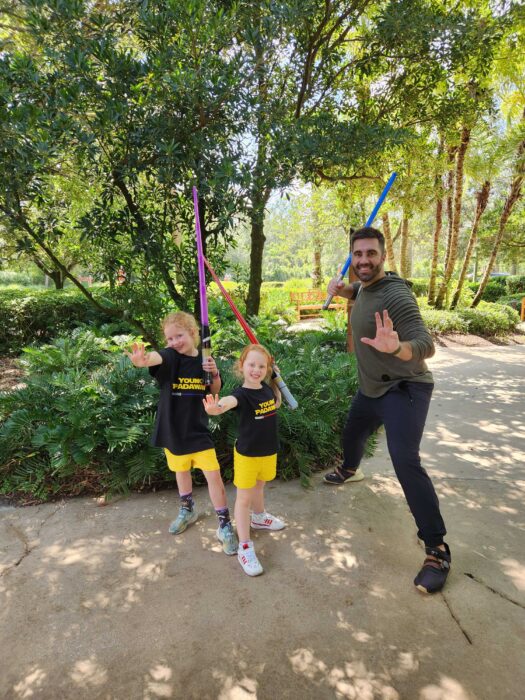 Justin's session lasts for a minimum of 30 minutes, but he'll gladly stick around longer to get into more "advanced" training, or to answer any questions you have about the parks, the Force, his adorable kids … it's all fair game 🙂
Our Verdict
Now let's talk about pricing. To be clear – Justin can and may change his pricing at any time and for any reason. At the time that I published this article, his base rate was $75 for the session for one participant, and $25 for each additional participant. That includes trainees – spectators don't have to pay. So for our two girls, and what ended up being about a 45-minute session, we paid $100. Disney vacations are expensive, but this was such a stand-out experience that I thought it was well worth the money!
Do you miss Jedi Training at Hollywood Studios? Would you consider doing an alternative like this? Let us know in the comments!