Halloween Horror Nights Orlando 2023 Impressions
Halloween Horror Nights 2023 is finally here! After months of speculation, hype, and construction the event is now here. But which haunted houses, scare zones, and other attractions are worth your time and money? This article covers the Must Sees attractions of HHN 2023 along with our terrifying touring tips.
We rate each haunted house, scare zone, and other major attractions on a 5-star scale:
★★★★★ Exceptional, large in scope, executes the vision with precision, and the house flows well
★★★★ Very Good, smaller in scope or some small issues compared to five stars
★★★ Good, a house or scare with memorable moments but lacking
★★ Fine, an attraction with major issues
★ Poor, do not visit
Haunted houses are denoted by HH, scare zones with SZ, and Other Attractions with an O.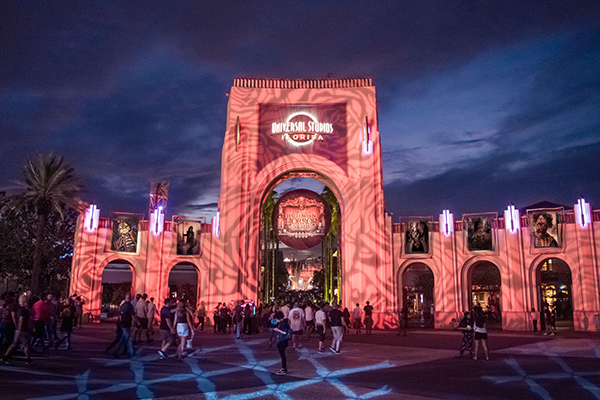 Background
Halloween Horror Nights is a separate ticketed event at Universal Studios Florida featuring ten walkthrough attractions called haunted houses based on popular characters and new concepts, five decorated areas in the parks called scare zones, one show, and several roaming entertainment groups. Universal keeps several of the most popular attractions in the park open for the event and there is a lot of food and drinks to try out.
For more information read our in-depth guides on planning, touring, and food/merchandise.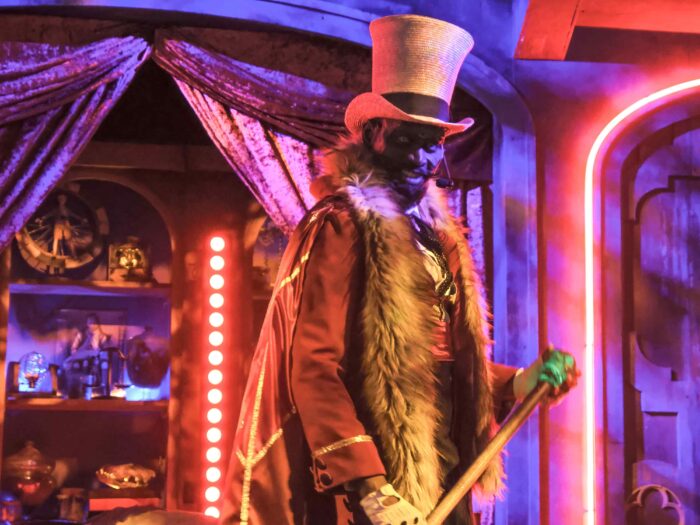 Must See Attractions
These haunted houses, scare zones, shows, and more we consider not to be missed. They are the pinnacle attractions of this year's event and represent the best of what Halloween Horror Nights can offer.
Universal Monsters Unmasked (HH ★★★★ 1/2) brings back the Universal Monsters franchise for its fourth consecutive year to HHN. This year's house takes us to Paris where on a murderous night where the Phanom of the Opera, The Invisible Man, Dr. Jekyll & Mr. Hyde, and The Hunchback of Notre Dame are all on the attack. The scare actors in this house bring their all with great performances and the amazing set design allows them to set up unique scares, including a bungee-cord scare with Quasimodo. One of the best houses this year.
The Darkest Deal (HH ★★★★ 1/2) is my personal favorite house of the year. Based on the folk tale of Robert Johnson selling his soul to the devil for fame, but in this haunted house Pinestraw Spruce (you can't make this up) sells his soul to the non-denominational The Collector for blues fame and fortune. As we follow Pinestraw's career we see him sell his soul, start out small, and eventually top out at fame all before The Collector gets his due. This house features a great set design, wonderful special effects, and some serious scares. We are still trying to figure out how they do the signature effect in the first scene.
Yeti Campground Kills (HH ★★★★) is this year's dark comedy house which balances gore, scares, and humor perfectly. Set in a 1950s National Park campground, Little Billy seems to have killed a baby Yeti and the adults are not happy – the vibes are off big time. Yetis are attacking everywhere, from the ranger's station to the outhouses and everything in between. The house features lots of funny and fun scares plus some of the best sets this year – we're particularly fond of the hanging sleeping bags and the fake lake.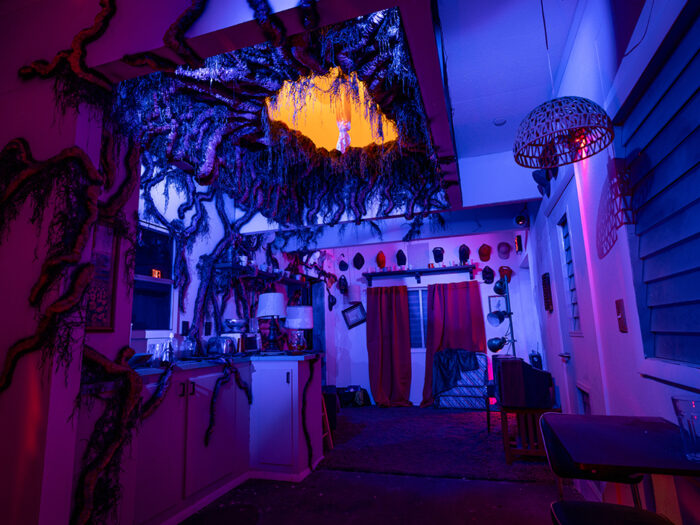 Stranger Things 4 (HH ★★★ 1/2) returns after a four-year hiatus with a haunted house based on the fourth season of the hit Netflix series. Iconic moments from the season are in the house including Chrissy's possession and death in Eddy Munson's trailer, the Upside Down Creel house, and even the final rocking showdown with Dustin and Eddy. Stranger Things 4 surpasses the season 2 and 3 split house from 2019 but doesn't quite hit the same scare levels as the first house in 2018. The Vecna prosthetics are fantastic and lots of memorable scenes are recreated. But we do knock on the house for missing some obvious scene omissions (no spoilers) and holding back on some of the scares.
Halloween Nightmare Fuel – Revenge Dream (O ★★★★★) show returns with a new storyline, aerial acts, and visual illusions. Oh and LOTS of fire. The demons and desires of our Halloween nightmares return, but this year our Dreamer is fighting back. Fans of last year's show will be happy to see the Fuel Girls' over-the-top pyrotechnics return while doubling down on the acrobatic acts. New visual illusions and a fun subversion of an iconic illusion round out the show nicely. Easily one of the best theme park shows in the world, if you can take the heat of the fire and leather-clad dancers see this show.
Revenge of the Dead Coconut Club (O ★★★★) takes last year's Dead Coconut Club bar and turns it up a notch with new cocktails and more entertainment. This year's Dead Coconut is celebrating the release of the latest film from Monstergram Pictures, Target Planet Coconut, and we are invited. The first floor features two bars with monster theming and the second floor is home to a bar and a small theater space for the movie premiere. Live singers perform nightly between 4:00 p.m. and 8:00 p.m. and a DJ takes over at 9:00 p.m. This is a perfect spot to escape the madness of the event, take a break, and grab some libations. Open 4:00 p.m. to 1:00 a.m. on event nights.
Tribute Store (O ★★★★) celebrates all things Halloween with clothing, accessories, souvenirs, housewares, snacks, and more in a highly themed store. The comic book store facade makes way for rooms themed to horror comics come to life. (Blog: SATURDAY SIX Looks at HHN 32: Inside this year's TRIBUTE STORE). Open daily during Universal Studios Florida and Halloween Horror Nights hours.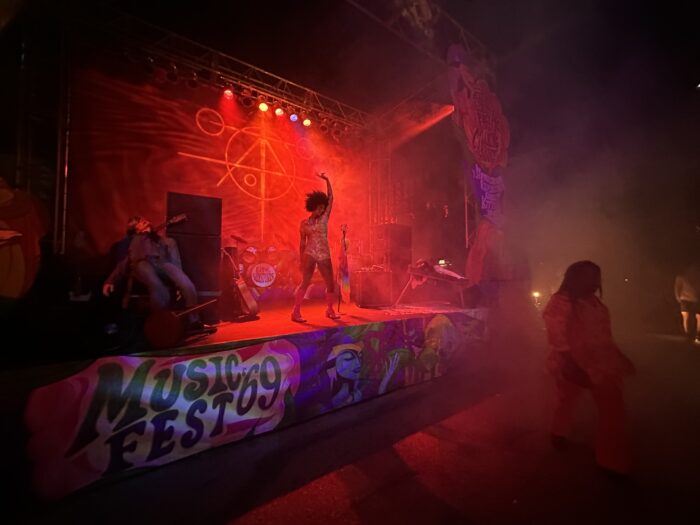 Thumbs Up
These attractions and offerings are well worth your time to visit and experience, but might not rise to the level of a house mentioned during water cooler talk. We recommend these experiences:
Blood Moon (HH ★★★★) is this year's gory house – the big town square scene features a maypole with children holding intestines as the rope. Yup, this is Parish Town where a bloodthirsty cult is looking to sacrifice the folks of this colonial town to satiate their gods. Lots of blood, gore, and people's faces turned into cornucopias. It's scary and gory, with lots of startling scares. We are particularly fond of this house's story, you can understand what's happening as we move through houses to the stores one step behind this cult. The layout even replicates a town as we make our way through stores around the central town square.
The Exorcist Believer (HH ★★★★) is a walkthrough of the trailer for the new Exorcist Believer movie coming out in October. What do you do with a sequel to The Exorcist? Why, have TWO possessed girls! Guests are looking for two missing girls who eventually show up possessed all before we too get dragged into the darkness. The house makes no sense, the movie is not out, but that's okay because the mood and scary actors will absolutely traumatize you. Lots of cool effects and amazing scares despite its major flaws.
Dueling Dragons (HH ★★★ 1/2) should sound familiar to anyone who visited Islands of Adventure between 1999 and 2010 as this house is based on the original IOA coaster's queue. The Wizard Merlin has been transformed into a giant tree and it is up to us to reverse the spell. It will not be easy because a dueling set of waring wizards wish to take the power to free Merlin and use it for their own evil deeds. Dueling Dragons is a very visually appealing house with lots of medieval theming, but it is not scary.
Dr. Oddfellow Twisted Origins (HH ★★★★) takes guests into Dr. Oddfellow's dark carnival. The tent housing this house is brilliantly lit in yellow and red stripes that beckon guests in. Once you make your way through the outdoor arches inside is a coulrophobia nightmare of zodiac symbols, clowns, and circus animal experiments. The house is fun and earns its four-star rating, but we think a lot of Oddfellow's background can be picked up in his scare zones.
The Last of Us (HH ★★★ 1/2) features the story from the hit video game and HBO series. Don't expect to see Pedro Pascale fill-ins here, this house is based on the video game plot points and character designs. Guests travel with Joel and Ellie as they bust into Pittsburgh (Kansas City in the TV show), past clickers, spores, and bloaters before making their escape. The house accurately captures the look and feel of the game but without the emotional connection between Joel and Ellie that drives the narrative. We were expecting a little more from this house.
Jungle of Doom: Expedition Horror (SZ ★★★) the first scare zone we recommend seeing is located in Central Park, Jungle of Doom. Set to Oddfellow's search for mysterious artifacts to harness his power. Of course, harnessing it also means unleashing spore monsters and sinister creatures. The foliage, fog, and monster design make it a feast for the eyes, when you can see.
Vamp 69 Summer of Blood (SZ ★★★) takes Woodstock and makes it bloody. Vampires are on the loose as our friendly hippies turn violent and bloodthirsty. Located in the New York area of the park, Vamp 69 spans a huge section of the park and features dozens of scare actors in tie-dye. The simple spectacle of this scare zone makes it noteworthy and easy to suggest.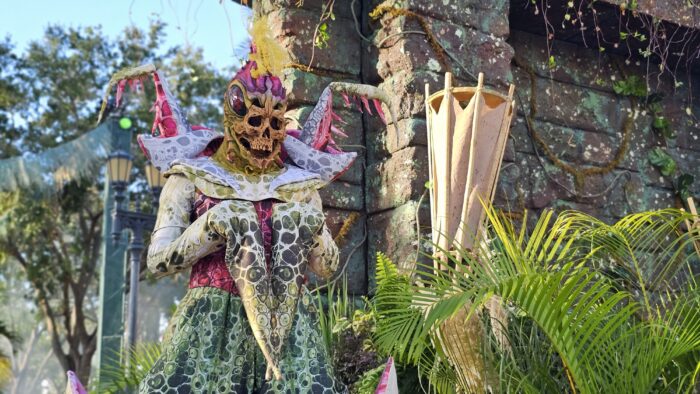 The Rest
The remaining attractions at Halloween Horror Nights 32. If one sticks out to you try it.
Dr. Oddfellow's Collection of Horrors (HH ★★ 1/2) – The scare zone at the front of the park focuses on guests taking selfies with scare actors, including a live mic'd actor portraying Dr. Oddfellow.
Dark Zodiac (SZ ★★★) – Located in Hollywood, this scare zone has low lighting and lots of fog. Demon creatures representing the zodiac scare guests and they also really like chainsaws.
Shipyard 32 Horrors Unhinged (SZ ★★★) – Oddfellow let his monsters out of the box, literally, in this shipyard. Fans will recognize some of the monsters from prior years' houses and scare zones.
Chucky Ultimate Kill Count (HH ★★) – The murderous doll takes over his own haunted house and "actually" murders people. Lots of static figures, dolls, and screens.
Peacock Bar (O ★★) – Formerly the secret bar located lagoon-side behind Lombard's, the Peacock Bar is a branded extension of the event. The specialty cocktail drinks are overall sugary, so we suggest sticking with basic cocktails and beer instead. SNL's very own David S. Pumpkins makes nightly appearances to guests' befuddlement, and a Purge character is out when Mr. Pumpkins is on break.
M3GAN Dancers (O ★★) – Meme horror icons M3GAN is here to dance across from Fast & Furious Supercharged or Mel's Die-In.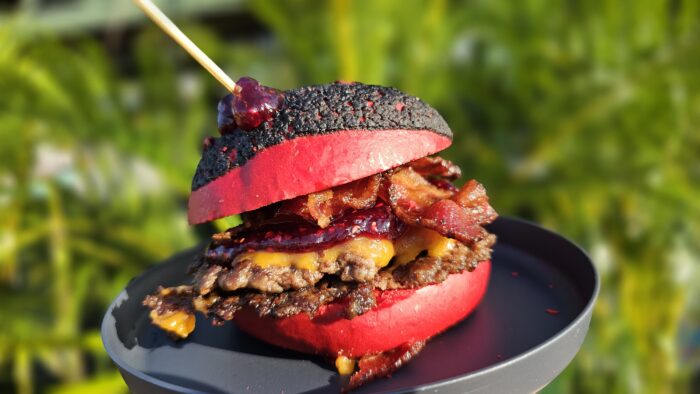 Touring Tips
Purchase your tickets online before the event to save money and time at the gate.
Arrive at least 45 minutes before the event starts or participate in Stay & Scream and stay in the park.
Tour the back of the park houses first.
Leave the park between 9:00 p.m. and 11:00 p.m. for a break while the lines are the longest.
Lines vanish during the last hour of the event, ignore the posted wait times as they are not updated.
Watch the 8:00 p.m. or 12:30 a.m. Halloween Nightmare Fuel Revenge Dream showings.