Jollywood Nights First Night Review
For the first time since the closure of the Osborne Family Spectacle of Dancing Lights (RIP), Disney is offering some holiday counter-programming to Mickey's Very Merry Christmas Party. Jollywood Nights is a separately-ticketed event at Hollywood Studios offered between now and the end of the year. Touring Plans had several reviewers attend the first party of the year and split up to experience as much as possible. Read along for our honest thoughts and recommendations for everything that we did!
Jollywood Nights Logistics
Dates, Times, and Prices
Jollywood Nights is offered from 8:30 pm to 12:30 am on the following nights this year:
November 11th, 18th, 20th, 27th, and 29th
December 4th, 6th, 16th, 18th, and 20th
Even though the party starts at 8:30 pm, you can enter the park (or get your wristband if you're already in the park), starting at 7 pm. This gives you up to 90 more minutes on the day of your party.
Ticket prices for Jollywood Nights range from $159 (all November dates except the 20th) to $169 (all December dates) to $179 (for November 20th only), and Annual Passholders can receive $10 off per ticket. Those prices are for all attendees – adults and children.
Event Check-In
When you arrive for the party, you'll get a wristband when entering the park. If you are already in Hollywood Studios, you can check in and get your wristband at Vacation Fun with Mickey and Minnie. But beware – during the first event night, the line to check in inside the park took about 30 minutes. The check-in at the park entrance averaged under 10 minutes instead!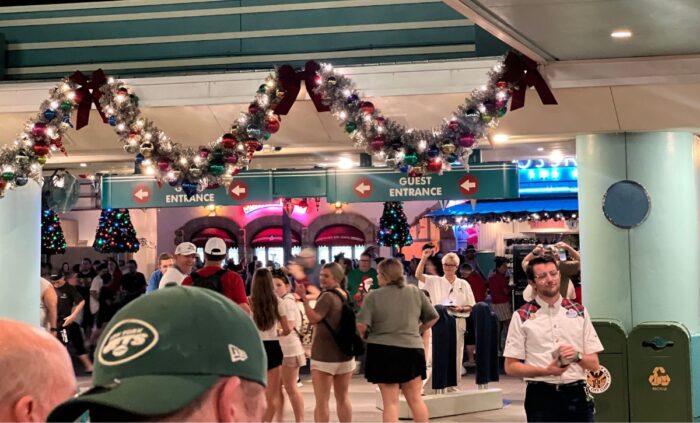 Jollywood Nights Food and Beverage
Event-Specific Food and Drinks
There are dining locations throughout the park selling party-specific food and beverages. Most of these are carts and counter-service. You can get information about all the special offerings in the event's Foodie Guide.
Despite there being so many places for people to spread out and eat, each of these locations had very long lines throughout the night. Ordering and paying was all slow, and mobile order isn't offered.
Unlike many other hard-ticket events at Disney World, there are no free included snacks or beverages. The good news is that prices for food and drinks are reasonable. The bad news is that portions are small, and overall quality was very poor. If you've been to an EPCOT Festival, the prices are similar and the portions are smaller.
Hopefully the long lines and poor quality were a result of a first-night learning curve. Things may smooth out for future parties. But prices and portions aren't likely to change. If you want the best bang for your buck while experiencing some of the party-specific treats, we recommend heading to ABC Commissary for Holiday Fiesta inspired fare, or Fairfax Faire for popovers and other treats. Both of these locations had slightly larger portion sizes and more reliable quality, plus larger menus that mean you could wait in one line and get more food at once.
Twilight Soiree at The Tip-Top Club
The Twilight Soiree at The Tip-Top Club operates in the courtyard at the exit of the Tower of Terror, and can only be accessed via a standby line. Once you're allowed into the courtyard, you can purchase from an exclusive drink menu – but the bar averaged almost a half-hour-long wait for most of the night. The drinks look beautiful on the menu … and are then served in unadorned plastic glasses. The portions are even smaller than we would have expected given the prices.
The music back here is nice, but there are only a few standing tables. You'll generally be attempting to enjoy your hard-earned drinks while standing around with hundreds of your new closest friends.
Jazzy Holidays at The Hollywood Brown Derby
Jazzy Holidays offers several food options along with specialty drinks, and is therefore more popular (and has a smaller capacity) than the Twilight Soiree. As a result, anyone who would like to dine at this location has to use a walk-up waitlist that opens at 8:15 pm. On the first party night, the entire waitlist was full within 9 seconds of being open.
This was the part of the party with the most operational issues. Attendees who were lucky enough to get a spot on the waitlist were all sent a text telling them that they would be called back in 10 minutes, which resulted in a crushing crowd by the entrance to the restaurant. Because the text was an error, parties were then called back throughout the night. When you receive your "we're ready for you" text, you are supposed to arrive at the restaurant as quickly as possible – no waiting for a show to end, no finishing out a line for an attraction. Proceed immediately to the entrance.
Once inside, you'll be presented with a relatively extensive menu of options. Prices here are significantly more expensive than other options throughout the park, with the same small portions and lackluster food quality. This one earns an emphatic "skip" from us. Not worth the waitlist effort, the inconvenience to your other touring for the night, or the price.
Jollywood Nights Entertainment
Holiday Fiesta en la Calle
Just outside of ABC Commissary, there is a live band headlining a "street fair party". This area had a fun feel, but was relatively empty thanks to most attendees being stuck in food and beverage lines throughout the park. We hope that it will really come alive during future party nights.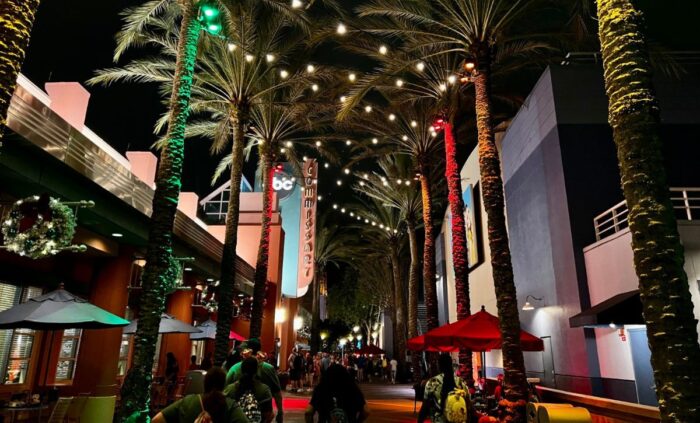 What's This? Sing-Along
At the Hyperion Theater, where the Frozen Sing-Along happens during the day, you can watch or sing along with several songs from Tim Burton's Nightmare Before Christmas at 8:30, 9:30, 10:30, or 11:30 pm.
The entire show takes about 20 minutes, and is "told" by two actors who don't say a word during the entire presentation. It sounds weird, but the performers are incredibly talented and you won't miss any vocal narration. A life-size Jack Skellington makes an impressive appearance, too.
This show gets a hearty recommendation if you're a Nightmare Before Christmas fan.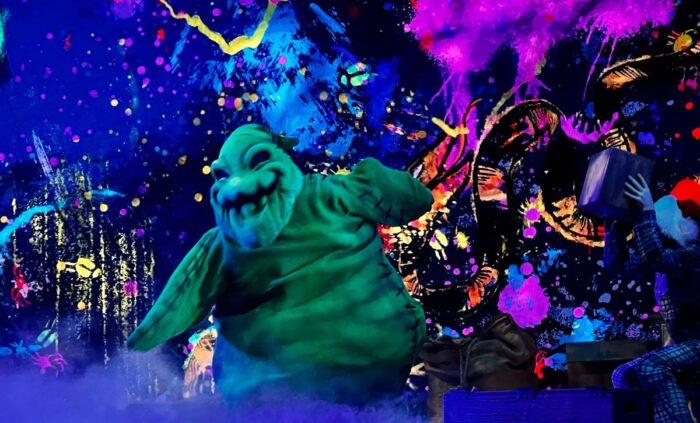 Holidays in Hollywood
At 8:45, 9:45, 10:45 and 11:45 pm you can watch this musical spectacular in the Theater of the Stars, where Beauty and the Beast is performed during the day. This is the show of the party – and given how everything else went on the first night, it may be the highlight of the party overall.
Live singing, music, and dancing all impress during the 30-minute show. Mickey and Minnie do some of the most complicated steps we've ever seen them perform. From the concept (you're viewing a taping of a live Holiday Special) to the quality of the performances, to the combination of glitz and glam and comedy – everything fires on all cylinders.
You should absolutely take the time to see this show at some point during the party.
Jingle Bell, Jingle Bam!
This is Hollywood Studio's seasonal nighttime spectacular, with fireworks, projections, lasers and more. It is intended to cap off your party night at 12:30 am – and it even ran in the pouring rain during the first party.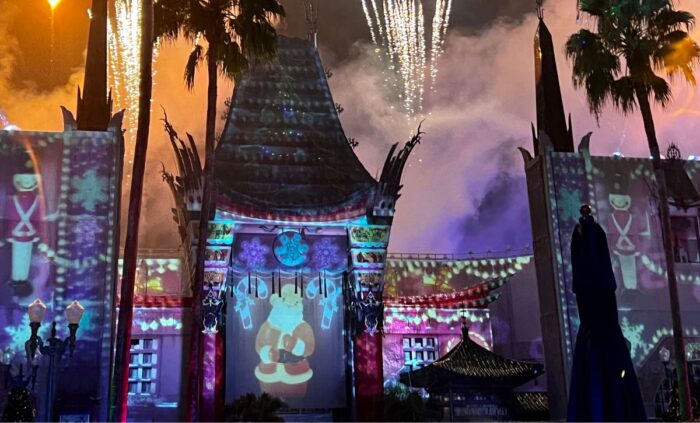 Sunset Seasons Greetings
If you don't want to wait up for Jingle Bam, or you're afraid it won't run at the end of the night, Sunset Seasons Greetings make a good substitute and are much easier to fit into your plan for the night since it runs intermittently throughout the evening (and even before the party). Set up anywhere along Sunset Boulevard, and watch the projections on the Tower of Terror as the snoap floats around you.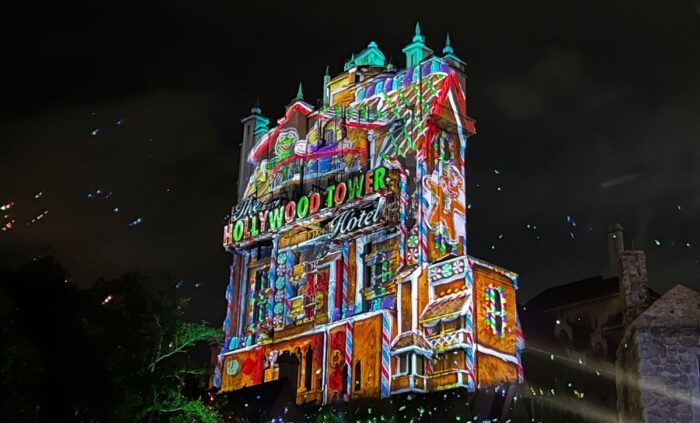 Jollywood Nights Characters
Several characters are available throughout the night for you to meet while dressed in your party best. They all fall into three "tiers" of popularity – which happen to correspond with the locations of the characters. Let's cover them from least popular to most popular.
Pixar Place Characters
Edna Mode and Frozone are both meeting in Pixar Place – which at this point in the evolution of Hollywood Studios is a minor dead-end on your way to Toy Story Land. Pixar Place was a ghost town every time we checked back during the night, with zero people in line to meet the characters there.
Animation Courtyard Characters
If you want to meet any of the "big six" Disney characters in their holiday best, you definitely won't have a walk-up opportunity. Expect up to a 30-minute wait for any of these pairs. Be aware that they switch out which of the pair is meeting throughout the night, so you may get in line for Mickey and end up meeting Minnie (or vice versa). You can try asking a cast member which they expect you to meet by the time you get to the front of the line.
Mickey OR Minnie
Donald OR Daisy
Goofy OR Pluto
Echo Lake Characters
Here is where you have to make some tough decisions about the value of your time and the importance of these characters. During the first party, Phineas and Ferb in particular had a 90-120 minute wait through most of the night. All of these characters are popular and relatively rare (with the exception of Max as Powerline also being featured at Mickey's Not So Scary), so we expect them to command high waits throughout the party season.
Phineas and Ferb
Max as Powerline
Chip and Dale as Rescue Rangers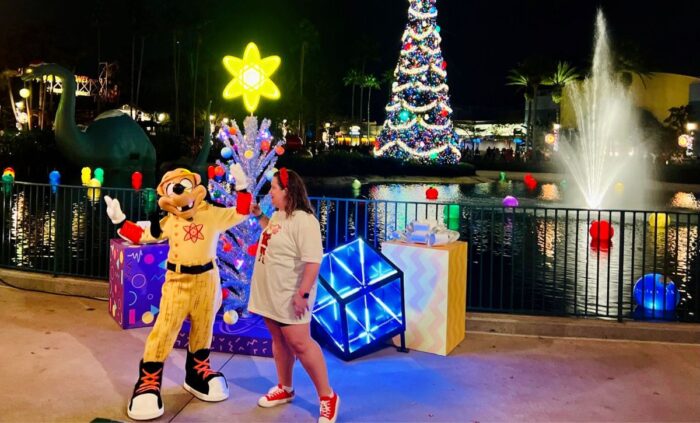 Jollywood Nights Wait Times
Rise of the Resistance is open during Jollywood Nights, but requires you to join a Virtual Queue in order to experience the attraction. Disney generally only runs virtual queues for two reasons – either the standby line will be too long to operate within the normal queue (not the case here), or they expect reliability issues and don't want to guarantee anyone a ride, or have them experience a frustrating dump of the queue after a long wait. Rise was unexpectedly down for basically the entire first party night, so don't count on a ride during the party if that's something that is important to you.
Thankfully, all other attractions that were open had low waits throughout the night. Even before the party officially started, all rides throughout the park had posted wait times under half an hour. And that's before the park closed to day guests, so we suspect that those times were inflated to discourage people from hopping into line. If you want multiple rides on Slinky or other headliners (other than Rise), this may be the way to do it).
One caveat to this information – the first party night of the season is almost always with a disproportionately large percentage of bloggers and influencers who are hoping to get the first pictures with characters or the first reviews of exclusive food and entertainment. And that meant that during the first party, they were all stuck in those incredibly long food lines across the park.
If future parties continue to sell out (which may not happen), we expect wait times to increase as more people avoid food lines and look to take advantage of low waits at headliners.
Touring Plans Recommendations
If the first night is any indicator, checking in for the party at the park entrance is much more efficient than checking in within the park. Even if you are already in Hollywood Studios, we recommend leaving the park to check in.
If you'd like to purchase food and beverages during the event, we recommend doing so at ABC Commissary or Fairfax Faire, where there are plenty of options on the menu and portions are reasonable for the price.
Jazzy Holidays at the Hollywood Brown Derby and Twilight Soiree at the Tip Top Club are both limited-capacity offerings that we don't think are worth the time or effort. Spend your time elsewhere, like at the excellent shows being offered during the party.
Characters won't meet in the rain, so if the forecast is iffy during your party, make time for characters when you can. If the skies are clear, wait until the last hour of the party to hop in line for characters you must see. That's when the lines will be more manageable.
This one is more of a wish list item than a recommendation, but we think food and beverage lines would go much quicker if Disney would offer a sort of tabbed card that could be redeemed for something like 4 food dishes and 2 beverages. Since portions are small, party guests will likely purchase multiple items, and ordering is incredibly slow. A multi-dish pass with quick redemption after purchase is a win-win for everyone.
Are you planning on attending Jollywood Nights this year? Let us know what you're looking forward to in the comments!