Brand-New Disney World Christmas Party: Jollywood Nights at Hollywood Studios!
Get ready to get your holiday on at Disney World this Christmas season. In addition to dates and details for Mickey's Very Merry Christmas Party, Disney has announced a brand-new hard-ticket event at Disney's Hollywood Studios! Read on for everything we know so far about Disney Jollywood Nights, held select evenings from November 11-December 20, 2023.
What Is the Jollywood Nights Party?
Disney Jollywood Nights Party is a "hard-ticket" even that will be held at Disney's Hollywood Studios a few nights a week. The party will be held from 8:30 a.m. to 12:30 a.m., and party guests can enter as early as 7 p.m. without needing to use a day of regular admission. During the party, guests will have the opportunity to enjoy special entertainment, food, and decor.
How is Jollywood Nights Different From Mickey's Very Merry Christmas Party?
Obviously we'll have a more informed take on this once someone has actually been to Jollywood Nights. However, we can speculate based on descriptions of the entertainment and Disney's art-deco vibe artwork.
If MVMCP is a family-friendly Christmas party thrown by your town's events and activities committee, then I'd say Jollywood Nights is aiming to be your adults-only company Christmas party at a swanky hotel where you can dance the night away. Of course, children will be able to attend Jollywood Nights, and it's still Disney so it's all-ages entertainment. But where Very Merry is traditional holiday cheer, Jollywood Nights appears to take aim at the swank and glam you'd expect to find in Tinseltown.
Jollywood Nights Dates, Ticket Prices, and Times
Jollywood Nights tickets will go on sale June 29 to guests of Disney World resort hotels, Disney World Swan, Dolphin, and Swan Reserve, as well as Shades of Green. Ticket sales to the general public begin on July 6.
If the holiday vibe at Disney World is making you want to put on your party shoes, our Destination Specialists can book your trip in time to take advantage of early purchasing. If you already booked with us agents can purchase your party tickets too. To buy tickets yourself, book online or call 407-939-4240. During the early access period, make sure you're logged in and your resort reservation has been linked to your My Disney Experience account in order to make sure you'll be able to get tickets.
Jollywood Nights Dates
Jollywood Nights will be held on 10 separate nights over the holiday season this year, beginning on November 11 and running through December 20, 2023.
November: 11,18, 20, 27, 29
December: 4, 6,16,18, 20
Jollywood Nights Prices
Jollywood Nights ticket prices will range from $159 to $179 per person. Annual Pass and Disney Vacation Club members are offered a $10 discount on all event nights. We'll have the full list of dates and prices as soon as Disney makes it available.
Event Times
Jollywood Nights starts at 8:30 p.m. and ends at 12:30 a.m.; during the mix-in period which begins at 7 p.m. guests can enter the park on their party ticket without needing to use regular admission.
Jollywood Nights Entertainment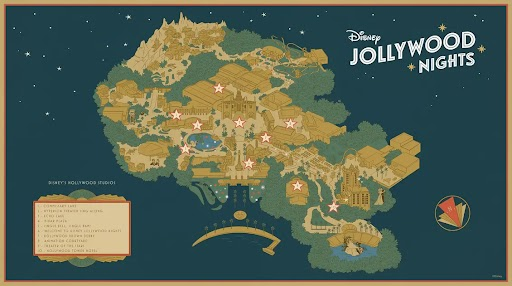 Special Events
As with everything else you'll see below, Disney is teasing more announcements yet to come. But here's the rundown on what's already been announced.
As you might expect, a DJ (or perhaps more than one) will keep the festive air going throughout the park with a mix of holiday tunes.
Commissary Lane will play host to a Latin Street Fair
Kermit the Frog & Miss Piggy join their Disney friends at the Theater of the Stars for a holiday special show
The Hyperion Theater will host a "spirited sing-along"
Jingle Bell, Jingle BAM! returns with music, fireworks, special effects and projects on the Chinese Theater to close out the night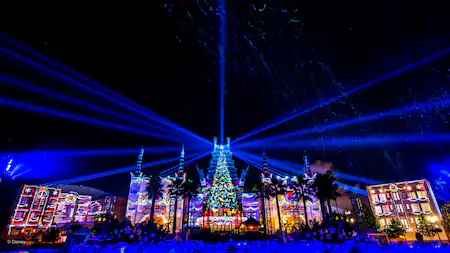 There are also two additional limited capacity experiences (it's not clear whether or not these will be upcharges on top of your party ticket): a jazz lounge at The Hollywood Brown Derby, and a soiree in the Hollywood Tower Hotel Courtyard.
Party Food
Swanky parties need swanky food, and Disney is promising highlights such as Spicy Korean Chicken on a Mini Funnel Cake, a Christmas Tree Cookie Stack, and classic cocktails and holiday beverages. Food and beverage is not included in party admission.
Access to Attractions
Shorter lines are a hallmark of hard-ticket events, and this one is no different. The full lineup of event attractions hasn't been released, but Disney has announced that Star Wars: Rise of the Resistance will be using a Virtual Queue. "Favorite rides and coasters" have also been promised.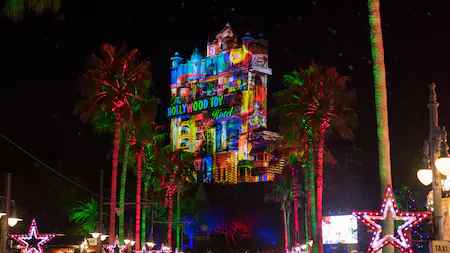 Character Meets
Character Meets will be part of the fun, and characters are usually decked out in party-appropriate attire. Mickey, Minnie, and the rest of the gang will meet in Animation Courtyard. The full roster hasn't been announced, but others already listed include Powerline Max, Phineas & Ferb, and Edna Mode.
PhotoPass Opportunities
Complimentary digital downloads of PhotoPass photos from the event are included with your party ticket. You can capture your memories throughout the park, with holiday-themed Magic Shots and two new PhotoPass experiences.
Are you looking forward to the new Jollywood Nights Party? Let us know in the comments!