Menu Monday: Best Counter Service Restaurants in Magic Kingdom
Picking your favorite Walt Disney World counter/quick service restaurant is like picking your favorite child, sure on some days you may like one more than the other (come on, we've all been there!), but overall, you just can't choose a favorite! Dining in Walt Disney World has become a favorite past time among repeat guests. And now, more often than not, first time guests have their own "bucket list" of restaurants to eat at or snack to try. With this increase in demand and expectation, Disney has responded by adding more restaurants and expanding the menus of their current restaurants. These adjustments also come with price increases. As Mr. Gold/Rumpelstiltskin from ABC's Once Upon A Time always reminds us, "all magic comes with a price" even Disney's pixie-dusted munchies. But fear not intrepid traveler and foodie, you can indulge your taste buds and save your budget with the counter/quick service restaurants available at every Disney Park and resort. But with literally, over a hundred to choose from (seriously, 102 – I counted!), I'm here to help you select the best of the best, park by park and even among the resorts. This article will focus on the counter service options of the Magic Kingdom. The focus will be on restaurants that offer a full meal option. Though there are many additional locations I could have included in this list, I narrowed it down to exclude those counter locations that really only sell snacks. After watching hours of Master Chef and Chopped, I've devised a ranking system that will incorporate four criteria into the ultimate calculation for the best counter service meals.  The criteria are:
Best value (portion/cost ratio) = 10 points
Flavor = 10 points
Originality = 5 points
Atmosphere = 5 points
Grand total = 30 possible points
Be Our Guest – New Fantasyland
This latest addition to the Magic Kingdom dining line-up has everyone crazed to make dinner reservations or snag the elusive lunch FastPass+ option. The menu is a bit pricier than other counter service option, and it's only available as a counter service during the lunch hours (10:30am to 2:30pm). Starting at 4pm, Be Our Guest is considered a Table Service restaurant where prices increase and the menu changes a bit.
Value = 7/10 Be Our Guest lost some value points for two main reason. First is that the prices are a bit higher than other counter service locations around the park. It could be argued that guests pay a premium for the exclusivity of the restaurant and the fine details in the decoration, but strictly looking at the price paid for the meal received, it's just a bit on the steep end. The second reason it lost some points is that those the portions are a decent size, they're not likely of a "sharable" quantity.
Flavor = 8/10 Be Our Guest gets close to top marks for quality of food and overall flavor. There were some consistency issues when the restaurant first opened (which can be expected), but those issues have been mostly leveled out. Overall, the menu items are flavorful, well-seasoned, and a great accuracy regarding what guests expect vs. what they're served.
Originality = 5/5 They top out the category when it comes to originality and variety. There truly is a menu item for everyone in your travel party here. Be Our Guest can satisfy the health-conscience vegetarian and comfort-food-seeking, meat-and-potatoes guests in your party. Special kudos on the dessert options, creative, flavorful, and unique to this special dining experience – be sure to save room for dessert.
Atmosphere = 5/5 One of the big draws to eating at Be Our Guest is to have the unique experience to dine in the Beast's Castle. With three incredibly themed dining rooms, there is always something new to notice and appreciate. Though the noise level in the main ballroom can get a bit loud, it still tops the charts as far as ambiance.
Grand Total = 25/30 Overall Be Our Guest offers quality food and an amazing dining experience. It may cost you a bit more to dine here than other Magic Kingdom counter service options, but the pros out-weigh the cons in this situation.
Casey's Corner – Main Street, U.S.A.
A classic retreat among fans of America's past time and those in search of a one-of-kind hot dog, Casey's Corner is a counter service location serving lunch and dinner and opening usually around 11am.
Value = 6.5/10 As far as hot dogs go, Casey's Corner does allow for a fun twist on an American classic. However, these are pretty standard sized hot dogs. Perhaps one could be shared as a snack, but if you have a hungry crowd famished from a rope-drop Touring Plan, then Casey's Corner may leave a few tummies still rumbling. Grab a couple of hot dogs and share an order of nachos though, and you'll be a happy camper.
Flavor = 6/10 Unfortunately, Casey swings and misses quite a bit when it comes to consistent quality. Some visits are delectable, some results in lukewarm hot dogs and lumpy "plastic" cheese. When they're on their game, it delicious! But when they're not, it's a complete strike-out.
Originality = 2.5/5 If you go to Casey's you better be looking for a hot dog or some nachos, because that's all they've got. They do get kudos for introducing some gourmet twists to the iconic American meal. The Barbecue Slaw Dog offers a tasty and fun option. And you really can't beat the scrumptious corn dog nuggets. Those are perfect pre-parade treat.
Atmosphere = 3/5 With the recent Hub construction, the atmosphere has been depleted with the erection of large green construction walls blocking the view of Cinderella Castle. This is still a great location if you can swipe an outdoor table along the parade viewing route or close to Jim as he tickles the ivories playing fun Disney songs while you munch.
Grand Total = 18/30 Casey's Corner has its niche audience. It's a great location to rest tired feet if you can get a seat by Jim the piano player and enjoy some corn dog nuggets or a cold soda to recharge. If you're not a hot dog fan, though, there are plenty of other great dining options.
Columbia Harbour House – Liberty Square
Columbia Harbour House specializes in seafood, but serves a few other options, as well. The menu is actually fairly diverse compared to what you'd expect to find in a theme park restaurant. Perched on the corner of Fantasyland and Liberty Square, its menu offerings also perch on the corner of healthy and deep-fried deliciousness.
Value = 7/10 Columbia Harbour House ranks ups there with the value score. Though I tend to shy away from spending close to $10 on a tuna sandwich, the fact that I can also get a combo plate of chicken nuggets and fish, complete with fries or even steamed broccoli, big enough to share among two people for only a few cents more really tops this restaurant out for having some great value.
Flavor = 8/10 When it comes to quality, it truly depends on what you order. The standard "fish and chips" option actually falls flat for me, seemingly equivalent to the frozen fish sticks sold in the grocery store. However the Broccoli Peppercorn Salad and the Chicken Pot Pie both pack a flavorful punch. I also enjoy the Anchors Aweigh tuna sandwich, when I'm looking for something lighter.  
Originality – 4.5/5 Offering Grilled Salmon, hummus sandwiches and even the occasional lobster roll, this menu is not from your typical "fast food" joint. It's nice that they also tend to refresh the menu offerings every so often, so each trip you could see a new meal to try.
Atmosphere – 4.5/5 With its excellent nautical decor, Columbia Harbour House offers great ambiance. The excellent New England seaside atmosphere perfectly suits Liberty Square. On top of the ambiance, the multi-room and multi-story cozy design makes it fun to explore. These rooms also offer a quiet retreat from the throngs of crowds, as you can often find a quiet room upstairs in Columbia Harbour House, even at lunch.
Grand Total = 24/30 Offering a great retreat from the crowds in a well themed restaurant, complete with a convenient location in the heart of the park and offering unique menu items for those guests who have had their fill of pizza, cheeseburgers and chicken nuggets. Columbia Harbour House is a counter service oasis.
Cosmic Ray's Starlight Cafe – Tomorrowland
Probably the largest counter service restaurant in the Magic Kingdom, Cosmic Ray's is one of the most popular dining options so during the peak lunch and dinner hours, it can be difficult to find a seat. It's organized into three ordering bays, so be sure to wander around a bit before getting in line.  Each bay tends to have a different menu offerings being split into "Chicken", "Burgers", and "Sandwiches/Soup-Salad" which can make ordering for a family all wanting different things more of a challenge.
Value = 9/10 The value for Cosmic Ray's can be summed up in two words: Topping bar. No matter what you order, you can swing by this abundant toppings bar and spruce up your meal with any of the options they offer.  The toppings bar contains lettuce, tomatoes, pickles, onions, relish, green peppers, mushrooms, grilled onions, BBQ sauce, mayonnaise, mustard, ketchup, and cheese sauce, and really helps you get great bang for your buck, especially if you order a burger.
Flavor = 7/10 Perhaps Cosmic Ray's relies a bit too heavily on people sprucing up their meals at the topping bar, because sometimes the quality of the entrée is a bit inconsistent or just overall basic. There burgers and sandwiches are fairly standard, and sometimes the rotisserie chicken can be a bit dry if it's under the heat lamp for a while.
Originality = 3.5/5 Cosmic Ray's has dropped a few creative notches for me as they've reduced their menu over the past few years. Now they tend to just offer some sandwiches, burgers, and the occasional salad or chicken entrée.
Atmosphere = 5/5 Cosmic Ray's is the only counter service restaurant which comes with an intergalactic entertainer, Sonny Eclipse. His 20-minute show is very reminiscent of the Muppets back in the day, some fun music mixed in with some corny jokes. He's an attraction all on his own. Try to grab a seat somewhere in the restaurant where you can hear Sonny Eclipse or outside with a view of Cinderella Castle.
Grand Total = 24.5/30 Sonny Eclipse and the topping bar really help make Comic Ray's one of the best counter service options in the Magic Kingdom. There's usually something on the menu for everyone, and the portions are large and very filling
Diamond Horseshoe (Seasonal) – Liberty Square/Frontierland
Unfortunately, this is one of the two seasonal restaurants available in Magic Kingdom, typically only open is the very busy seasons to accommodate the summer and holiday crowds and usually only during peak hours (around noon). Because of this, few people get to experience this option, but it is one to keep in mind if you're traveling during busier seasons.
Value = 7/10 Portions are standard size for sandwiches available around the parks, you're not going to go hungry, but it's not a screaming bargain, either.
Flavor = 7/10 Diamond Horseshoe shares the same kitchen with the Liberty Tree Tavern, so the hand-carved turkey that's on their turkey sandwich is the same turkey that Liberty Tree Tavern serves with their Pilgrim's Feast, a pretty high quality option at a counter service price.
Originality = 4/5 Diamond Horseshoe gets decent originality points. Though it does serve mostly sandwiches, the variety of sandwiches is notable. Ranging from classic tuna on a croissant to a barbecue turkey sandwich, Diamond Horseshoe has some culinary creativity backing it up.
Atmosphere =4/5 Designed like an old fashioned western music hall, the Diamond Horseshoe comes complete with red curtains, a vaudeville style stage and some knee slapping piano music to enjoy while you dine in this two-story location. Those who've visited the Hoop De Doo Revue may see some remarkable similarities.
Grand Total = 22/30 Diamond Horseshoe offers a limited albeit tasty menu of the sandwich variety. The quality of the sandwiches coupled with the fun dining room styled as a two-story music hall, make this an option to visit if you're lucky enough to be there when's open.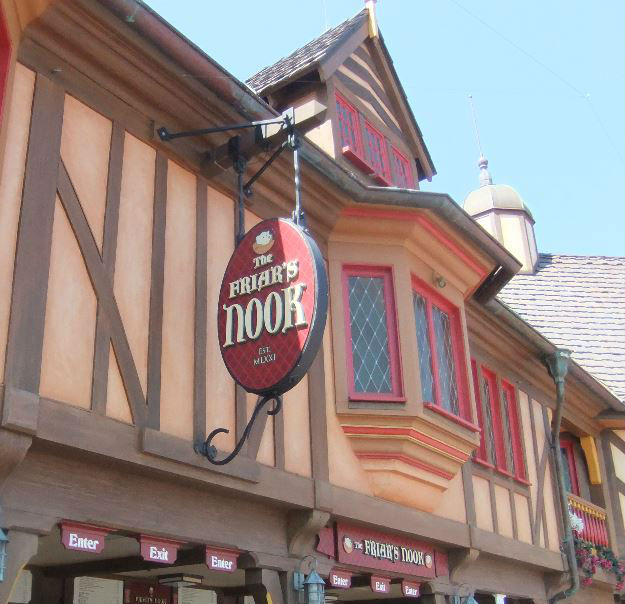 Friar's Nook – Fantasyland
Friar's Nook may be more a more common stop for a snack or a light lunch rather than a filling meal. Still, it's open for lunch and dinner, and its variety of macaroni and cheese options can help satisfy your picky eater and even someone who may want try an adventurous variety of gourmet cheesy pasta.
Value = 6/10 You can dress it up all you want, to me, it's still a cup of macaroni and cheese, perhaps with other stuff mixed in. Is it worth $9? Not to me, but as a vacation indulgence to try something new or decadent, I may partake just for the experience of it. But if you're looking for a filling meal for your counter service buck, I say keep walking, there are a lot of other options. However, if you're looking for an interesting snack to share with a travel companion, this could fit the bill perfectly.
Flavor = 7/10 If you're looking for ooey, gooey, cheesy comfort food, then this is the right spot for you. Bordering on the threshold of being too rich, this could be a great indulgence for some of the cooler months in Florida. They offer the standard mac and cheese option but also have introduced some gourmet options they've shifted through. Currently on the menu is a Truffle Macaroni and Cheese, Pot Roast Macaroni and Cheese, and Bacon Cheeseburger mac and cheese. Previously they offered a Blue Cheese Macaroni, so if cheese if your weakness, stop by the Friar's Nook to see what variety will satisfy your craving.
Originality = 4/5 Macaroni and cheese in and of itself isn't that creative, it's a pretty standard crowd pleaser among kids, so it seems like a no-brainer for Disney to offer it to please their younger demographic. I do give Friar's Nook kudos for thinking outside the box and dressing up macaroni and cheese for a more mature palate.
Atmosphere =2/5 Atmosphere is really putting it lightly. You walk up to a counter, order your cheesy indulgence, and then wander around Fantasyland to eat it. Situated in close proximity to the Seven Dwarfs Mine Train and the Carousel, there is very limited seating available.
Grand Total = 19/30 Friar's Nook is a food window in Fantasyland that offers macaroni and cheese, oh yeah, and a sad lone hot dog is on the menu. It's not really a destination counter service restaurant, and its offerings don't really fit the bill as far as well-rounded meals are concerned. But it does offer some cheesy goodness, perhaps a nice option as an appetizer to tide you over before your meal at another counter service location.
Golden Oak Outpost (Seasonal)– Frontierland
Golden Oak Outpost is parked on the threshold between Adventureland and Frontierland, and though it could be argued that the variety of waffle fries offered here are purely of the snack variety, I figured if macaroni and cheese (a la Friar's Nook) could be considered a "meal" so (arguably) could waffle fries from Golden Oak Outpost. Only open during the peak seasons, if you want to taste these special spuds, you better be in Magic Kingdom at one of the busiest seasons.
Value = 6/10 If you're arguing this from the meal angle, then you'll be disappointed. $6 on fancy spuds and you'll be hungry again a couple of hours, not exactly what many of us imagine when we plan our meals. But it's definitely a hearty snack. Honestly, even as a snack the quantity isn't what you'd hope for the price.
Flavor = 7/10 A western take on the Canadian classic poutine is tricky flavor to master. But you really can't wrong with barbecue pulled pork piled on top of some crisp waffle fries.
Originality =4/5 I applaud the creativity here, and with the versatility of the waffle fries, so many more options can be introduced. This could be a match made in heaven, waffle fries and ingenuity of Disney Imagineering, I'm just anxious to see what combination they come up with next! What are y'all rooting for? Maybe a classic Chili Cheese Waffle Fries? Parmesan-coated Italian Waffle Fries with marinara dipping sauce? Garlic and Truffle Butter Waffle Fries? The sky's the limit!
Atmosphere =2/5 Not much to brag about in terms of ambiance. There are a few rustic, theme-appropriate picnic tables nearby that tie into the Frontierland décor.
Grand Total = 19/30 On the value side of this location, this restaurant is lacking. The portions are on the small side even if the flavors are big. To beef up the value, I'd recommend ordering the Tex Mex fries, then popping over into close-by Peco Bill's Tall Tale Inn to take advantage of their topping bar. Add on some extra cheese sauce, lettuce and tomatoes. Or (dare I say!?) just order the plain waffle fries and make your nacho-style endeavor at the topping bar. I'm not sure of the ethics of swiping free condiments, or the policing strategy around the topping bar, but the idea is intriguing.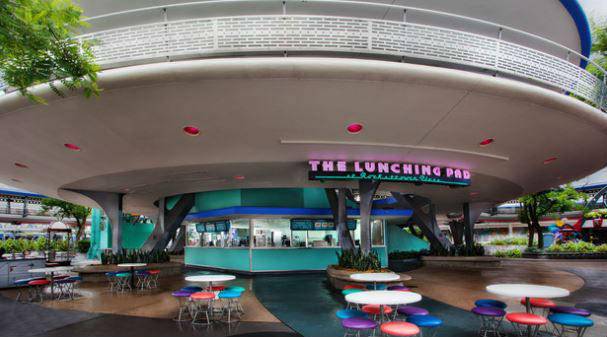 The Lunching Pad – Tomorrowland
The Lunching Pad is smack in the middle of Tomorrowland – you may recognize it as being the base for the Astro Orbiter. It has a menu comprised of a limited variety of hot dogs and some snacks.
Value = 6/10 On par with the pricing at Casey's Corner, but the lack of options on the menu and the overall minimal variety limits your options to choose from, even as far as getting an extra side to share.
Flavor = 6/10 It seems that more often than not, there's more bun than hot dog. This can minimize the value as well as the quality of the meal. Most of the time the toppings are in good proportion with the hot dog. Most recently, I had a Philly Cheesesteak hot dog that had quite a bit of beef on it which may seem as a bonus but made it really difficult to eat and I ended up dissecting the whole meal.
Originality =2/5 Running with the trend of specialty dogs, these options are a nice alternative to the garden variety hot dog options, but aren't unique enough to warrant bonus originality points. Also, since the menu is strictly hot dogs, the limited nature of the menu also contributed to a low score.
Atmosphere =2/5 Centered in the middle of Tomorrowland the base of the Peoplemover and Astro Oribiter, this location is unique in allowing guests to enjoy the fun Tomorrowland narration paging Mr. Tom Morrow, its limited seating (and no indoor seating) can be problematic. Mostly, it's people-watching that adds to the atmosphere here.
Grand Total = 16/30 When it's all said and done, if I want a hot dog, I'll go to Casey's. However, if you want a different variety of hot dog or your just can't bare the walk to Main Street, The Lunching Pad does have some good offerings.
Pecos Bill Tall Tale Inn & Café – Frontierland
It could be argued that Pecos Bill's is the Cosmic Ray's of Frontierland. While Cosmic Ray's has an awesome Audio-Animatronics singing alien, Pecos Bills has more coherent theming and ambiance that really connects with the Frontierland location. One asset that Pecos Bill has over Cosmic Ray's is the simpler ordering process. While Cosmic Ray's has three ordering bays, you can order the full range of the Pecos Bills menu from any of the windows.
Value = 9/10 With similar menu offerings (burgers and sandwiches) and portion sizes as Cosmic Ray's these two locations tie on value. Pecos Bill also has an immense toppings bar available to add extra free condiments onto your entrée. This a great way to enhance up your meal in both quantity and flavor. And they have a few entrees (Karubi Style Short Ribs and the Steak and Chicken Platter) which could easily be split between two adults.
Flavor = 7/10 The Southwest Chicken Salad is the standout as far as great flavor goes. I've found the chicken to be a bit dry, but with a few additional enhancements from the toppings bar to help mask it, this is a pretty satisfying salad (well, as satisfying as salads go). The Taco Salad has some issues of being served in a tortilla bowl that is more bowl than edible tortilla, and I've found the meat to be on the greasy side accompanied by a handful of vegetables.  Again, toss in some extra lettuce, tomatoes and salsa from the topping bar and you can enhance it, but the quality of the original product definitely seems to be lacking. The burgers and sandwiches are identical to others served around the park, so no surprises there.
Originality = 3/5 Pecos Bill keeps true to the palate of the wild west with some southwest flavors and barbecue sandwich and ribs offerings. Though still bordering on generic, it does offer something beyond burgers and chicken nuggets.
Atmosphere = 4/5 Even without an Audio-Animatronics singing alien, Pecos Bill has a great environment. The challenge is getting to enjoy it without the swarm of crowds that tends to be present between 11am and 8pm. But if you get a chance, be sure to look at all of the details. There are several rooms for seating and some outdoor seating options, but it fills up quickly, and can sometimes be tricky to navigate through all the rooms with your full trays and with the darker lighting.
Grand Total = 23/30 Overall, you can get a good and filling meal here. If it's earlier in the day, Pecos Bill is a good place to hit up for a burger or barbecue sandwich. It gets much busier as the day goes on, so if you get that burger craving later in the day, it may be worth your while to head over to Comic's Rays instead as it tends to absorb the crowds better.
Pinocchio Village Haus – Fantasyland
Pinocchio Village Haus sits on the border of classic Fantasyland and New Fantasyland. Being housed in the most popular land of Magic Kingdom and hosting popular menu items like pizza, ok, flatbreads, but let's be real, this is definitely a case of "tom-AY-to"/"tom-AH-to", as you can imagine this location gets buzzing early on and stays busy. But don't let that deter you, with some fun and tasty menu renovations, this is still a pretty good place to grab some lunch or dinner.
Value = 7/10 The flatbreads offered here are definitely tasty, but not necessarily filling. You'll be happy with your order, but in a few hours, you may find yourself in search of a snack. I'd recommend each person ordering his own flatbread and sharing a salad or two to help round out the meal.
Flavor = 7/10 With the update in their menu in 2012, gone are the greasy individual pizzas you'll find in locations like Pizza Planet in Hollywood Studios and in their place is a tastier and classier version of this kid-pleasing classic. The flatbreads come in a variety of flavors, including the classic Pepperoni option and the vegetarian-friendly Caprese option. If you get an early lunch, you're likely to get a fresh-made flatbread, if you tend to eat lunch later in the afternoon, then you become a victim of chewy flatbread that sat under a heat lamp a little too long.
Originality = 3.5/5 Since Gepetto and Pinocchio are Italian, it just make sense that their Pinocchio Village Haus would sell Italian food. They offer a good selection of flatbreads, some standard but substantial salads and a hearty meatball sub.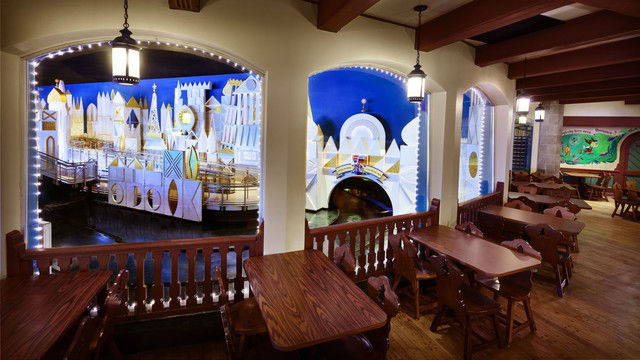 Atmosphere = 3/5 The exterior façade of the restaurant has an old European look to it, and it appears to be comprised of several connected buildings. Inside there are several dining areas that split off from the ordering bay. The most popular of these is the dining area that overlooks the Small World attraction loading area. As the most popular seating area, you'll often have to wait for an open table. Another great spot to snag a seat that doesn't require inappropriate hovering or table-stalking, is the outdoor balcony on the second floor that overlooks Fantasyland.
Total = 20.5/30 Good food, fun location, but busy, noisy, and not necessarily filling. If you have a family of light appetites or you're looking to save room for a big dinner later, then this is a great spot to hit. Just be aware of the heavy lunch crowds and plan your visit accordingly.
Sleepy Hollow Refreshments– Liberty Square
Sleepy Hollow is more of a "refreshment stand" than a full counter service menu, in that it has a limited menu, similar to Golden Oak Outpost and Friar's Nook. It's still offers some good-portioned options that one could easily make a meal of. It's right at the entrance to Liberty Square off of the Hub.
Value = 6.5/10 Sleepy Hollow offerings are more than a snack, but smaller than your typical Disney counter service meal. This could be the solution for a family with smaller appetites or to help tide you over if you have a big dinner planned. The prices are pretty standard for dining options within Walt Disney World and comparable for other options at Magic Kingdom. Be sure to grab a fork and some napkins because they pack a lot of food into these treats.
Flavor = 8/10 Always made fresh for each order, the waffles are hot, crisp with a hint of sweetness. No matter which one you order, the toppings are fresh and complement each other perfectly. If you choose a funnel cake over a waffle sandwich, those are made fresh-to-order as well. This can sometimes result in a bit of a wait as the lines get longer, but the wait is worth it!
Originality =4/5 Fresh-made waffles with unique toppings like Nutella and fruit, sweet and spicy fried chicken, and Ham, Prosciutto, and Swiss really help Sleepy Hollow earn its originality gold star.
Atmosphere = 3/5 The Sleepy Hollow building is a replica of Washington Irving's home, the author of The Legend of Sleepy Hollow. There are some picnic tables around the order/pick-up window with limited shade, but with a good view of the Castle.
Grand Total = 21.5/30 The reputation of Sleepy Hollow is getting around, so it's not such a secret what a great find this place is. Don't be scared to split a waffle sandwich as a snack, the quality is so good, I recommend you try this little place if you haven't already.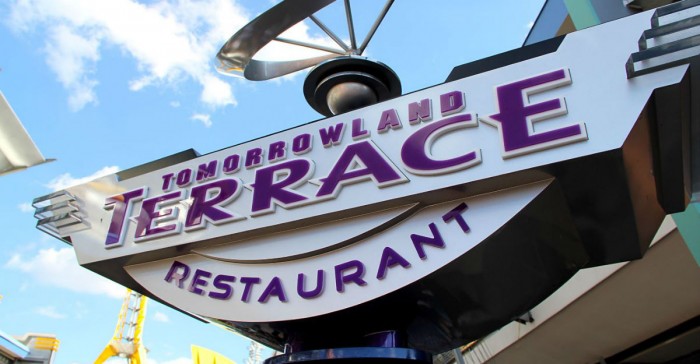 Tomorrowland Terrace Restaurant (Seasonal) – Tomorrowland
Another of the Magic Kingdom's seasonal restaurants, Tomorrowland Terrace, is more commonly known for its fireworks dessert party. But during busier times of the year, it's also open for lunch and dinner.
Value = 6/10 For the same price, I'd prefer to get my burger or salad at Pecos Bill or Cosmic Ray's as both of those locations offer the unlimited toppings bar and have seating in air conditioning. If you're starving Tomorrowland Terrace can provide another option, which is why it's open seasonally, to help absorb the crowds that threaten to overwhelm Pecos Bill and Cosmic Ray's. Its portions and prices are standard, but it's not a destination counter service restaurant.
Flavor = 6/10 Even though this menu gets kudos for its creativity and thinking outside of the counter service box, the quality leaves something to be desired. If you want a good burger, take a few extra steps over to Cosmic Ray's, and if the Lobster Roll intrigues you, then head over to Columbia Harbour House. The salads are made of a basic bagged salad mix with some extra topping tossed in like shrimp and mandarin oranges. The portion is a good size, but the overall flavor leaves something to be desired.
Originality = 4/5 There is quite a bit of a variety on this menu, though it's kind of a hodge-podge of options. The standard 1/3 lb Angus bacon cheeseburger offered here and is the same one you'll find at most Walt Disney World counter service restaurants. The Terrace also has some seafood/pasta selections and different salad selections.
Atmosphere = 4/5 This counter service restaurant only has outdoor seating, but it's covered and shaded and there are plenty of tables. The lower level gives you great views of the Castle area and is a popular spot for viewing the fireworks.
Grand Total = 20/30 Tomorrowland Terrace serves up both the expected and the unexpected. You can find your traditional counter service fare here, but each season they tend to add a new and different entrée to the menu that helps spice up the variety. The quality is hit or miss, but the burger and chicken nuggets are pretty safe to order. The real contributing asset to this restaurant is the outdoor seating offering a great view of Cinderella Castle.
Tortuga Tavern (Seasonal) – Adventureland
Formerly known as El Pirata Y El Perico, Tortuga Tavern is in Adventureland, just across from Pirates of the Caribbean. The menu is influenced by Mexican favorites. It's another of the Magic Kingdom's seasonal restaurants, only open on very busy days.
Value = 8/10 Tortuga Tavern also offers the coveted toppings bar, but it's not nearly as substantial as the ones at Pecos Bill and Cosmic Ray's. The topping bar at Tortuga only offers shredded cheese, lettuce, diced tomatoes, and salsa, but it's still a nice touch to fancy up your Mexican fare.
Flavor = 7/10 The menu is limited to Mexican favorites of burritos, nachos and a taco salad, but these are executed fairly well. You basically get the "bare-bones" of your entrée and are allowed to doctor it up as you like at the toppings bar. If you're lucky enough to be able to patron this location when it's open, you'll be pleased with the quality of your entrée. The meat is flavorful and not overcooked or overly greasy, making it easy to create a Mexican masterpiece of your own with your favorite toppings.
Originality = 3/5 Since the menu is limited to Mexican food, there may not be options that sound enticing for everyone in your family, though who doesn't love a good plate of nachos? Luckily, Pecos Bill's is close by, so it's feasible to order food at one location, and then walk over to the other location to accommodate everyone's cravings.
Atmosphere = 3/5 There are some seating rooms available inside and outside to offer plenty of seating. The tables inside do tend to get a bit noisy as the crowds pick up. Decorated with maps and dark wood, you definitely feel that the theme and atmosphere from Pirates of the Caribbean has been carried over into this dining area. The decorations keep you in the Adventureland spirit, but the theming lacks the classic storytelling that Disney is known for.
Grand Total = 21/30 Of the seasonal counter service restaurants in Magic Kingdom, Tortuga Tavern and Diamond Horseshoe rank at the top. Depending on your cravings and personal preferences, you may enjoy one over the other. Tortuga Tavern definitely offers some savory options with a bit of spice.
To sum it all up, below are the rankings of the counter service restaurants in Magic Kingdom in order based on their score:
Be Our Guest = 25/30
Cosmic Ray's = 24.5/30
Columbia Harbour House = 24/30
Pecos Bill = 23/30
Diamond Horseshoe = 22/30
Sleepy Hollow 21.5/30
Tortuga = 21/30
Pinocchio Village Haus = 20.5/30
Tomorrowland Terrace – 20/30
Friar's Nook = 19/30
Golden Oak = 19/30
Casey's Corner = 18/30
Lunching Pad = 16/30
What do you think? Do you agree with this assessment or would you switch some of these around? Leave your ideas in the comments section!