The Magic, The Memories, and Merch! March 2016 Photo Report of the Disney Outlet Store
Welcome to the latest edition of The Magic, The Memories, and Merch! the longest running monthly look at the Disney Outlet Stores in Orlando. March came in like a lion, and stayed that way. Tickets for the grand opening of Shanghai Disneyland went on sale (and immediately sold out). Meanwhile, the delays and cost overruns in Shanghai Disneyland could be having profound effects on the parks we go to over here. The strangest rumor in the history of theme parks surfaced with a possible Guardians of the Galaxy overlay to the Tower of Terror. Walt Disney World started charging for preferred parking, SeaWorld said this generation of killer whales would be its last, and Universal announced it will be bringing in a new restaurant into CityWalk that will debut with the first ever E-Ticket milkshakes. We're still reeling from all the news, and that's not even covering the announcements of a whole bunch of new up-charge events that basically had theme park social media ready to grab pitchforks and join Gaston to kill the Beast. But the best thing that happened in the entire month was this unbelievably self-entitled article written by a college freshman that suggests kids and old people shouldn't go to theme parks. 
Now while all of you were out riding Rock n Roller Coaster with Steven Tyler, Outlet Intern Julia Mascardo and I were hard at work to bring you the quality Outlet coverage you expect deserve!
Enough jibber jabber! Who is ready to hit the Outlets? Remember that clicking on any picture will open a full size version of it (don't say we didn't warn you).
Our first item this week is our first ever Made With Magic piece of merchandise to hit the Outlets. These were the Mickey Ears that lit up with different colors to Glow With the Show during some of the nighttime spectaculars at the parks. I have no actual financial numbers to support my theory, but having been the parks many, many times and only seeing a handful of guests wearing these, I'm going to assume Disney took a complete bath on this idea. It's an item that cost over $25, is heavier than a normal pair of Mickey Ears, and the person wearing it can't even see it glow. The sign on the bin said these were originally $23.17, but I haven't seen them for that price in the parks. They were reduced to $9.99.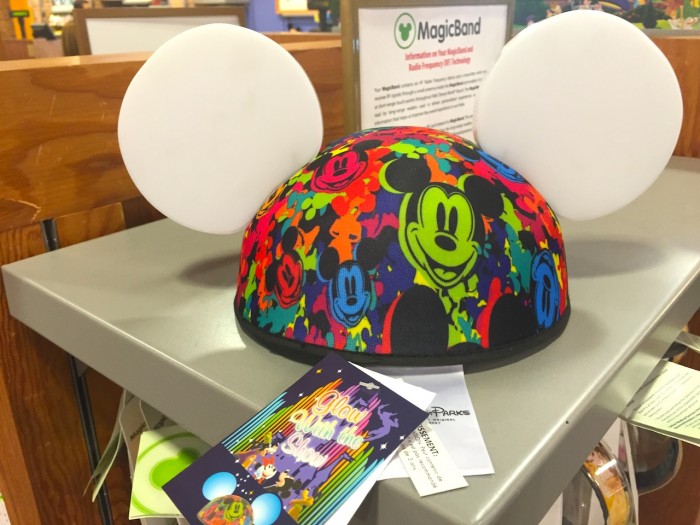 Next up was a whole slew of Disneyland 60th Anniversary items. There were so many that I have to wonder if alleged Disneyland fans like Guy Selga, Tom Bricker, and Seth Kubersky have ever bought a single piece of merchandise in the parks. Here's a Disneyland 60th Barbie. Originally $24.95, now $14.99.
This next one is straight up bananas. We've covered unusable giant erasers at the Outlets in the past, but this one takes the cake. A giant diamond ring eraser. This is proof that there was not a single idea was discarded as being "too crazy" for Disneyland 60th merchandise. Originally $12.95, now $7.99.
Disneyland 60th pen that was originally $29.95. Assuming you used these to sign your bankruptcy papers. Now just $9.99.
Am I showing my age for thinking these "dazzle" Mickey mitts remind me of Michael Jackson? Originally $24.95, now $11.99.
A Celebrate Disneyland 60th tote bag. Originallly $39.95, now $14.99.
Here's a tinier than it looks Starbucks Disneyland 60th cup/ornament. Originally $12.95, now $4.99.
And here are Disneyland 60th versions of the Starbucks plastic cups. This may be the First World Gift of all First World Gifts. In sharpie it should have "#Millenial" on the side. Originally $12.95, now $4.99.
Here's a fancy looking Disneyland 60th mug. Originally $24.95, now $14.99.
Light up castle. This may actually be to scale to the castle they have out there. Not sure of original price, but reduced to $8.99.
Disneyland 60th keychain. Originally $24.95, now $9.99.
A dazzling pin. Not sure original price, but now $6.99.
I really like this Sixty Years of Magic photo frame. Look at all those characters! Mr. Toad! Reduced to $8.99 each.
Disneyland 60th hats for adults. Originally $24.95, now $8.99.
And one for kids. Originally $19.95, now $4.99.
Get a load of this Disneyland coffee cup. First check out that "D" handle. Now check out that it celebrates the years "1975-1984." This is part of a Decades Collection apparently a niche of a niche audience. I'm pretty impressed. Originally $14.99, now $5.99.
I got one of these Disneyland 60th backpacks. Originally $24.95, now $9.99.
I did not get one of these totes even though they were only $1.99. I like the design, just have too many totes.
Was surprised to see these plates featuring the new Walt Disney World artwork. Two sharp designs. $4.99 each.
There is nowhere near enough Ratatouille merchandise for my tastes, so loved seeing this Remy towel. The original price of $19.95 is a bit on the high side, but I can live with the reduced $9.99 price.
I love Mr. Toad as much as anyone, but this all white soap dish is a little too weird for me. Originly $21.95, now $9.99.
I had no idea what this weird Mickey thing even was until Outlet intern Julia informed me it was a toothbrush holder. Whaaaaaaaat?! Originally $9.95, now $4.99.
What a strange salt and pepper shaker set. I don't get the appeal of this.  Originally $16.95, now $7.99.
This one may be even stranger. Originally $16.95, now $7.99.
DHS "toothpick holder."
A couple Muppets items this month including this coffee cup featuring Dr. Bunsen Honeydew and Beaker. Reduced to $5.99.
The cup actually changes appearance once you put liquid in it.
This is kinda neat, special MagicBands made for Pop Warner events at ESPN Wide World of Sports.
And here is one for the Cheer & Dance competitions.
A Mike Wazwoski doll made out of spandex.
Alright, more Muppets! Here is an Animal pajama pillow. Originally $26.95, reduced to $9.99.
A Tigger pillow pet. Originally $39.95, now $19.95.
The show Myles From Tomorrowland is actually pretty decent. Here is a plush from that cartoon. originally $19.95, now $8.99. This is the first piece of Myles merchandise I have ever seen at the Outlets.
Good Dinosaur plush. Originally $19.95, now $9.99.
T-Rex plush also available.
Here's a couple of solid Good Dinosaur postcards. Originally priced at $4.95, these are now more reasonably $1.99 each. All the following postcards are the same price.
I liked this WDW keychain, especially for only $3.99 each. Love seeing the Earful Tower as the icon for DHS. I'm terrified what the park icon will be when Toy Story Land and Star Wars Land open. Maybe it will be a big gold dollar sign.
I drove myself CRAZY trying to get a good photograph of this keychain thing for you, Dear Reader. Basically you open it up and there is a small Minnie Mouse and Mickey inside.
Merida and Aurora magnets. Not sure of original price, but reduced to $2.40 each.
Frozen antennae topper. $1.99.
I love, Love, LOVE jedi Mickey, but who could possibly walk around with a keychain this big? Originally $11.95, reduced to $7.17.
Nice looking Tinker Bell wings. Originally $29.95, now $12.99 and I did buy a pair for a princess in our family.
DHS photo frames. Originally $14.95, now $3.99.
You know you want it. A giant inflatable GLOW Mickey Mouse. Just $9.99 each.
Some Haunted Mansion Christmas tree ornaments. Originally $19.95, marked down to $5.99. All the ornaments were the same price.
I actually got a pair of these oven mitts. Originally $12.95, now $5.99.
Mickey stocking holder. Originally $29.95, now $12.99.
ANOTHER Starbucks Christmas ornament. HOW MANY OF THESE DID THEY MAKE?! $4.99 each.
Nightmare Before Christmas ornament. Originally $19.95, now $4.99.
Don't mind this pin at all. Reduced to $2.99.
Tinker Bell tree topper was originally $34.95, reduced to the weird price of $18.80.
I may be crazy, but as a Floridian, I like these fake snowballs. Origianlly priced $19.95, they were reduced to $5.38.
This is kind of a strange one. Vinylmation baseballs featuring classic Major League Baseball stadiums. $25 each, no discounts.
C'mon, I had to get one of these Mickey Mouse pillows. Originally $26, now $14.99.
Another month, another overpriced Chip and Dale set arrives at the Outlets. This one was originally $49.95, now $19.99.
Viking foam swords and axes, presumably from the Norway store that's gonna be all Frozen in a few short months.
Several pieces of runDisney merchandise appeared this month included this Marathon car magnet. Originally $8.95, now $2.68.
Race bandanas. Originally $9.95, now $2.98.
These runDisney 5K shirts were originally $27.95, now $6.99.
The Goofy challenge one was originally $32.95, reduced to $6.99.
Dopey challenge shirts were originally $32.95, reduced to $6.99.
And plain old Disney Marathon shirts as well.
Just when you think you've seen it all. Mickey Mouse license plate bolt covers. Originally $9.95, now $4.99.
Not many items for pets make it to the Outlets, but here's a princess bow collar. Originally $12.95, now $4.99.
Awesome Adventureland and Frontierland plates. Originally $5.95 each, reduced to $2.99.
Some rare Disney Baby products hit the clearance aisles this month. These Mickey and Minnie dolls produce white noise for the babies. Originally $24.95, now $9.99.
Mickey and Minnie pacifier clips. Originally $7.95, now $2.99. Wouldn't many babies try to eat these if they were attached to a pacifier?
Minnie Mouse earbuds. Originally $32.95, now $9.99.
And lastly, Vinylmation that is actually smaller than normal Vinylmation. The good news is that they are just as ugly.
There are actually two Disney outlet stores in Orlando. Both are in Orlando Premium Outlet shopping complexes, and they are called Disney's Character Warehouse, presumably because The Land Of Misfit Toys was already trademarked. There is one Character Warehouse located on International Drive close to Universal Studios (4951 International Dr, Orlando, FL 32819), and the other is on Vineland Avenue, right across I-4 near the exits to Disney World (8200 Vineland Ave, Orlando, FL 32821). 
Previous editions of Magic, Memories, and Merch: July 2013, August 2013, September 2013, October 2013, November 2013, December 2013, January 2014, February 2014, March 2014, April 2014, May 2014, June 2014, July 2014, August 2014, September 2014, October 2014, November 2014, December 2015, January 2015, February 2015, March 2015, April 2015, May 2015. June 2015, July 2015, August 2015, September 2015, October 2015, November 2015. December 2015, January 2016, and February 2016.
We also did an edition of Magic, Memories, and Junk for a non-Disney owned Outlet Store, and for you merch addicts like myself, you may also enjoy a look at the official Disney merchandise available on the Disney Cruise Line, Castaway Cay, and at the Orlando International Airport.
If you liked what you read here, you may enjoy THE SATURDAY SIX articles every week on the TouringPlans.com blog and you can follow your humble author on Twitter (@derekbugan).