The Magic, The Memories, and Merch! October 2019 Disney Outlet Store Photo Report
Welcome to the latest edition of The Magic, The Memories, and Merch!, the longest running monthly look at the Disney Outlet Stores in Orlando.  We have "Bargain" Ben Wszalek covering Vineland and myself – Discount Derek – at I-Drive (addresses are at the end of every report) and we are here to give you the Outlet Report you really want totally deserve. This month we even have some extra special assistance in Orlando courtesy of Budget-minded @Blog_Mickey. Of course Christela "Clearance" McC is also here with a look at some Outlet items from out in California.
Enough jibber jabber! Ready to see what we we found? Alright, let's go!
Okay, regular readers of this Fine Blog Series know we covered in detail some of the many procedural changes that have hit the Disney Outlet stores recently. Even noted theme park celebrity Tom Bricker – taking one of his few breaks from covering the estimated one million bamboo forests in Kyoto, Japan – has been shocked and dismayed by what has been happening.
Here's one of the shocking changes people are running into. First we'll take a quick stop at the Outlets on International Drive. This store is only 1/2 to 1/3 as large as the Disney Outlet Store on Vineland Ave. For years, the I-drive location was known as "the quiet one" when talking about the two stores.
Not anymore. When approaching the Disney store you will see stanchions set up for a queue along with a sign channeling Gandolf's "YOU SHALL NOT PASS!"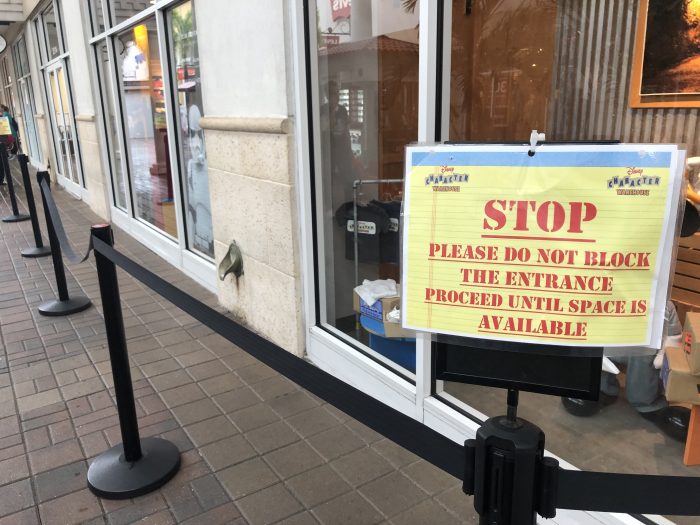 So, below is the scene you will now regularly find at the International Drive location, especially if you try and "rope drop" it.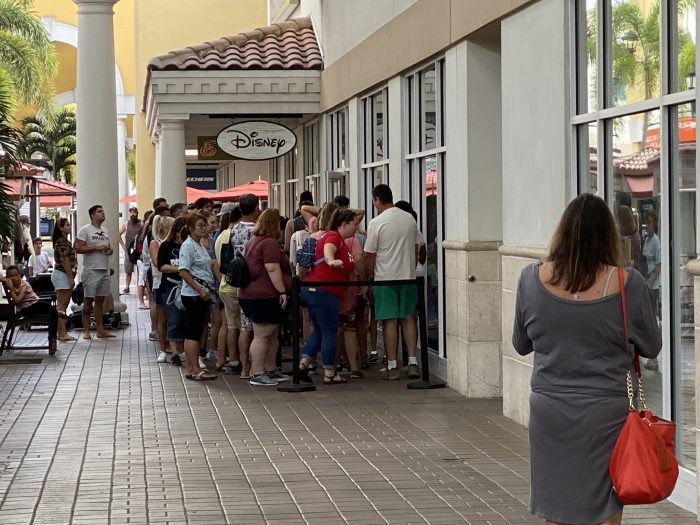 Things aren't much better over at Vineland. In fact, the line is generally much longer.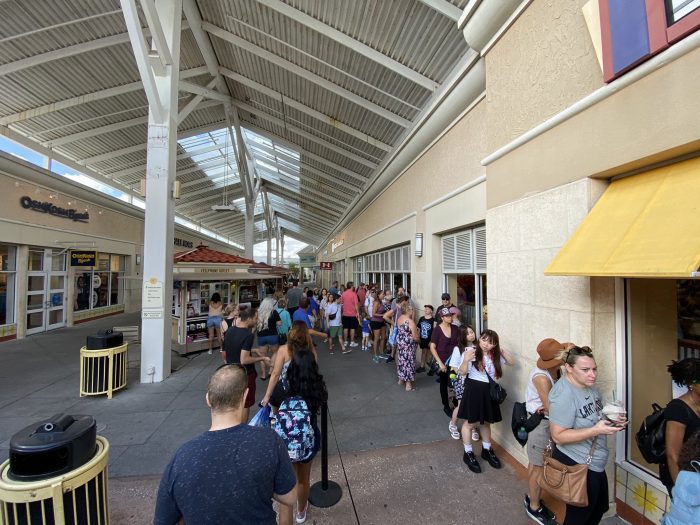 Switchbacks to enter a Disney Outlet Store. Did you ever think you'd live long enough to see the day?
Here's what this means to you, Dear Reader. First, there's a good chance you're going to have a miserable time waiting in the queue outside. Second, once you get in the store you'll probably have a rude awakening like theme park journalist Caryle Wisel.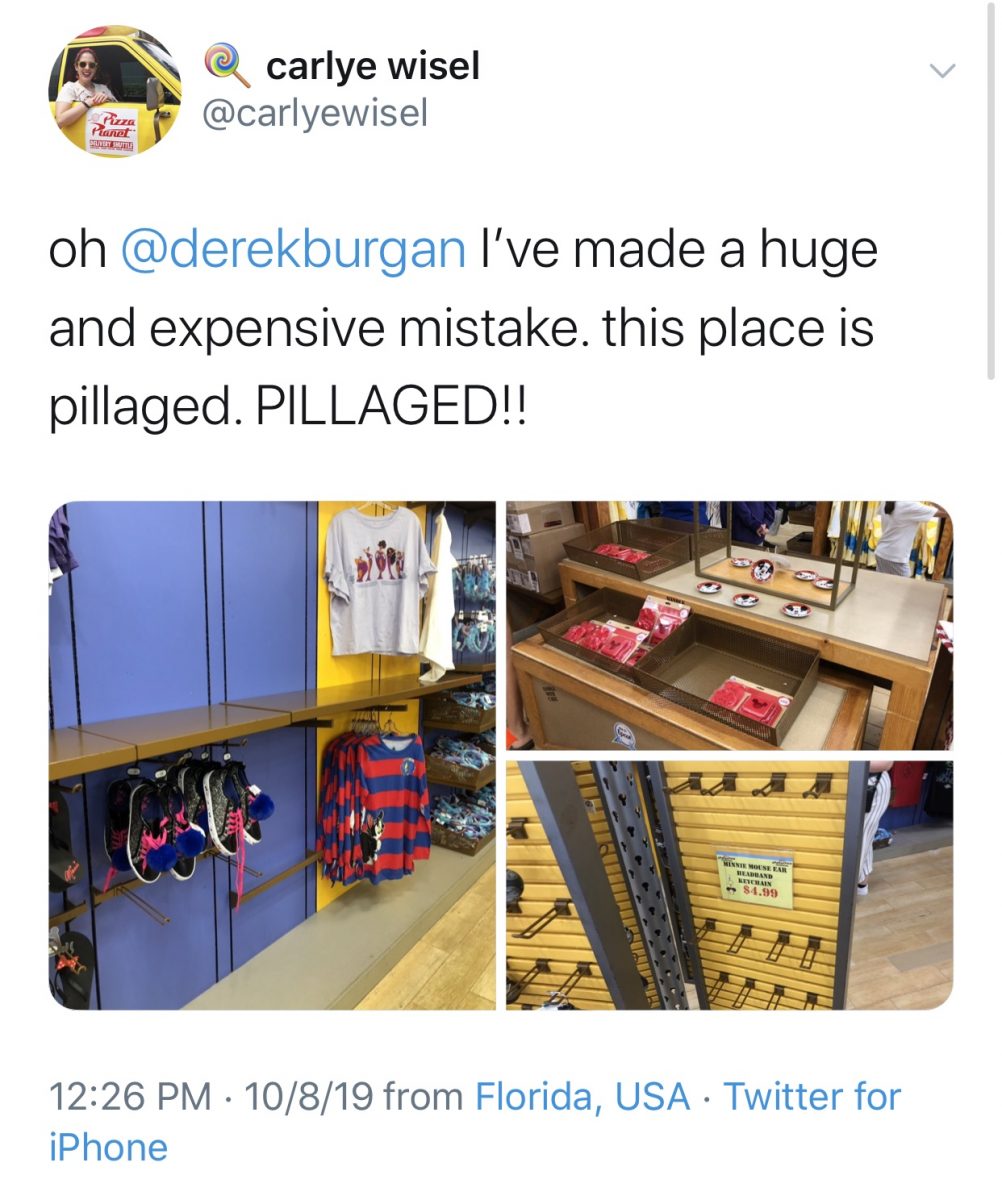 Often the stores appear to have been ransacked like a Florida Publix before a Hurricane (or like the Wal-Mart on Sand Lake Road in Orlando basically every day of the year). The dreams of finding great merchandise at an even better price are quickly dashed once you realize many items have been picked clean by the people reselling on places like eBay and Amazon.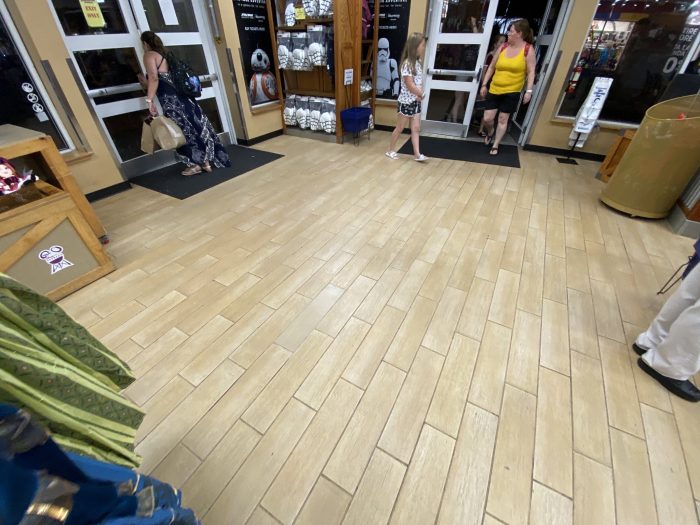 "There's so much room for activities!" – Step Brothers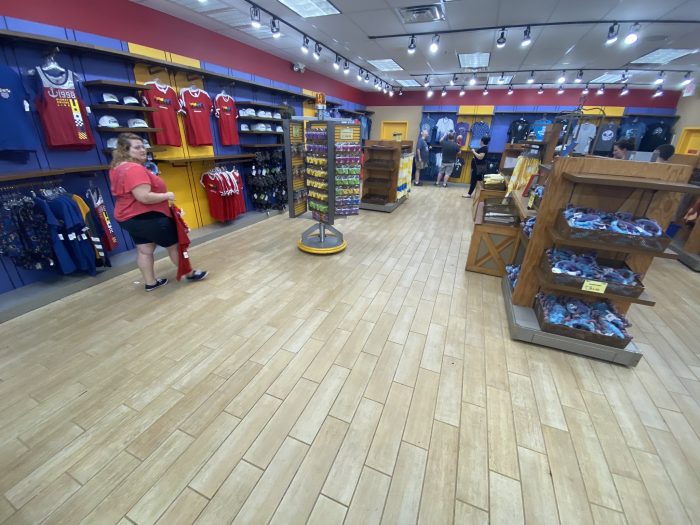 Cool shirts? Grabbed by the handful, leaving only those next level bonkers ones like that long sleeved Minnie shirt covered in puff balls.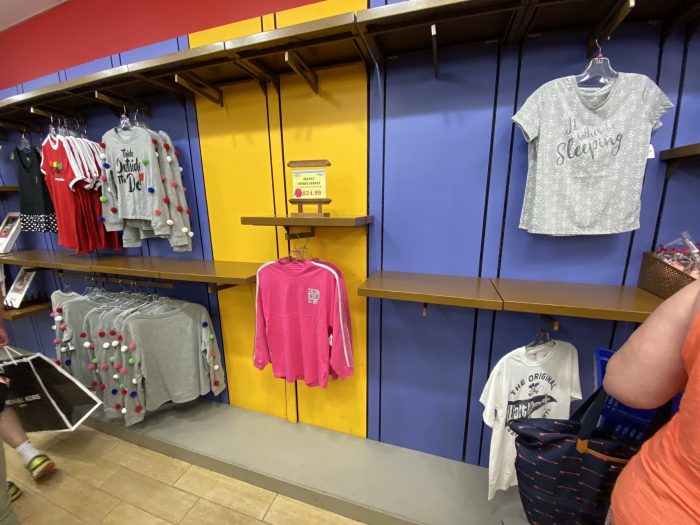 Things get so crazy even the JUNK can sell at high rate, like that ridiculous BB-9 keychain that no one really wants and has been at the Outlets for months.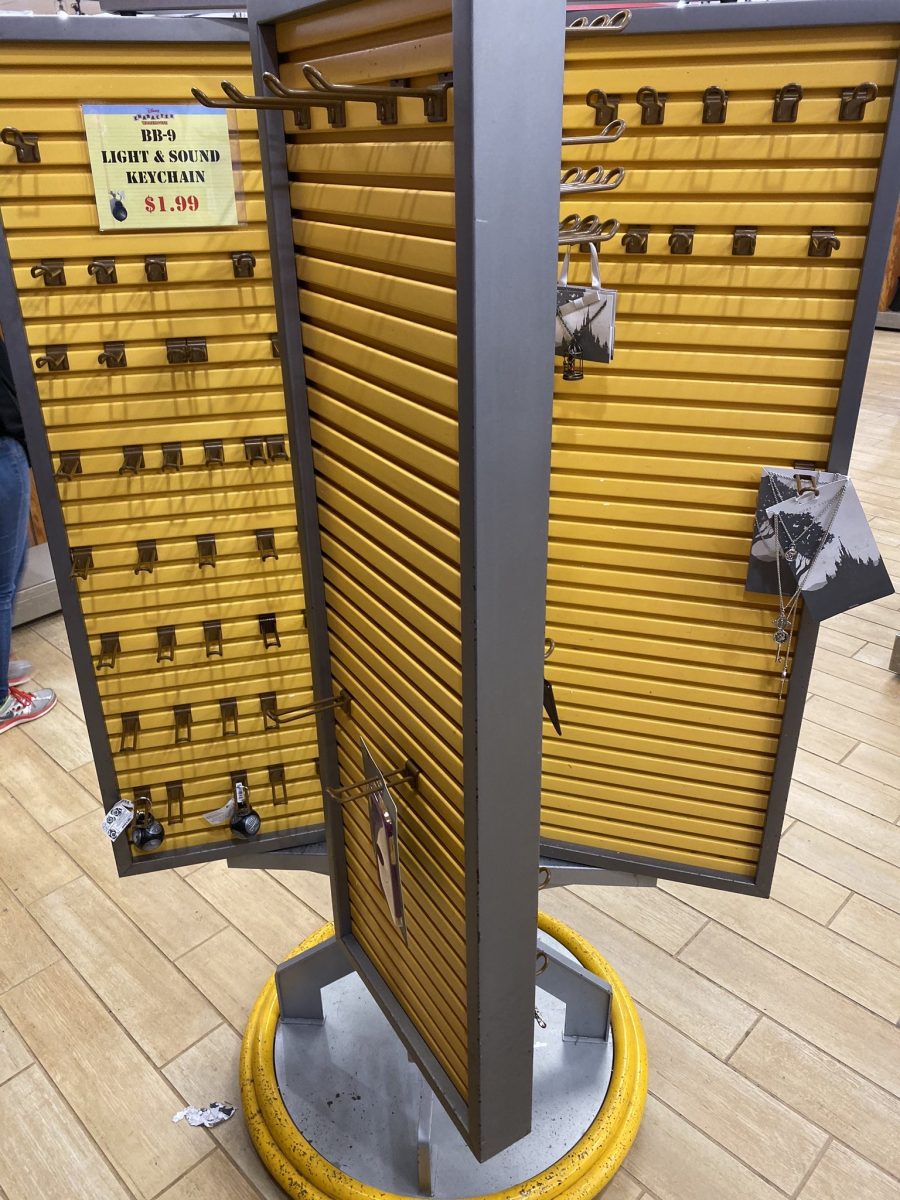 THAT SAID, going to the outlets may test your patience, but if you keep your head on a swivel you may find some things you'll enjoy. For example, this month the Outlets received a bunch of items from the now closed Club Cool at EPCOT.
This includes Coca-Cola magnets.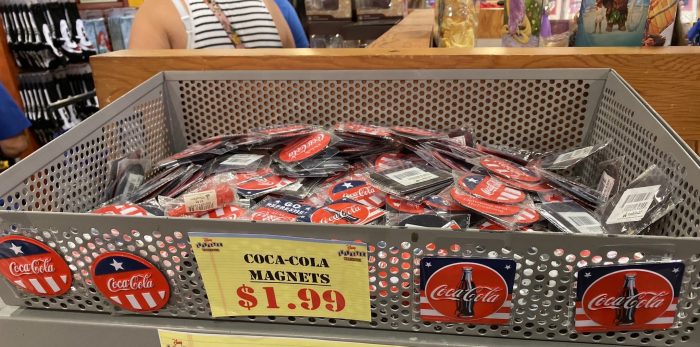 Coca-Cola vintage towels.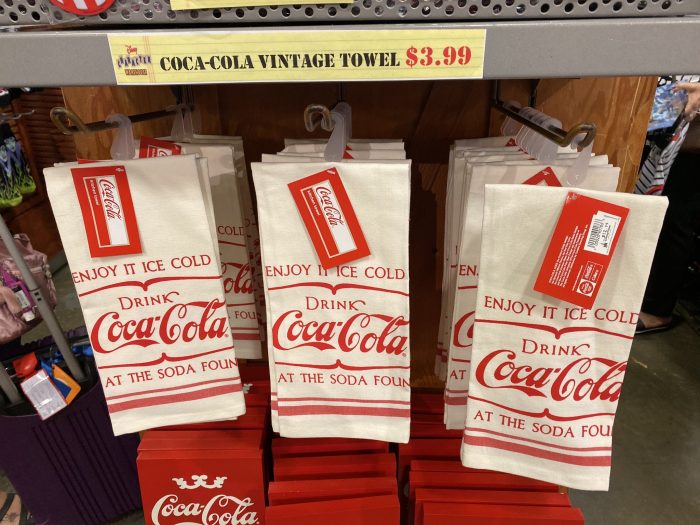 The Coca-Cola brand is synonymous with sharp looking collectible signage. Signs you can put up in your in your own house and feel proud of.
Apparently Club Cool was selling any of those though. Instead it had these….
Okay, the readers have spoken and they want more BAG COVERAGE! So get ready for some bags!! First up is this cute looking purse featuring the it's a small world attraction.  Originally $84, now $41.99.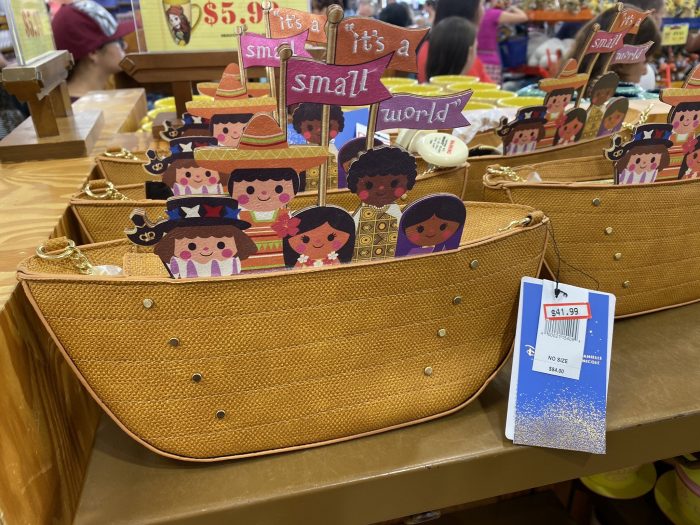 Another featuring the closing moments from it's a small world. Originally $19.99, now $9.99.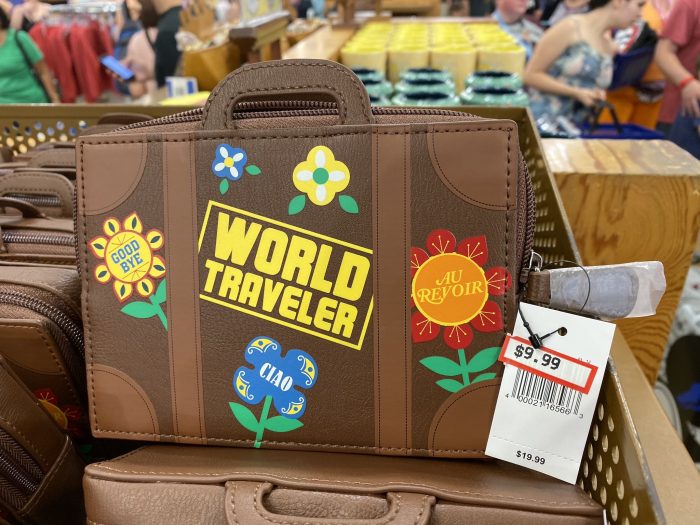 Spaceship Earth purse. Originally $60, now $24.99. Will keep my eyes open for a piece of Guardians of the Galaxy luggage that can store four of these purses. inside it.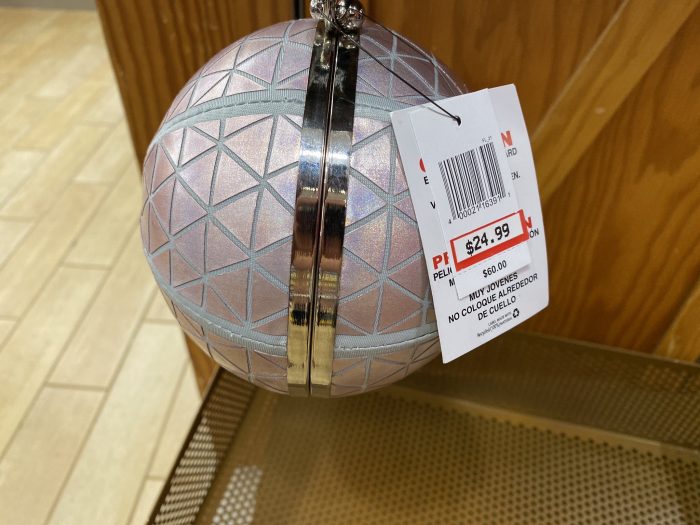 Got my hopes up seeing this. One of my FAVORITE pieces of merchandise at Disney is the notebooks themed to VHS tapes. In fact last year when I covered the grand opening of the New and Improved Old Port Royale, I made a point to spotlight the notebooks inside the gift shop, even though they have nothing to do with Caribbean Beach. Why? Because they are THAT cool. Apparently they also made similar versions of the "VHS tapes" in wallet form. Originally $19.99, now $9.99.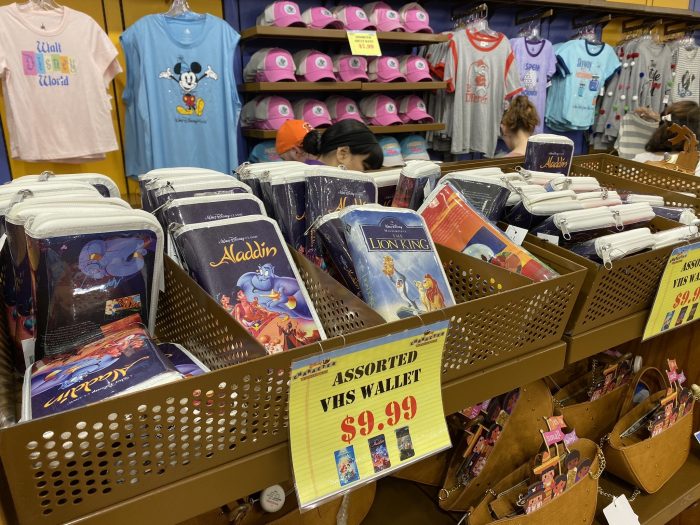 Try to imagine yourself working at a restaurant, or a retail store, and the customer you're with pulls one of these out of their purse. Personally I'm holding out for the Aladdin 2: The Return of Jafar change purse to hold my pressed penny money in.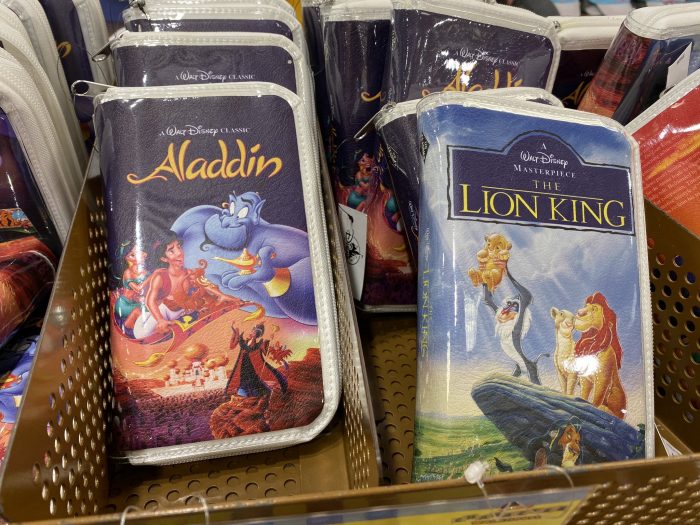 Okay, this one is Out There. This purse has a thin layer on both sides that holds glitter and Mickey shaped pieces that are floating in some sort of liquid. I feel like this is the purse that SNL's Stefon would bring when going into Walt Disney World's hottest club: "Horizons.go". It is located on Level 3 of the Lime Garage and every wall is an Instagram wall. It uses Muppets as bar backs, has a dance floor made out of school bread, Big Al from the Country Bears as the DJ spinning records and a human Cranium Command.
What's a human Cranium Command?
It's when you buy Buzzy the animatronic's clothes off eBay, and have Spud Webb wear them as he dunks at the NBA Experience.
Originally $19.99, now $9.99.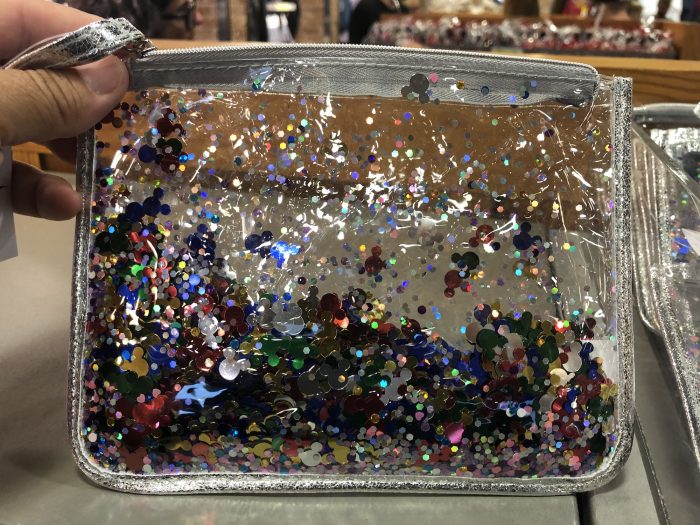 Another wallet of sorts featuring the iconic telephone booth in the UK Pavilion. These are the ones that Hulk Hogan picked up and used as a weapon in the television classic: Thunder in Paradise. Originally $19.99, now $9.99.
Apparently this is a churro-themed pencil case. This is what happens when we remove bullying from schools.
The worse part of this is that if they sold the same item in Disneyland it would be available in multiple colors. Be Fair to Florida!! Originally $19.99, now $9.99.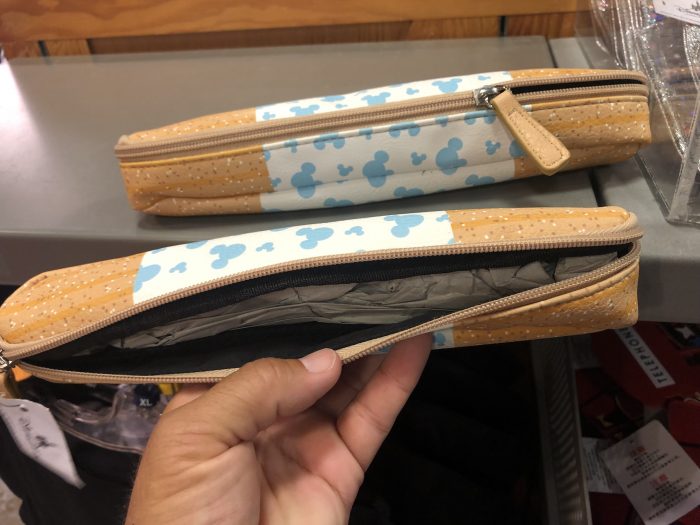 Snack Money purse. This probably should be a billfold since prices for all the snacks just went up again. Originally $19.99, now $9.99.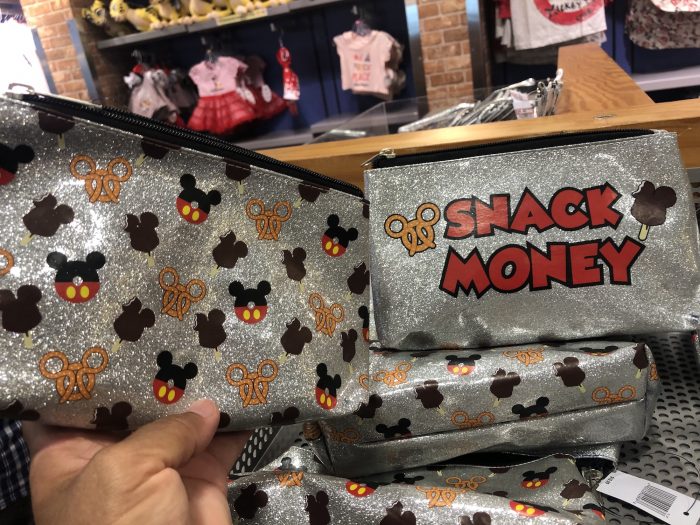 Gonna see a lot of snack-related items in the next few months, so start to prepare yourself. Here's a kid's outfit featuring some treats. Originally $34.99, now $12.99.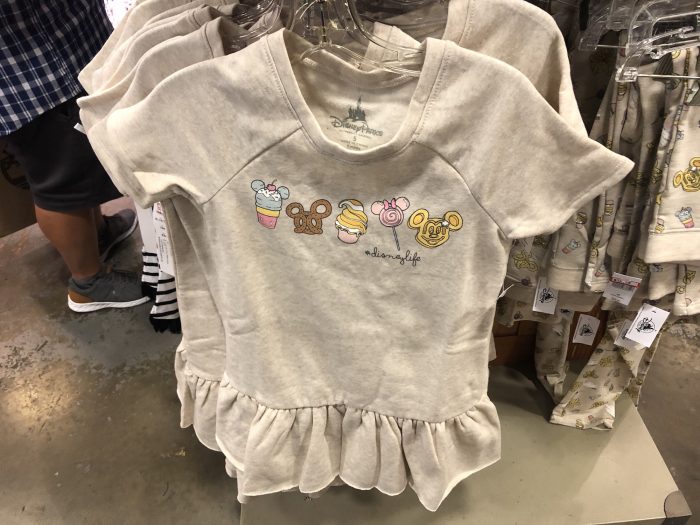 I like this Dining Plan shirt. Except it shows a lid on the drink and a straw, which my therapist has explained are now "triggers" for me. Originally $24.99, now $7.99.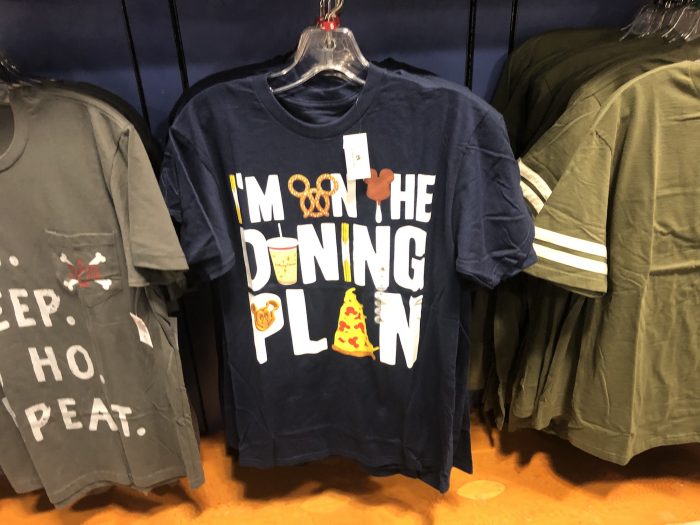 This kid's Goofy sweatshirt is ADORABLE. Would buy this as an adult t-shirt in a second. This is literally better than every piece of Mission: SPACE merchandise ever made.  Originally $39.99, now $14.99.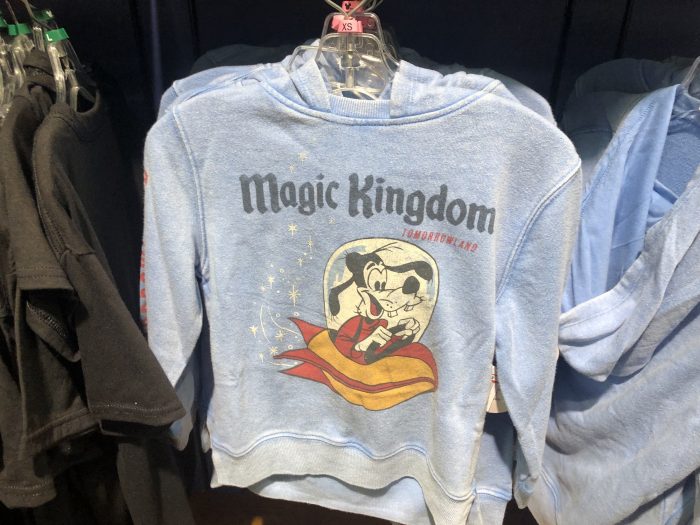 Another super cute outfit for a newborn. Originally $34.99, now $12.99.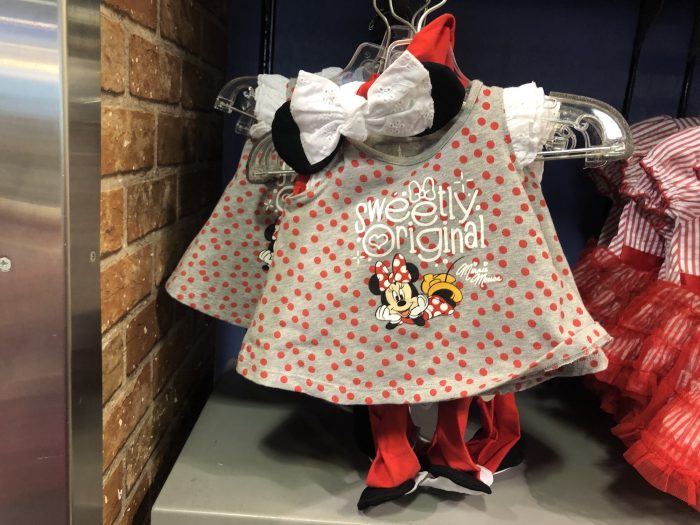 Maybe this is a long-sleeve shirt that would be okay on Dapper Day? Originally $29.99, now $9.99.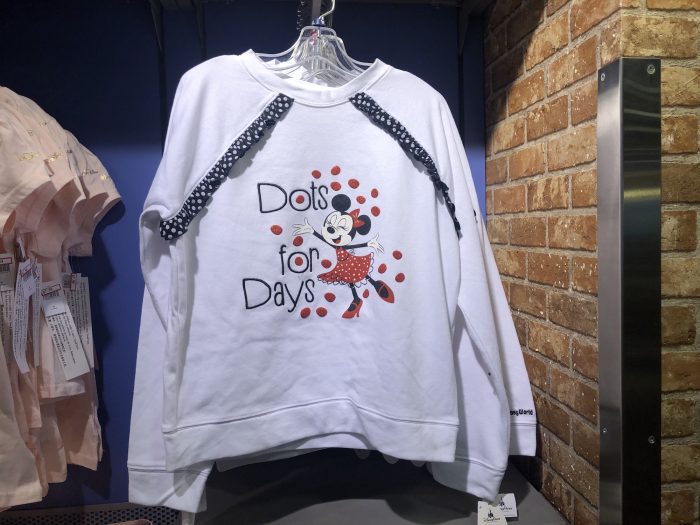 Can't get enough Figaro merch in my book. Originally $29.99, now $9.99.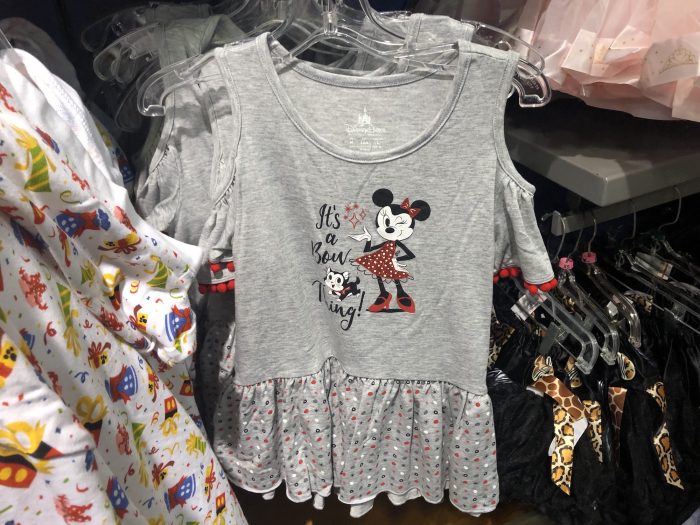 When they use this weird version of Mickey Mouse from the 30s/40s or wherever it just seems so ODD. Originally $24.99, now $9.99.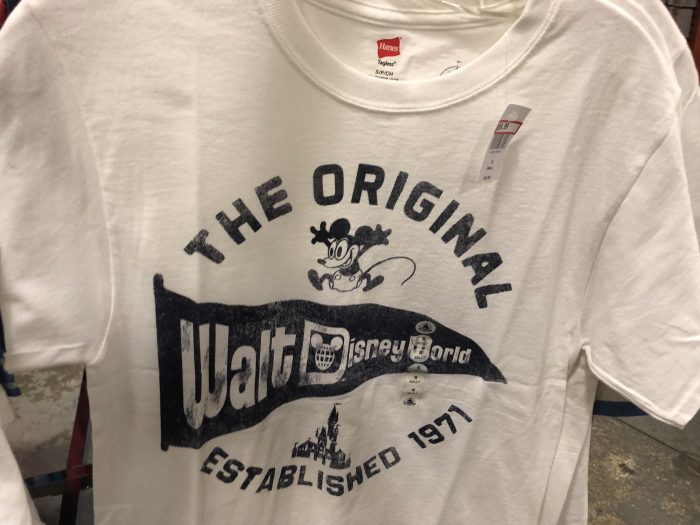 Can you imagine how many people had to "sign off" on this shirt and give their okay? Just amazing. Originally $34.99, now $9.99.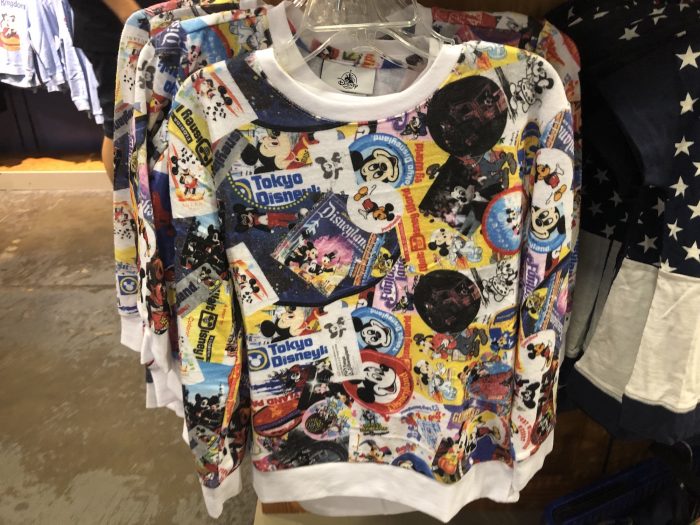 Here's another one that is just So Odd. This long-sleeve hoodie/shirt is made up of a bunch of gift boxes that are mashed up with Disney characters like Mickey, Donald and Goofy. WHO IS THIS SHIRT FOR?!!! Someone tripping on LSD? Originally $34.99, now $9.99.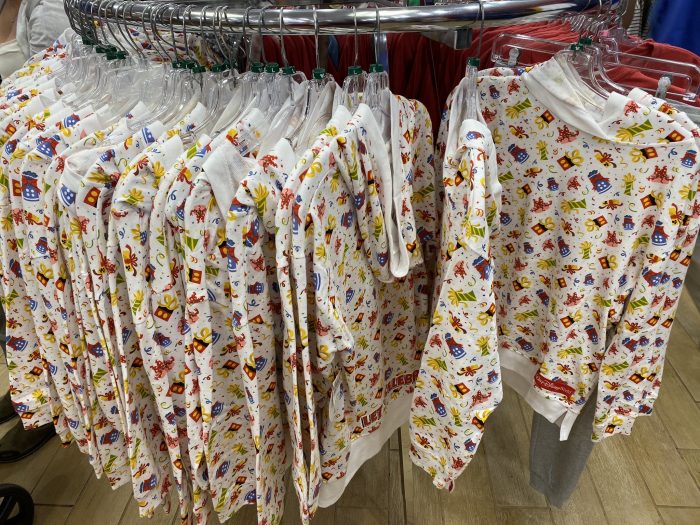 Mickey's 90th Anniversary shirt for kids. Originally an insane $29.99, now $9.99.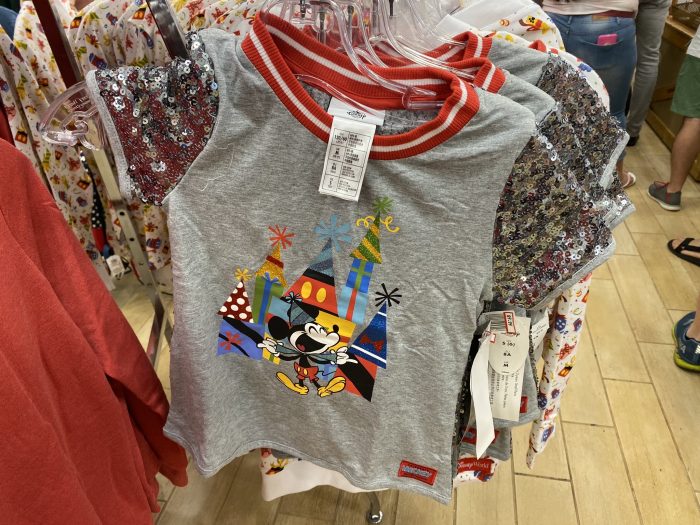 When I tell you that shirt on the left is possibly the weirdest looking shirt I have ever seen at the Disney Outlet Store, imagine the ground that is covering. It's also odd that the artist nor only was allowed to "sign" it, but below the signature it reads "for Disney." Well thanks for clearing that up. Originally $24.99, now $7.99. The shirt on the right reminds me of Smee. Originally $34.99, now $7.99.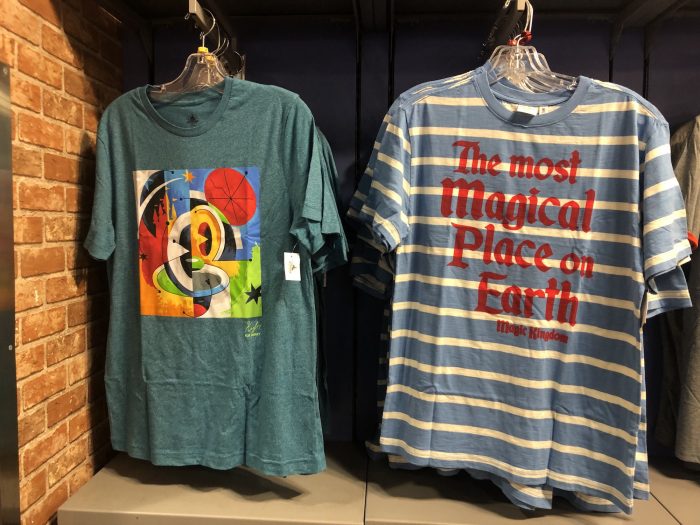 A couple of retro style shirts. Both were originally $34.99, now $9.99.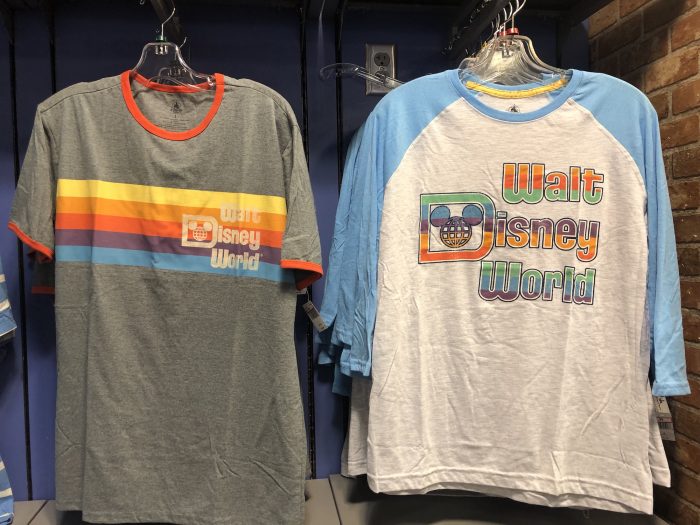 Apparently this year was the 20th Anniversary of Rock'n Roller Coaster at DHS and no one knew (or cared). This tank top was reduced to $9.99.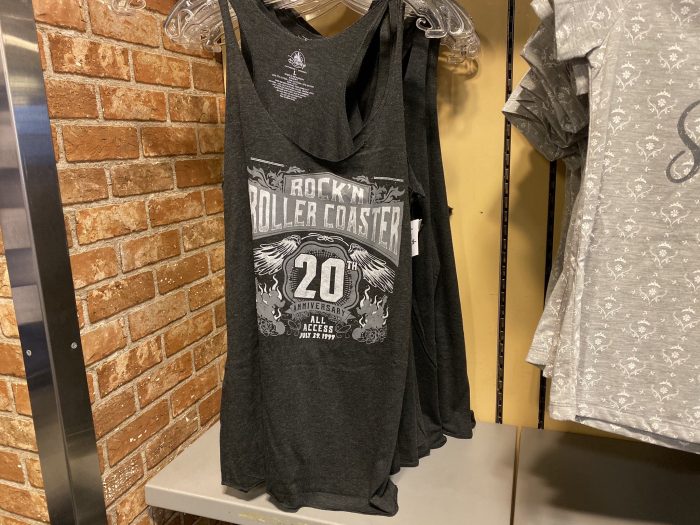 Lion King t-shirt. Originally $34.99, now $12.99.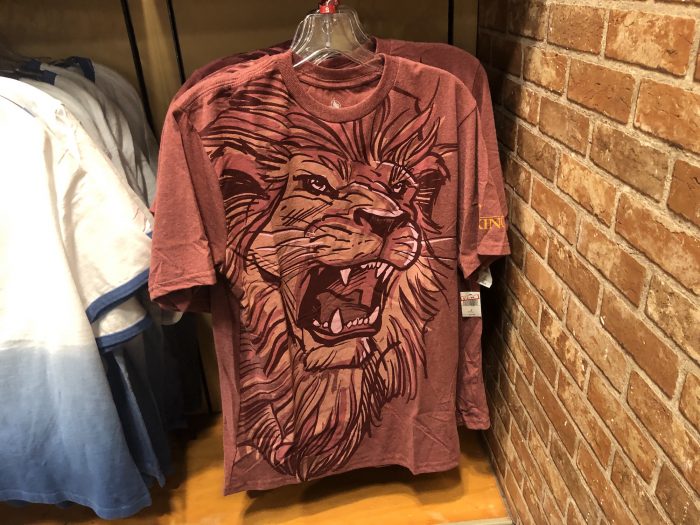 The Haunted Mansion has had a lot of great shirts show up at the Outlets lately, but this isn't one of them. Originally $24.99, now $9.99.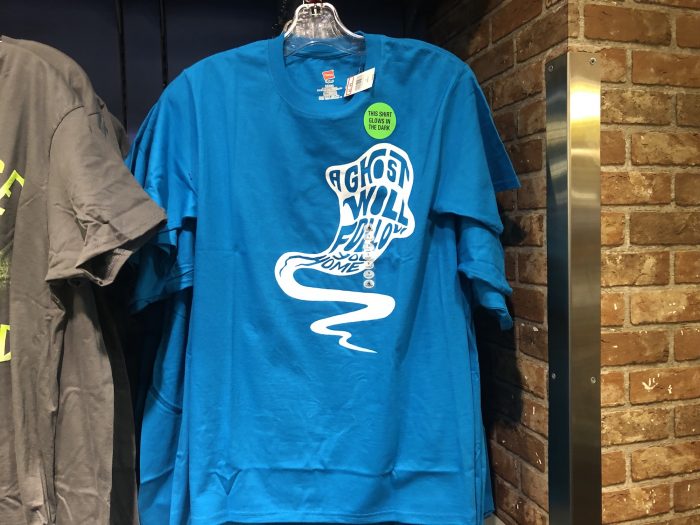 Pirates dress from the Disney Cruise Line. Reduced to $24.99. I loved sailing DCL, but felt like we were the only ones on the ship who didn't bring an outfit for "pirate night." I didn't even know there WAS a pirate night.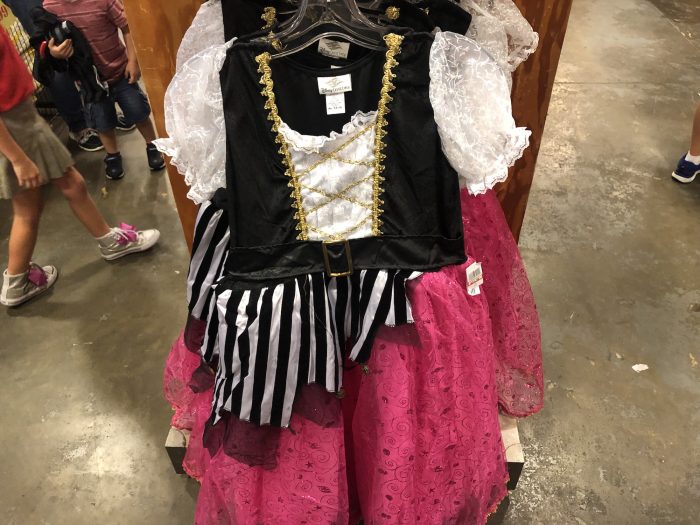 Time to head out to California, and we are counting oue blessings that @ChristelaMcC was able to get us some pics because she's about to add another member to the family any day now. Actually we were hoping that she would have the baby AT the Disney Outlet Store so we could include it on our YouTube channel but to quote the famous Rolling Stones song, "You can't always get what you want…"
Thankfully we do get what we need, and what we need are pics of discounted Disney merch! The first item that caught her eye is this shirt featuring it's a small world. Looking at this shirt makes me realize the wallet I wrote about above was – in fact – NOT from the UK Pavilion and instead was from it's a small world. But you know what? I'm not going to change it. I'm going to just read all the comments telling me what an idiot I am, knowing that they will then get to this section and realize that I'm the one having the last laugh. "It's like Machiavelli meets….the Disney Outlet Store." – Dwight from NBC's The Office, probably.
Anyway, this shirt was originally $34.99, now $10.99.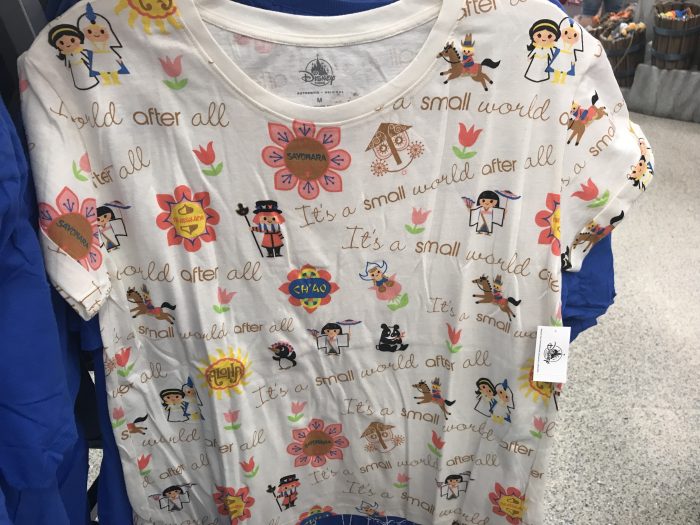 Last month we talked about how Disney has to "name" all their fad colors and this Disneyland spirit jersey was from the cotton candy collection. Seriously. Reduced to $26.99.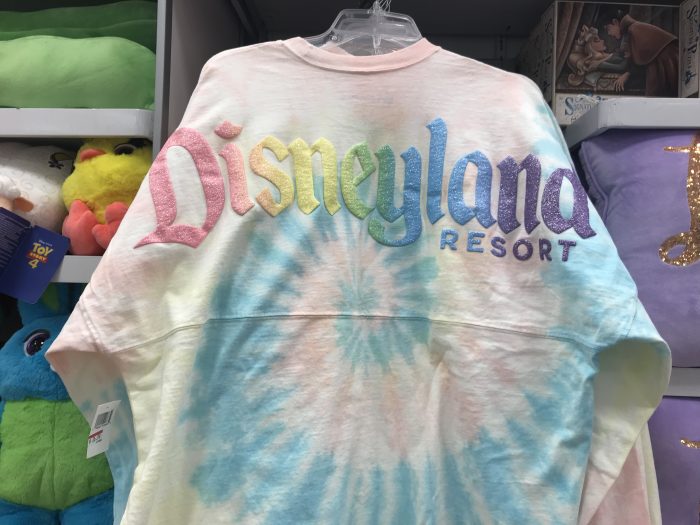 Kid's Disneyland spirit jersey. Originally $44.99, now $18.99.
In Florida we had these Donut boxes and I completely forgot to take a picture of the shirt that was inside it.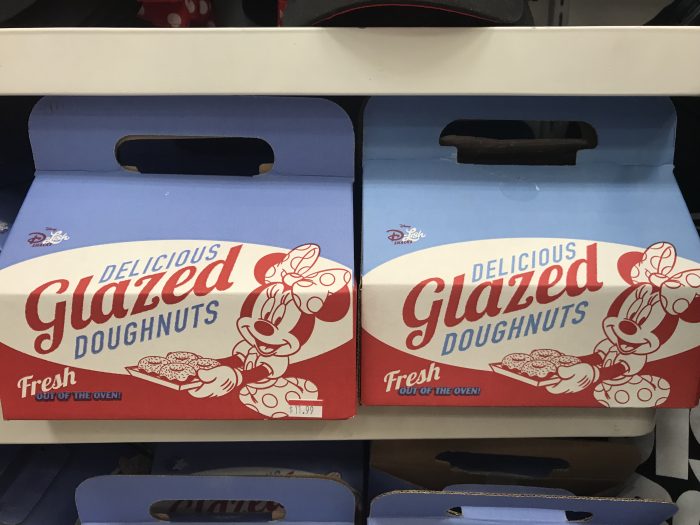 Christela came through for us because she's good like that. The donut shirt was originally $29.99, reduced to $11.99. I remember seeing these donut boxes in a store at Disney Springs here in Florida. I feel I'm relatively plugged into what's going on in this community and I wouldn't have been able to tell you exactly what was in the box. What would an average guest have thought?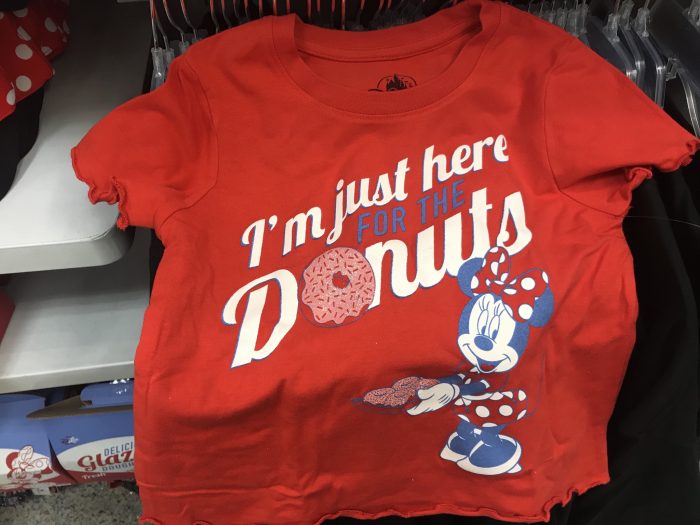 Disney Parks Food toys. Originally $17.99, now $5.99. I actually would have bought this set if it were in the Florida Outlets.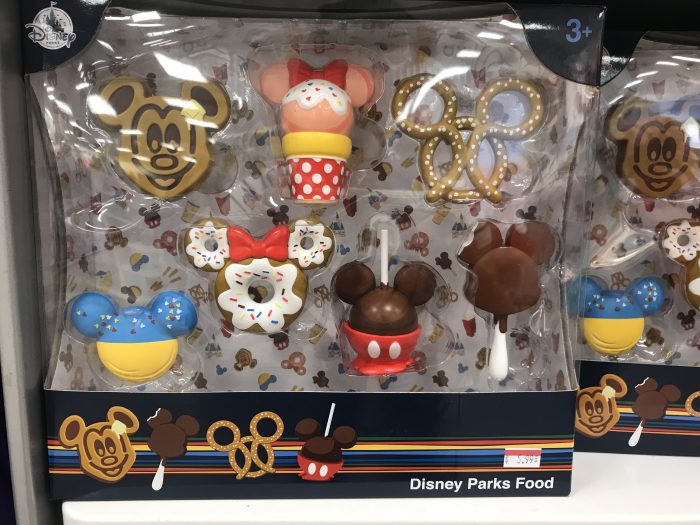 1000 piece jigsaw puzzle featuring Sleeping Beauty. Originally $21.99, now $4.99.
Honestly not sure if Disney sold a single "Red" the pirate plush at the parks seeing how many came to the Outlets in Florida AND California. Out in Cali they were originally $26.99, now $7.99. Years from now Disney fans won't believe we passed up on these the same way we look back at plush featuring characters from Food Rocks.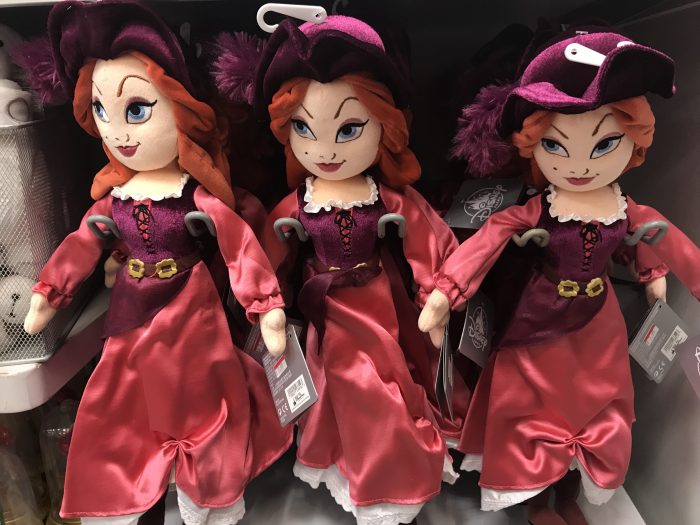 Baymax Snuggle Snapper. These are mini-plush with snap bracelets as arms. Originally $19.99, now $5.99.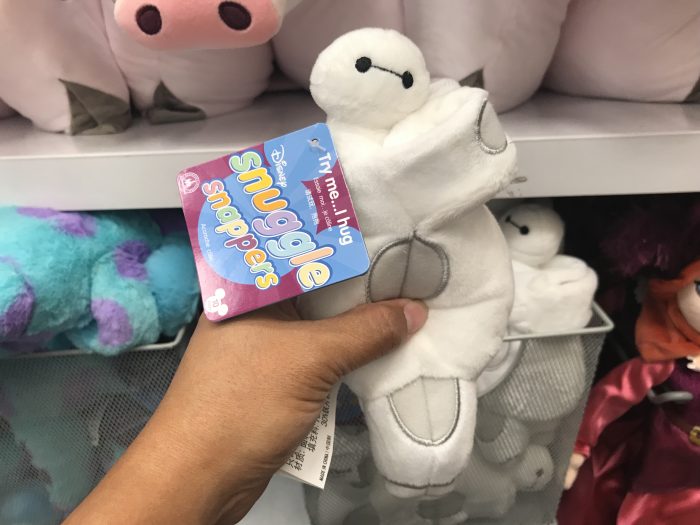 Sully Snuggle Snapper, same price.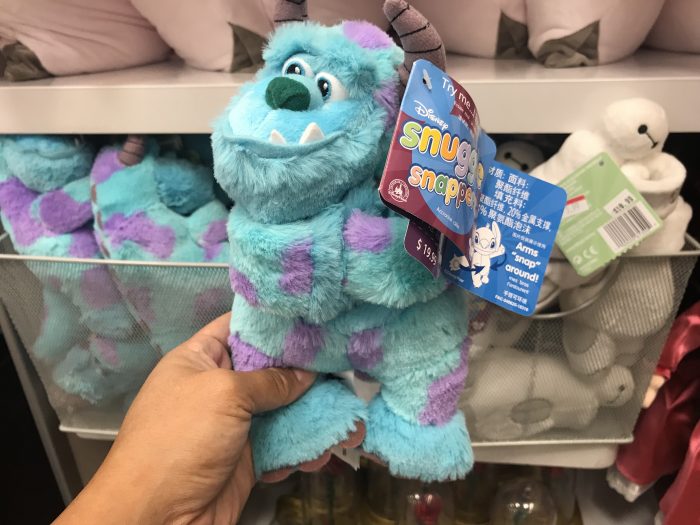 Speaking of Sully, California had the "Dream Friends" version of him and Pua. Originally$34.99, now $9.99.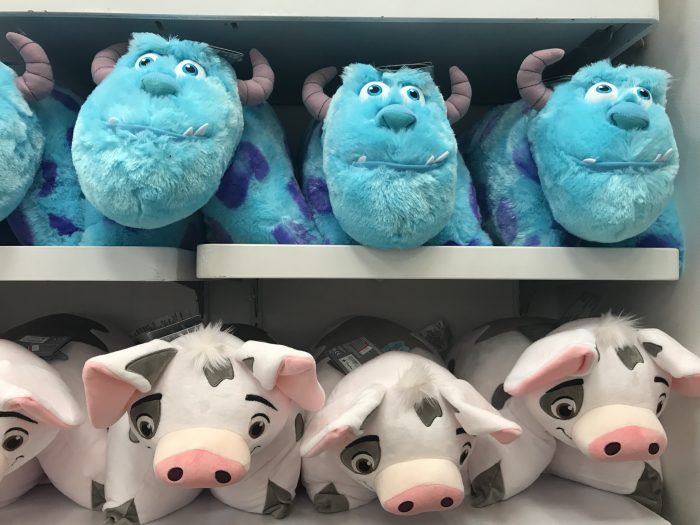 Lightning McQueen Crocs. Reduced to $21.99.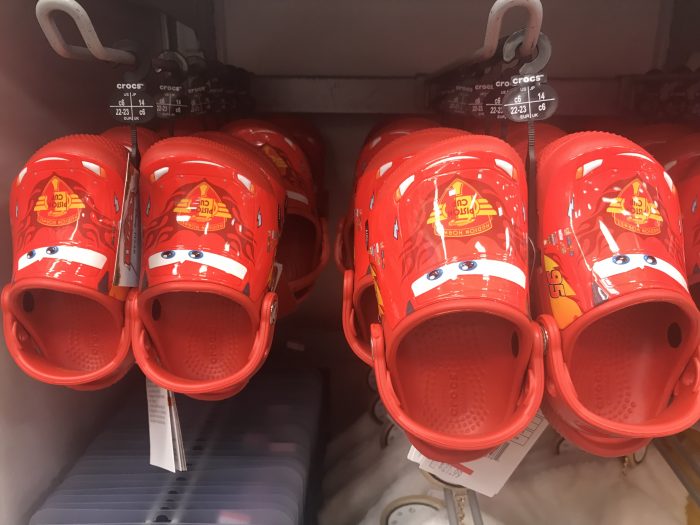 This is a Cars Land trucker hat. Can see why this one didn't sell. Originally $27.99, now $6.99.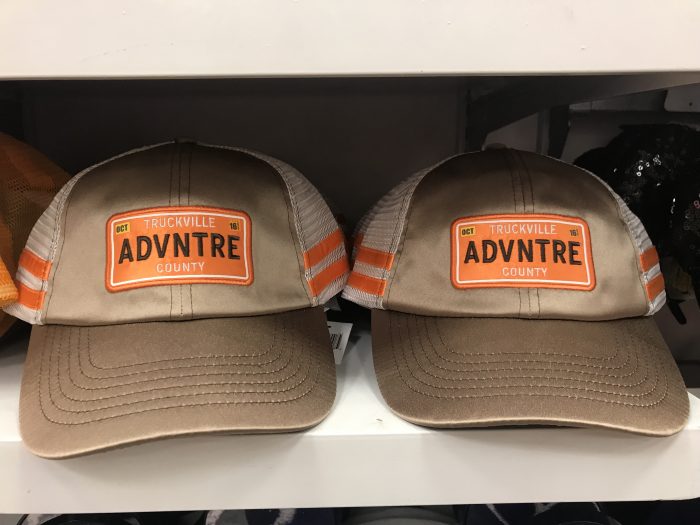 Maybe this logo should have been on the front of the hat and the licence plate thing on the back.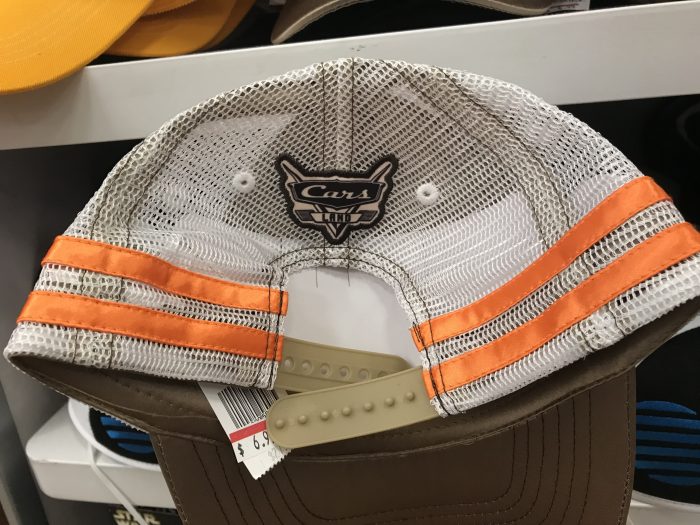 Thanks Christela! Now let's head back to FLORIDA!!
Disney Cruise Line magnet set. Originally $19.99, now $9.99.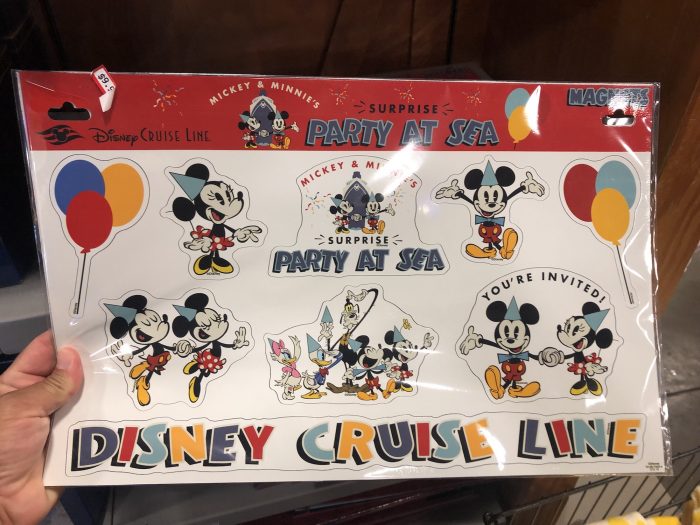 This Disney Cruise Line backpack has kind of an "80s feel" to it. Originally $44.99, now $15.99. I believe you can also find these being worn by Jungle Cruise skippers as they walk through Liberty Square.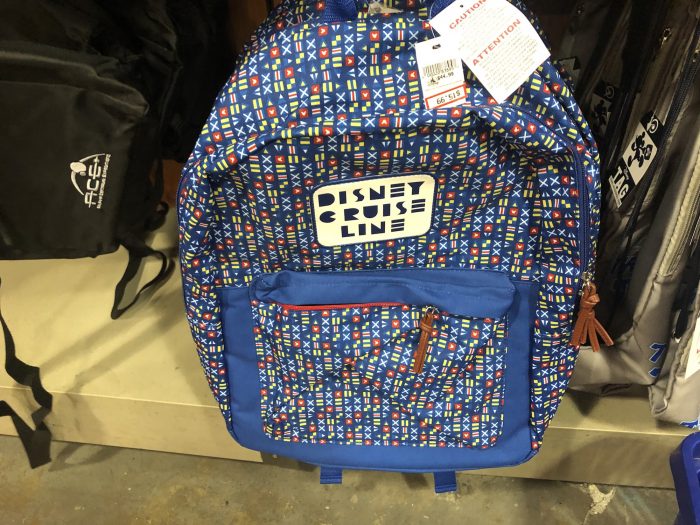 This doesn't seem "on brand" for Belle. Originally $13.99, now $5.99.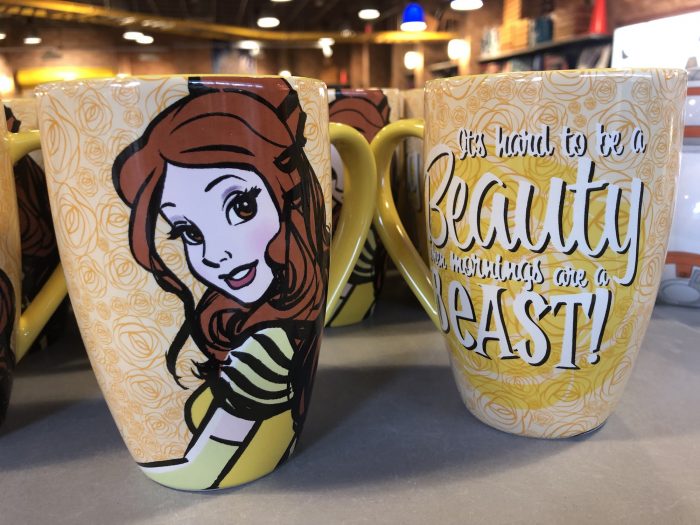 I like that this Princess doll has Ariel as La Petite Sirene on the back. Reduced to $9.99.
Darth Vader plush. Originally $26.99, now $7.99.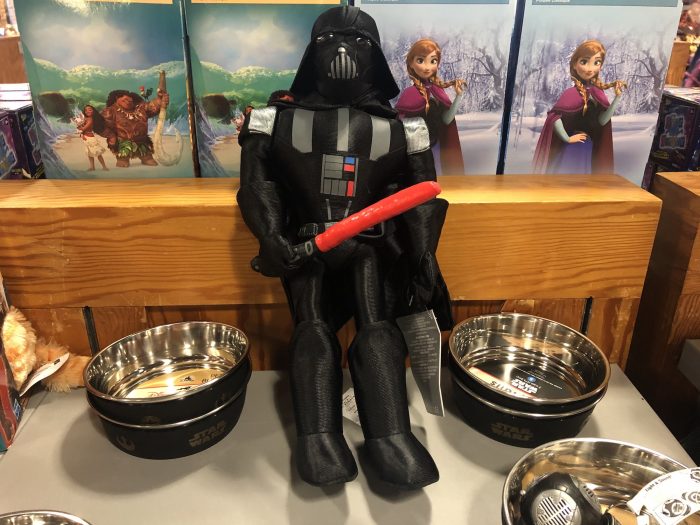 Darth Vader themed "comfort harness" for dogs. Originally $39.99, now $12.99.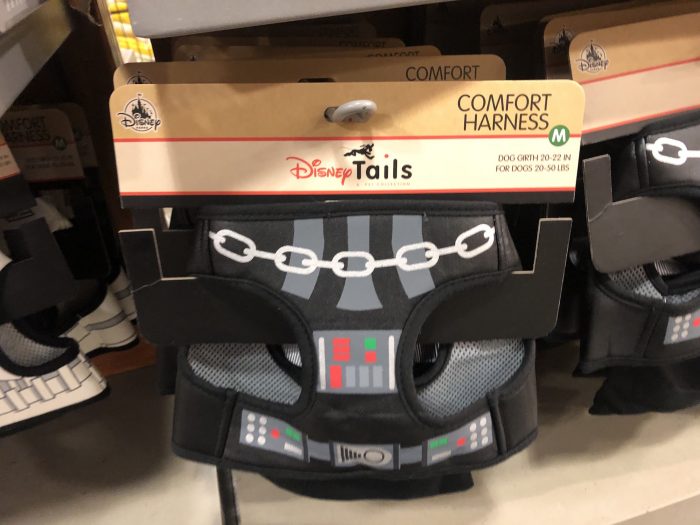 Stormtrooper comfort harness. Same price. I probably should have bought one of these for Bacini, the official dog of DisTwitter.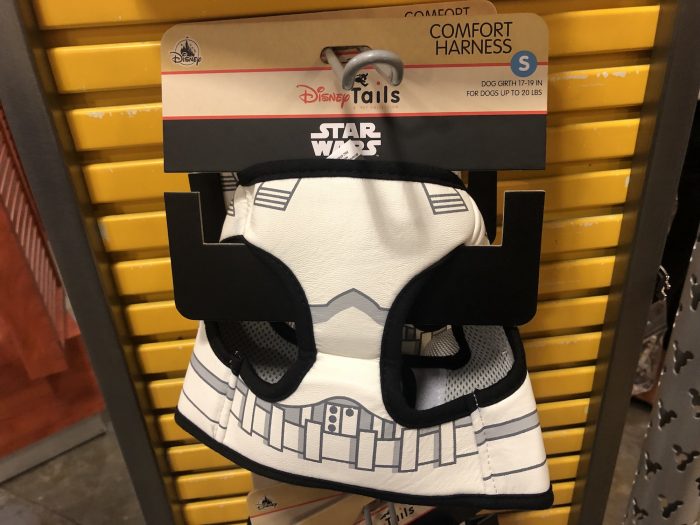 This is showing both sides of a Mickey-themed sock set. Originally $9.99, now $3.99.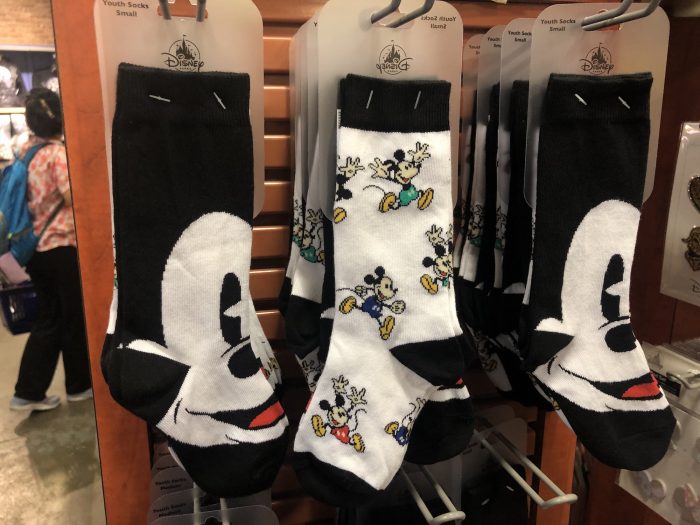 Not a bad looking set of Mickey Ears featuring the Haunted Mansion's Hatbox Ghost. Originally $24.99, now $4.99.
No surprise at all that these buttons made it to the Outlet. There is basically a cottage industry on Etsy with people taking things like Mickey Ears or Disney buttons and making their own versions of it. They are almost ALWAYS better than the ones Disney then tries to recreate to get back their piece of the pie. These buttons were originally $9.99, now $1.99. Half considered buying the purple wall set just so a decade from now I could show it to people and try to convince them this was a real thing that actually happened because no one's going to believe it.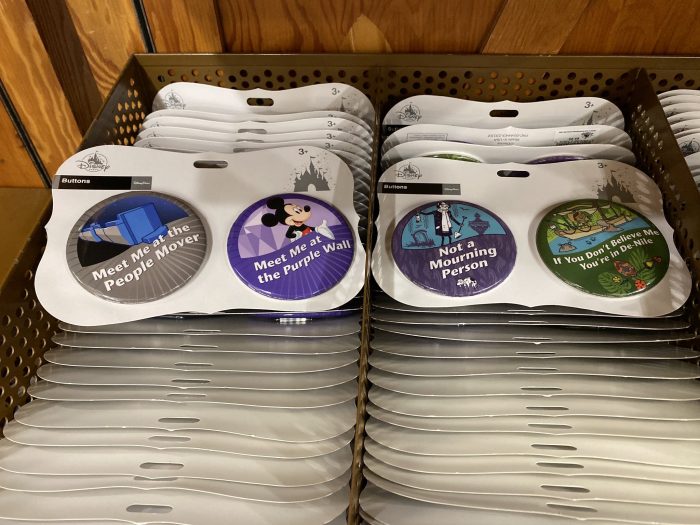 Disney Cruise Line magnets. Top one was $14.99 reduced to $5.99. Couldn't find price of smaller one.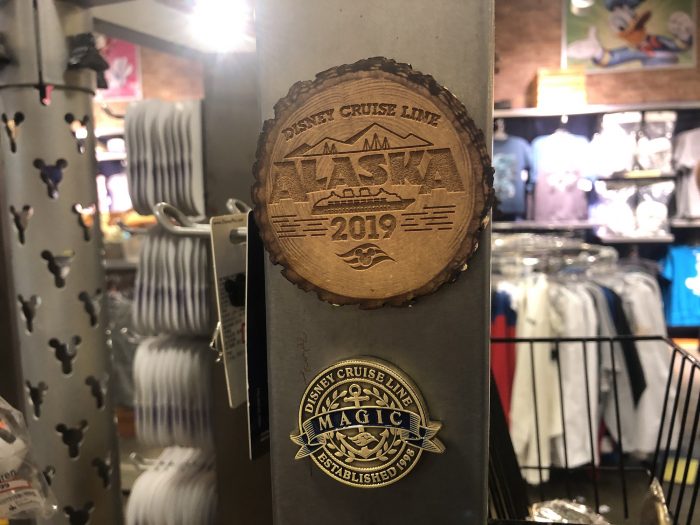 Not gonna tell you which one of these postcards were 49 cents and which one was 59 cents. You're gonna have to solve that mystery by yourself.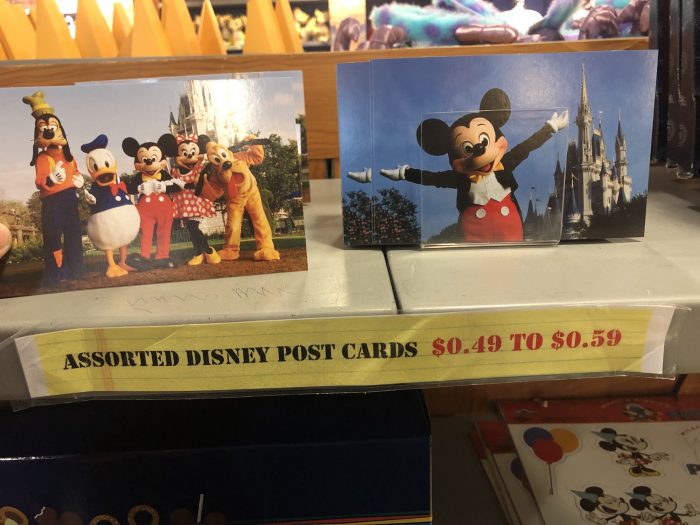 Item from Animal Kingdom Originally $9.99, now $2.99.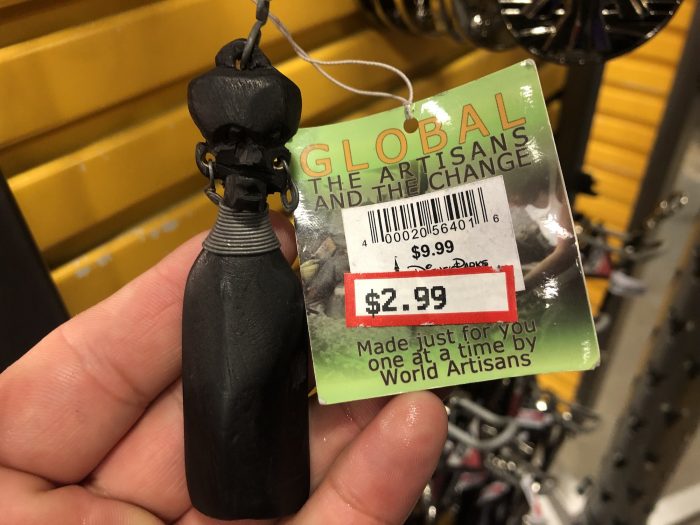 Okay this is a Pirates of the Caribbean "Lanyard Pouch With Charm*"
I think the *charm for this literally meant (*includes no charm.)
Originally $8.99, now $14.9.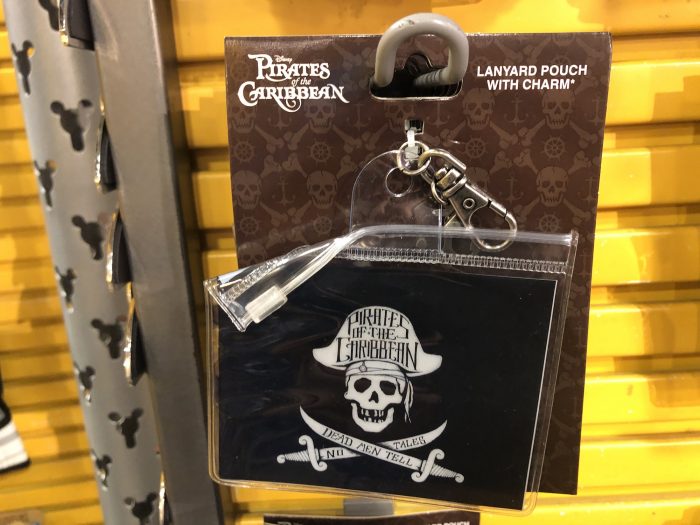 Our "Red" plush was also $7.99, just like out in California. Plenty still available.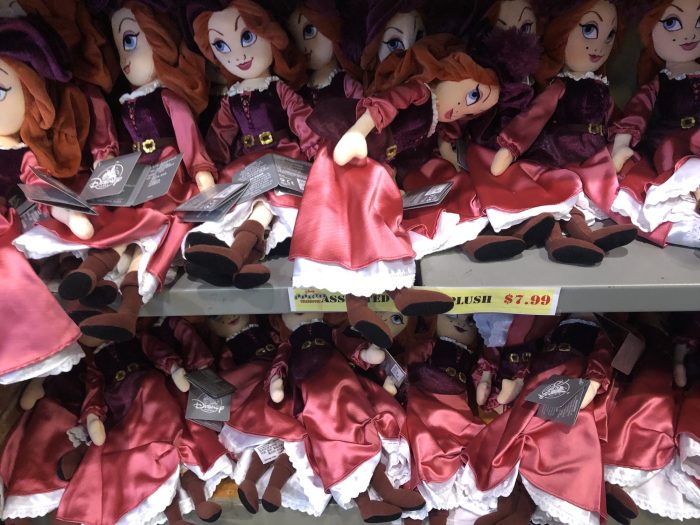 I'm guessing this is a character from the Lion Guard cartoon? Originally $16.99, now $7.99.
Wanted to let  you know that there were a still a whole bunch of Pandora: the World of Buttons available. Surprised Cast Members just don't drop a few in every guest's bag to get rid of them.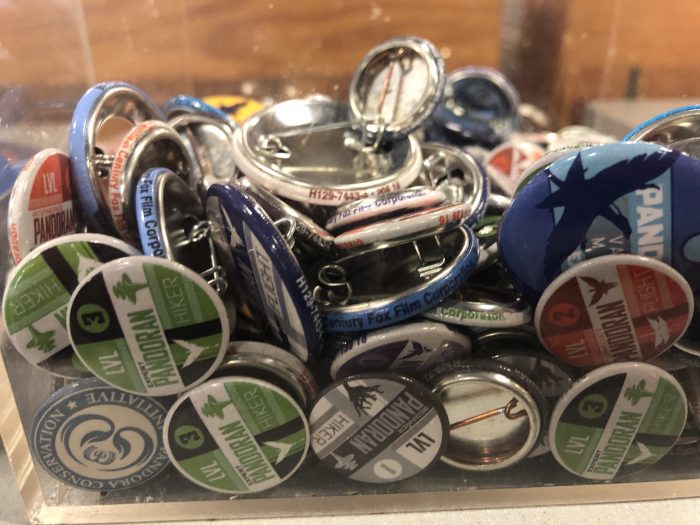 Speaking of Pandora, I'm not sure what this ACE bag was. Maybe a fanny pack? Didn't seem like the belt was long enough though. Originally $12.99, now $4.99.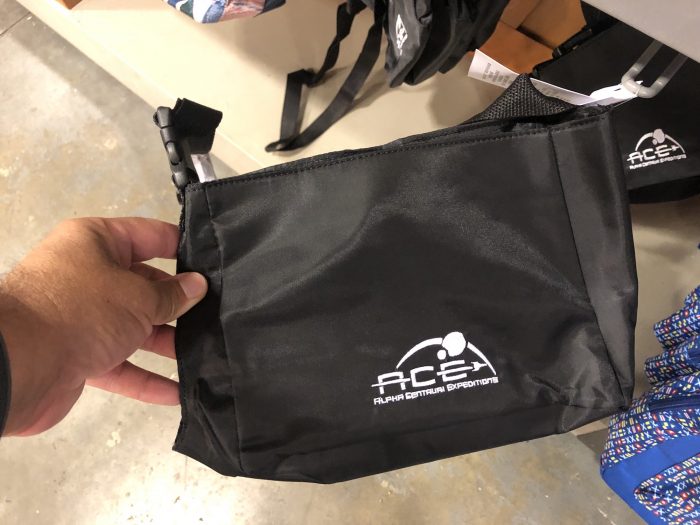 Mickey Mouse themed luggage. Originally $159, now $59.99. If you've never been to the Orlando Premium Outlets, it will blow your mind how many guests are walking around with luggage. It's like guests in the Wizarding World with Harry Potter merchandise bags. Everywhere.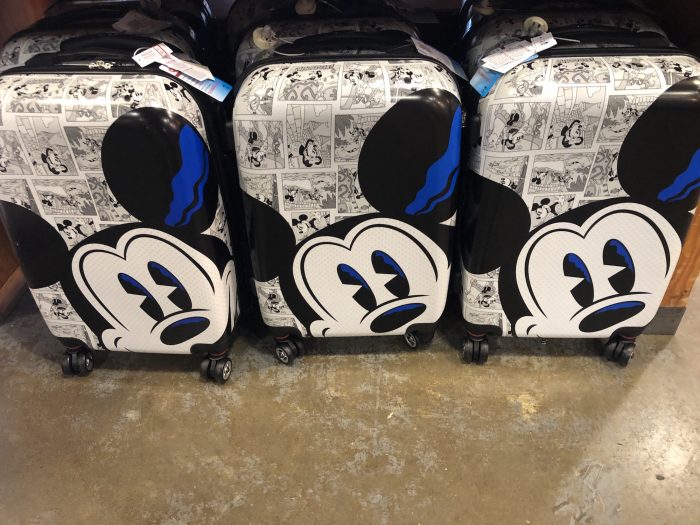 Haven't seen one of these type of pens in a long time. They have the five different colors that you can switch between at the top. Fondly remember them from growing up. Reduced to $4.99.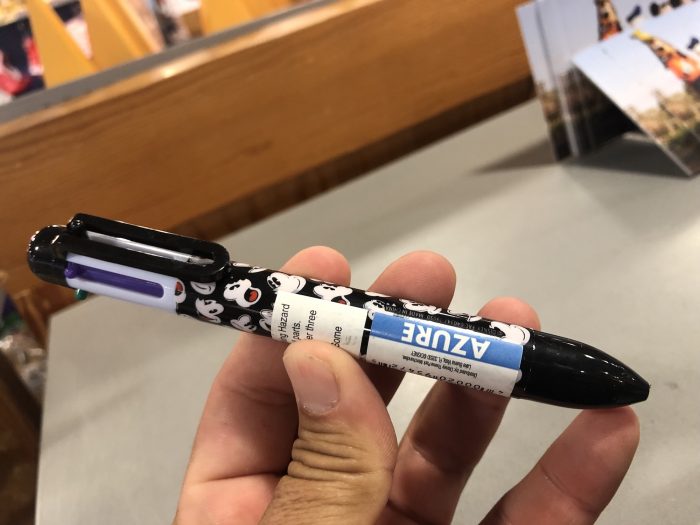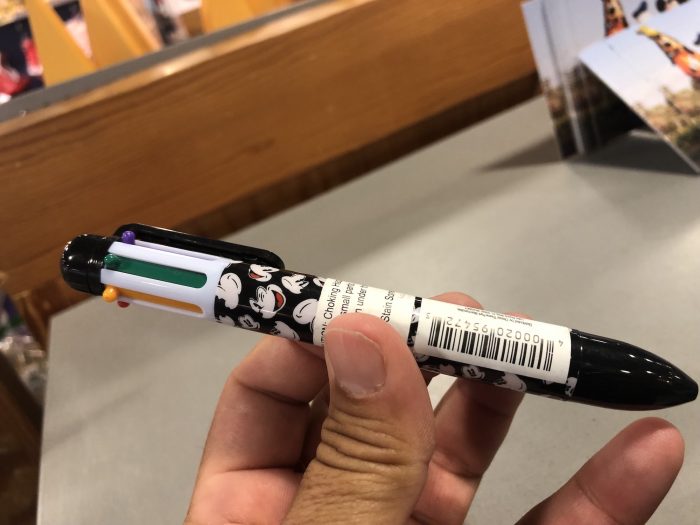 We're about to end this month's report, but let's look at one of the back walls at the International Drive location.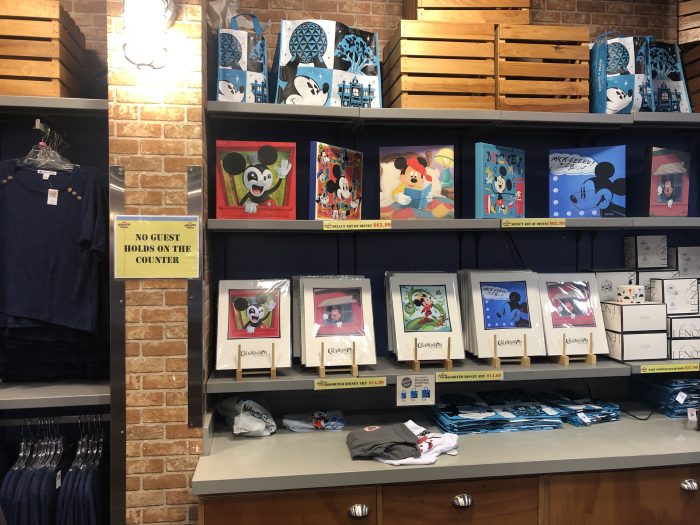 This art print makes the crazy Mickey we saw on that t-shirt earlier look downright normal.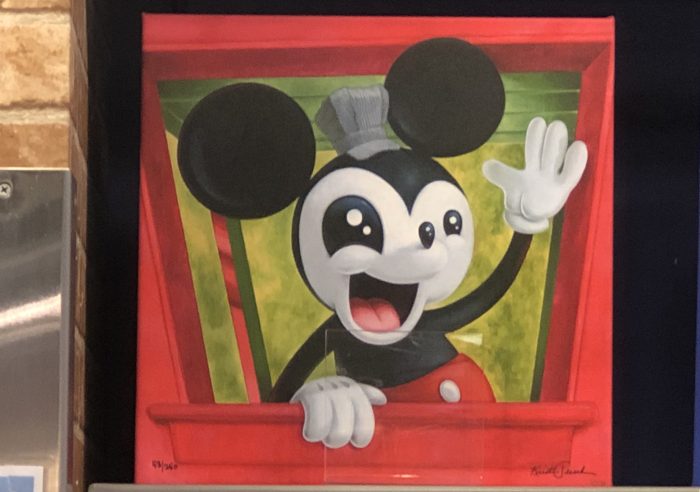 Another one of the operational changes at the Outlets. Previously eBay pirates and their ilk would grab a bunch of items, have the Cast Members hold them on the counter, and go back to pillage some more. Now that they can't hold the items on the counter they literally bring in their own storage boxes and dollies into the store. Seriously.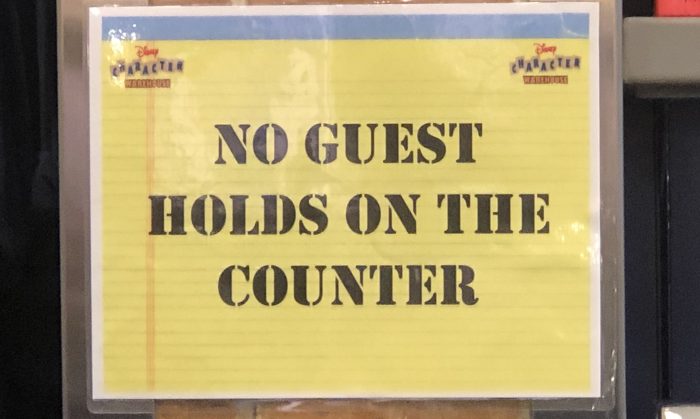 Hmmm, we close on another mystery to solve. Covered black boxes.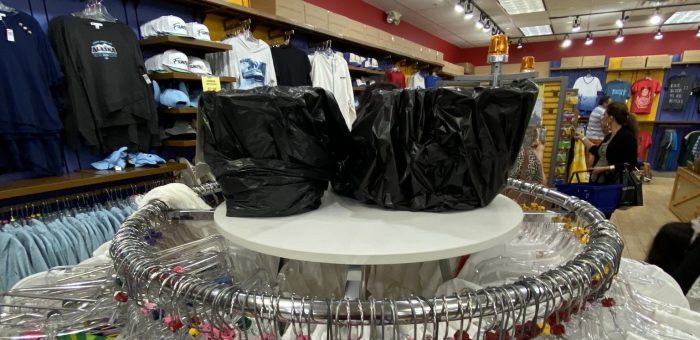 The mystery DEEPENS.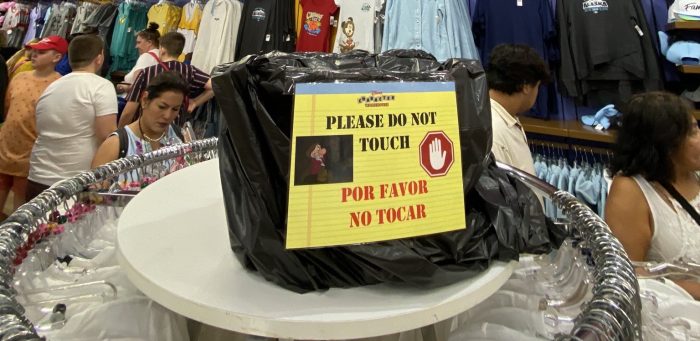 SEE YOU NEXT MONTH!
There are actually two Disney outlet stores in Orlando. Both are in Orlando Premium Outlet shopping complexes, and they are called Disney's Character Warehouse, presumably because The Land Of Misfit Toys was already trademarked. There is one Character Warehouse located on International Drive close to Universal Studios (4951 International Dr, Orlando, FL 32819), and the other is on Vineland Avenue, right across I-4 near the exits to Disney World (8200 Vineland Ave, Orlando, FL 32821). They do not ship. There are items at the Outlets that you can buy both in Disney stores along with the Shop Disney Parks app, but you will be paying full retail for the items. For our CALIFORNIA OUTLET trips, @ChristelaMcC goes to the Las Americas outlet in San Diego. It is located right off the last U.S. exit.
I often get asked "which store is better?" That depends. Vineland is close to Walt Disney World, while the I-Drive location is a hop, skip, and jump away from the Universal Orlando Resort. The Vineland Disney Outlet Store is much, MUCH bigger than the I-Drive location. However, the Vineland outlets in general are much, MUCH busier than I-Drive. Each have their pros and cons, and ultimately they carry much of the same items. For a Disney Outlet Store FAQ, check out this SATURDAY SIX Presents: Everything You Wanted To Know About The Disney Outlet Stores (But Were Afraid To Ask)
Previous editions of Magic, Memories, and Merch: July 2013, August 2013, September 2013, October 2013, November 2013, December 2013, January 2014, February 2014, March 2014, April 2014, May 2014, June 2014, July 2014, August 2014, September 2014, October 2014, November 2014, December 2015, January 2015, February 2015, March 2015, April 2015, May 2015. June 2015, July 2015, August 2015, September 2015, October 2015, November 2015. December 2015, January 2016, February 2016, March 2016, April 2016, May 2016, June 2016, July 2016, August 2016, September 2016, October 2016, November 2016, December 2016, January 2017, February 2017, March 2017, April 2017, May 2017, June 2017, July 2017: The FOUR YEAR ANNIVERSARY special, August 2017, September 2017, October 2017 (tribute to the O.O.G.), November 2017, December 2017, January 2018, February 2018, March 2018, April 2018, May 2018, June 2018, July 2018 (FIVE YEAR ANNIVERSARY special with the introduction of the OUTLET HALL OF FAME), August 2018, September 2018, October 2018, November 2018, and December 2018, January 2019, February 2019, March 2019, April 2019, May 2019, June 2019, and July 2019 (SIX YEAR ANNIVERSARY), August 2019 (major changes come to Outlets), and September 2019 (camera hat).
We also did an edition of Magic, Memories, and Junk for a non-Disney owned Outlet Store, and for you merch addicts like myself, you may also enjoy a look at the official Disney merchandise available on the Disney Cruise Line, Castaway Cay, and at the Orlando International Airport. Want to see our favorite WDW resort-specific merchandise? Well, CLICK HERE!
If you liked what you read here, you may enjoy THE SATURDAY SIX articles every week on the TouringPlans.com blog and you can follow your humble author on Twitter (@derekbugan).